Pundrik Lake and Shangargh in Sainj Valley
It's a small belief of mine that every incident, however small, has some meaning if only one consciously tries to look for it. Too philosophical? Maybe. But then, what's life without a little philosophy, isn't it? 😉 Sainj Valley trek wasn't a life-changing one. But I deciphered a small little message for myself from this. Read on to find out what that was!
I first came across Shangargh and Sainj Valley through Travelshoebum's blog post, a few years back. It had looked enchantingly beautiful in the pictures. Ever since then, I'd been dreaming about visiting this place. Hence when Indiahikes opened its first dates for the Pundrik Lake trek, now renamed as Sainj Valley trek, I immediately signed up for it.
Day 1: Aut to Shangarh Meadows and the trek till Tindadhar Campsite
One of my friends accompanied me and we joined our fellow trekkers at the Aut bus stand, in front of the 3km long Aut tunnel. Aut is a town in Himachal Pradesh, on the Delhi-Manali highway, 40 km ahead of Mandi.
We were eleven of us altogether, including our trek leader. After a quick introduction of ourselves, we piled into two cabs and drove towards Shangarh in Sainj Valley, from where our trek was supposed to start. The drive to Shangarh was a beautiful one, with majestic views. On one side there were towering mountains, and on the other, a valley dotted with colorful Himachali houses with the turquoise Sainj river cutting through it.
Since most of us had not had breakfast, at the Bajar-Larji junction ahead we made a halt and packed hot and fluffy Aloo Parathas. The mouthwatering smell wafted into our car and my stomach growled in protest. I wanted to gorge on it immediately. But our trek leader insisted it'd be better to have it at our first stop, the Sai Ropa Rest House. And so we moved forward. The road then slowly climbed upwards and the deep valley to our left appeared like a tiny toy village.
There were some intermittent conversations in our jeep, but for the most part, everyone was quiet. Either enjoying the views outside or dozing off.
After around an hour, we finally reached the GHNP Forest Rest House at Ropa. We got down from our vehicle and walked towards the common hall. Looking at our bulky backpacks, our trek leader let out a laugh and asked us to only pack some essential things into a smaller bag. Assuring us that we'd definitely not need anything more than that for a two-day trek.
We all looked at each other and at our respective bags and laughed. Almost all of us had over packed. I guess we all got carried away with the excitement of preparing for this little adventure.
Somehow we gobbled up our Parathas, freshened up and packed our bags quickly. And within a span of an hour we were once again back in our vehicle and bumping along the rickety road.This time it was a mud track. Since tourism in Shangarh and Sainj Valley had only just started back then, the road was still under construction.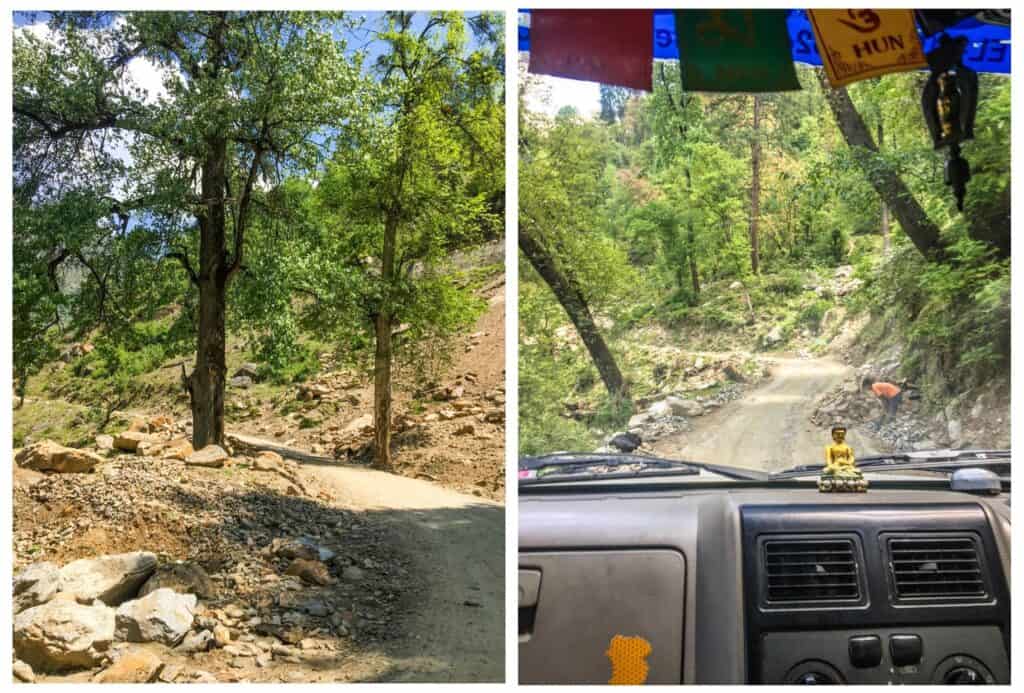 We drove up the narrow winding road. Every now and then we caught a glimpse of the glistening blue Sainj river below, as it rushed past, jumping over the boulders. It seemed as if we were trying to keep up with its pace! What a sight it was. I was torn between constantly ducking my head out or holding on tight to the handlebar.
The road then forked to the right and after bouncing up and down for a little while longer, we were in a small clearing. We had reached Shangarh. There were few small shops and a signboard pointing to a homestay a little away. That's all. Shangarh was so different from all the other towns that I'd visited in Himachal. Though I had only just had a small glimpse of it. After a short briefing about the trek, we buckled our shoes, strapped our backpack tightly and our trek finally started.
First glimpse of Shangarh in Sainj Valley
We walked a few steps along a small pebble ridden lane, lined with pretty 'Christmas' trees on both sides. Suddenly after clambering over some bushes and small rocks, we emerged in a clearing.
What I witnessed in front of me was a place of dreams. I've devoured countless Enid Blyton novels in my childhood and it felt as if one of the places which I had visualized in my mind's eye, had suddenly come to life! I couldn't speak a word! But just kept looking from left to right in awe. As far as the eye could see, it was a carpet of lush green. Securely tucked away, ringed by tall pine and deodar trees on all sides, sitting snugly under the gaze of the Himalayas. There were tiny white wildflowers sprouting everywhere! Shangarh appeared to have jumped out of a pretty animated movie.
Shangul Mahadev temple in Sainj Valley
At the far corner of the sloppy meadow was an ancient temple dedicated to Shangul Mahadev, the local resident deity of Shangarh. Its architectural style is typical to temples found in this part of Himachal. These temples constructed out of wood, are beautiful works of art. There were rows of intricate carvings found on the walls and the wildflowers scattered around it, added to its charm.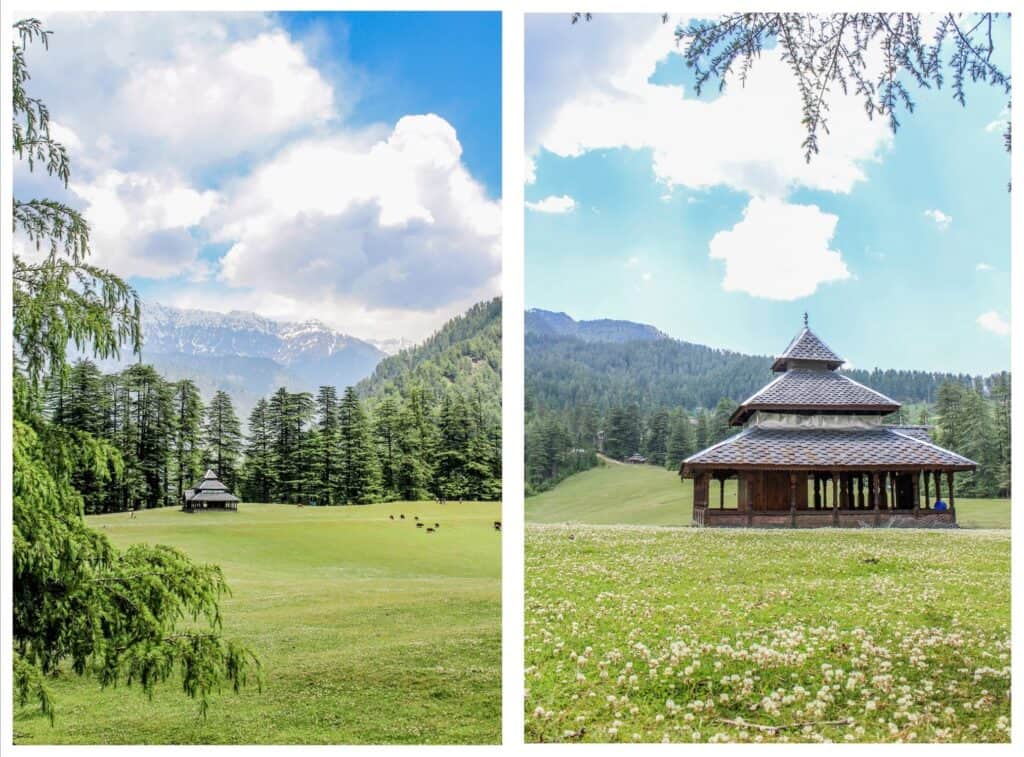 Cows grazing, locals idling away, tiny butterflies fluttering. The place exuded tranquility… We spent around an hour there and moved forward. Although I could have gladly spent an entire day in that divine place.
Our trail wound around the meadow and up a road. Apparently it joined the same mud track through which we had previously traveled.
There was thick vegetation to our left, remarkable views of the valley to our right and the mighty peaks of the Raktisar glacier on the right. We all joked and laughed together.. happy to be out in the wild!
Also read- Story of a gorgeous sunset in another elusive valley in Nagaland
Villages, forests and ancient trails
We continued on this trail for another two hours and passed the villages of Lower Nai and Dalogi.
There were beautiful traditional Himachali homes made from dead deodar found in the Great Himalayan National Park. The locals there happily welcomed us and even let us use their washroom. We spent some time interacting with them, clicking pictures, and playing with the kids. They said not many tourists are seen around Shangargh and Sainj Valley. Makes sense, since even Indiahikes hadn't started its full-fledged trekking around this area. Ours was the first batch.

I remember wistfully thinking of spending a little more time there…to be honest, I could have spent hours just sitting on one of those ledges and looking out towards the gorgeous mountains beyond!
We then filled our water bottles, took their leave, and continued our hike upwards. After this, we only stopped to have lunch in between.
The place where we stopped for lunch was a small clearing in the middle of a forest. This valley is blessed with an abundance of pristine nature. Its interior and offbeat location has certainly managed to preserve its beauty!
We all had our own lunch boxes and took our share of food and proceeded to gobble it up! It was delicious. Outdoor meals have a taste of their own…probably the fresh mountain air also added to the flavour 😉
Sweet Surprises
When we were about to finish, our trek leader said there was a small surprise waiting for us there and started walking along a path behind us. And there beyond the bushes, sitting cozily beside a small stream, was another wooden temple! It was very picturesque.
Eventually, we had to trek down a dense forest. The leaves had withered to the ground and had created a carpet of brown and orange. It looked beautiful..but then it also proved that sometimes looks are deceptive! The unsuspecting harmless carpet of leaves proved to be way too slippery and it was a herculean task to just walk a few steps without slipping and falling. And my ordinary sneakers weren't helping me one bit. At one point, I put out my hands to balance myself and grabbed a branch. Unfortunately, it couldn't hold my weight and plonk! I was down on my back and sliding down the hill. It wasn't too bad though. I actually had fun 😛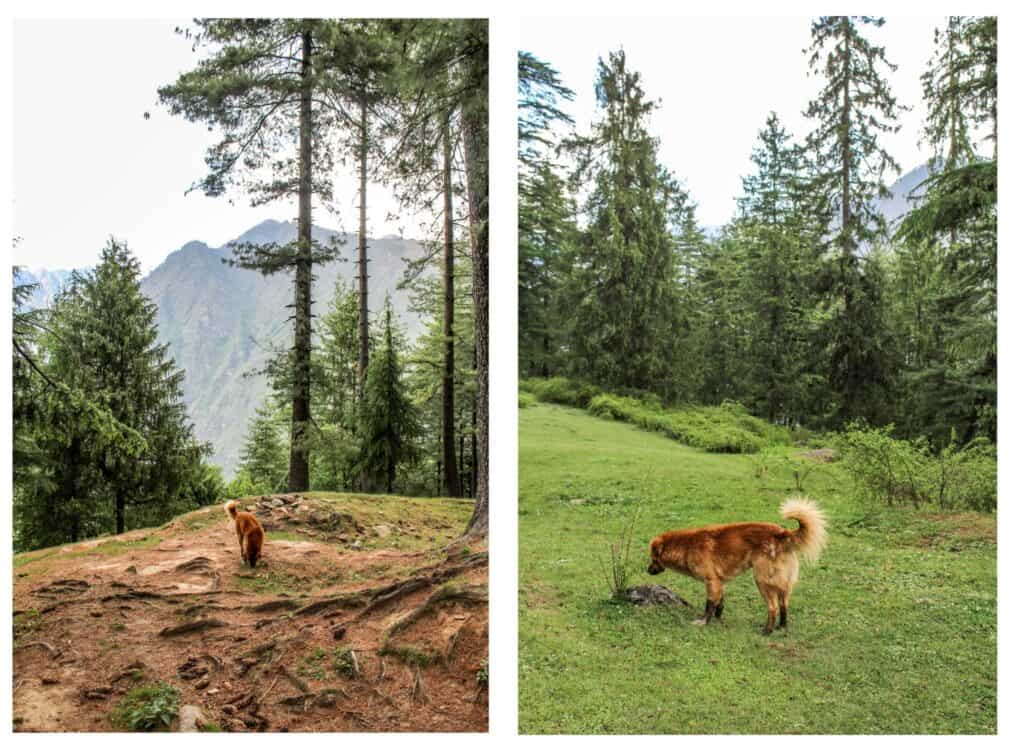 After lots of crouching, putting our hands out to balance ourselves, and holding on to branches, we were finally on flat ground. By the time we reached the bottom only a few of us had managed to not fall down.Thankfully no one was seriously hurt!
There was a sweet surprise in the form of a waterfall, waiting for us. This beautiful place seems to be full of surprises! We spent some time here before heading back to the campsite.
Tindadhar, a cozy campsite
We reached the campsite Tindadhar quite late in the evening and the sun was almost about to set. The campsite was a pretty one. Our tents were already set up. It almost felt as if we were on an extended ledge, jutting out of a mountain. With a deep abyss in front of us and more mountains beyond that.
After the allotment of tents, we were asked to take our snacks from the dining tent. We immediately shoved our backpacks inside our tents and quickly hurried to have our snacks! We were all famished you see. The slipping and sliding down the hill had managed to open all our appetites.
Can you guess what our snack was? Pasta! Yes! Can you imagine eating piping hot pasta and a cup of tea after a hard day of trek? Sitting on a rock overlooking a beautiful valley, watching the sun go down behind a hill…
I tried not to overstuff myself since we were told dinner would be just as tasty. After eating our fill, and washing our utensils, we were free to do as we pleased.
Simple pleasures of camping
Some of us went to the dining tent to play some games and some went for a short walk. I went back to my favorite rock and perched myself on it. It was such a perfect spot. Near enough to the campsite that I could hear all the laughter and conversation, yet far enough to enjoy some solitude. A perfect setting.
The sun had set and the sky had turned orange-red. Occasionally, when all was quiet, the only sound was that of birds crying and a distant sound of a stream gurgling nearby. After a while I suddenly felt an urge to listen to some songs. I plunged my hands into my trek pants, took out the ever-present earphones and plugged it to my ears. Ahh bliss…
The sky eventually turned black and night descended on the valley. After a while, we all had our dinner in the dining tent. It was a huge conical-shaped tent with foam blankets. We all huddled together, sitting cross-legged, and gorged on the food. It was as delicious as promised. Even a dessert! Sitting at 6000 mts above the sea level, in the middle of nowhere, we were having kheer! Another stuff of dreams…
A night to remember
After eating our fill we had a fun round of formal introduction where we all got to know each. Apparently Sainj Valley trek was most people's first trek. After chatting for a little while longer, we went out of our tent with our tiffin boxes. I waited until everyone had left. Almost everyone let out a cry of joy when they pushed open the tent flap and ducked their head out.
When it was finally my turn, for a moment I was struck dumb! The sky was adorned with thousands of twinkling stars! It was almost as if thousands of miniature lights were twinkling and glowing. As if a huge hand had tossed a handful of stardust into the sky and they were suspended midway. Sequins of silver, sparkling and shimmering. Even as I washed my dinner box, I constantly kept looking up to the sky. Wanting to remember as many small details, of this incredible experience, as possible.
My friend and I sat together for a while gazing up at the stars and having random conversations. When the cold started seeping into our skin through our layers of fleece and thermals, we finally decided to call it a night and sleep. It had been a good day..
My tent mate was a cheerful person in her early 40s, and the only other female in this group. She had come with her husband and they were a source of inspiration for us. They seemed to prove the fact that age truly is just a number and there's no 'right time' to pursue anything you love.. We spoke for some more time before snuggling into our sleeping bags.
Day 2: Trek from Tindadhara to Pundrik Lake and drive back to Aut
My subconscious mind woke me up just after sunrise. My tent mate was still sleeping. I could hear some ruffling sound outside the tent and I slowly drew open my tent flap. It was not really just after sunrise, after all. I had underestimated my fatigue of the previous night. That's when I looked at the time. It was well past 7 and was quite bright outside. It was my first experience waking up on a mountain top, with a gorgeous view outside.
We quickly freshened up and had another tasty meal for breakfast slurping our hot tea and staring wide-eyed at the gorgeous vista in front of us.
It was a different world in the morning..The sunlight was streaming on to the mountain tops and everything was bright and yellow. I didn't really want to leave, but sigh..we had to of course! But then it was another new day ahead with yet another adventure! So wasn't so bad after all.
A few minutes later we folded our tents and after thanking the mountain staff for their wonderful service, we cheerfully set off. Making our way through the thick vegetation. The sun was now fully up, beating down our backs. We huffed and puffed our way upwards. After a while, the uphill path abruptly ended and all of us welcomed the green canopy and rested for a few minutes.
Forest tales and trails in Sainj Valley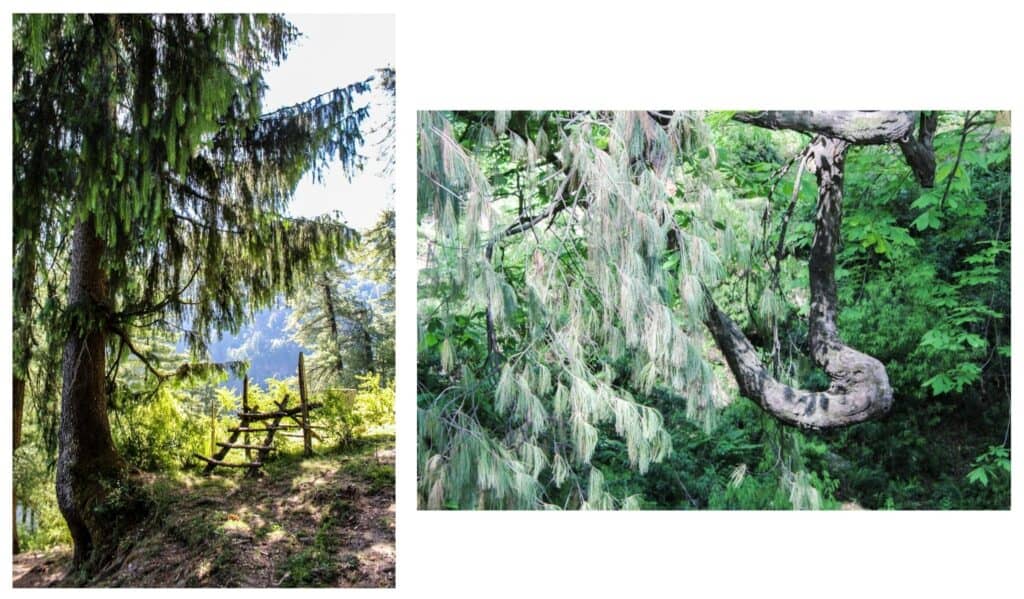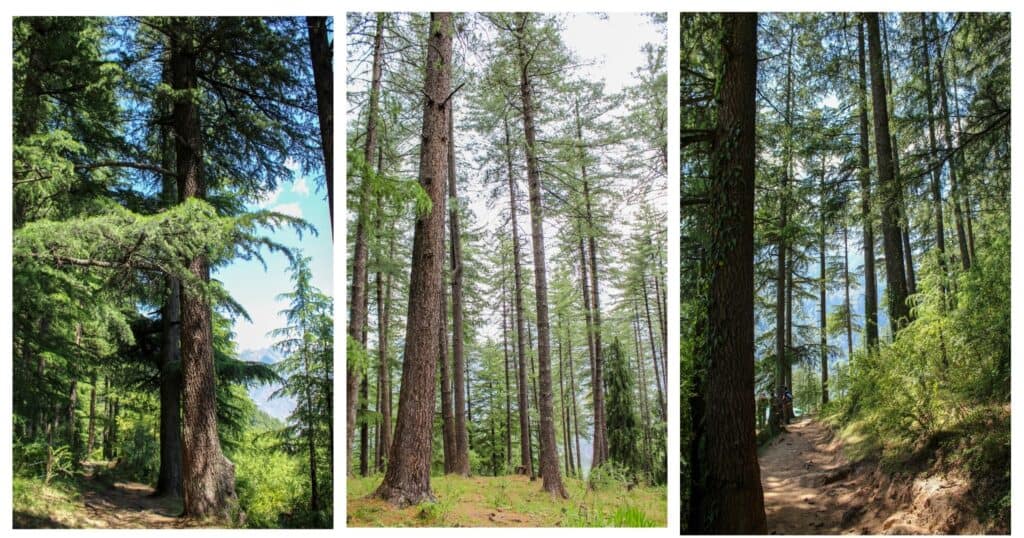 The traditional village of Sarahan in Sainj Valley
The trail continued through the forest for about 40 minutes, till we reached the village of Sarahan.The homes here are unique . Animals are kept on the ground floor and humans occupy the first floor.
A little way ahead, there was a clearing and there were two beautiful man-made structures. A carved wooden temple dedicated to Pundrik rishi and a government school. The temple was built with deodar wood, the pillars and the door had beautiful carvings. The school serves students from surrounding villages up to class 8.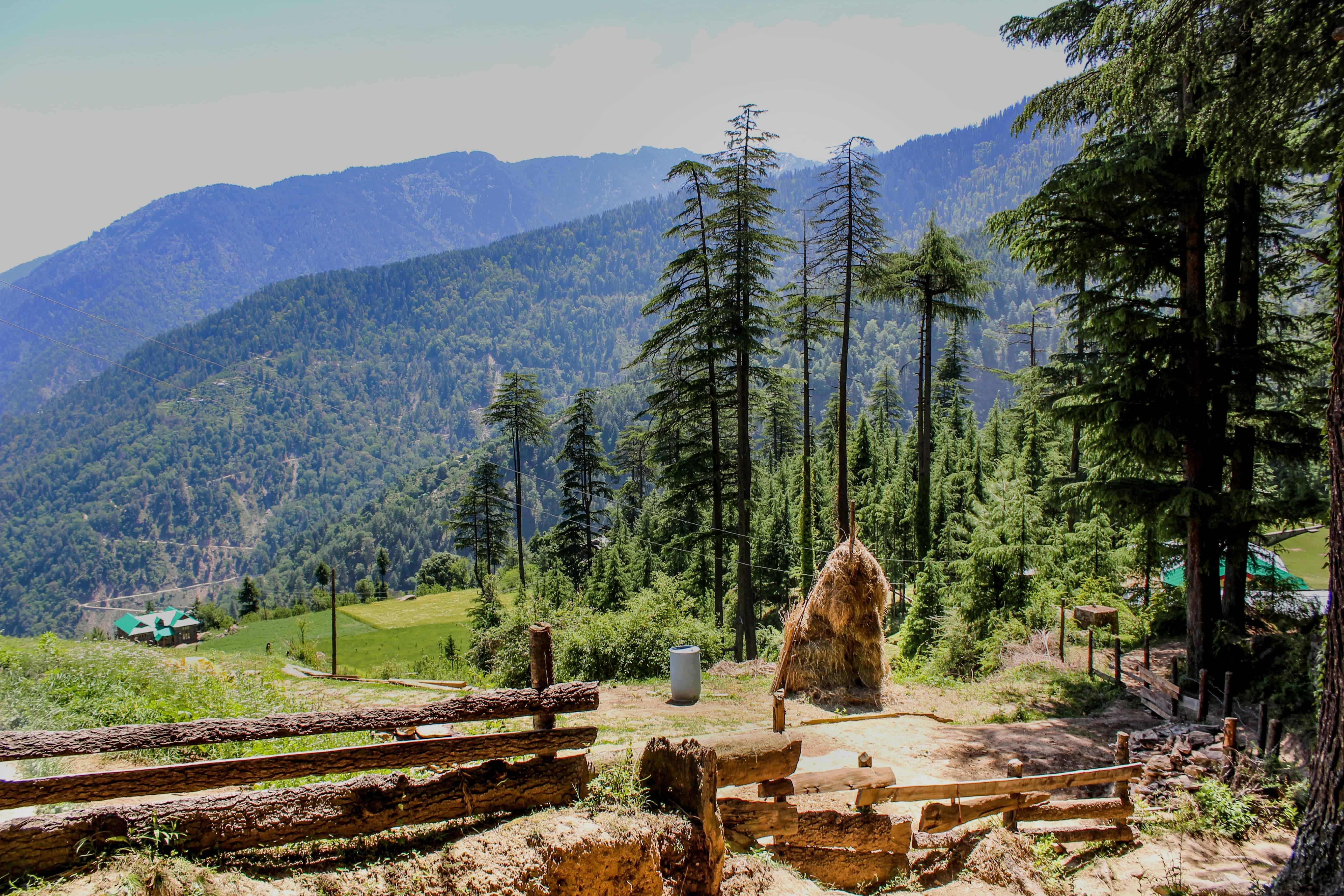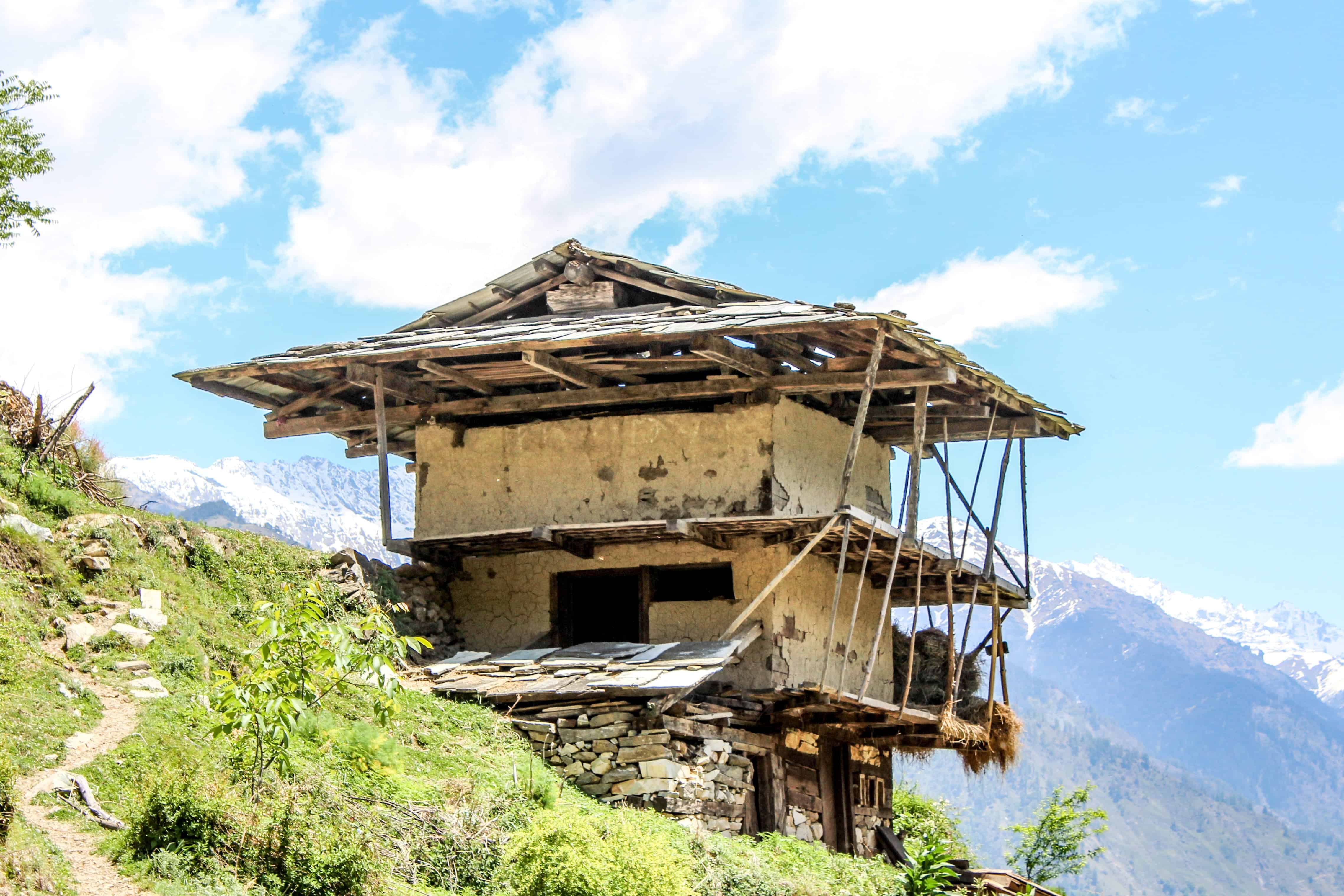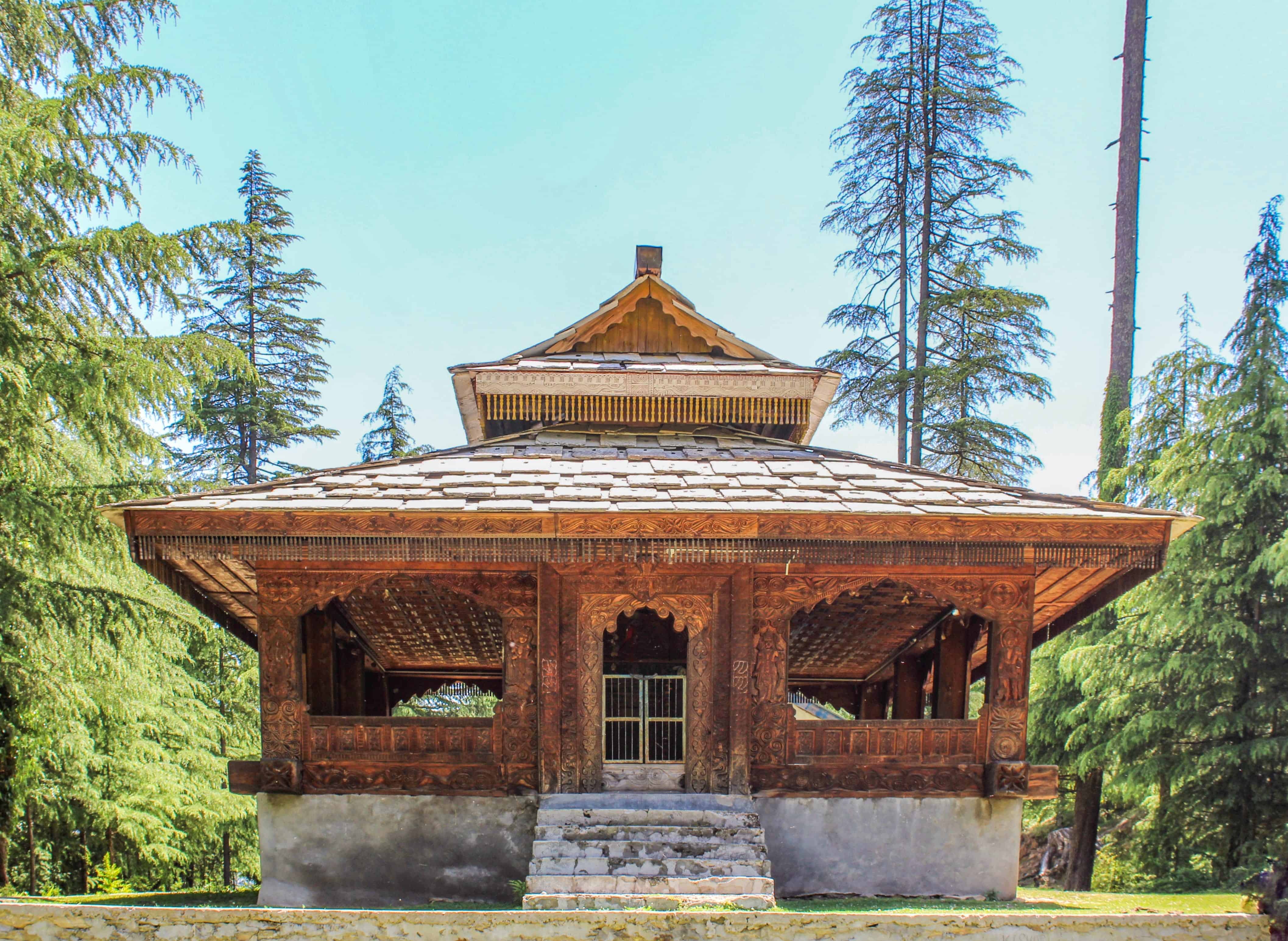 Pundrik Lake, a little different from our expectations?
We continued beyond this clearing for about 20 minutes and reached another meadow. There was knee-length grass growing here. It took some time for us to realize that we had reached our final destination, Pundrik Lake.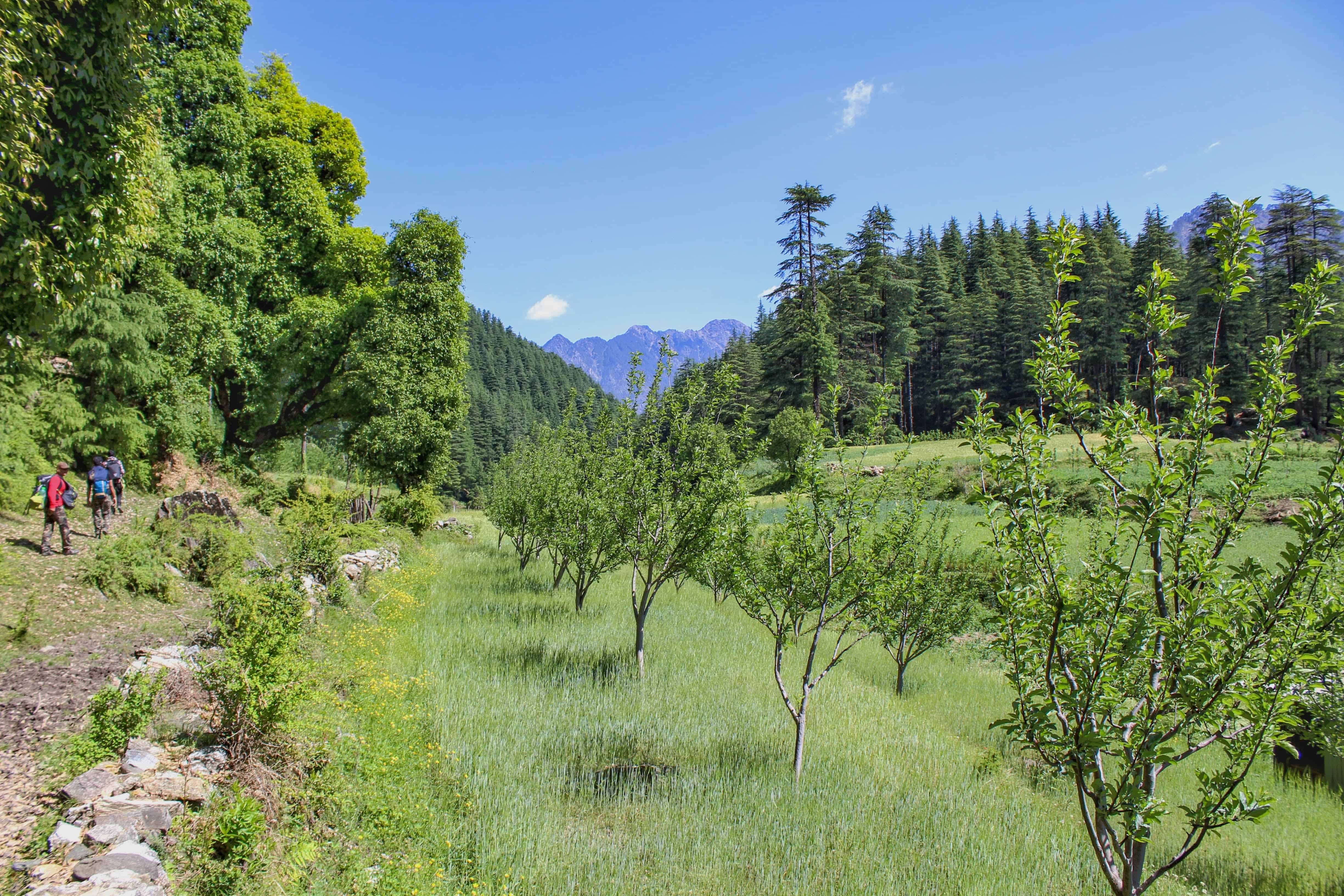 When you read the word lake, chances are, that you imagined a blue water body. Maybe the more imaginative ones would've visualized reflections on the surface of the lake. Pundrik lake was none of that.
Pundrik Lake's location was surreal though. It was ringed by deodar forest on one side while our trail continued on the other side. This particular path was probably one of the most peaceful ones. Most trekkers had gone silent and the only sound to be heard was that of light chirping of birds and the crunching of dried leaves under our soles.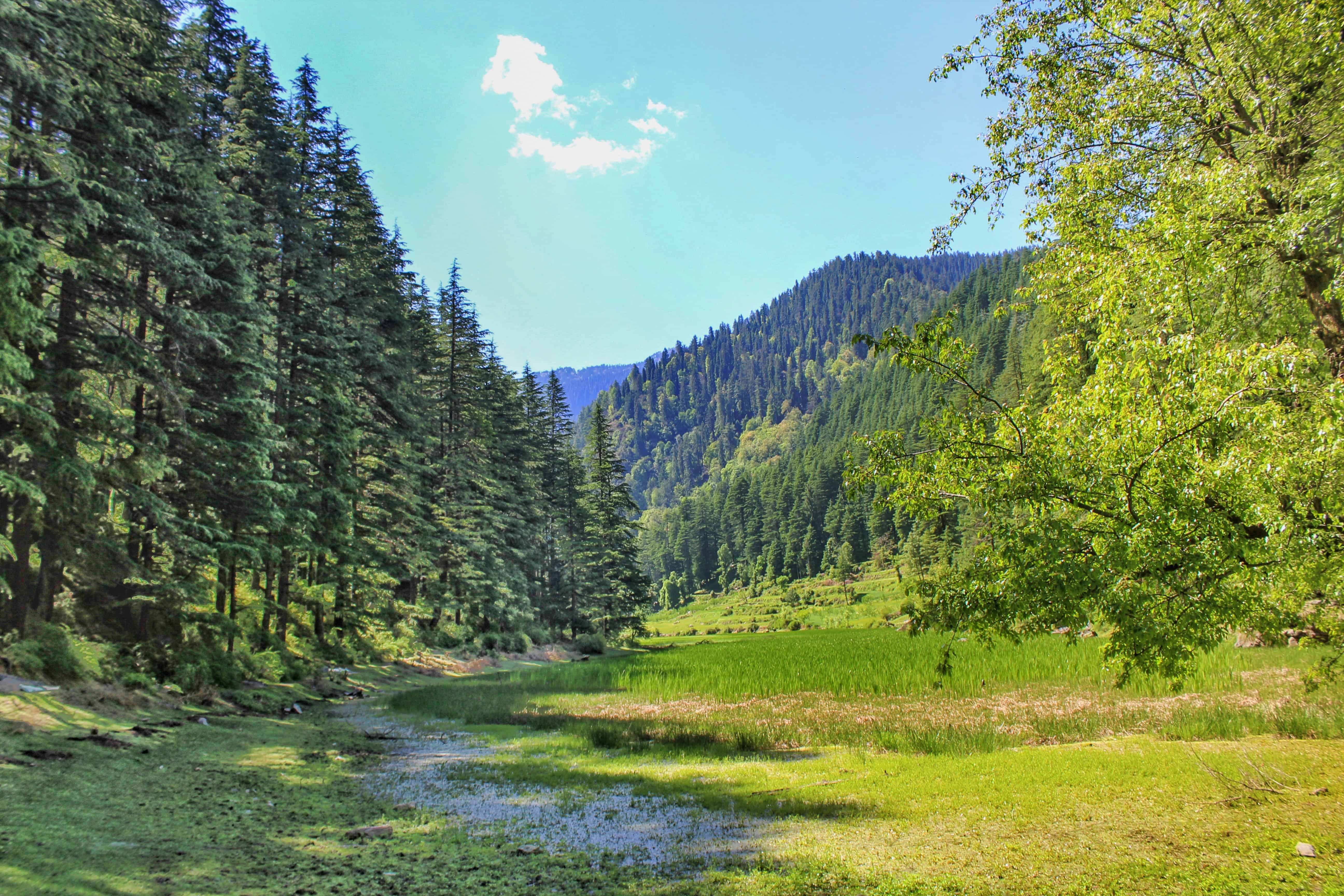 There were some leaves, twigs and dried, brown tree trunks idly floating in the middle of the lake…Apparently this lake's surface changes color with the changing seasons. All thanks to the grass that grows on its surface.
Golden orange during autumn, white during winter, and also a light shade of pink during spring, due to some flowers which bloom out of the grass. Now that'd be an interesting sight to witness! Local legend says, there used to be a paddy field there until the local deities from nearby valleys fought, and so the cultivation stopped. Pundrik Rishi is said to have blessed the land with his spiritual knowledge years ago and the lake is named after him.
We idled beside this lake for some time, clicking pictures and simply soaking up the peace and calm. Some locals passed us by, shepherding their cattle. Drinking alcohol, entering the water, or consuming non-vegetarian food is strictly forbidden here. All of these attract a fine of Rs.5,000.
After this, we started our way back to Ropa. It was a descending trail passing through barley fields, villages, and woods. And after around 2 hrs we were back in Ropa.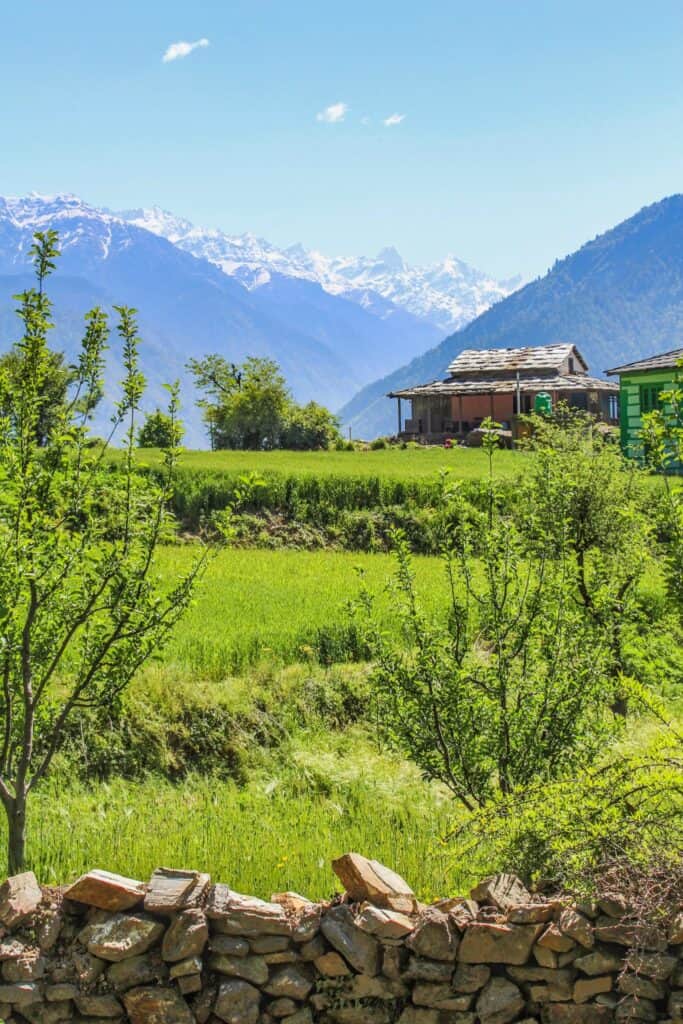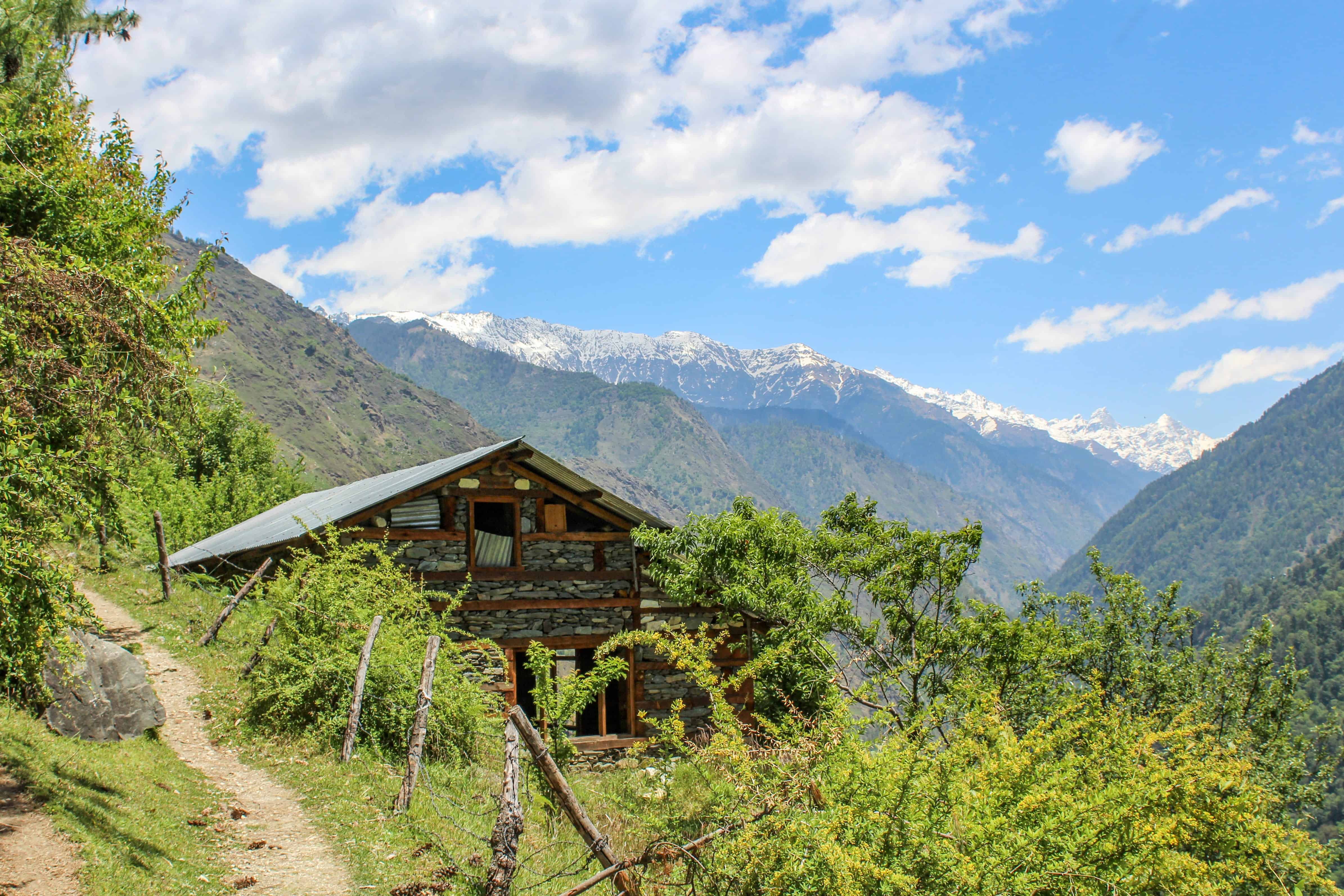 My takeaway from Sainj Valley trek
Sainj Valley trek, truly emphasized the saying, that it's not the destination, but the journey that counts. Maybe what we had in mind, with regard to the lake, was different. Maybe it didn't resonate/match with our expectations. But it was unique and beautiful in its own way. And because it turned out to be so different from our expectations, we'll probably remember it forever.
Doesn't this hold true for other situations in our life too? Oftentimes due to our high expectations, we only tend to look at the end result, rather than enjoying the process itself. But it's always the process that matters, isn't it? 😉 And that was the message I deciphered for myself, from this trek!
The Great Himalayan National park is a treasure trove of pristine nature and the Sainj Valley trek takes you right to the heart of this! The highlight of the Sainj Valley trek is that, just in a span of 2 days, you get to witness all the wonderful topography. Mountains, plains, streams, meadows, flowers, villages, all in a span of two days. Quaint and intricately carved wooden temples from the bygone era, quintessential to Himachal tradition. The trail is abundant with rich flora and fauna. It's a complete package!
How to do Sainj Valley trek?
Sainj Valley is yet to gain popularity among the masses and the only trekking company which organizes this trek is Indiahikes. You could also contact Hippie in Hills, another wonderful local trekking organization.
Liked this post? You could consider subscribing 😉 And get new content directly to your mail!