Red rocked cliffs hugging the coast, candy-coloured sunsets washing the skies, vibrant shops filled with rainbow-tinted dreamcatchers. This post is about the best places to visit and the best things to do in Varkala, a place synonymous with all the above-said words.
I travelled to Varkala on a whim and immediately regretted it.
But not for reasons one would think. Since a long time, I'd been craving for a place with beaches and cliffs. And I'd resigned to the fact that it was a luxury to be found only in far off countries. I regretted not visiting it sooner, despite its being just an overnight-journey away from my hometown Mangalore. It stole my heart from the moment I stepped foot there!
There's an uplifting, relaxing vibe about this place which is so infectious! Just like the hundreds of dreamcatchers there! Swaying and fluttering in the sea breeze, vying for attention.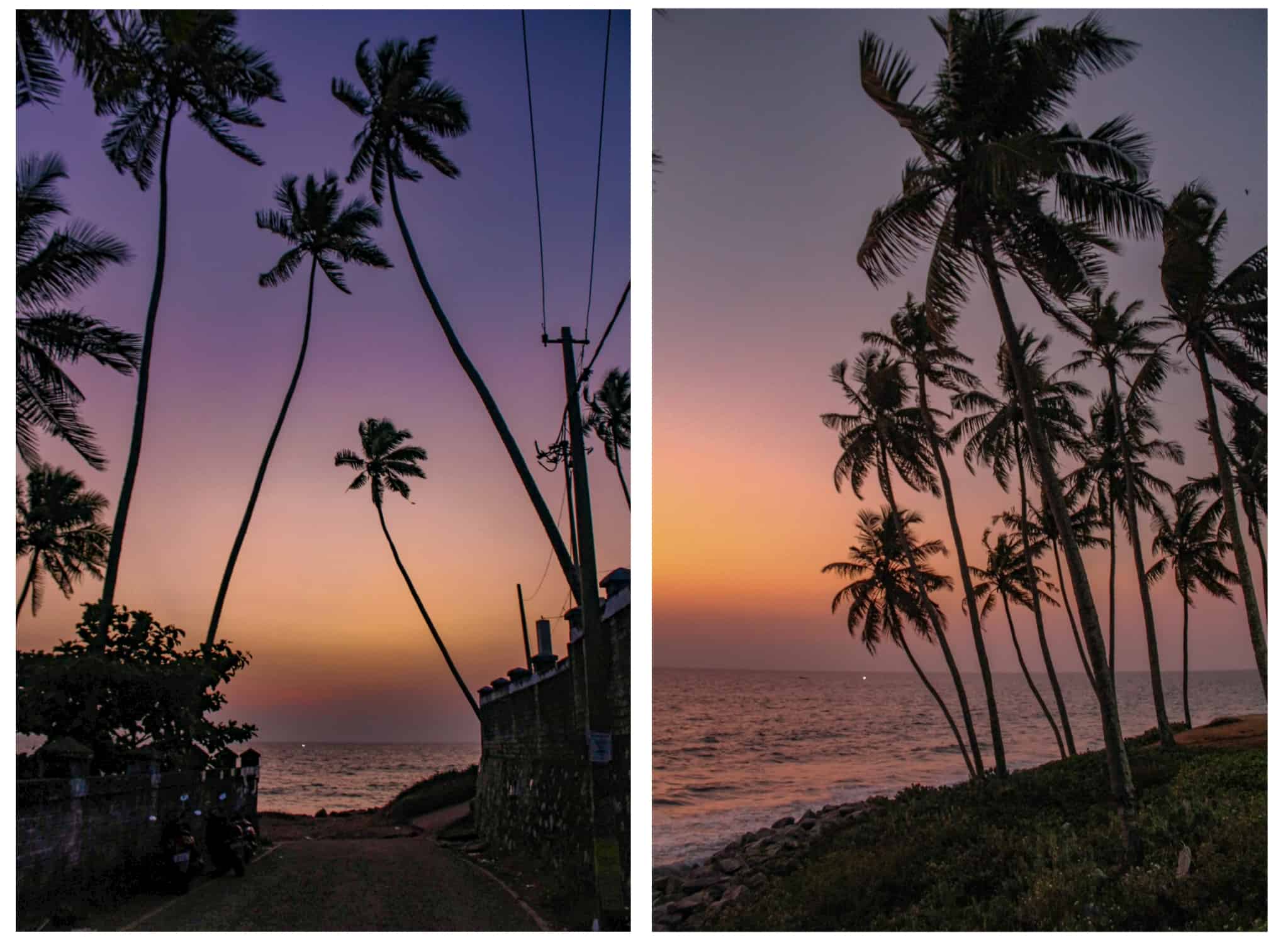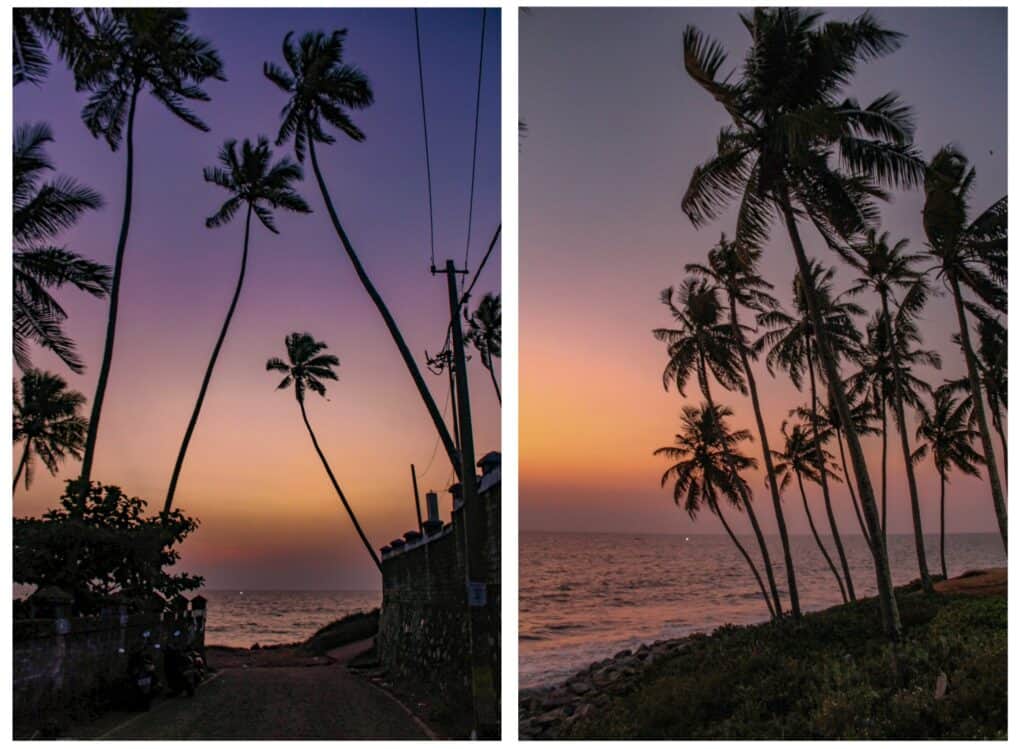 For years this gem of a coastal town remained in seclusion hiding in plain sight and was usually frequented by surfers and pilgrims. There are many offbeat places to visit and wonderful things to do in Varkala and the locals have carefully preserved its unchartered beauty.
While one end of the town is dominated by temples with its slanting red-tiled roofs, a little further away the whole atmosphere transforms. The cream-coloured sandy beaches are lined with cafes and shacks and there's a sharp change in the smell of the air and not just because of the proximity to the beaches.
Things to do in Varkala – The Land of Colours and Coconut Trees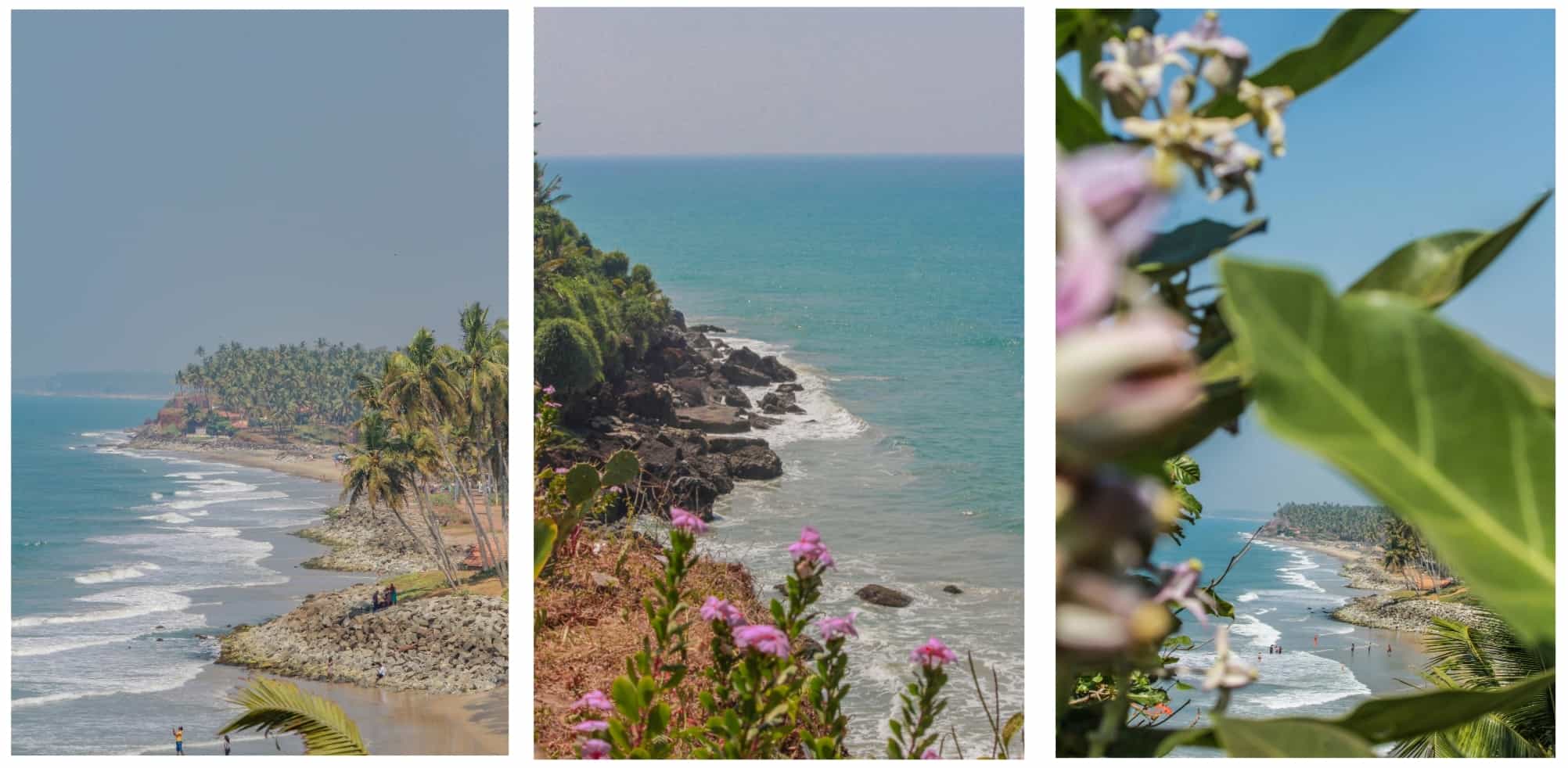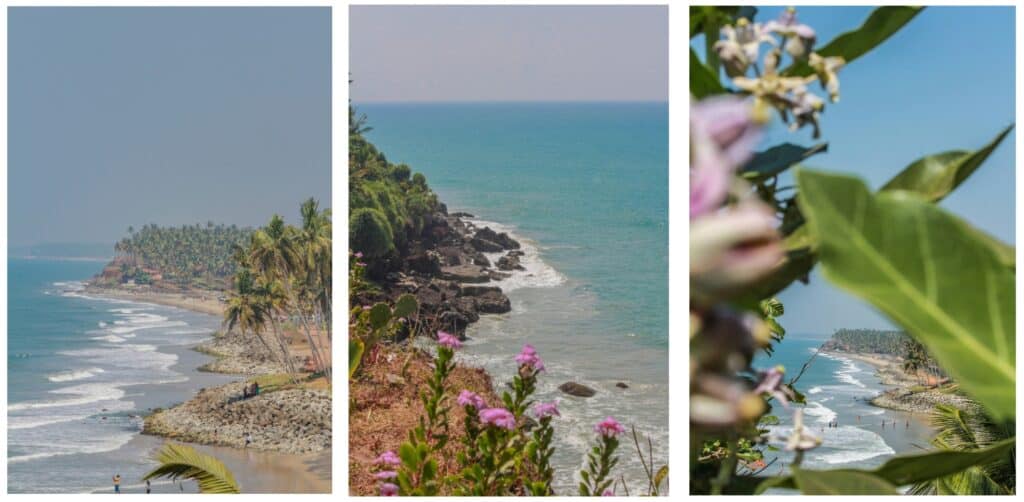 Places to visit in Varkala
North Cliff– The most happeneing part where the major chunk of cafes, hostels and vibrant markets lie.
South Cliff– A laid back version of the north cliff. This is the place people visit when they're done and dusted with the north cliff. And then wish they'd have visited it sooner.
Paapanasham Beach: It's now popular as Varkala beach. They say that a bath in this beach can wash away all your sins. Hence the name. All the more reasons to visit, eh? ;P For a long time Varkala was famous as the pilgrimage centre, before the advent of travel and tourism.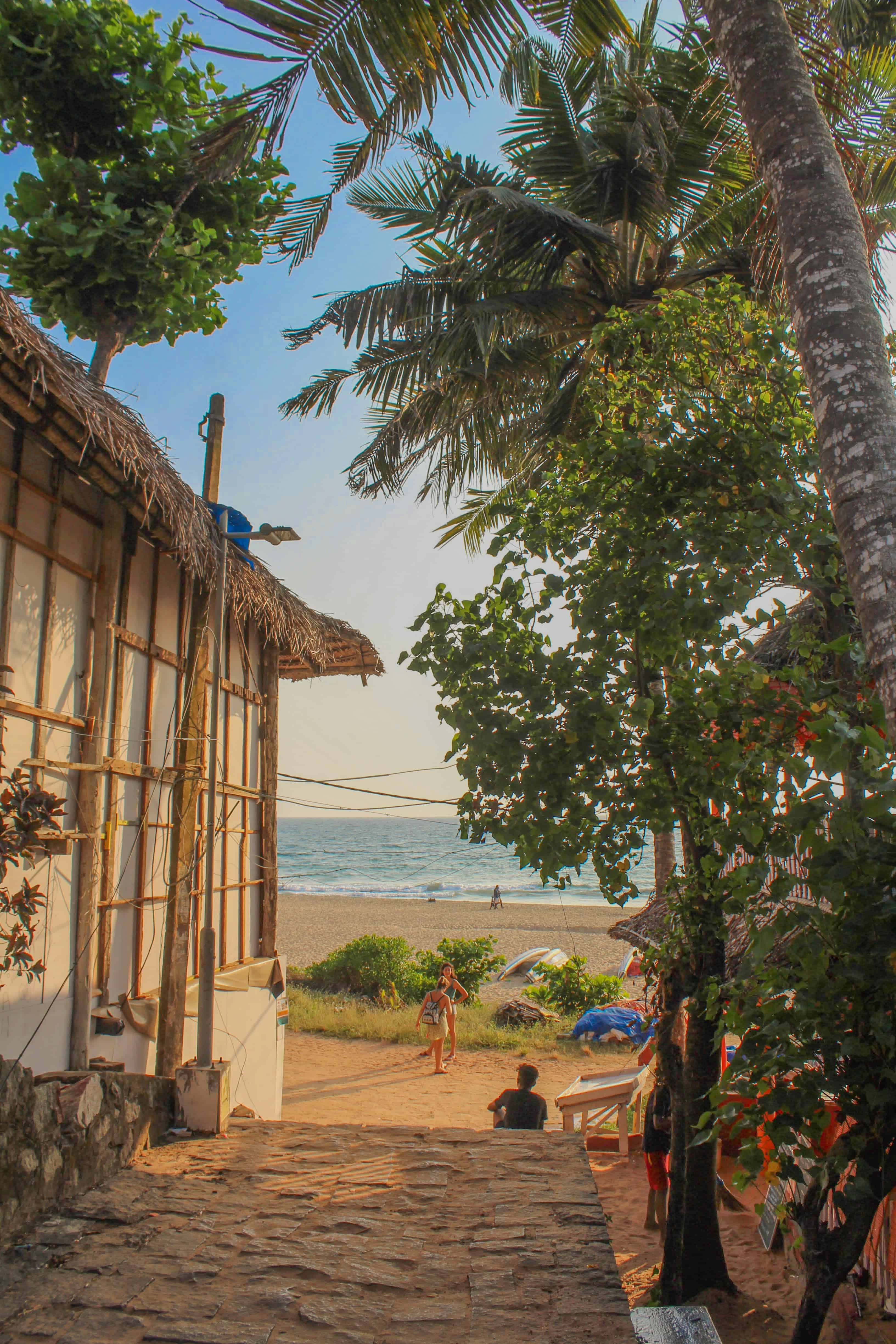 How to Reach Varkala
Varkala is well connected to most cities within Kerala. But if you're travelling from other states, you have to first reach Kochi or Trivandrum.
Flight– Fly to Trivandrum (Thiruvanantapuram Domestic Airport) and take a bus or a cab to reach Varkala. There are several frequent flights from various parts of the country and some from the middle east too.
Train– Varkala is connected by train to major metro cities. There are trains from Bangalore, Chennai, Coimbatore etc. I travelled from Mangalore and VAK is Varkala's station code.
Road– It is well connected to many cities by road. Although you may not find direct buses from other states, you can always break up your journey by first reaching Trivandrum. From there you can reach Varkala within 2 hours by a local or VOLVO bus. There are many overnight buses running from Bangalore. You can look them up in Redbus or any other similar app.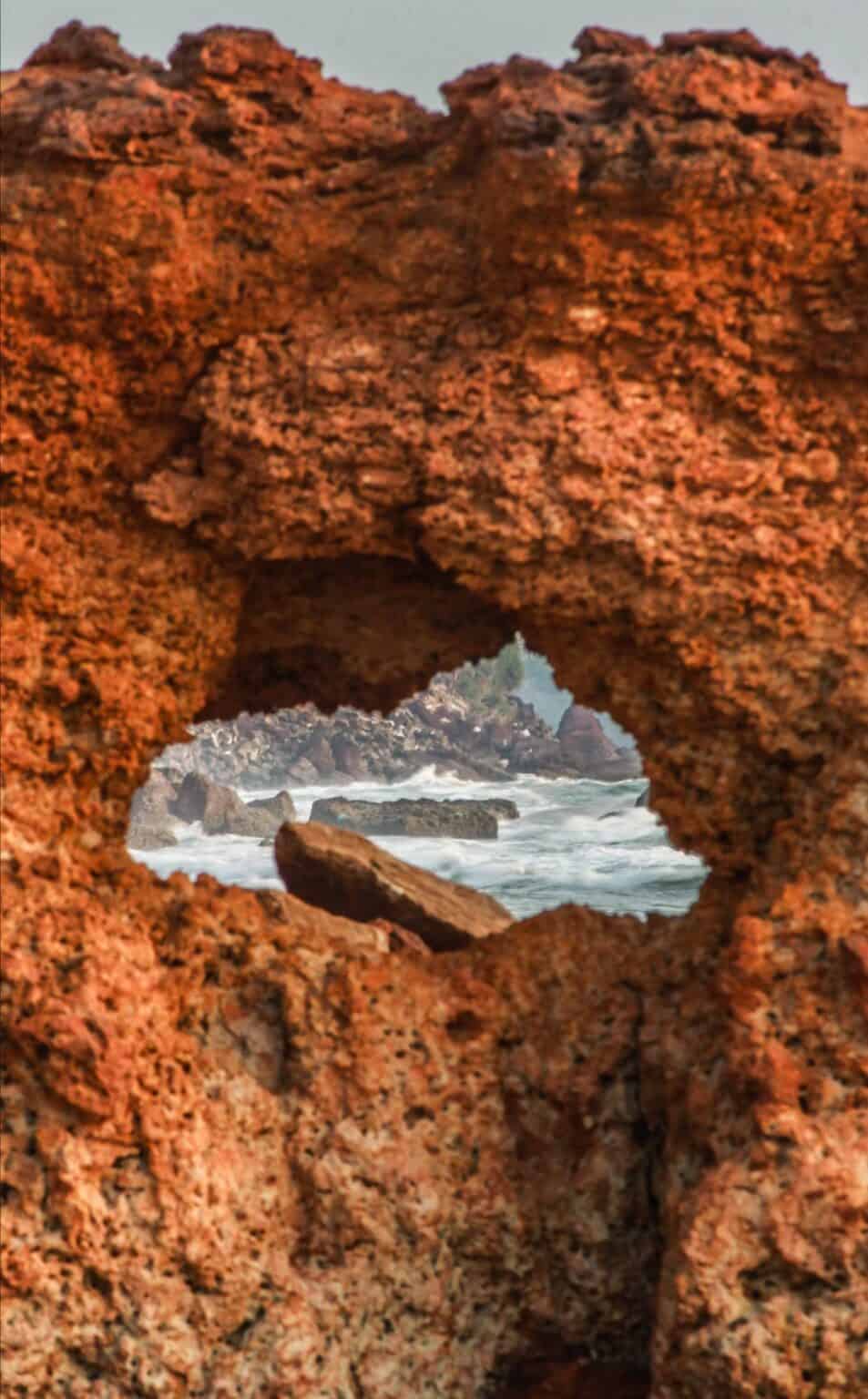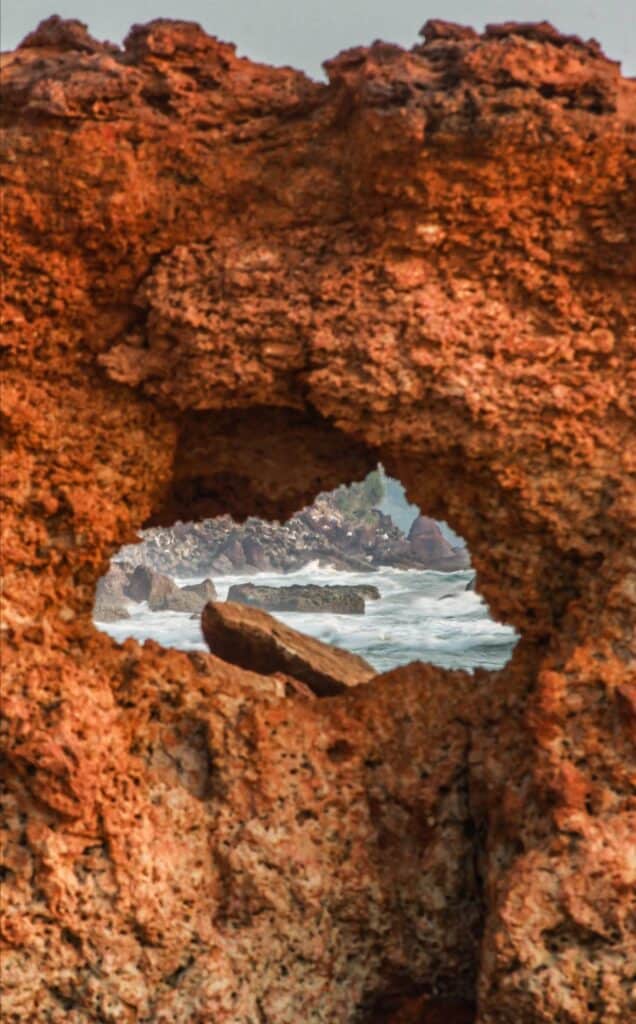 Best Time to Visit Varkala
Best time to visit this beautiful paradise is when you want an escape from reality! No, really. It's that beautiful. Maybe it's just that the places with seas and cliffs are simply more magical! Especially during sunsets!
When the blue water glimmers below and the orange orb floats above. Like a blue mocktail sprinkled with orange syrup. I felt a similar kind of thrill in Gokarna.
But remember that it's a coastal town. So along with the views of turquoise blue water, it has its share of heat and humidity. Prepare for the occasional blasts of hot winds blowing on to your face. If you come unprepared and choose to roam around during the sweltering afternoon sun you might end up having a completely different experience, especially during summers.
It's absolutely gorgeous during the monsoon, June to August when the sea swells and the grey waves constantly crash against its red rocks. But if you're not a fan of rain and dampness then avoid this season.
Winter can be the perfect time. With moderate temperature and great sunsets. December is the most popular season when this little town sees huge crowds and it's a vibrant and happy time to be here.
Typical Cost
Varkala is a perfect budget destination for backpackers as the majority of the cafes and hostels are very affordable. And there's no dearth of either of them.
Also Read- Complete Gokarna Travel Guide
Getting Around in Varkala
You can explore most of the places on foot. And for days when you wish to venture a little outside the main town, it's best to rent a two-wheeler which is extremely cheap. You'll get bicycles at 100 INR/day and bikes at 400-500 INR /day.
13 Wonderful Things to do in Varkala
Go on a Random Exploration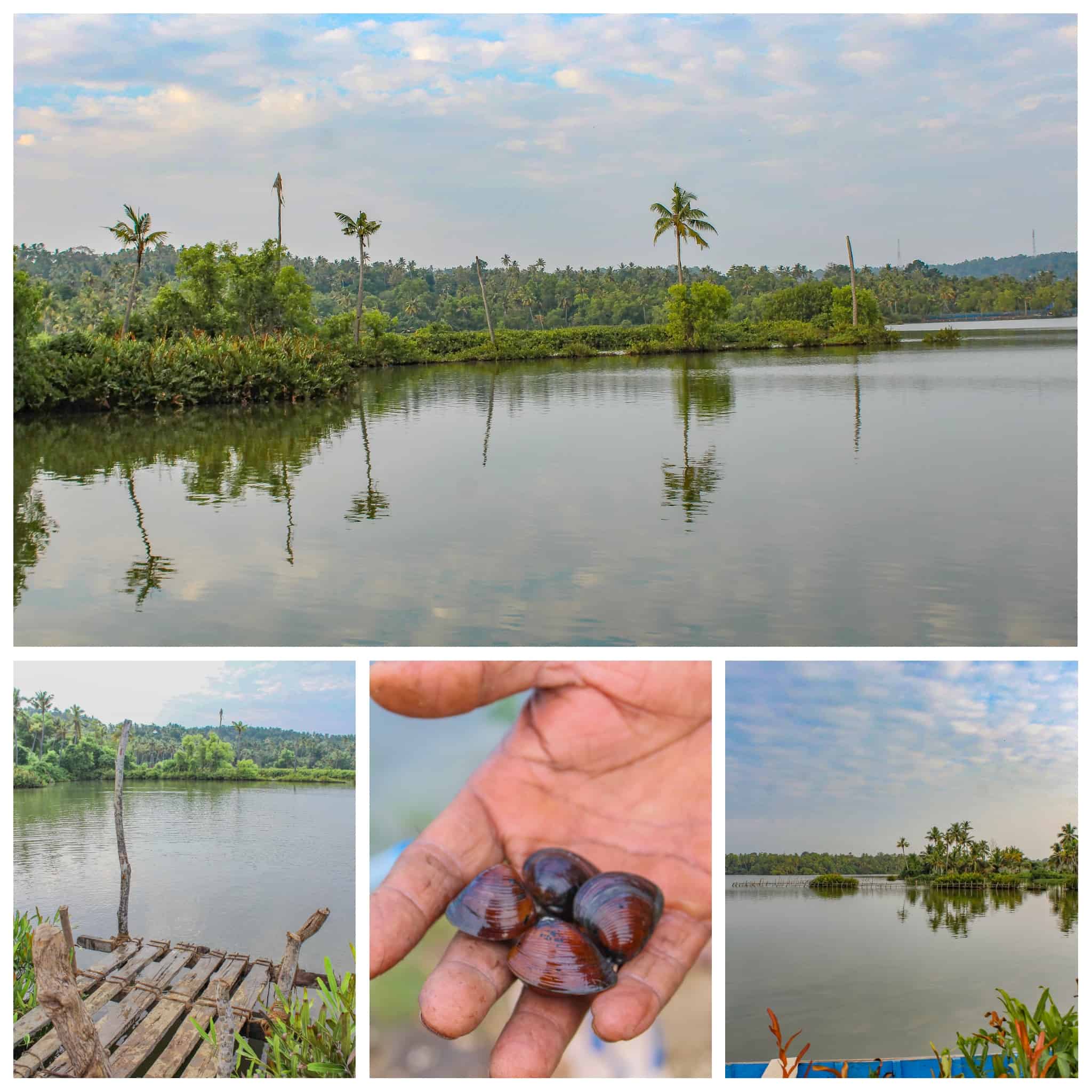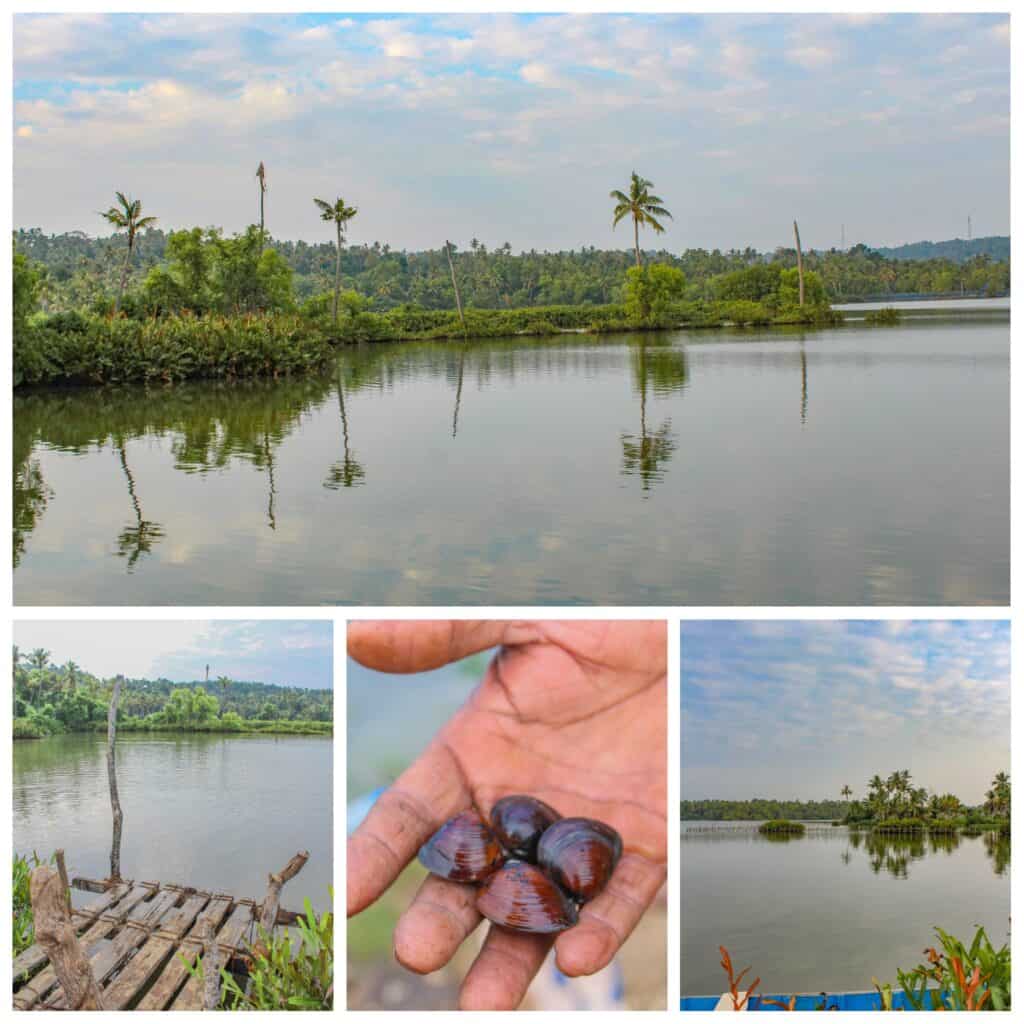 Beyond the cliffs and beaches, there's a world of its own in this idyllic getaway. And that should be as much on your list of places to visit in Varkala as the beaches.
One of the top things to do in Varkala is to rent a two-wheeler and zip across the scenic roads. Explore the small fishing villages with their red-tiled terracotta-roofed houses, ancient obscure temples and stunning ocean views peeping through the coconut trees. It's a delight to drive around the lanes of Varkala and you never know when you might come across a beautiful spot accidentally.
You could either travel south towards the Anjengo Fort or up north towards Kappil Backwaters. And if you're a cycling enthusiast, you can rent a bicycle and explore around.
Attend a Temple Festival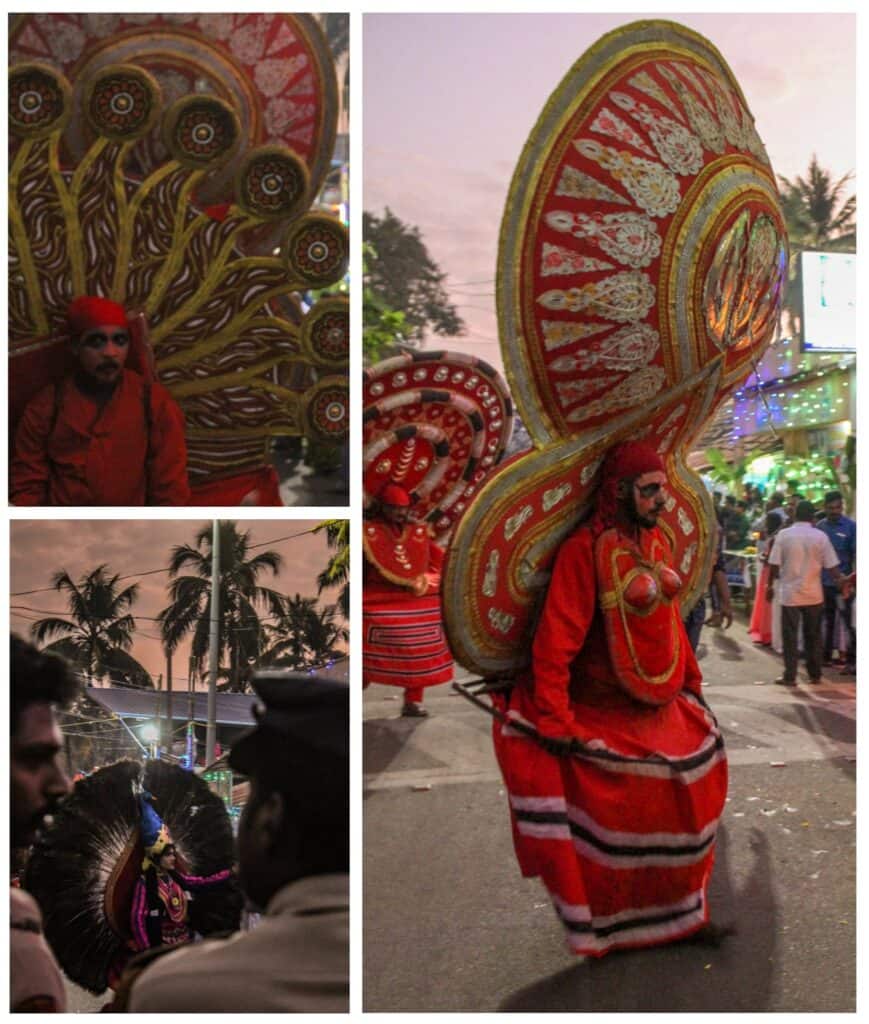 I doubt if there's ever going to be a dull moment in any of the towns in Kerala. Evenings in these quaint towns are for fun gatherings mostly revolving around temples and their colourful festivals.
The lanes of Varkala have numerous temples, each celebrating their own festival during various days of the week. I remember how my auto driver insisted on taking me to a celebration near his house. And although it wasn't my first time, I couldn't help being fascinated at the sheer joy and mirth among people gathered everywhere. On the roads, some timidly standing outside their doors, some on their porch and some from their terrace.
There was music everywhere. And depending on your tolerance level you could either find it exciting or chaotic! There was a beautiful elephant elegantly dressed and welcomed like a god with people offering flowers and garlands.
They say elephants can remember. I wonder if they remember this joy. And I wonder if that's what keeps them going. Every year away from their family, forced to dedicate their lives to people and their ideology. Forced to bow down to humans and their chants of faith and, often baseless, beliefs.
But even in the cacophony, there's a rhythm. And even if you don't enjoy the loud noise, you can't help being amused by it.
Experience Life at Varkala Beach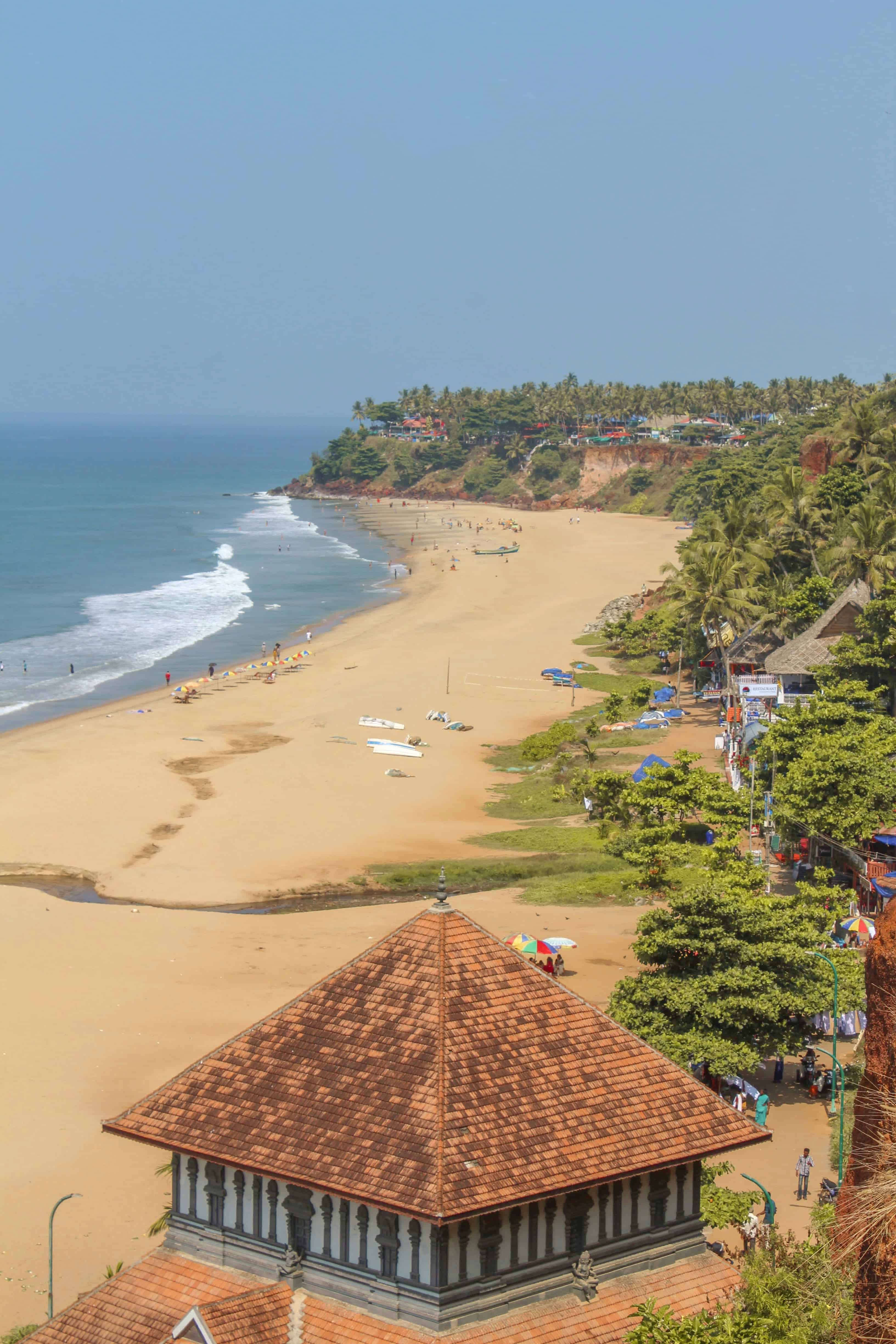 Paapanasham Beach, now popularly known as the Varkala beach, is a melting pot of pilgrims, backpackers and tourists. Varkala Beach is not your ideal peaceful getaway. Pilgrims frequent it mostly. Visit this place in the mornings for a glimpse of daily life here. You won't find a moment of boredom at Varkala beach as there's always something happening.
Once you've had your fill of this place you can proceed towards other secluded beaches which are not very far from Varkala Beach.
Watch Sunset on a Cliff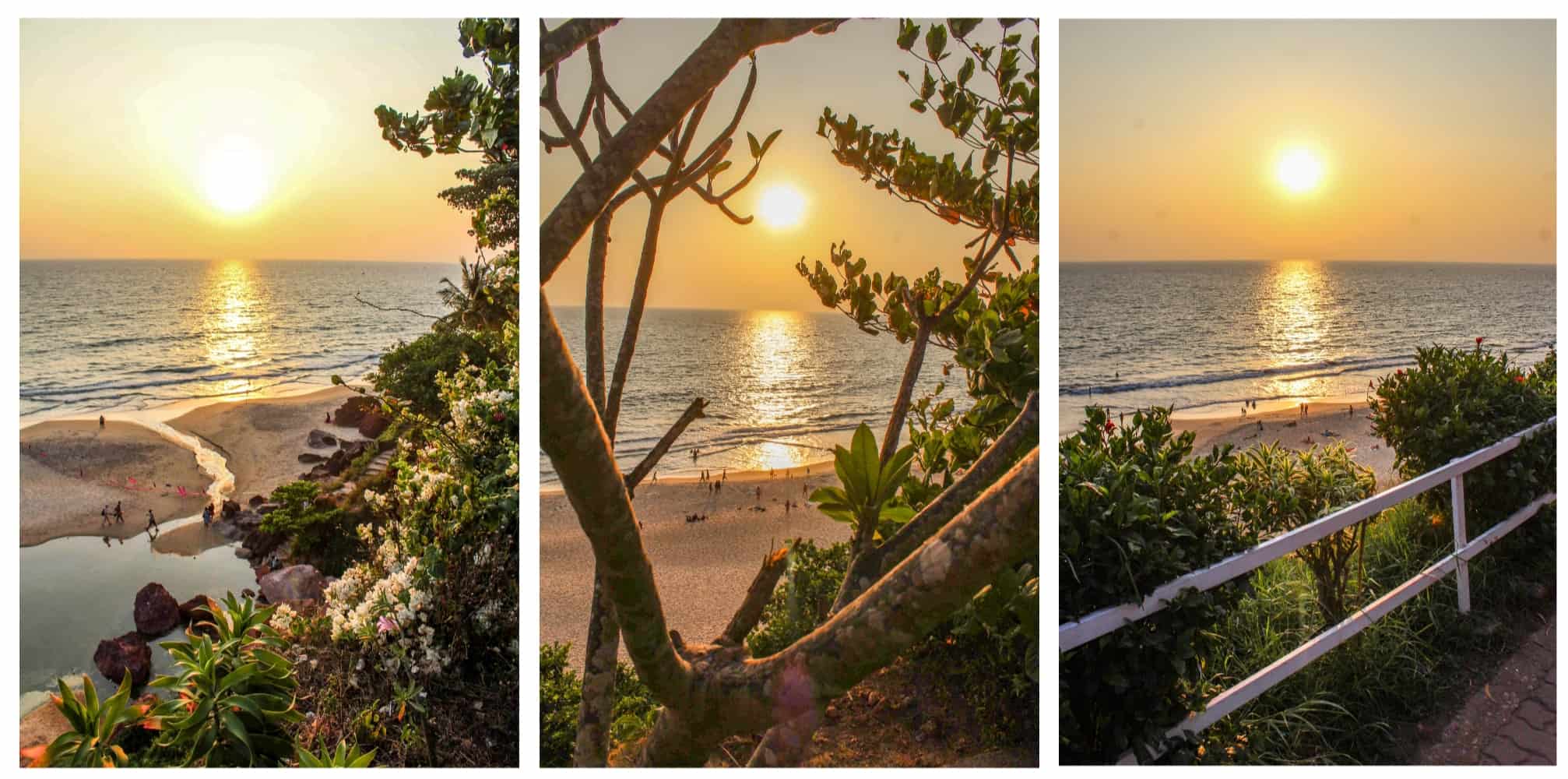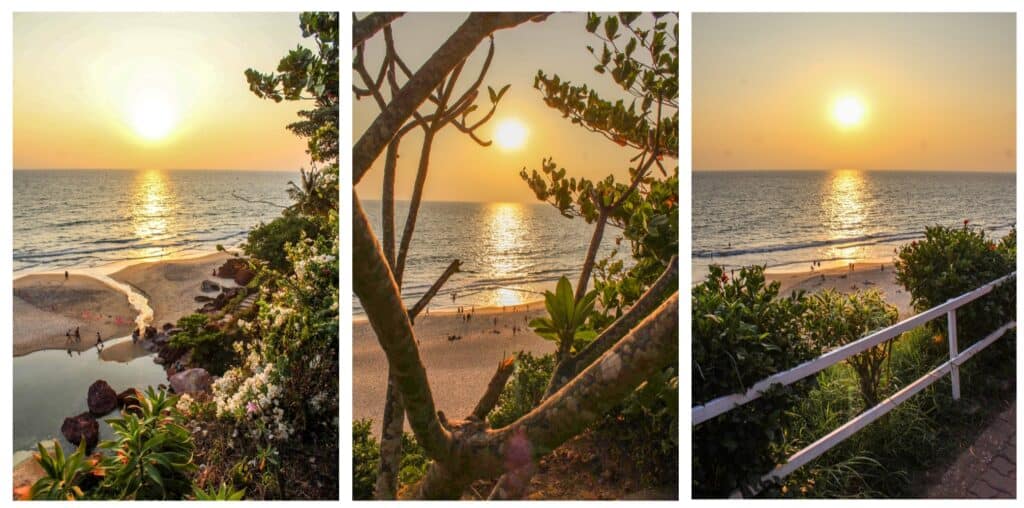 I've watched so many sunsets that if they could fill the stomach, I probably wouldn't need to eat for quite some time. Okay maybe that was a slight exaggeration, but you get the point don't you? I thrive on sunsets. There are very few things that are as beautiful as sunsets. And I'm sure you agree with me too.
The cliffs here seem similar to those found in Iceland. Or maybe not! Because these red-rocked cliffs are unique to Varkala. Also known as 'the Varkala Formation' these are now protected as a national geological monument.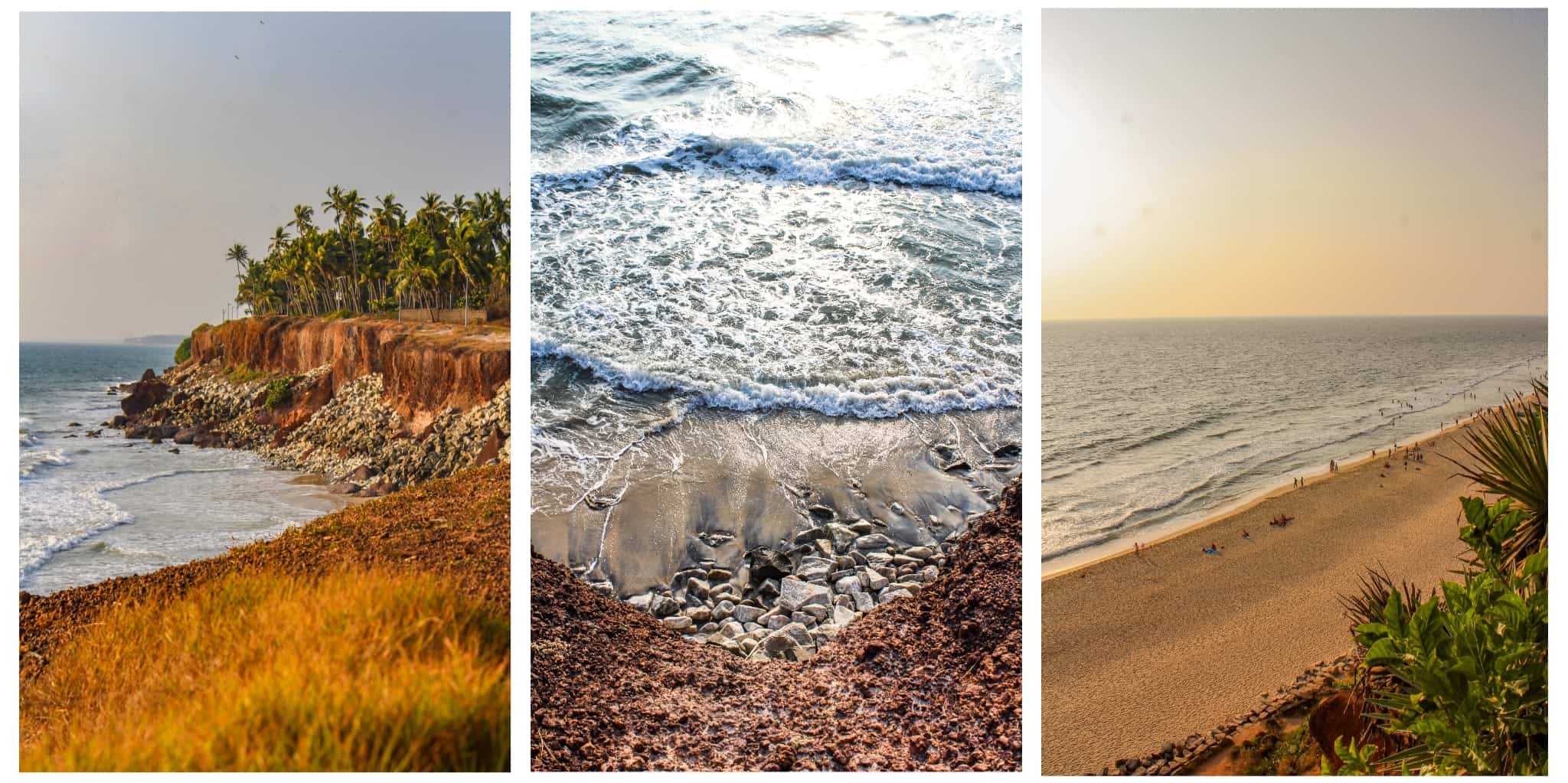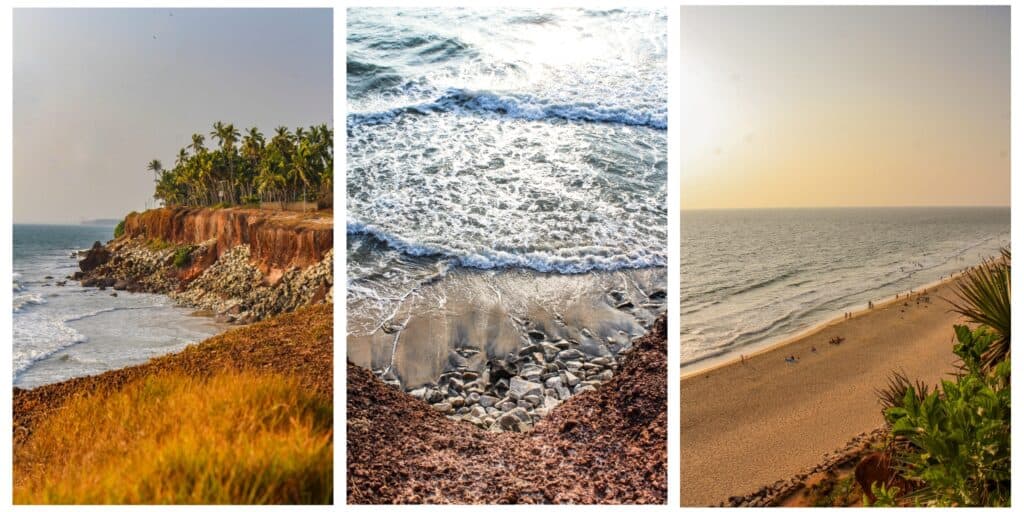 At some places, the waves crash directly to the cliff wall and at places, there's a strip of sandy beach below. And watching these candy-coloured sunsets from atop a cliff is one of the most amazing things to in Varkala.
If only it weren't for the occasional sight of trash!
If your heart breaks at the sight of it, and if you're not in a position to make any great changes, maybe just take a pledge to not use plastics bottles henceforth. And if you've already been following that, maybe pledge to stop using some other form of plastic.
Hike to Kappil Beach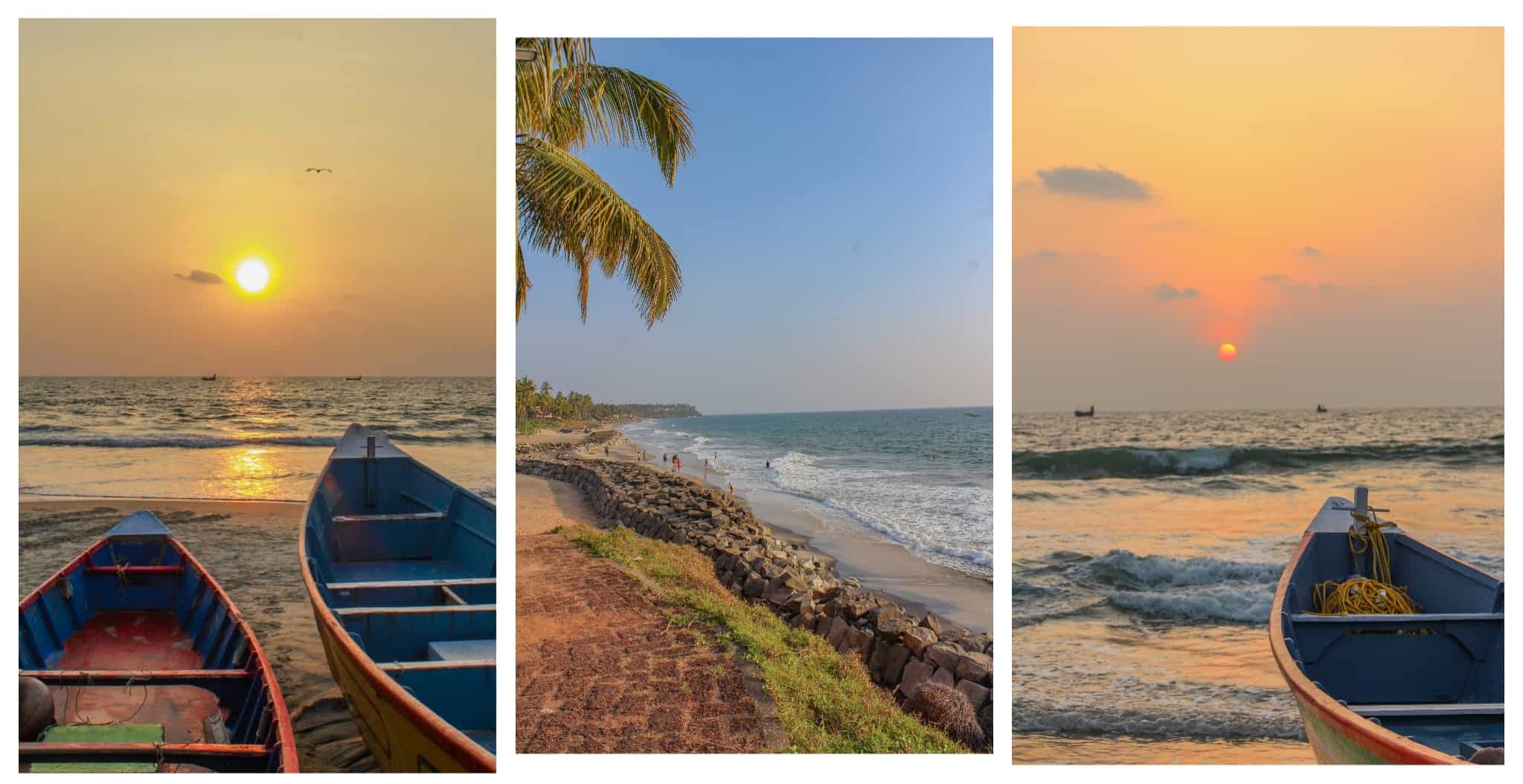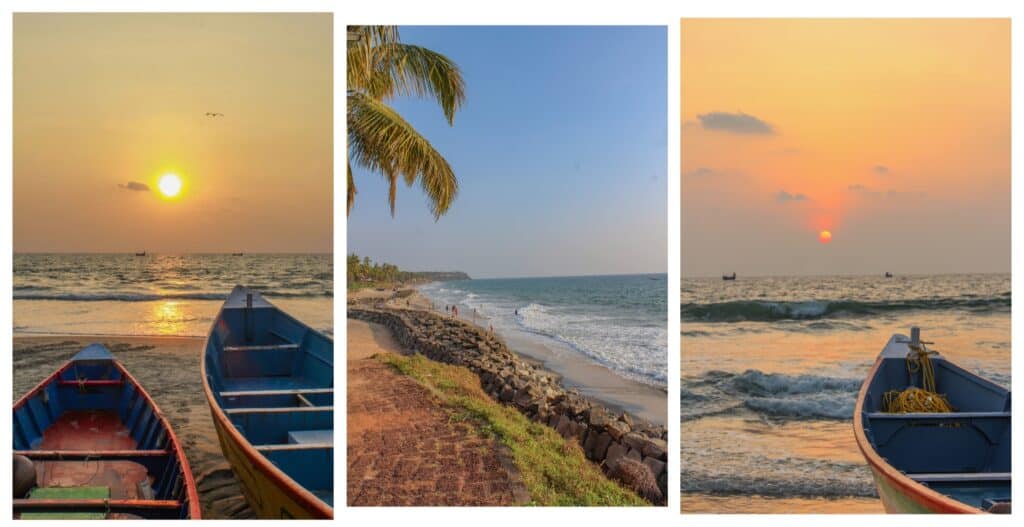 Hike along the scenic coast to one of the very few beaches with black sand at around 7km north of Varkala Beach. Along the way, you'll pass Edva Beach and Odayam Beach and just a few kilometres ahead of the Odayam Beach is the Kappil Beach.
You can also reach Kappil Beach by auto or a two-wheeler. But if you're in for a bit of adventure then this hike from Varkala Beach should be on top of your list of things to do in Varkala. It'd roughly take you about an hour and a half. Don't be so shocked 😛 It's not going to be a straight uneventful path.
The trail passes through scenic palm-fringed beaches at places, red-tiled houses at other, colourful boats moored against sand mounds and several secluded stretches of beaches all to yourself.
Explore the Backwaters of Kappil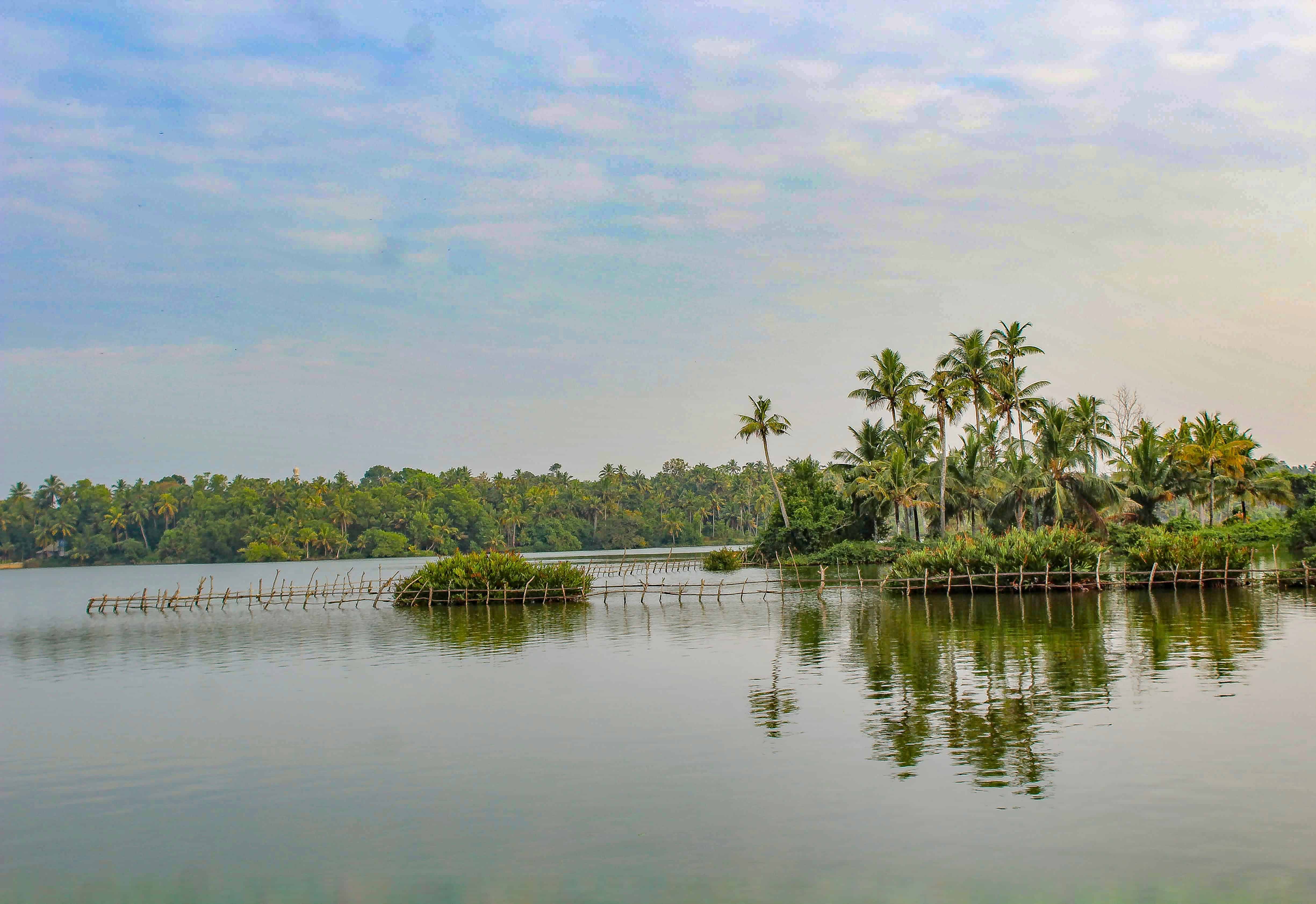 A little way away from Odayam Beach is Kappil Beach and its backwaters. A walk along the narrow coconut flanked paths along the backwater canals is like a Kokum juice for the soul on a sweltering summer afternoon.
Although its distant cousin Alleppey is more popular among the tourists, this is equally beautiful. And visiting Kapil backwaters is one of the best things to do in Varkala.
Row to Munroe Island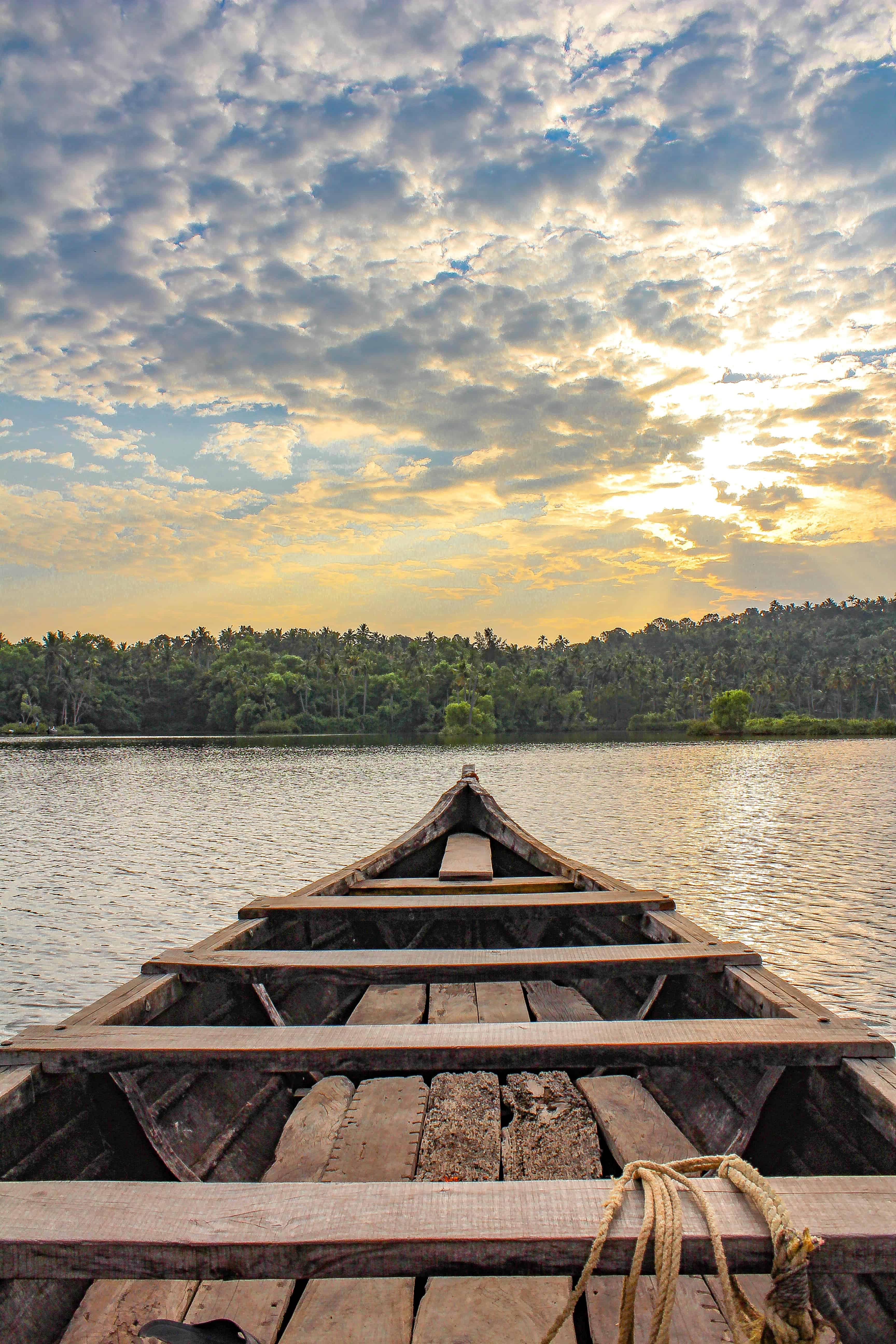 A little piece of land with a life of its own, Munroe Island is your slice of calm amidst the chaos. A canoe ride to this lush green island is one of the best experiences to have in Varkala. These narrow canals pass through tiny villages filled with coconut trees on one side and pastel green paddy fields on the other.
It's especially beautiful during the dawn and during the sunset when the sky cracks open into a thousand colors and the water catches fire. And the swish-swish of village winds carry the fragrance of soil and the low hum of distant birds.
There's a bridge connecting the island to the mainland and you can reach here by train or taxi. This is one of the best places to visit in Varkala.
Prayer at a 2000-year Old Temple
Popular with Indian pilgrims, Varkala is well known as a temple town housing a temple as old as time itself. For a long time, Varkala was known for its temples and traditions. The 200-year old temple Janardhan Temple drew in a crowd of Hindu devotees.
There are beautiful carvings on the wall and a scenic pond outside. Although there's an addition of hippie vibe now, the temples and rituals haven't lost their flame. Located on the south cliff this is a holy site holding spiritual significance.
Anjengo Fort and Lighthouse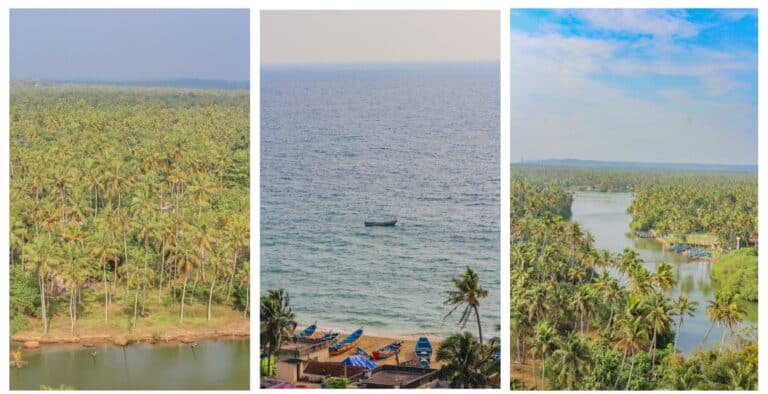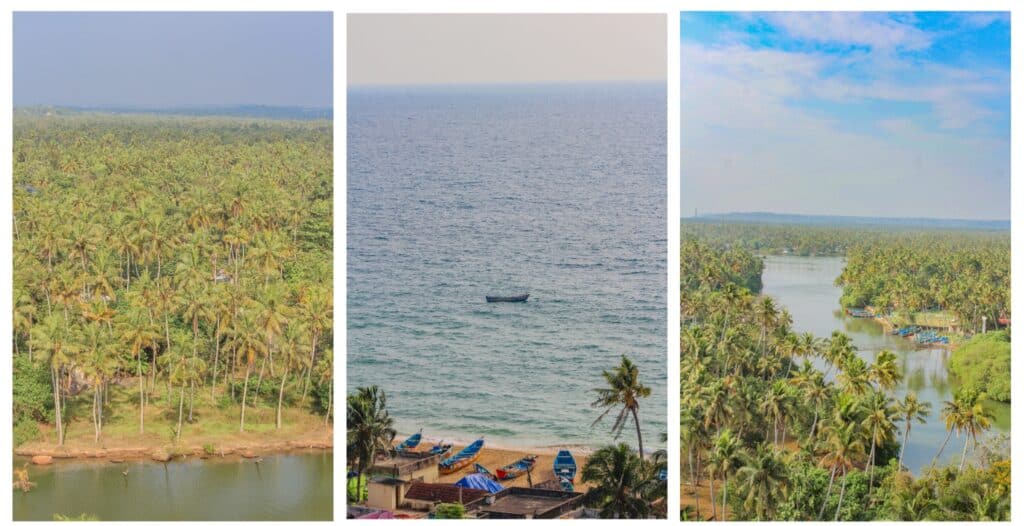 British East Indian company built this fort in 17th century and it's one of the oldest in India. Although the fort is now in ruins, it's well worth a visit.
There's a lighthouse near the fort from where you get spectacular views of the never-ending coastline and the zigzagging backwater canals with clusters of coconut trees. Situated to the south of Varkala it's around 20 minutes away from the main town.
Things to do in Varkala- Yoga by the sea
Most of the resorts, homestays and hostels have some facilities for yoga. Meditating to the sound of the waves has a different kind of appeal. What better way to rejuvenate oneself than practising yoga on a beach drinking in the sea breeze. This is one of the top things to do in Varkala if you're in the mood for some introspection.
If you plan to stay for long, you can also enrol into a certification course in an institute and become a certified yoga teacher. Just another feather in your cap while enjoying your time.
Go for a Stroll on the North Cliff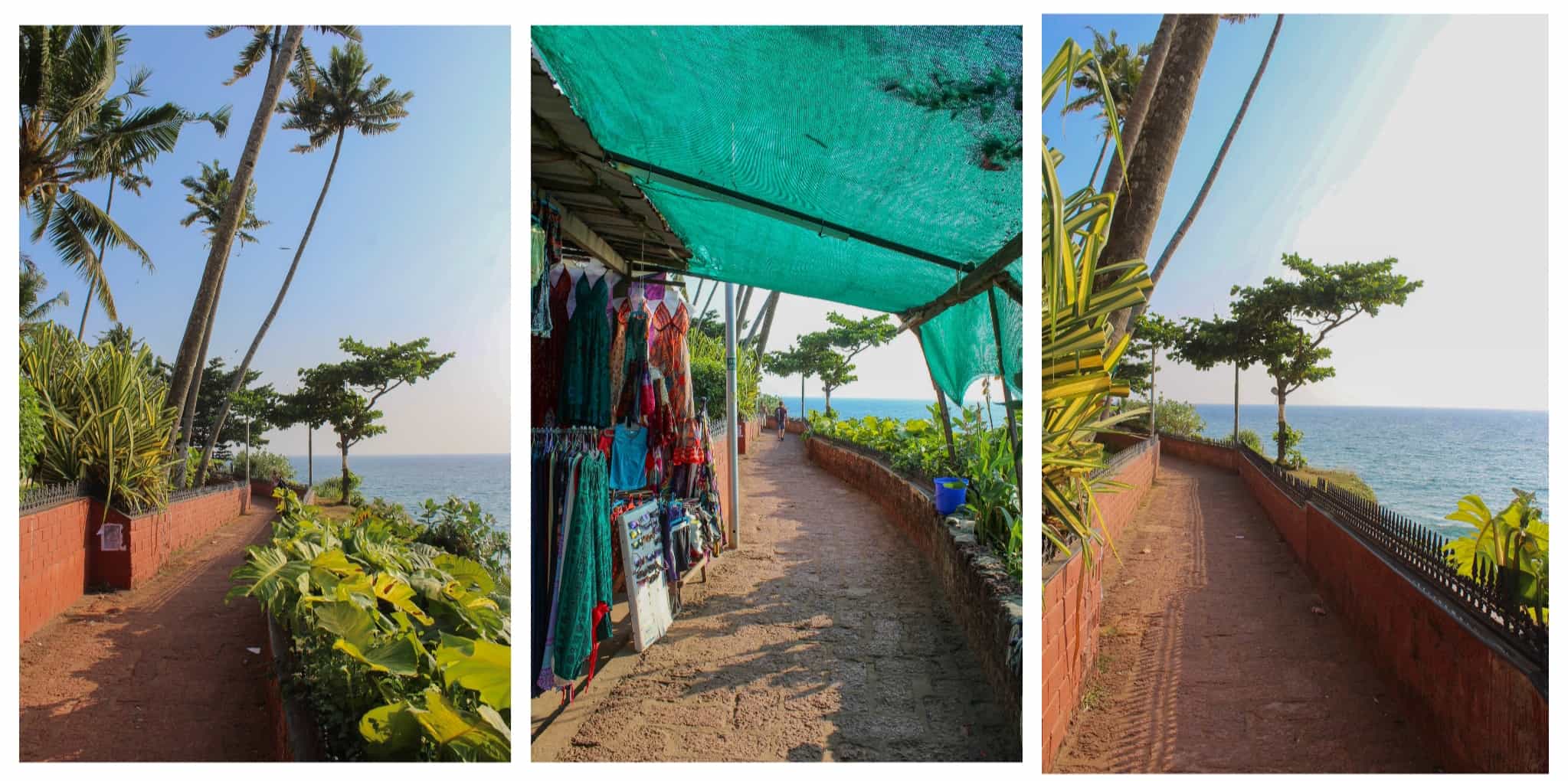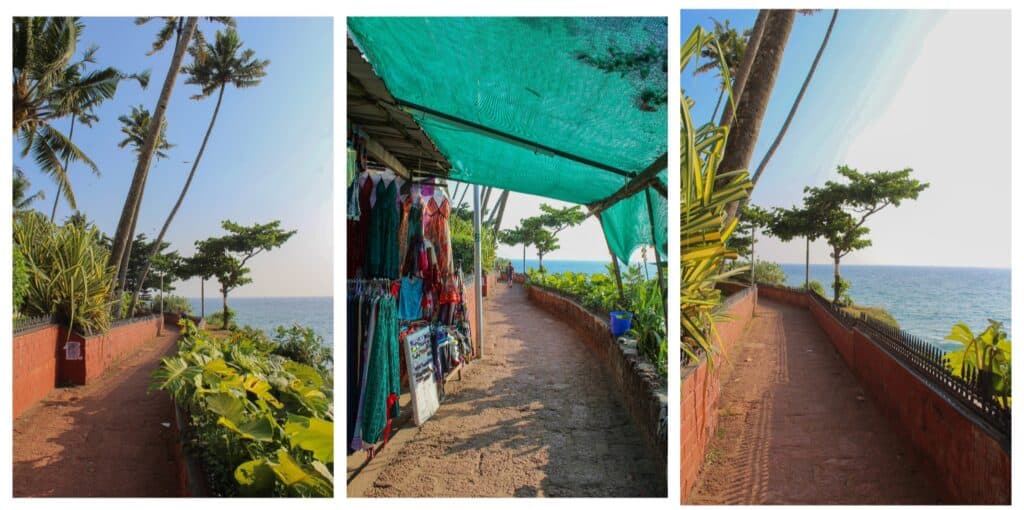 Walking along the 1 km long path above the red-sandstone cliff is a delightful experience! It's like walking into a kaleidoscope of colours and activities with rows of restaurants, eateries and shops covering every inch of this cliff path. Just hop into one of the cafes and spend some time looking at the wide expanse of the turquoise sea below
Visit the Golden Island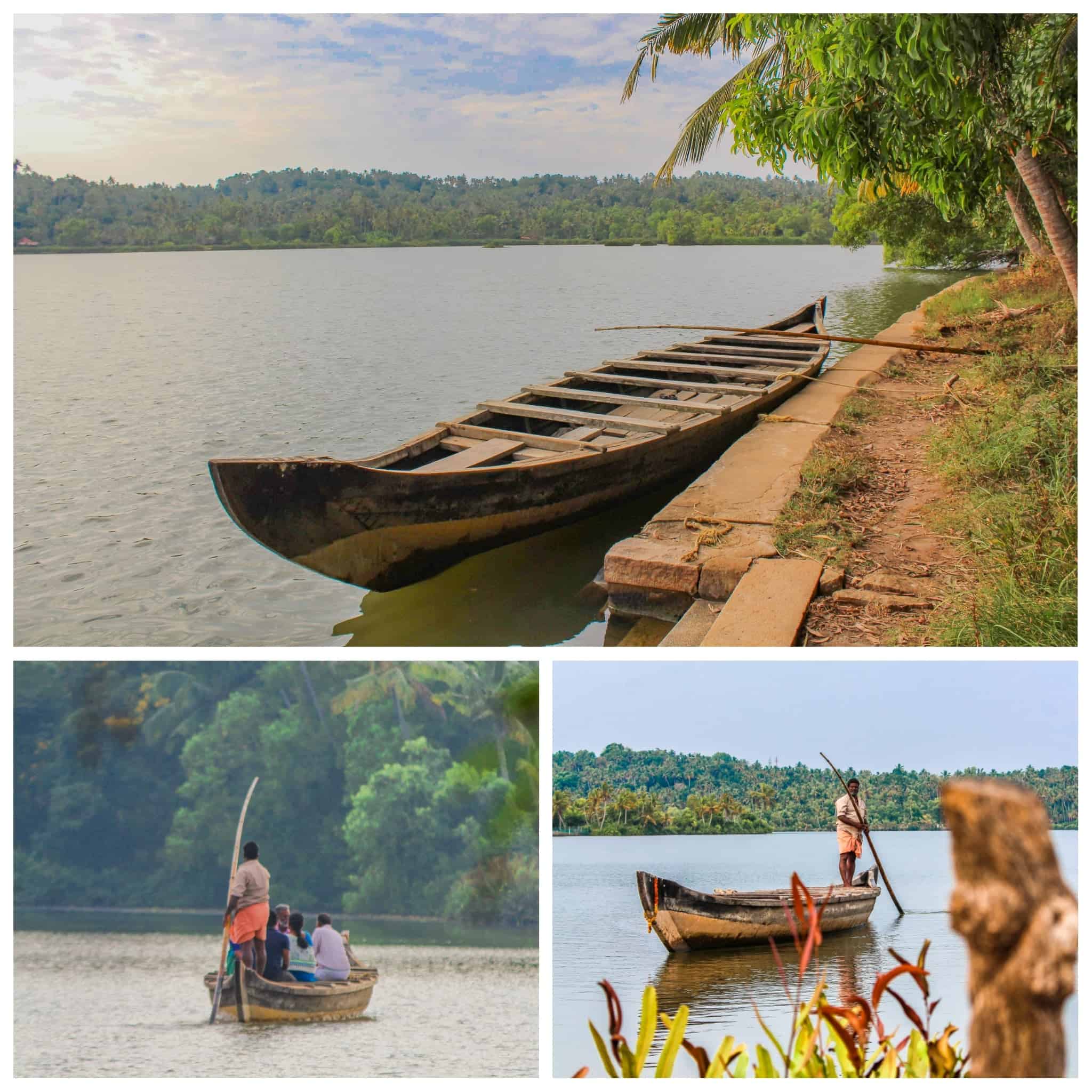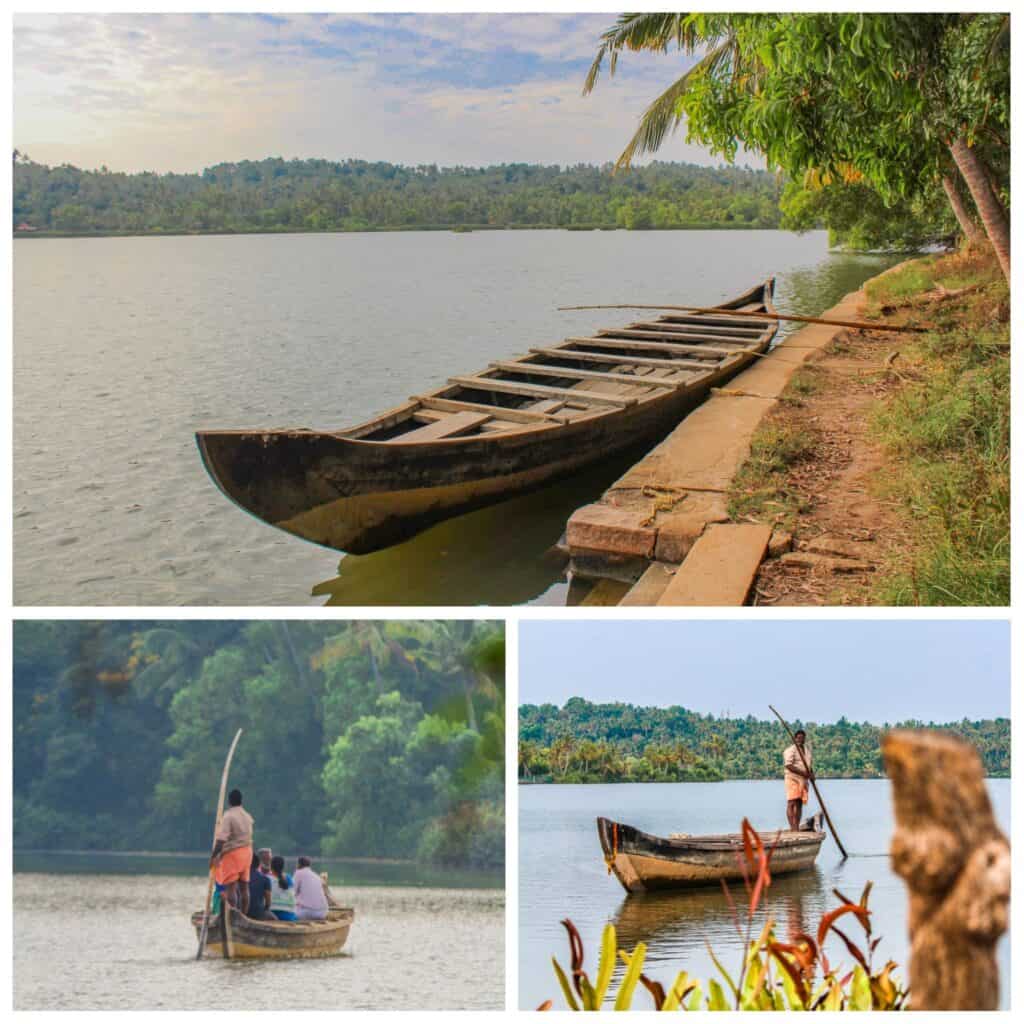 This idyllic beach getaway has few other little secrets up its sleeve. One of them is the Golden Island or Ponnumthuruttu Island on Anjengo Lake. Befriending locals has its benefits, and this was one of them. My auto driver, a sweet middle-aged man, told me about this place and also took care of arranging the boat to this island too.
A boat ride to this lesser-known gem is one of the best things to do in Varkala. You can directly reach this place and wait for the boat if you visit before 4 PM. And if you visit after that, it'll be best to go with a local or someone who knows the place or the boatman.
There's a small 100-year-old Shiva temple on the island and the island itself is a pretty place surrounded by coconut trees.
Break the Dawn on a Hand-stitched Boat
Early mornings are the best time to soak in the mood of a place and it's no different in Varkala. You can expect to have whole stretches of beach all to yourself with the morning sun slowly painting the sky pink.
This is the time when fishermen get back with their previous night's haul just before the break of dawn and return with baskets full of red and blue snappers, pomfrets and even swordfish. They then sell these fresh catches to the restaurants on the cliff. This makes Varkala a great place to taste seafood and almost all the restaurants here serve fresh fish whipped up in a mixer of local herbs and spices. Do try a Keralan fish curry here. It's a delicious dream!
The fishermen leave as early as 3 AM to gather their catch and if you request them beforehand, they can take you along with them too. I couldn't do this as I'd been travelling solo. But some of my hostel mates did and found it to be a thrilling experience. This should be in your list of offbeat things to do in Varkala.
Visit Jatayu Earth Center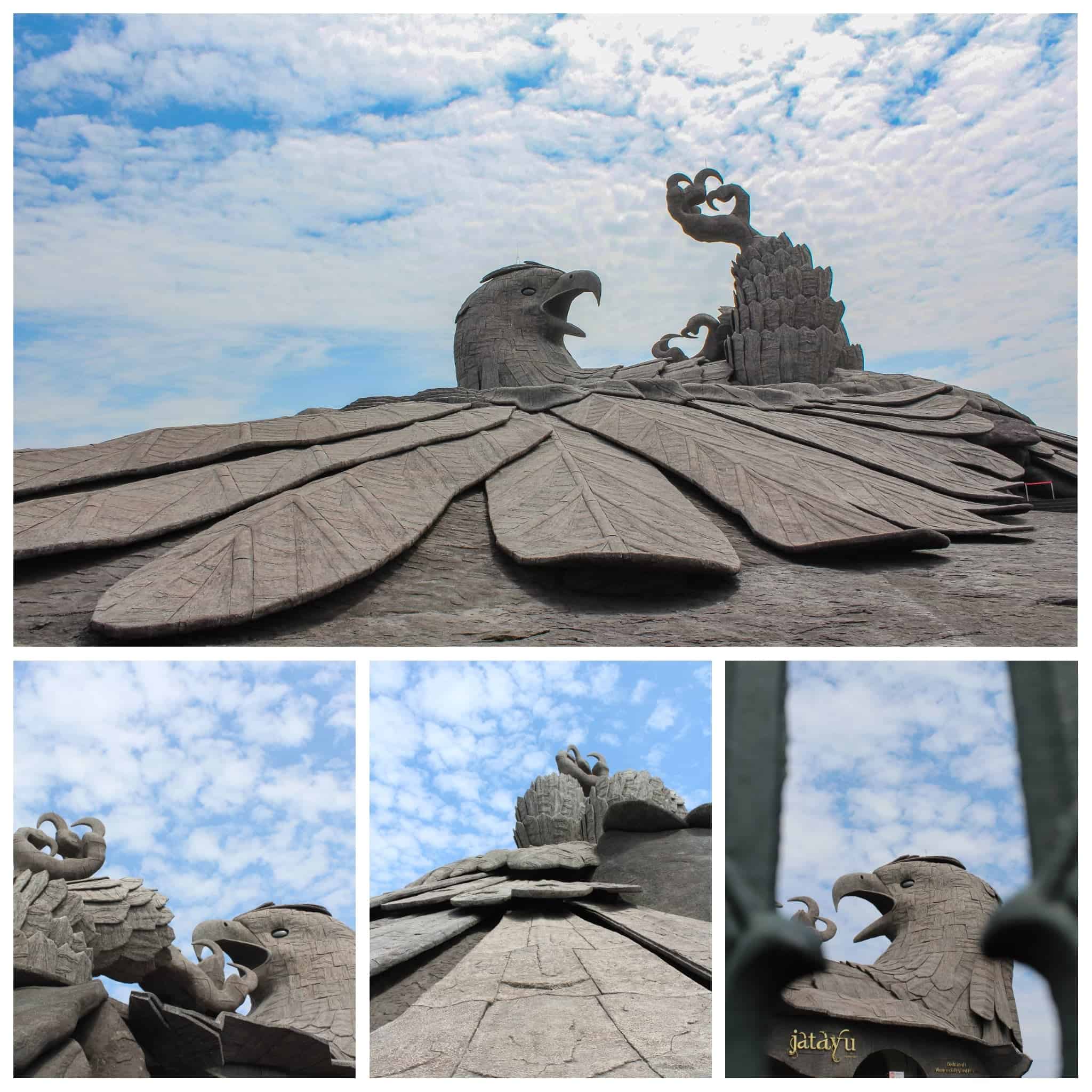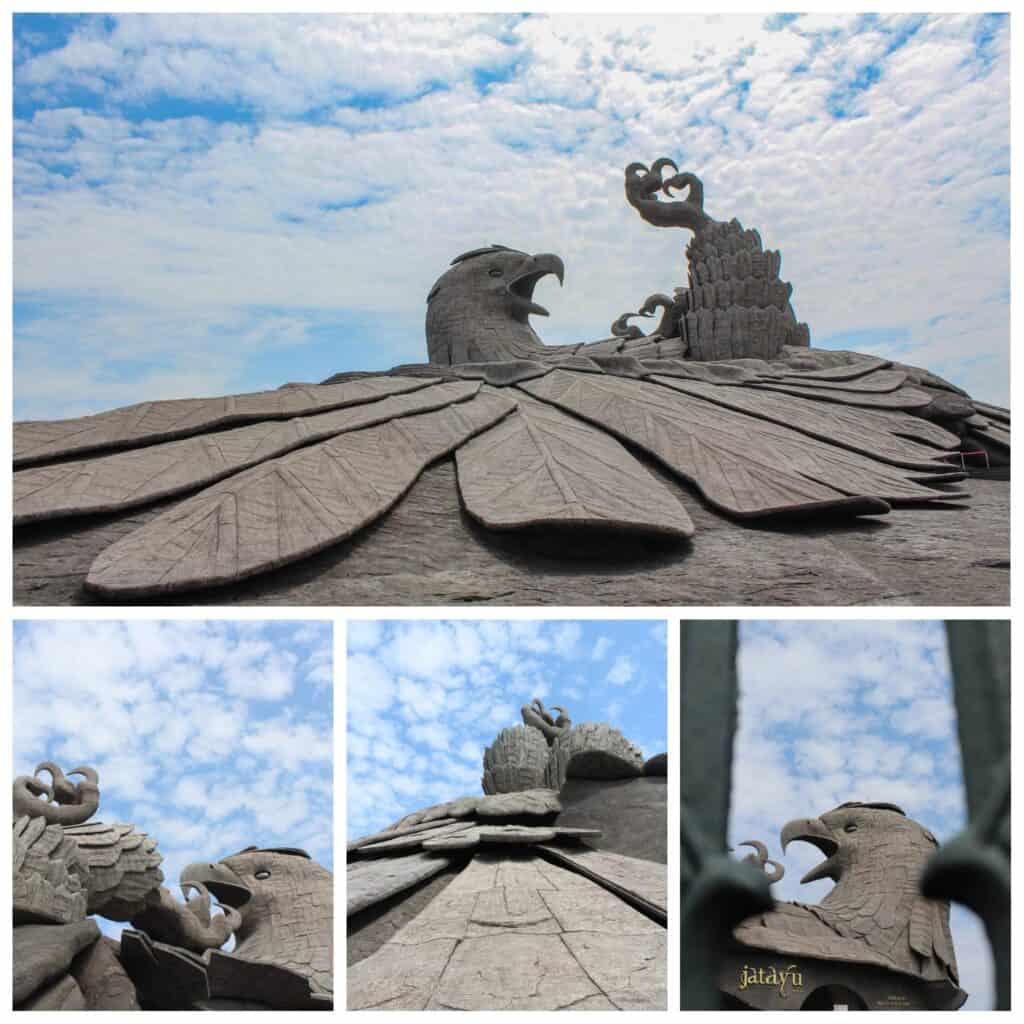 This is a park and tourism centre housing the world's largest bird sculpture. The route to this place passes through bridges and tiny villages and the roads are smooth and immaculate. It's the place where Jatayu, the mythical bird from Ramayana, was believed to have been slain while trying to protect Sita from Ravana.
This structure was built as a tribute to Jatayu's valour and also to uphold women's safety and honour. A digital museum and a 6-D theatre are all set to be constructed within the bird sculpture. You can reach the top by a rope-way or by stairs.
Ayurvedic Spa
Kerala is renowned for its therapeutic spas and treatments. And Varkala is one of the top places to experience it. These 5000-year-old traditions are gaining popularity among the tourists and Varkala can be a great place to learn more about it. You'll find the best centres in the north cliff.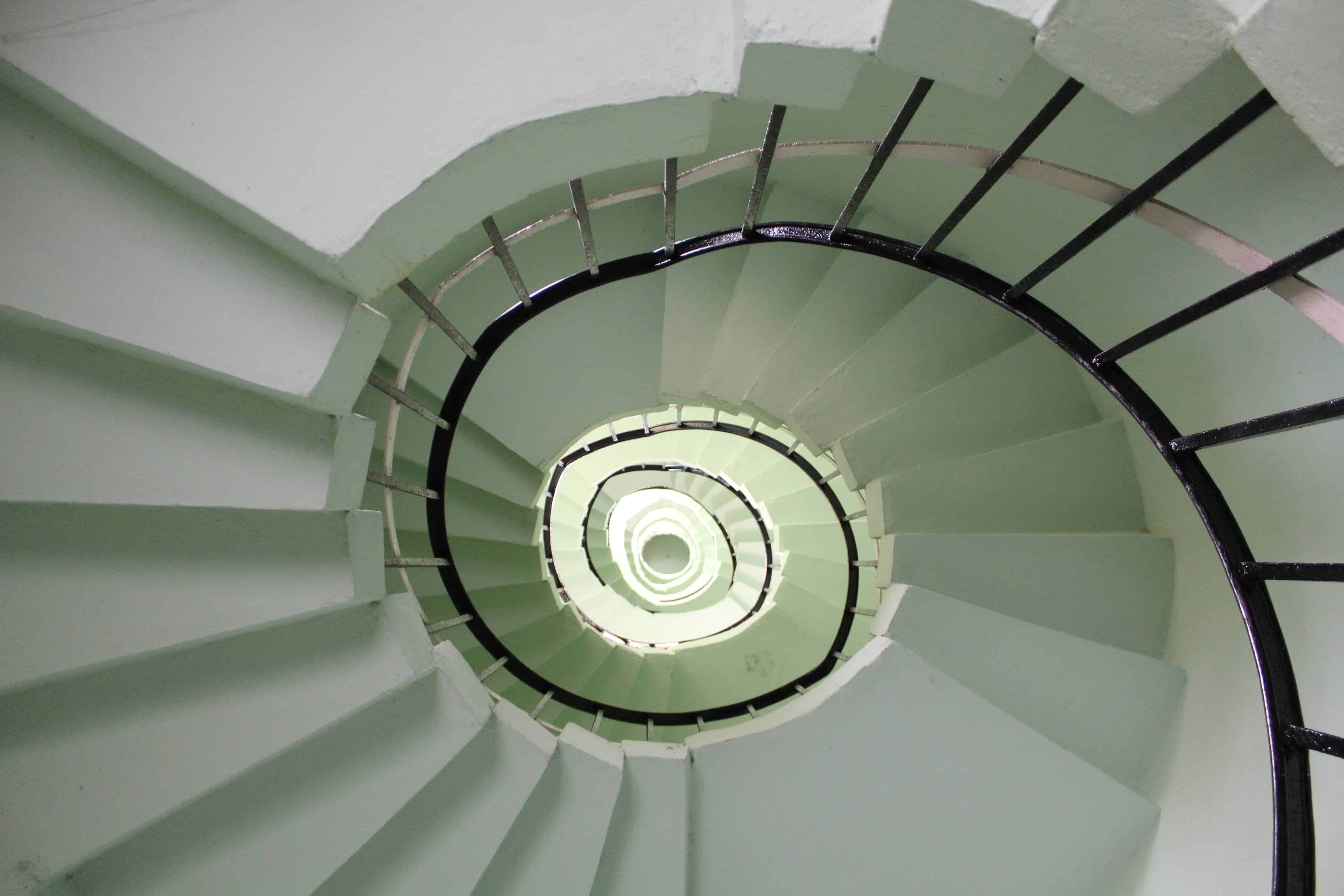 Sunset on a Helipad
At one end of the cliff is this wide-open helipad with great views of the ocean. It almost acts like a middle point between the north and south cliff. There are grey cement benches lining the barricade at one end and you can relax here. Maybe grab a snack and watch the sun go down.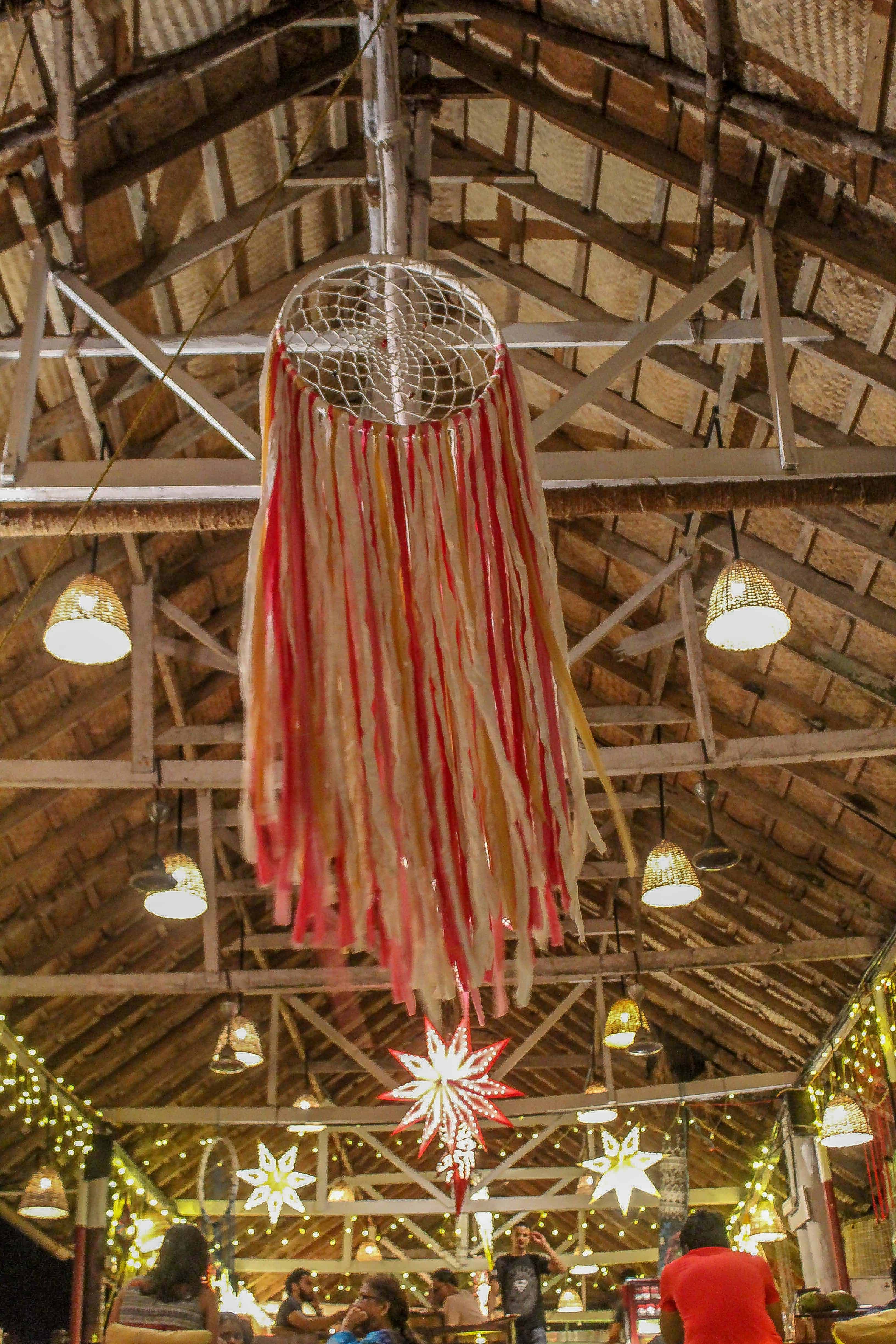 Places to Stay in Varkala
Even the beach facing resorts are comparatively cheaper than most similar resorts in other popular beach towns. Hostels can be a great place to socialize and meet like-minded people with whom you could team up and choose to explore the town.
The Lost Hostel– This is another popular choice of most backpackers. The rooms are neat and tidy and it's mostly always booked out. It has a nice garden to relax and where breakfast is usually served.
Mango House– This is a Lonely Planet recommended budget option with both dormitory and private rooms.
Zostel Varkala– I stayed here. Extremely spacious and located at a very strategic place further north away from the hustle-bustle of all the activities, yet close enough to not be too far. You can also check out other options in booking.com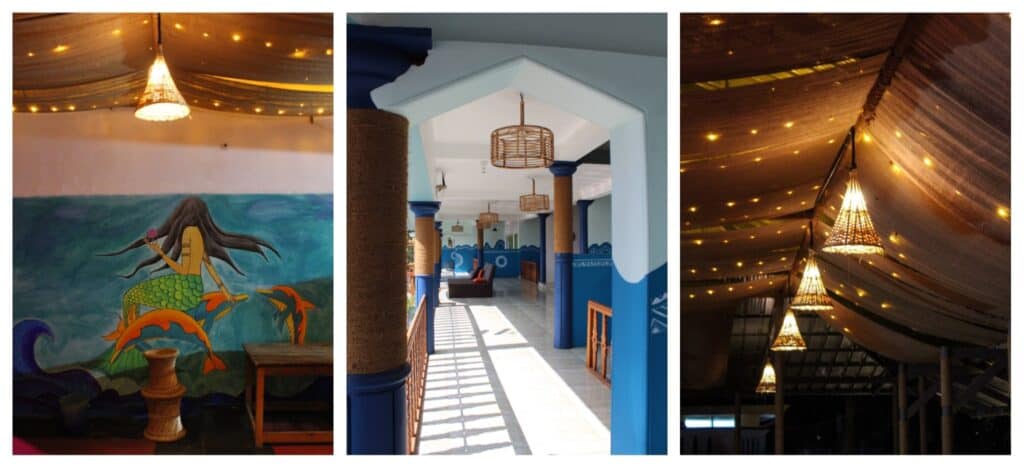 Places to Eat in Varkala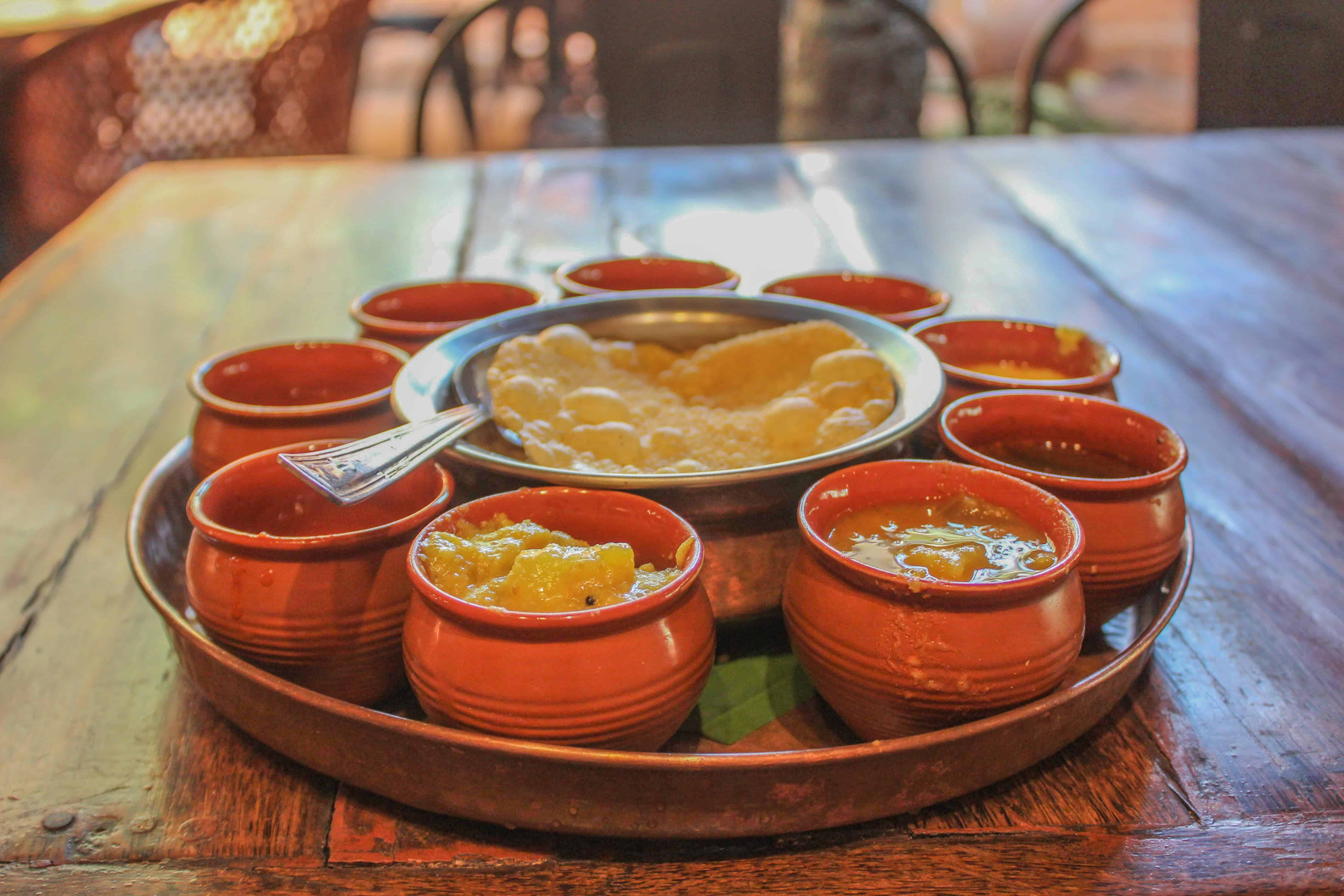 You'll be spoilt for choice looking for a café in Varkala. With the vibes, the cosy corners and quirky decors, don't be surprised if you spend a major part of your time just deciding on a spot.
Here's a small list of some of the gems. But don't restrict yourself to these choices though. Apart from cafes, there are few other places in Varkala where you can relish authentic Kerala food.
Oh, what a charming place this is! Especially during the night. A place that's so popular, you'll almost never come across a single person not recommending it. One of those beautiful places which completely lives up to its hype. The location, ambience, food all are top-notch.
The giant white dreamcatcher at the entrance instantly charms you. The menu is a mix of local delicacies and exotic cuisine and it's finger-licking good.
Situated at the tip of the clifftop strip, this place serves some of the best hot and cold coffee and has lots of breakfast options. Vegan options are aplenty too.
You can visit this place just for its ambience. As you sit gazing across the horizon munching on snacks and watching the sky turn orange, indigo and violet.
Satiate your momo cravings here. Great food coupled with lovely ambience, views and an assortment of Asian food.
I stumbled upon this place by chance and the place was deserted. There were two or three staffs but the views!! Godly views! It was almost enough to fill my stomach!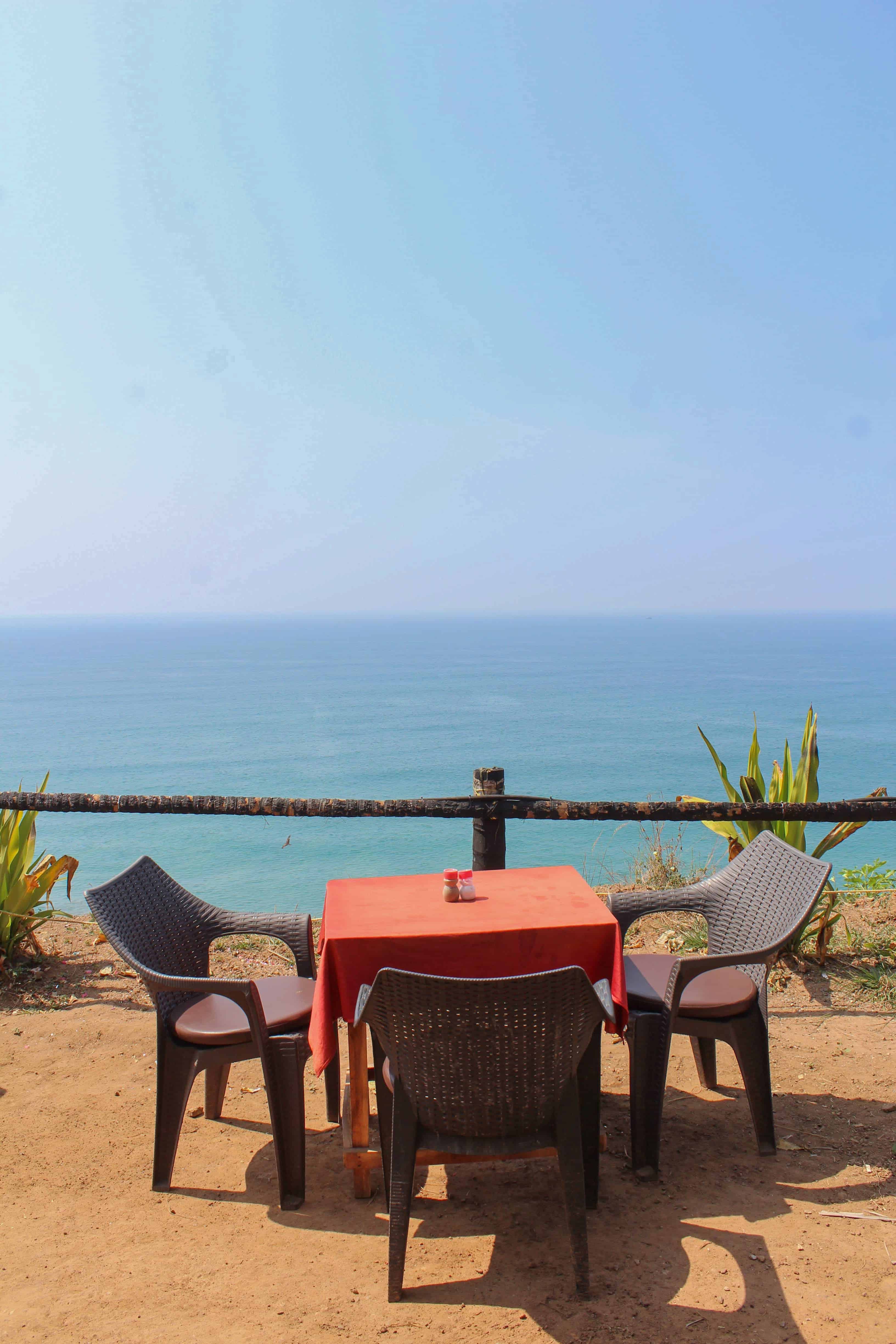 A great place to chill with ample seating space. It's a little away from the crowded main area but has great views of the cliff. Food is delicious too.
Did you enjoy reading about these list of wonderful things to do in Varkala?
That's almost it when it comes to planning a Varkala itinerary. Most of the best places to visit in Varkala can be covered in a day or two but for a more immersive experience, I'd suggest spending at least 4 days here.
If you liked reading this travel guide on the best things to do in Varkala then follow me on Instagram for more such travel tips and updates about many other offbeat places in India. Or subscribe free and get such stories and guides directly to your mail.