With its pastel-coloured palaces and forts built out of sandstones, marbles and pink bricks. Vibrant and colourful markets bustling with activities, Jaipur truly is a traveller's haven. After having visited this city a couple of times now, I can safely say that there are several incredible places to visit in Jaipur which are both popular and offbeat. Beyond the forts and pink structures.
Founded by Maharaja Sawai Singh in 1727 the Pink City, rich in historical and cultural significance, has a lot to offer both in terms of sightseeing and history.
If you have a penchant for ancient tales and glorious architecture, Jaipur is definitely your place. It's popularly known as the Pink City because of the ample splashes of pink scattered everywhere.
Here's a handy travel guide with information on few of the best places to visit in Jaipur. I hope it helps you to plan your Jaipur itinerary when visiting Rajasthan.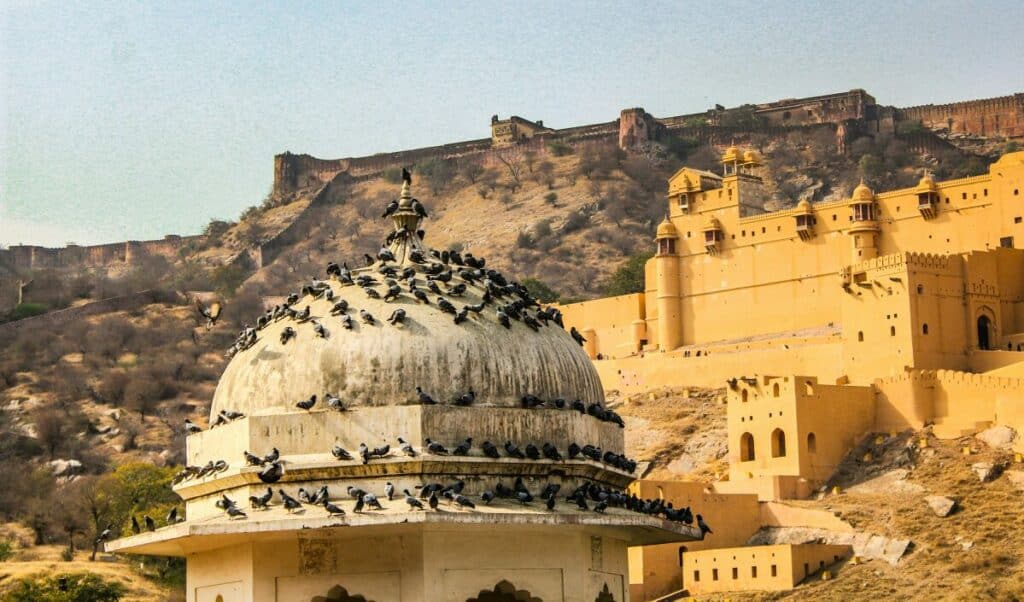 Places to Visit in Jaipur
How to Reach Jaipur
Air
Jaipur's International Aiport is located at a distance of 10 km away from the city in Sanganer. And it's well connected to all the major cities like Delhi, Kolkata, Hyderabad, Mumbai, Bangalore etc. From the airport, you can reach the city by auto, cab or bus.
Train
Jaipur is connected to cities all over India through the railways. It has three railway stations and all trains stop at Jaipur Junction with few local trains which stop at Durgapur and Gandhinagar stations. There are many trains to and from cities like Delhi, Kolkata Udaipur, Jodhpur, Ajmer, Jammu, etc where the distance can be covered in an overnight journey. And long-distance trains from Bangalore, Chennai, Kochi etc.
Road
Rajasthan has great road connectivity with different parts of the countries and it's a great state for a road trip. If you're on a budget or travelling alone there are several buses to reach Jaipur from Delhi, Gujarat, Mumbai and other cities of Rajasthan.
Getting Around in Jaipur
There are plenty of cabs, autos and e-rickshaws for you to travel hassle free within the city. You can also rent two wheeler if you wish to explore at your own pace.
There're local buses too but they're generally crowded. But if you're on a tight budget and if you can figure out the perfect timings and frequency, that'll be the best option for you. There're also metro lines operating at few places and at many other places, it is under construction.
Best Time to Visit Jaipur
Jaipur experiences different weather conditions during different seasons. You'll experience a pleasant climate during the winter that is from October to February. And you can also attend some festivals during this time. It's pleasant during the day and pretty cold at night.
Summer in Jaipur, which is from April to June, can be pretty harsh with the scorching sun and unbearable heat. But it's the ideal time for photography when you can witness the best sunsets and sunrises. So if you do choose to visit during this time ensure to keep yourself well hydrated and have fruits for energy.
The monsoon season from July to September can also be the best time to visit Jaipur. Since this area doesn't receive high rainfall and the humidity is also bearable. It can also be ideal for a peaceful visit before the crowd starts to pour in.
Ideal Duration of Stay in Jaipur
There are plenty of places to visit in Jaipur in 3 days or even a week. Jaipur is a treasure trove for photographers and you never may have enough of it. However, if your aim is to only cover the popular attractions of Jaipur, it can easily be covered within even a day.
Whether you're a cultural buff or someone with a love for photography, there are several wonderful places to visit in Jaipur to satiate your needs.
Here's a list of top things to do and best places to visit in Jaipur.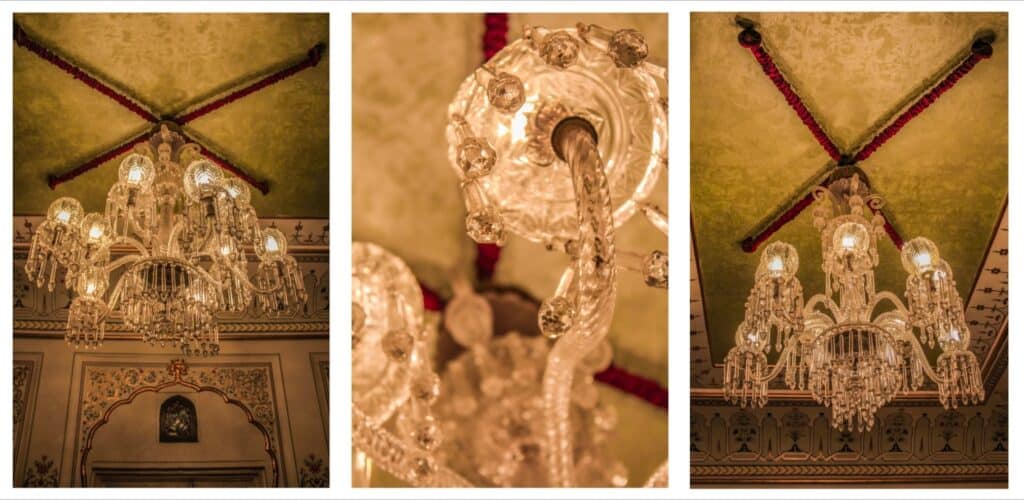 Top 5 Things to do in Jaipur
Shop Till You Drop
Well known for its wealth of shopping opportunities with its bustling colourful markets selling a plethora of Rajasthani shoes, clothes and accessories, Jaipur is an adda for shopaholics. And the absolutely best part? It's so insanely cheap without compromising on the quality
With carts full of twinkling funky jewellery and accessories that are seemingly located on every street corner, you'll be able to pick up everything from necklaces to wristbands.
If you're an art lover keen on collecting souvenirs and artefacts, you'll not be disappointed. With sidewalks flanked by wooden tables displaying delicate statues and works of light copper, boards covered with fridge magnets of all colours. It's a treat for the eyes to just wander along the roads.
Some markets where you can go shopping in Jaipur– Bapu Bazar and Tripolia Bazar
Attend the Festivals in Jaipur
Jaipur is home to a number of enthralling traditions and charming festivals which has managed to stand the test of time. The city has grown expansively in the past decade while staying true to its roots.
The festive season can be a perfect time to get a taste of this royal city when it gets dressed in shades of rainbow colours and shimmers in the soft glow of the many golden lamps and lights. So go on choose an appropriate time and partake of the city's abundant cultural offerings while you have the opportunity.
Elephant Festival– March
Kite Festival– January
Jaipur Literature Festival– January
Jaipur International Film Festival– January
Diwali, Teej and Ganesh Chaturthi festivals.
Visit the Royal Cenotaphs in Gaitore
This compound housing beautiful marbles structures is one of the lesser-known places to visit in Jaipur. Much like the ones in Udaipur, although slightly smaller in size, these ivory-coloured arched domes with carved pillars are the structures underneath which the royals of Jaipur have been laid to rest.
The grandeur of these monuments is a reflection of their celebrated life. The intricate carvings on the pillars and rocks symbolize a life of grandeur and celebration. It is situated a little distance away from Amer Fort
Explore the Secret Interiors of Hawa Mahal
Most people only visit the Hawa Mahal from outside for a picture unaware of the provision to climb atop the structure and explore its labyrinth of rooms. Its unique five-storey exterior with 953 small windows, resembles a structure that is similar to the honeycomb of a beehive.
Dating back to 1799 this rose-coloured façade is said to be the tallest structure in the world without a foundation, built to offer privacy to the royal ladies to observe the street below without being seen.
One of the top attractions of Jaipur, it's an absolutely gorgeous piece of art. For an unobstructed front view of this amazing structure, head up to one of the many cafes across the street.
Hawa Mahal is a popular spot for photographers. And the cafes situated across the street provides perfect vantage points to click some perfect snapshots of this epic structure.
Watch Sunset at Nahargarh Fort
Sunset at Nahargarh Fort is an enchanting experience!
The huge parapets of the fortress offer sweeping panoramic views of the city. During the sunset, the matchbox houses below get sheathed in soft hues of pink and orange rendering an altogether dreamy look and feel.
There's also a cafe run by the government here from where you can watch the twinkling city lights in the night. However, if you choose to stay past sunset, ensure you have booked your transport back to the city beforehand.
Also Read- Incredible Places to Visit in Udaipur
Best Places to Eat
Rajasthani food is a class apart from the rest in terms of its unique flavour and mixture of spices, much like its culture. Rajasthanis' love for food is evident in their preparation. From light brown onion fritters (Pyaz Kachori) fried to the crisp to the soft cake-like Ghewar soaked in sugar syrup. The streets of Jaipur are filled with stalls serving lip-smacking food and delicacies.
For the hygiene conscious traveller, there's no dearth of cafes and restaurants either. Here's a small list of recommended places to take your taste buds on a gastronomical trip.
Rawat Mishthan Bhandar- Crispy Pyaaz Ki Kachori
Dal Baati Churma Restaurant- Dal Baati Churma
Jawahar Circle or Birla Mandir- Chaats
Laxmi Mithan Bhandar- Ghevar
Stepout Cafe- Great ambience, an amazing collection of books and good food.
The Llittle Coffee Shop- A quirky little place with great coffee and vegan food.
Anokhi Cafe- Delicious food and ambience. Variety of vegan options.
Wind View Cafe- Great views of Hawa Mahal. Good food.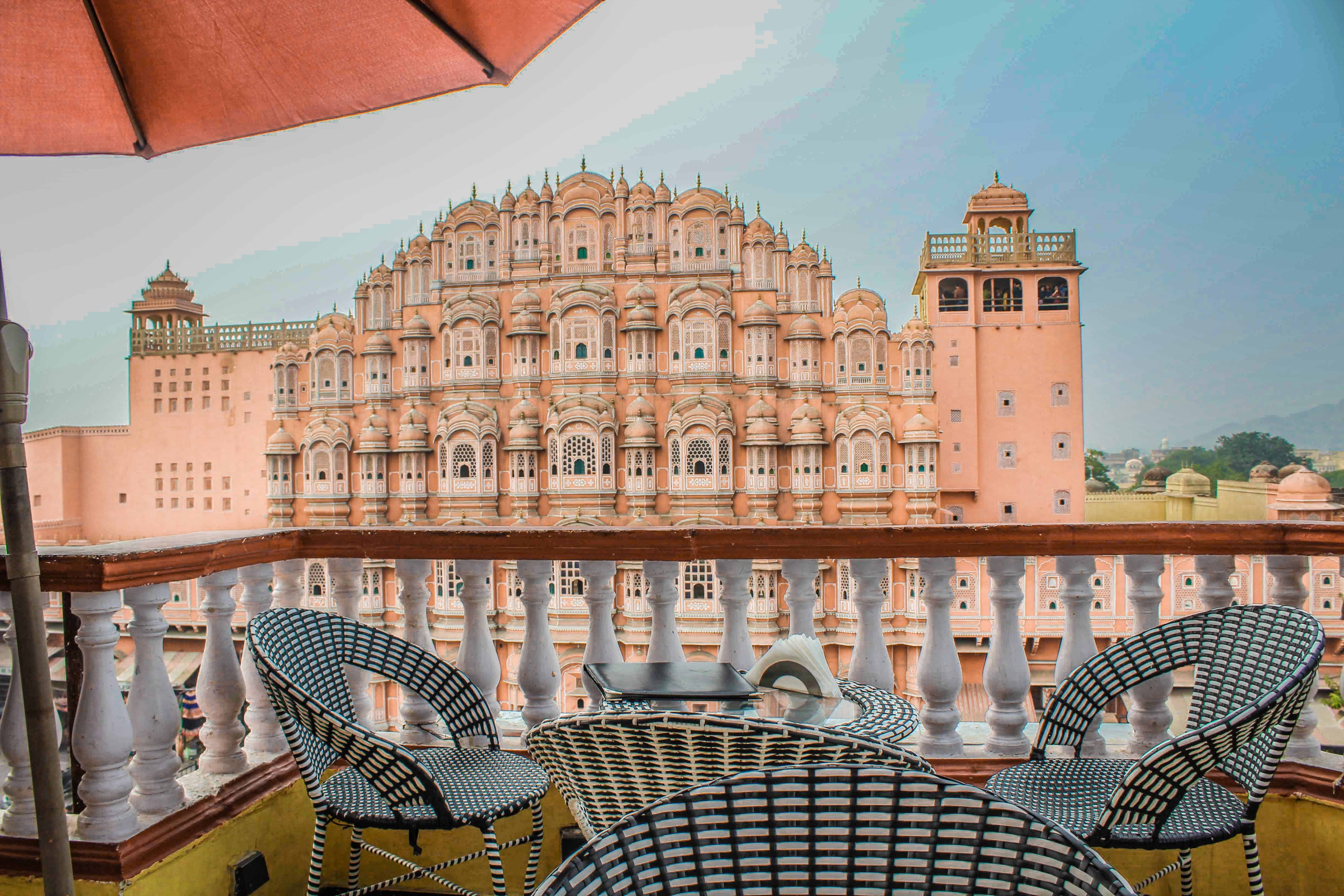 Places to Stay in Jaipur
Zostel Jaipur: Located in an ideal spot on the busy street housing the Hawa Mahal, this is the prefered option among backpackers. The common room here is the best spot to meet fellow travellers and make impromptu plans to explore the city. And also the best way to half your expense if you're a solo traveller! 😉
Hotel Arya Niwas: Located strategically close to the city centre this is a great stay option with an old-world charm. The hotel has an in-house restaurant and a spacious garden for you to relax and unwind in.
Few other budget options are Tuk Tuk Backpackers, Moustache Jaipur, Housetel. You can also try homestays and Airbnb apartments which have shroomed a lot during the recent time. Check out other options on Booking.com
13 Best Places to Visit in Jaipur
Jaipur is a fascinating city with several architectural gems and monuments. And here's a list of 13 best places to visit in Jaipur to make the most of your Jaipur itinerary.
Amer Fort
Perched high on top of a hill overlooking the city, Amer Fort is the pride of Jaipur. The majestic high rising walls encircling the citadel, itself makes for an interesting attraction and has doubled up as a muse for many photographers.
The views of the city from the nooks and crannies and the sheer size of this fort is enough to evoke amazement and wonder.
The fort houses numerous manicured gardens, courtyards with fountains, grand palaces and lavish rooms and is one of the most important and popular places to visit in Jaipur.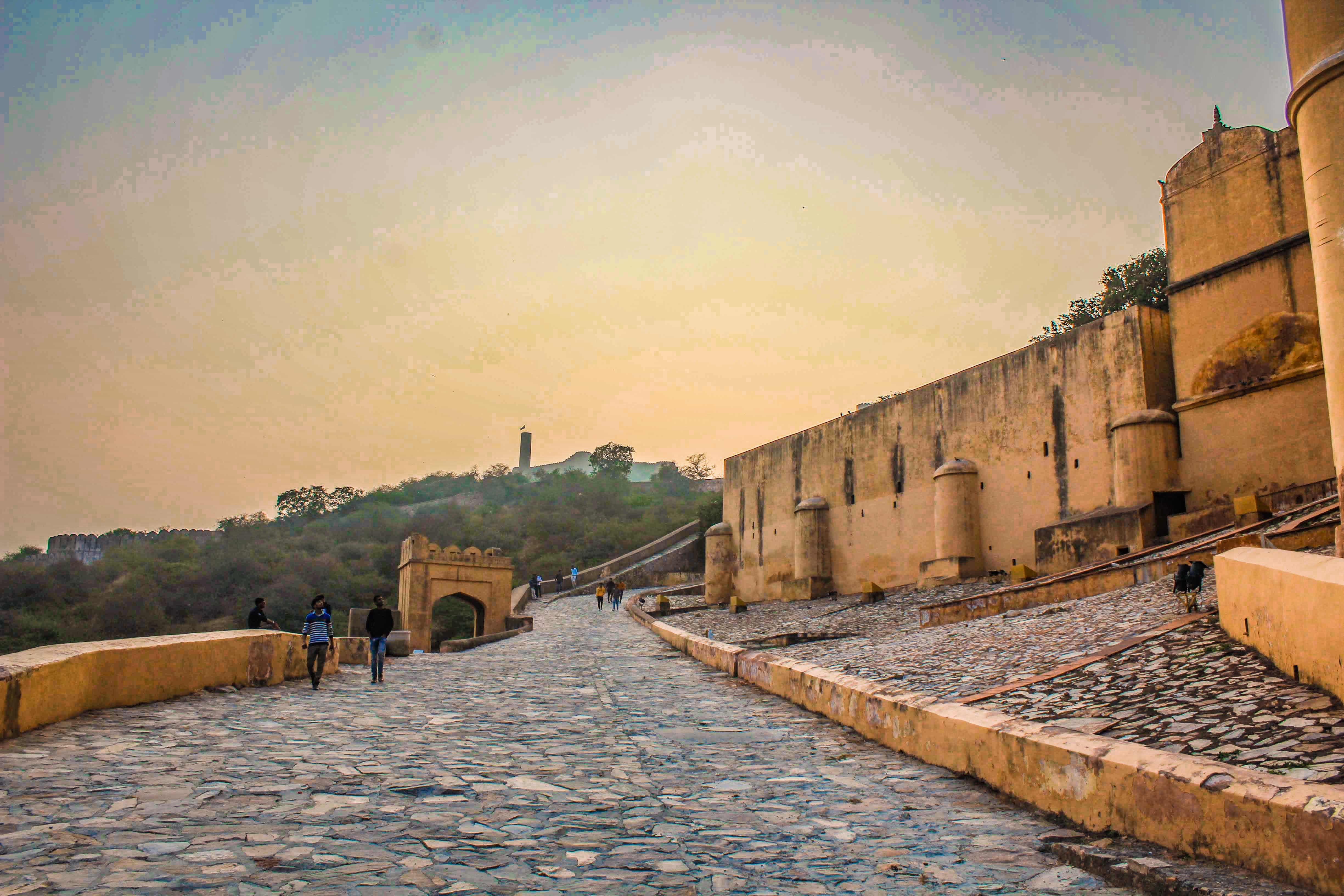 A cobbled pathway surrounds the fort and as you make your way from one corner to another, you cannot help but visualize the days of the bygone era. These pathways once served as the main source of connection to commute from one corner of the huge citadel to another.
Sheesh Mahal is the most enticing part of this fort. Wherein thousands of mirrors and glasses of varied colours are placed, both on the walls and the ceilings.
Amer fort is located in Amer town which slightly outside of Jaipur city and depending upon the traffic it can take anywhere between 15-30 minutes to reach. But it's easily accessible from all parts of the city by autos and cabs.
Autos can take you up to a certain distance after which you'll need to walk. Else you can choose to walk all the way up till the top from the entrance.
Timings: 8 AM to 6 PM and 6.15 PM-9.15 PM. There's also a light and sound show in the evening.
Quick Tip: Most people start their Jaipur itinerary with Amer Fort as the first destination. Due to this, during the peak tourist season, it can get pretty crowded inside the fort and roads are more prone to traffic jams during this time. Hence choose your first stop wisely.
Nahargargh Fort
Situated at a distance of around 14 km from the city centre and farther away from Amer Fort, Nahargarh Fort is one of the most amazing places to visit in Jaipur.
Since it's a long way away from the city, most people end up skipping this gem. Don't be one of those people, okay? A 1km long winding road with several viewpoints along the way leads up to the Nahargarh Fort in Jaipur.
The fort is one of the best places to visit in Jaipur for a breathtaking sunset. Ensure to reach the place at least an hour before sunset and choose a sweet spot to watch the sunset from.
Quick Tip: It is advised to hire a cab or an auto for both ways since it is difficult to find them at the top especially if you choose to visit the place during a weekday or during the offseason.
Timings: 8:30 AM to 6.30 PM
Central Park Jaipur
The central park's sheer size and the vibes set it apart from other parks in the city. JDA strives hard to maintain its greenery throughout the year. With its beautifully maintained lush green grass and serene surroundings, it's a favourite among locals who've chosen it as their designated morning destination.
A vast block of land in the heart of the city, the park has a dedicated jogging track surrounded by sprawling lush greenery with interesting pieces of architecture at the centre.
There's also an enormous flag post, one of the tallest in India, at the centre of the park and ample seating area around it.
Timings: Open 24/7, no entry fee
Amer Fort Wall
The wall around Amer Fort is a place suited for the hardcore photographers looking to capture some extraordinary shots of this remarkable city and for people in search of some unique places to visit.
Just ask the auto driver about this and they are sure to take you to this exact spot since thanks to Instagram, it's pretty popular nowadays.
This is the best place to watch the sunrise from so make sure to arrive at the bottom at least an hour before sunrise so that you get ample time to climb up the stairs.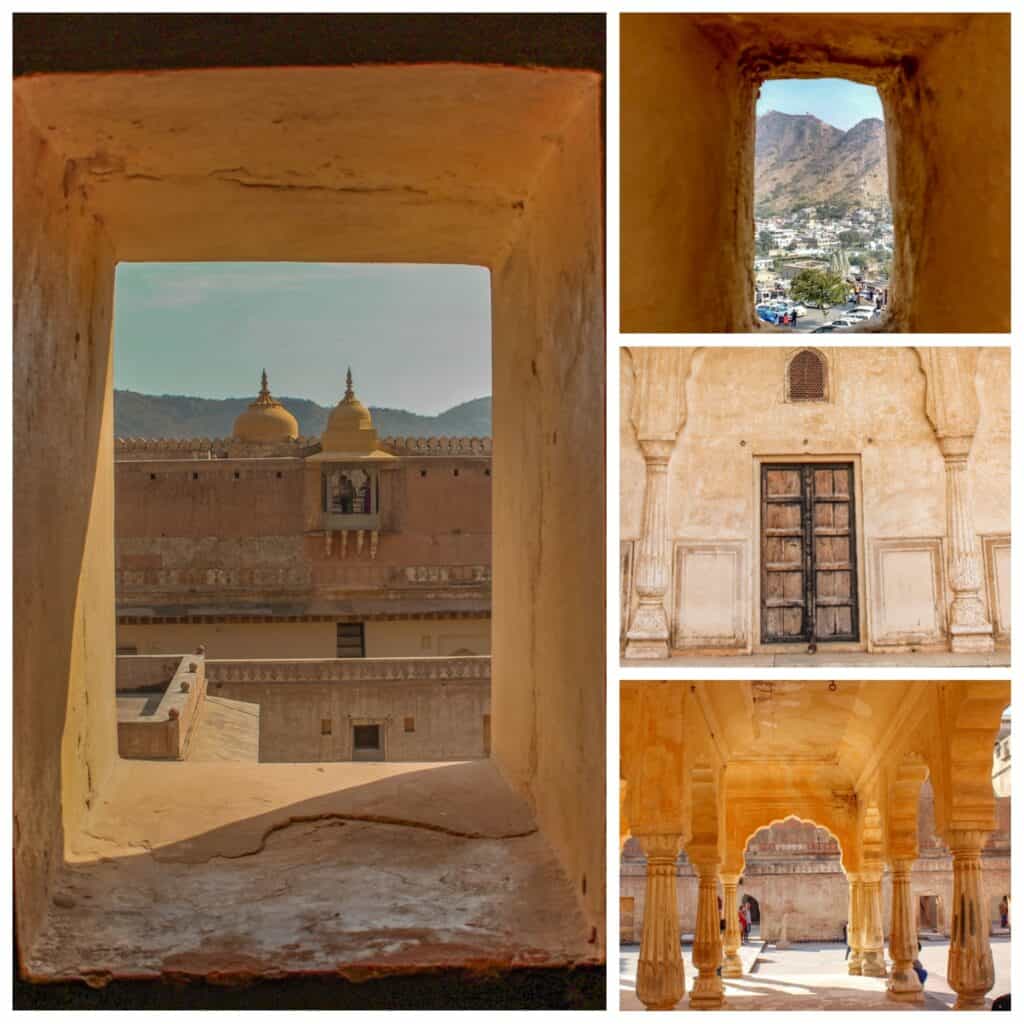 Patrika Gate
This rainbow-hued piece of architecture immersed in colours and perfect symmetry is one of the most sought after places to visit in Jaipur among Instagram lovers.
This ornate passageway lures photographers from across the world and is a glimpse of art in its prettiest form.
The gate, which was built by Patrika group of Newspapers on the Jawaharlal Nehru Marg in Jaipur, makes for an interesting frame. And it has found itself featured on several travel magazines and sites. It certainly is one of the most photogenic places to visit in Jaipur.
Panna Meena ka Kund
Built during the 16th century, this square-shaped stepwell is a little gem hiding amidst the busy backstreet of the Amer Fort. With its uniquely beautiful architecture made of iconic, symmetrical stairways leading all the way down to the water, it's a dream destination for photographers and art freaks.
A pretty little stepwell only a short distance away from Amer Fort has managed to evade the popularity radar. It's best to visit this place early in the morning before the harsh sun starts to bear down.
Back in the day, it was built as a water storage system and it also served as an important social gathering spot as people from the neighboring villages would walk down to this place to collect water.
If you're in search of some unique photographs to add to your collection, then this place certainly fits the bill. One of the best places to visit in Jaipur to level up your photo game.
Galta Ji Temple or Monkey Temple
Situated upon a hill a little distance away from the main city, this is an important pilgrimage site abuzz with monkeys. Its unique architecture with seven sacred ponds makes for a stunning sight.
Although reaching here is a bit of a task, the efforts are completely worth it. If you happen to visit by an auto, ensure to be dropped at the entrance else you'll be dropped at the foot of the hill and it's a taxing upward climb to reach the place. This is one of those lesser-known places to visit in Jaipur.
Hawa Mahal
The Palace of Winds or the Hawa Mahal is located in the middle of the Pink City on a bustling shopping street. This is probably Jaipur's most iconic structure. The intricately carved monument with its five storeys of gorgeous rose-coloured latticework and 953 windows is an impressive piece of art.
It's called the Palace of the Winds because of its several windows through which, back in the days, breeze flowed and kept the palace cool and windy. Now though, most windows are closed shut and you'll not be able to experience the gust of wind.
Hawa Mahal looks even more enchanting after the sunset when it gets lit up. And the rainbow-coloured windows twinkles and shines shedding a rosy luminescence everywhere.
Timings: 9:00 AM to 4.30 PM
Albert Hall Museum
Not just home to ornate beautiful structures, Jaipur has also built a reputation for some excellent arts and crafts. And you'll find glaring proofs of this in the city's plentiful shops, galleries and boutiques.
The Albert Hall Museum is an excellent place to witness some traditional works of Indian artists as well as some works from international cultures.
There's even an Egyptian Mummy on display here along with several artefacts such as paintings, pottery, weapons and textiles. With its beautiful architecture, the museum is one of the top places to visit in Jaipur, which is especially splendid when it's lit up at night. It's also been declared as the state museum of Rajasthan.
Tip for Photographers: Visit the museum early in the morning for a shot with a swarm of pigeons. When the courtyard gets swathed in a swarm of pigeons.
Timings: 10:00 AM to 5:00 PM and 7:00 PM to 10:00 PM
Jal Mahal
Sitting in the middle of the Man Sagar Lake this is a beautiful piece of architectural marvel.
Although you can't visit the palace itself, just being able to watch this wonder from a distance makes it well worth a spot to include in your Jaipur itinerary. Again, this one looks beautiful in the night when lit up.
This is also one of the best places to visit in Jaipur for a splendid sunrise. Provided you don't visit it on a cloudy day as I did!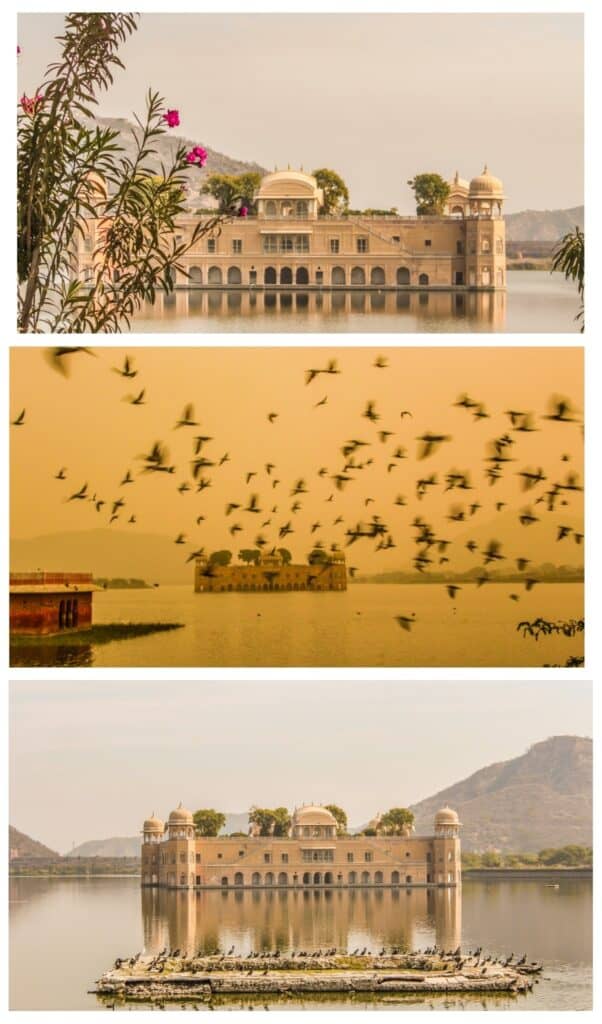 The City Palace
The City Palace is one of the most interesting places to visit in Jaipur. The royal family of Jaipur still resides here in the Chandra Mahal.
The inner courtyards have some intricately carved gates which are decorated with beautiful and delicate paintings. And they are a kaleidoscope of colours! The ones with unusual peacock murals are particularly enticing.
The walls are covered with delicate and striking paintings. And the palace complex houses vast courtyards, gardens and museums with weaponry and royal costumes.
There's a regular ticket which gives you access to the museums and palace grounds and most of the attractions within the palace can be visited with that ticket. But in order to visit the more beautiful royal rooms, you'll have to shell out some hefty amount. But unless you're a hardcore photographer or a history buff, this is not really recommended since the other rooms are equally beautiful. There's also a light and sound show during the night for which you need to take a separate ticket.
Timings: 9:00 AM to 5:00 PM and 7:00 PM to 10:00 PM.
Jaigarh Fort
A great testament to the Rajput military prowess this magnificent sandstone structure is another beautiful attraction in the city. One of the grand places to visit in Jaipur although relatively lesser-known since the other forts steal the limelight from this beauty. Known as the fort of victory, it's still famous for its Jaivana, the largest cannon on wheels in the world.
Birla Mandir
A temple of white marbles situated atop a small hill, this is a vision in white. An architectural beauty visited by travellers and pilgrims alike. There are ample parking spaces and stalls outside with a wide variety of food and delicacies. This should definitely be in your list of top places to visit in Jaipur.
Isarlat Tower
Built by Sawai Ishwari Singh, Isarlat Tower has been standing tall since 1749 AD. Standing in the midst of a cluster of pink structures, this yellow coloured minaret stricks a contrast and is visible from afar. There's a circular staircase with tiny windows on its tiny landings to ensure proper circulation of air and light.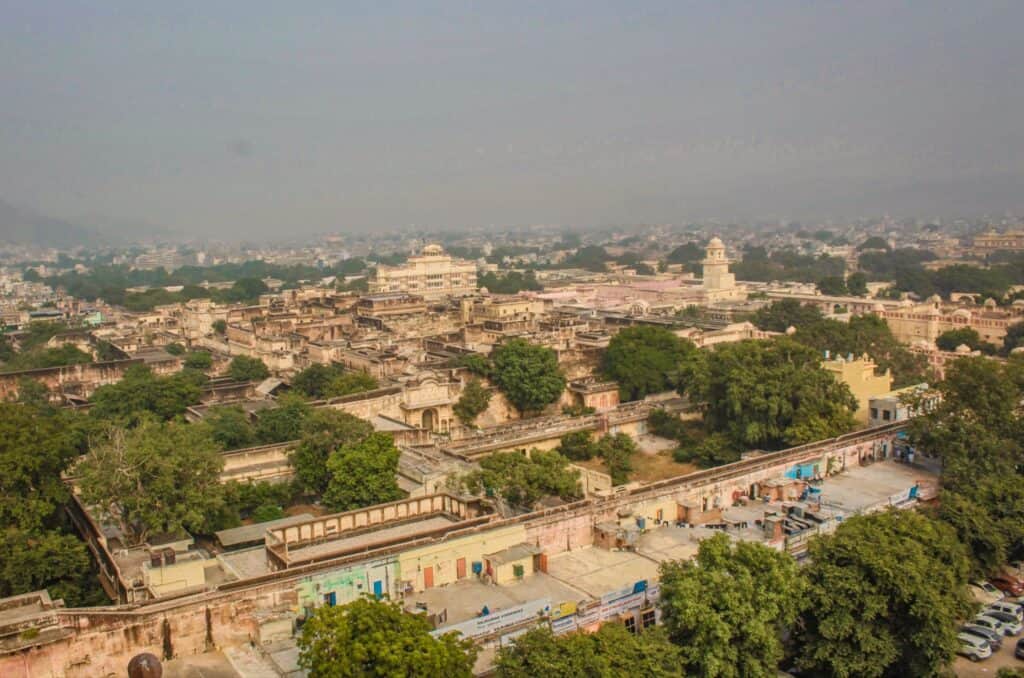 It is popularly known as Sargasuli which literally means "passage to heaven" aptly named so because of its height. It offers 360-degree views of the city and most major monuments are visible from the top. Sargasuli Tower in Jaipur was erected to commemorate the victory of Sawai Ishwari Singh over Sawai Madho Singh in the first war fought in 1747. This is definitely a place to add in your Jaipur itinerary.
Jantar Mantar
Housing the world's largest sundial, Jantar Mantar is a UNESCO World Heritage Site. It's famous for the uniquely carved structures evoking a sense of mystery. Many archaeologists have struggled to decipher the meaning behind them.
Jantar Mantar literally translates to 'calculation instrument'. And it consists of a group of nineteen fascinating architectural structures and astronomical instruments. It is located in the old city between City Palace and Hawa Mahal. This is one among the five astronomical observatories in India, and also the largest and best-preserved.
With the help of these instruments, it's possible to observe the position of astronomical bodies with the naked eye. These instruments can measure time, predict eclipses, track the location of major stars and planets. As well as determine the altitudes of the celestial bodies. It's absolutely fascinating to think of how immensely knowledgable our ancestors were.
This is one of the best places to visit in Jaipur for first-time travelers to learn about the fascinating history of our rulers.
Timings: 9 AM to 4.30 PM
Tip: If you're keen on learning about the in-depth history of all these places, you can hire a guide. And in turn provide them with some means of income. However, if you find that to be a hurdle, for reasons like the language barrier, most places have audio guides installed and you can avail those services too. There's a minimal fee involved.
Note: There's a composite ticket covering Hawa Mahal, Amber Fort, Nahargarh Fort and Albert Hall Museum, Jantar Mantar (Observatory), Vidyadhar Garden, Sisodia Rani Garden and Isarlat (Sargasooli).
That means this ticket is valid for a period of two days. And so if you're unable to visit all the places in one day, you can carry that same ticket to visit those places the next day. In this way, you can save time during the peak season by not having to stand in unnecessary queues.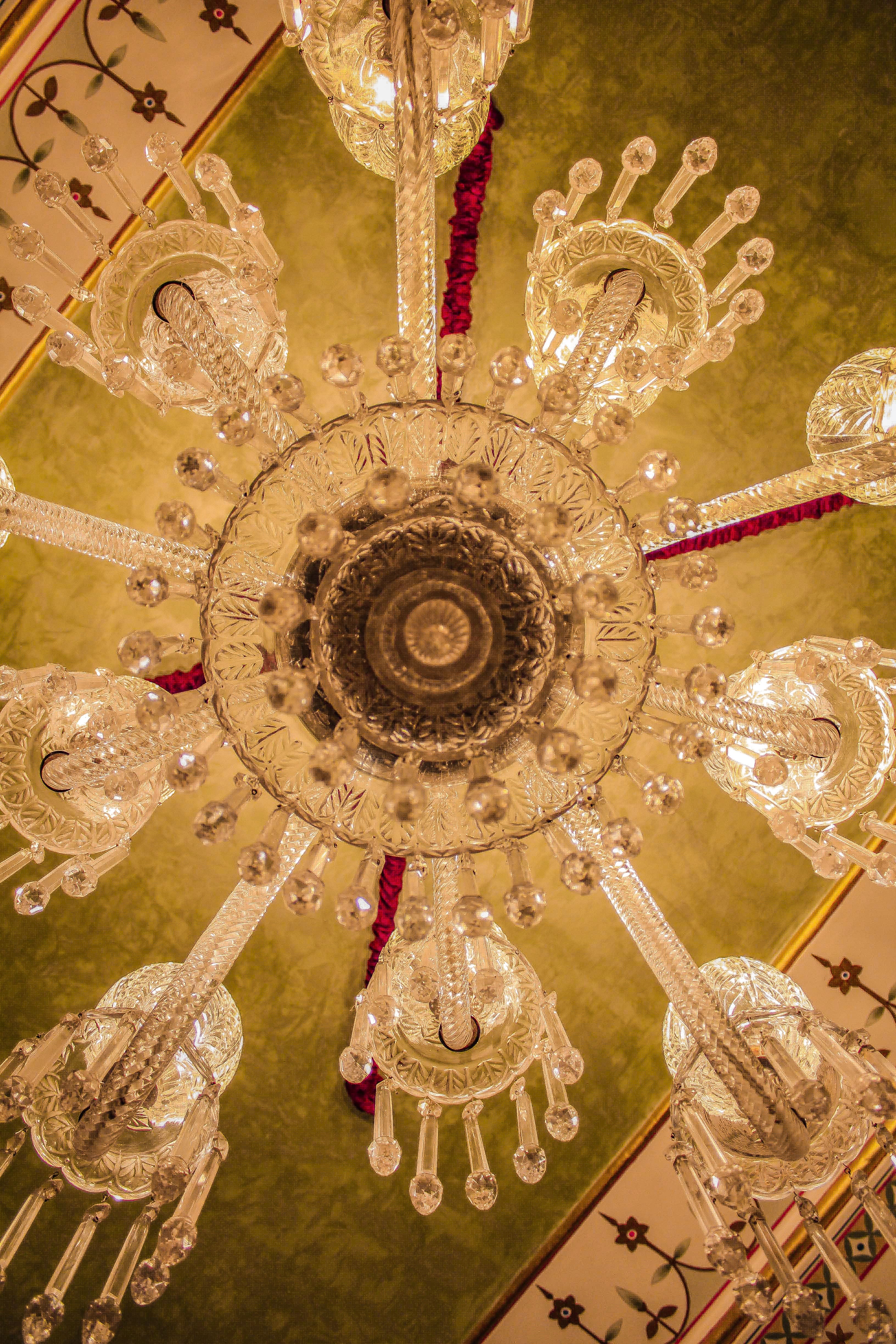 Day Trips from Jaipur
Sambhar Lake
Sambhar Lake is the largest salt lake in India. It's situated at a distance of 80 km from Jaipur and can be reached in 2 hours. It's primarily a saline wetland which gets water from 5 rivers. And it owes its exotic white colour to the mix of desert soil and salt.
There are Rajasthan State Transport buses plying regularly to Sambhar from Jaipur. You can also hire cabs for a day trip to Sambhar.
Check out Sambhar town and the pink flamingoes near the salt pans. Visit Devyani Sarovar Temple whose history dates back to Mahabharata times. There are even tent stays available here. Visit Sambhar Lake for experiencing surreal sunset and sunrise.
Bhangargh Fort
The most popular haunted place in India is just 85 km away from Jaipur. The fort is in ruins now and has gained popularity due to the several mysterious and paranormal stories linked with it. It's now managed by Archaeological Survey of India (ASI). And the entry is free for all. It can be reached in around 2 hours from Jaipur.
Abhaneri Chand Baori
Situated in the village of Abhaneri, this is the oldest surviving stepwell in Rajasthan. It's also one of the most photogenic step-wells in the world. Situated at a distance of 90 km from Jaipur, it can be covered as a day trip from Jaipur along with Bhangarh.
Summary
Jaipur is a city filled vast amount of treasures for a traveller. It's a photographers paradise. From brilliant sunsets to fascinating architectures, one can never have enough of it.
From lip-smacking food to tons of palaces and historical places to explore, Jaipur has something to offer for all kinds of travellers! The shopaholics, beware! You might just about discover your favourite haunt! This can result in your coming back to this place over and over again! 😉
So ensure to include Jaipur in your Rajasthan itinerary and gear up for a memorable time! And if you've already visited Jaipur, how was your experience? Do let me know in the comments below!
Do subscribe! And get more such travel stories and tips directly to your inbox!