Meghalaya, Abode of the Clouds
Picture this! Sapphire blue pools, lush green sprawling meadows, cascading white sheets of water, dark brown bridges constructed out of tree roots, winding immaculate roads, mysterious natural caves…A perfect destination, isn't it? Meghalaya is synonymous with all this and more! Meghalaya is not a quintessential backpacking destination yet. But owing to the slowly blossoming hostels and homestays accompanied by the rise of beautiful pictures circulating across social media, it's just a matter of time before Meghalaya transforms as a budget backpacking destination!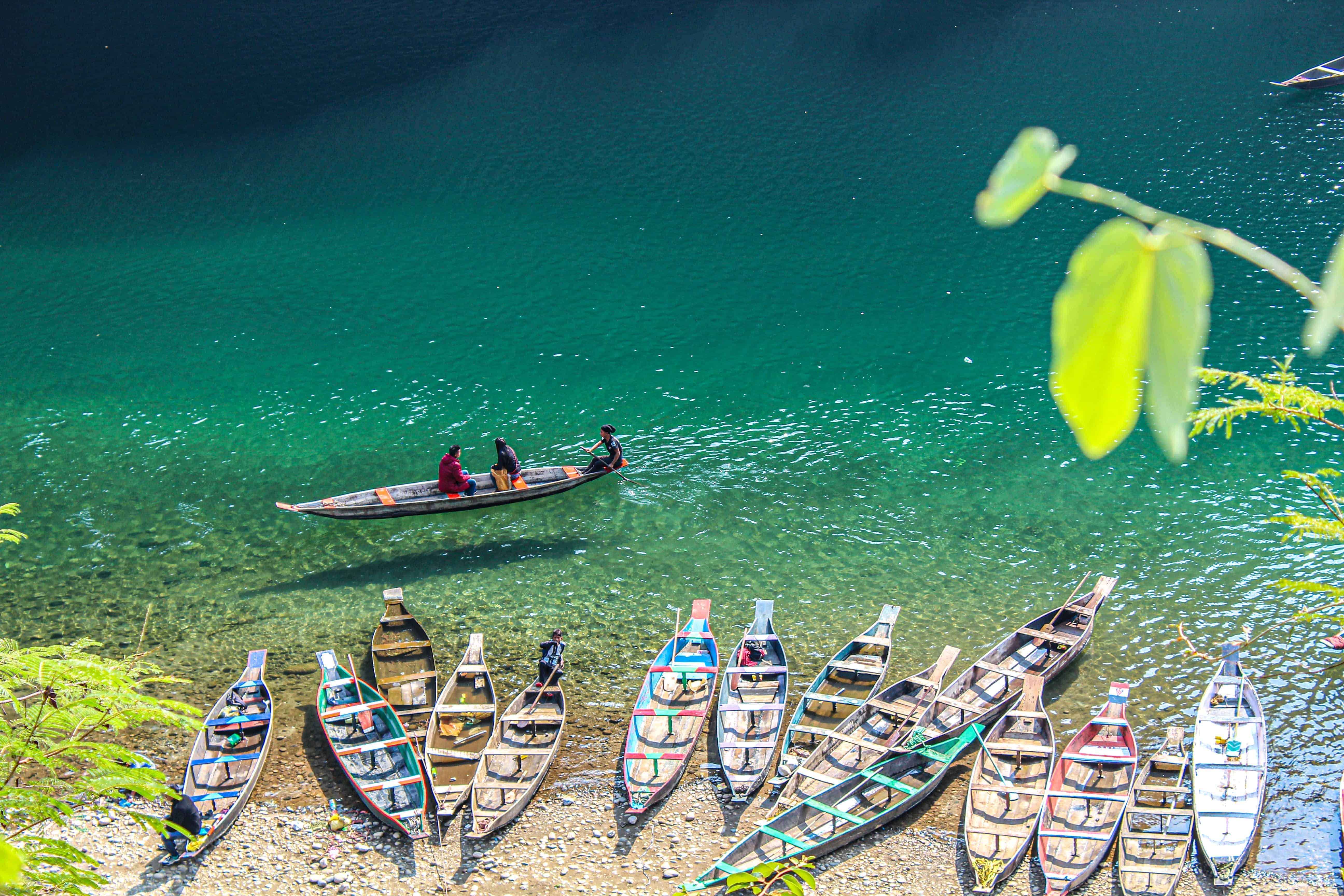 When I first traveled to Meghalaya with my family back in November 2018, within two days of stepping foot there, I'd already decided to backpack to this gorgeous destination again someday during Monsoon.
A Complete Guide for Backpacking in Meghalaya
How to reach Meghalaya
Guwahati to Shillong
Guwahati is well connected to Meghalaya. It is advised to arrive in Guwahati early morning. Or at best arrive before noon by rail, or air since the sun goes down early in Northeast India.
The distance from Guwahati airport to Shillong is 120 km. For a self-drive trip across Meghalaya, Zoom Cars can be rented at the airport/online or in Shillong. The same applies to bikes as well.
Taxi stands in Guwahati: Can be found at the airport, railway station and Paltan Bazaar.
Shared taxis, yellow number plate cars, and SUVs are available just as you walk out of the airport. Rates can be somewhere between 300-400 INR.
Buses from Meghalaya Tourism Department run between Guwahati Airport and Shillong twice a day. You can enquire at the MTDC tourism counter about this.
If these options don't work, plant yourself along the main road, hail one of the shared sumos that ply between Guwahati and Shillong( around 170 INR per person).
The road from Guwahati to Shillong is excellent and it makes for a great drive. It usually takes around three hours to cover this journey. Taxis stop along the way for a break where you can have meals or snacks.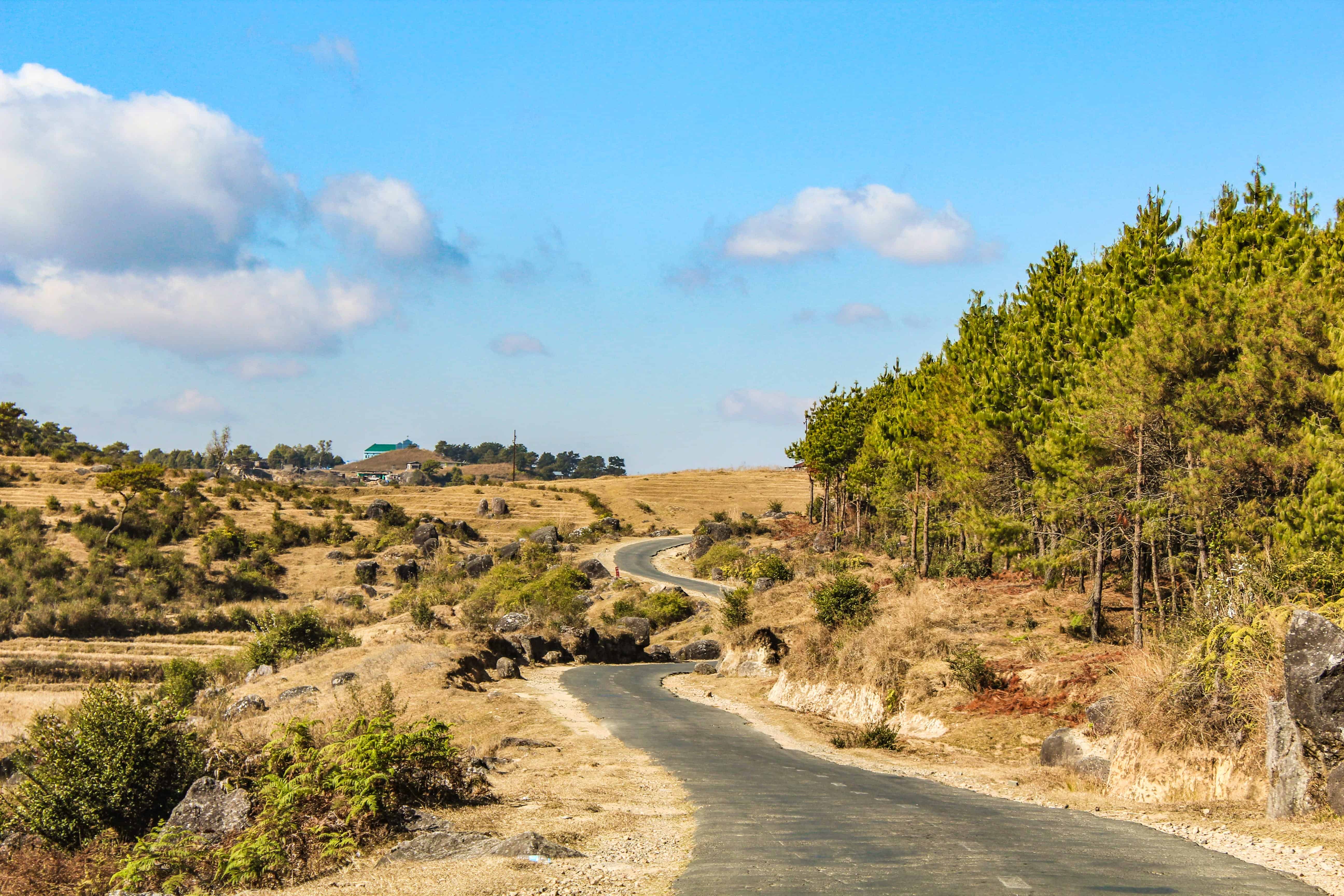 Places to visit in Meghalaya
Shillong
Popularly known as the Rock Capital of India, Shillong is often treated as the base from where people visit other places in Meghalaya. The shared taxi drop-off point in Shillong is at Police Bazaar. One of the main reasons for this is the wide range of accommodation options available here as compared to other places. Another reason being, its close proximity to several places around Meghalaya. One can easily cover most of the popular places in Meghalaya by doing daily day trips from Shillong.
Note: Frequent day trips could be tiring for people who don't enjoy being on the road constantly. You also need to start early every morning because the day ends early in the Northeast.
Although at first glance the city might appear congested and crammy, it has its charm and does grow on you..
Where to stay
There are many budget-friendly accommodation options near the Police Bazaar and several other options spread throughout the town. Although hostels are slowing emerging there are only a few hostels as of now and the most popular one is the Silverbrook Hostel.
Where to eat
Shillong Bazaar has a lot of eateries with a variety of options to sample authentic Khasi food. You can have a delicious breakfast from the morning stalls that are set up every morning in the market. It's both hygienic and cheap.
Shillong also has some cozy and pretty cafes making it one of the perfect places for café hopping in Meghalaya.
Places to visit in Shillong: Ward's Lake, Shillong Golf Course, Elephant Falls, Don Bosco Museum of Indigenous Cultures.
Umiam Lake or Barapani is around 15 km from Shillong. It lies along the Shillong-Guwahati highway. A quiet and serene place, you could either visit it in the morning when there are clouds floating by or watch a beautiful sunset from its bank.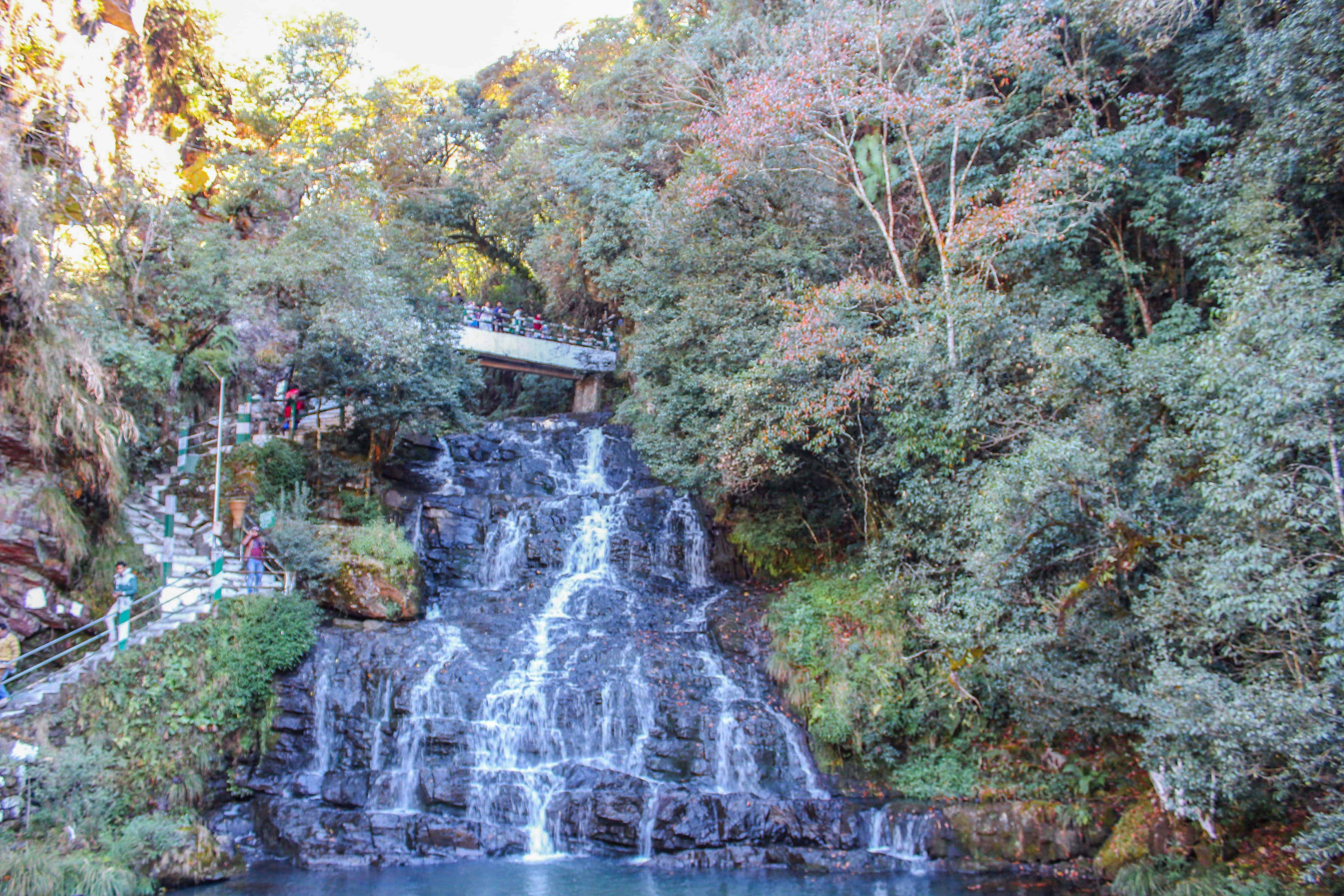 Krang Shuri Waterfalls
I sometimes wonder if the color blue was coined after the pools of Meghalaya. The first sight of the shimmering pale-blue waters of Krang Shuri Waterfalls will leave you spellbound with joy!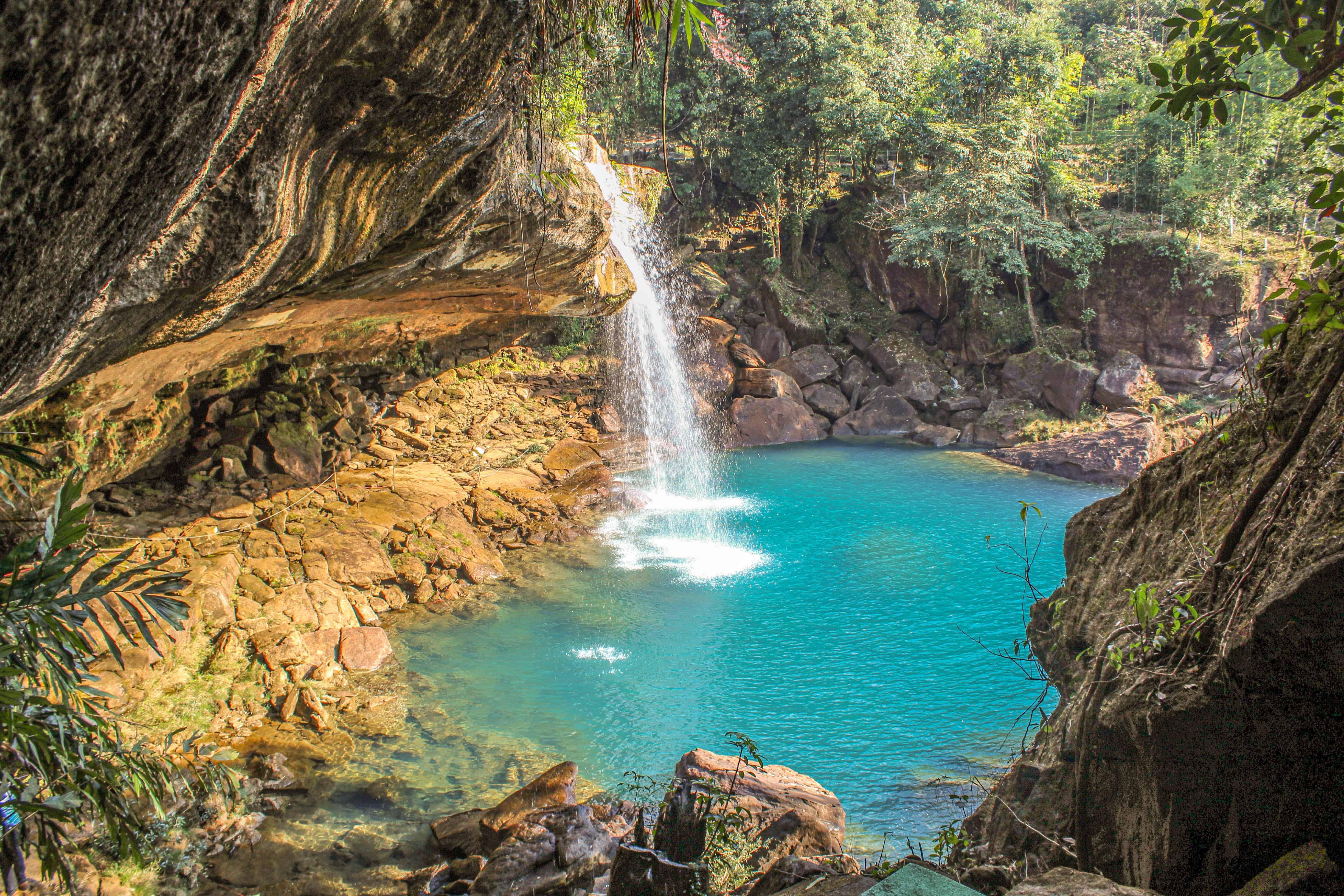 How to reach Krang Shuri Waterfalls
Located at a distance of 91 km from Shillong on the other side of the state this is one of Meghalaya's gem. It can take around 3 hrs to reach this place from Shillong.
Hire a cab and pay a visit to this magical place and you shall not regret it. Mostly deserted, the road winds through small villages and strange-looking limestone quarries.
Where to stay
If you wish to spend a night here, overnight camping facilities are available beside the boating centre.
Things to do here
Take a dip in this sublime pool. Life jackets are compulsory even if you know how to swim. You can walk towards the backside of the falls and view the magnificent white sheet cascading down.
A little down the main waterfall there are boating and camping facilities.
Where to eat
Only one small restaurant run by local Khasi women is available here.
Laitlum Canyon
Laitlum means 'end of hills' and while you stand atop this wide cliff and cast your eyes over the unending layers of hills and hillocks you realize it's true to its name. Although its true beauty flourishes during the monsoon when it gets awash with verdant shades of green, it has a different charm during the dry season. For one, you can watch a beautiful sunset, unhindered by the monstrous clouds which plague the monsoon season in Meghalaya.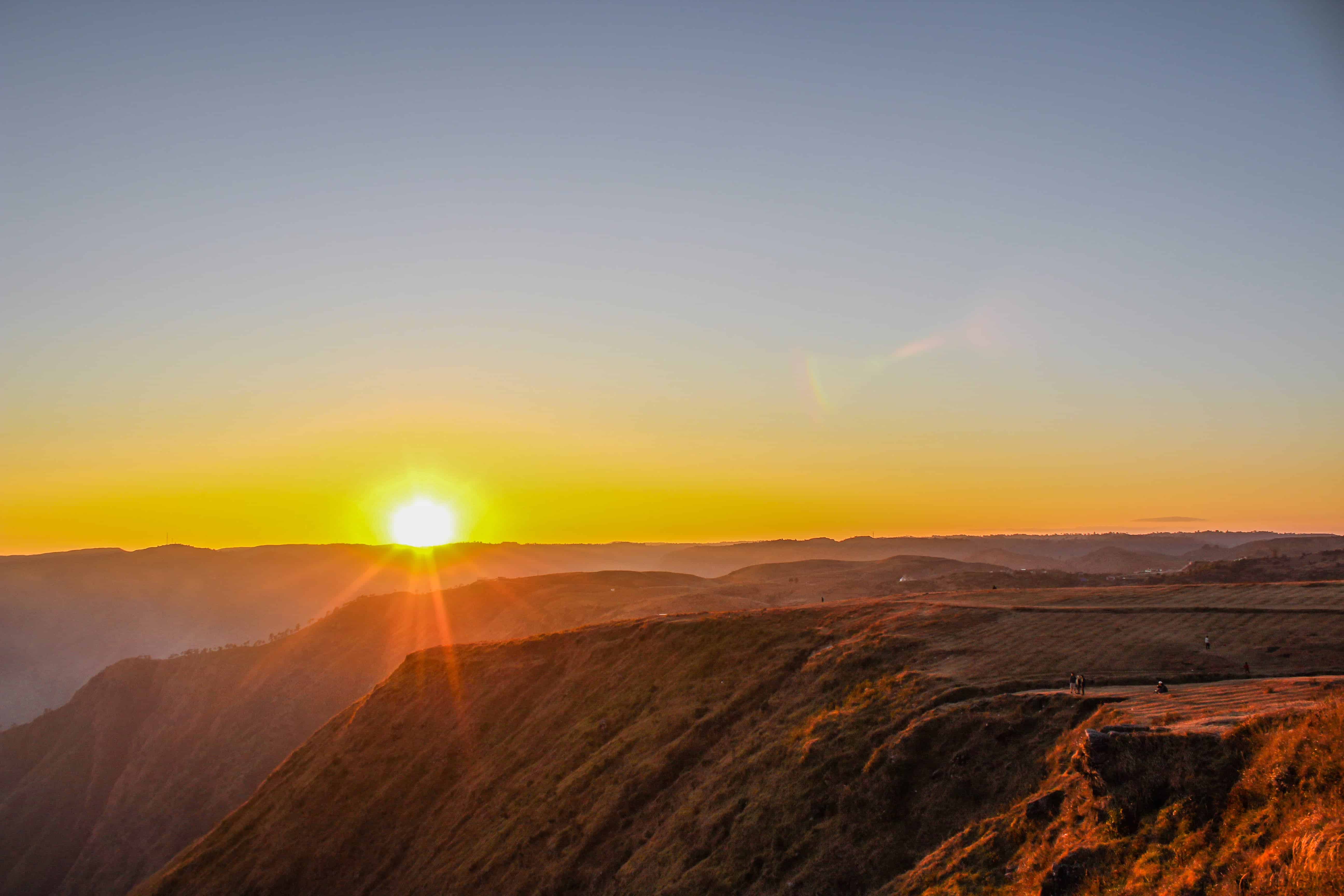 How to reach
You get shared taxis to Smit village. Beyond this, you could either walk (a bit far though), wait for a passing cab, or hitchhike.
The best option would be to hire a private cab from Shillong.
Things to do here
Owing to its relatively less popularity, this unexplored gorge has retained its beauty. It is ideal for treks and some soul time with untouched nature.
Pack a small meal, reach here a little before sunset, grab a quiet spot, and watch the orange orb slowly dip across the horizon.
Another activity which one could indulge in is a trek to the village of Rasong through the steep winding stairways that make their way down to the lush valley.
Where to eat
There are no major restaurants here. Only small shops and stall where fruits and snacks are sold.
Cherrapunji (Sohra)
Cherrapunji shot to fame after being declared as the wettest place on Earth. Although it's now replaced by Mawsynram.
Start your day early at around 8 am to Cherrapunji. It takes less than two hours to cover the distance between Shillong and Cherrapunjee.
How to reach
Shared taxis and buses ply all day from Bada Bazaar in Shillong costing around 70 and 50 INR respectively.
MTDC conducts daily day trips to various parts of Meghalaya. Cherrapunji can be covered if you opt for this trip. Although for an immersive experience night stay is recommended.

MTDC- Meghalaya Tourism Development Corporation
Shared taxis are also available from Anjali Cinema Hall or better know as the parking spot opposite Anjali Hall.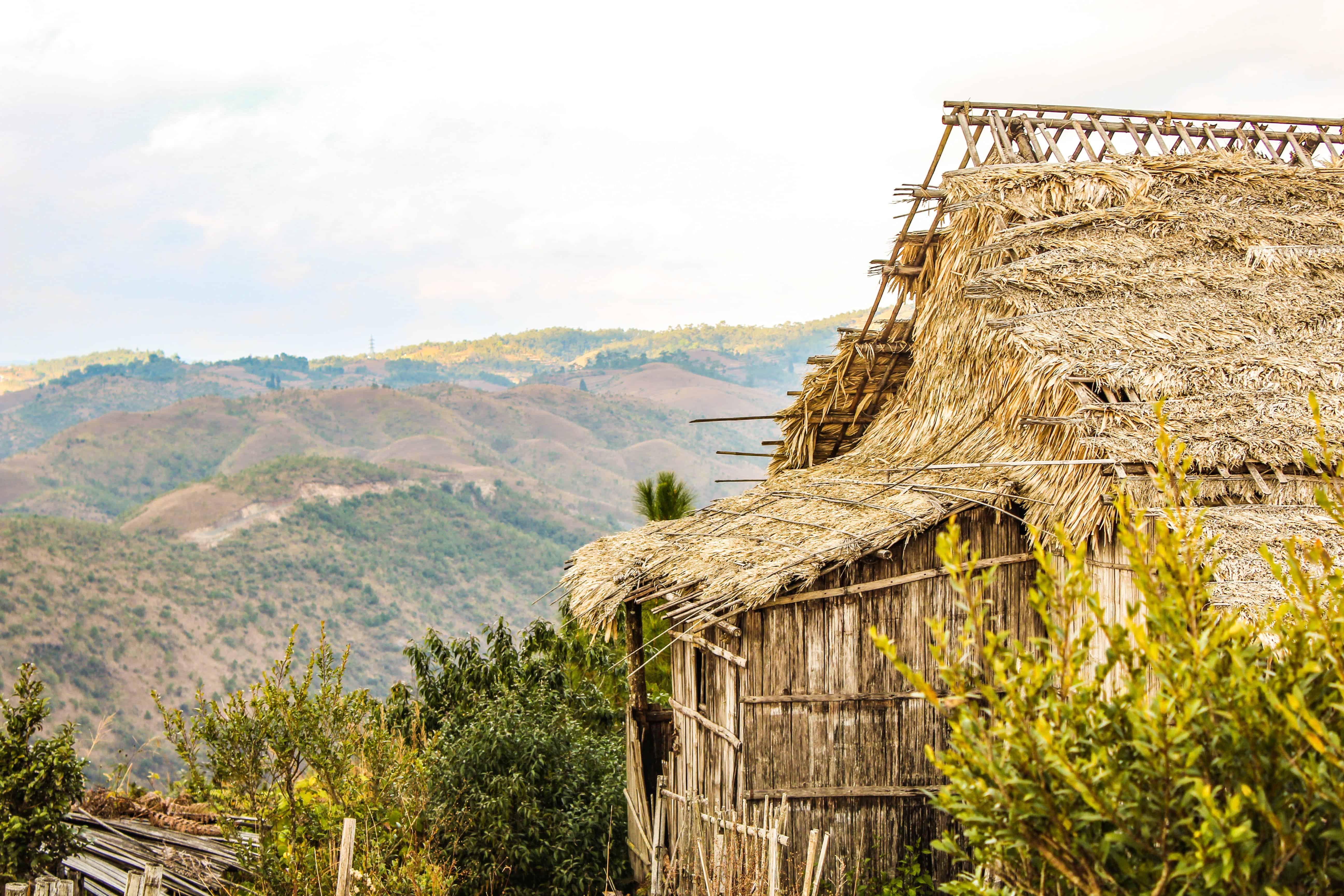 Where to stay
The taxi drop point is Upper Cherrapunjee, locally called Sohra. There are few homestays here. There's a popular backpackers hostel by name By The Way in lower Sohra.
Places to visit in Cherrapunjee
Although very little to see in Cherrapunji town, this is a popular base for visiting waterfalls and caves around the town. This is also the transit point for travelers embarking on the Nongriat trek.
Eco park; the southernmost point of this park is the origin point of Seven Sister Falls.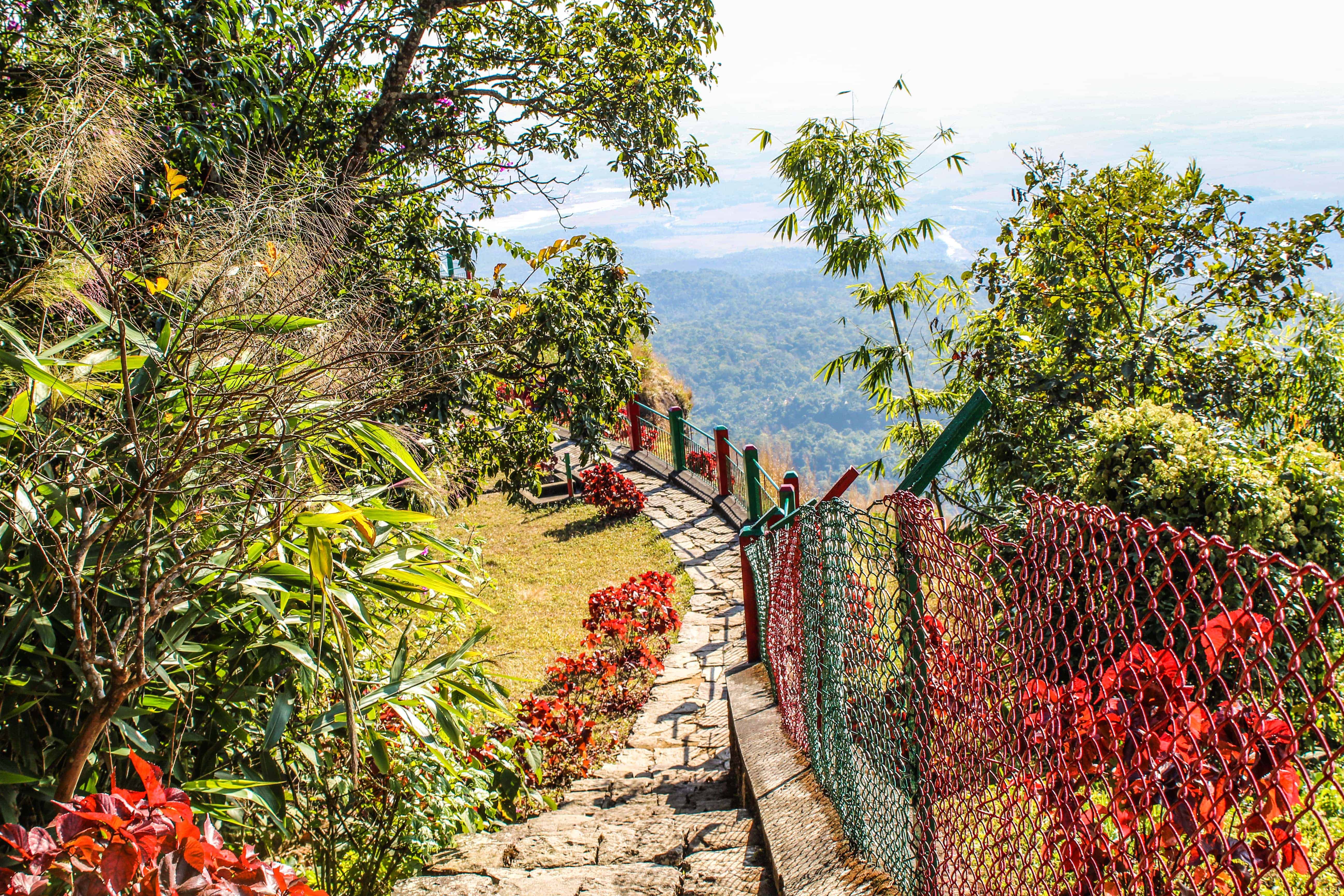 Nohkalikhai waterfalls is the tallest plunge waterfall in India and the fourth tallest in the world. Located at around 4km from the main town of Cherrapunji, this is a sight to behold.
Find yourself a secluded spot away from the crowd that usually throngs at the main viewpoint and fix your gaze at this wonder. You'll almost feel a magnetic pull that seems to pull you down to its depth.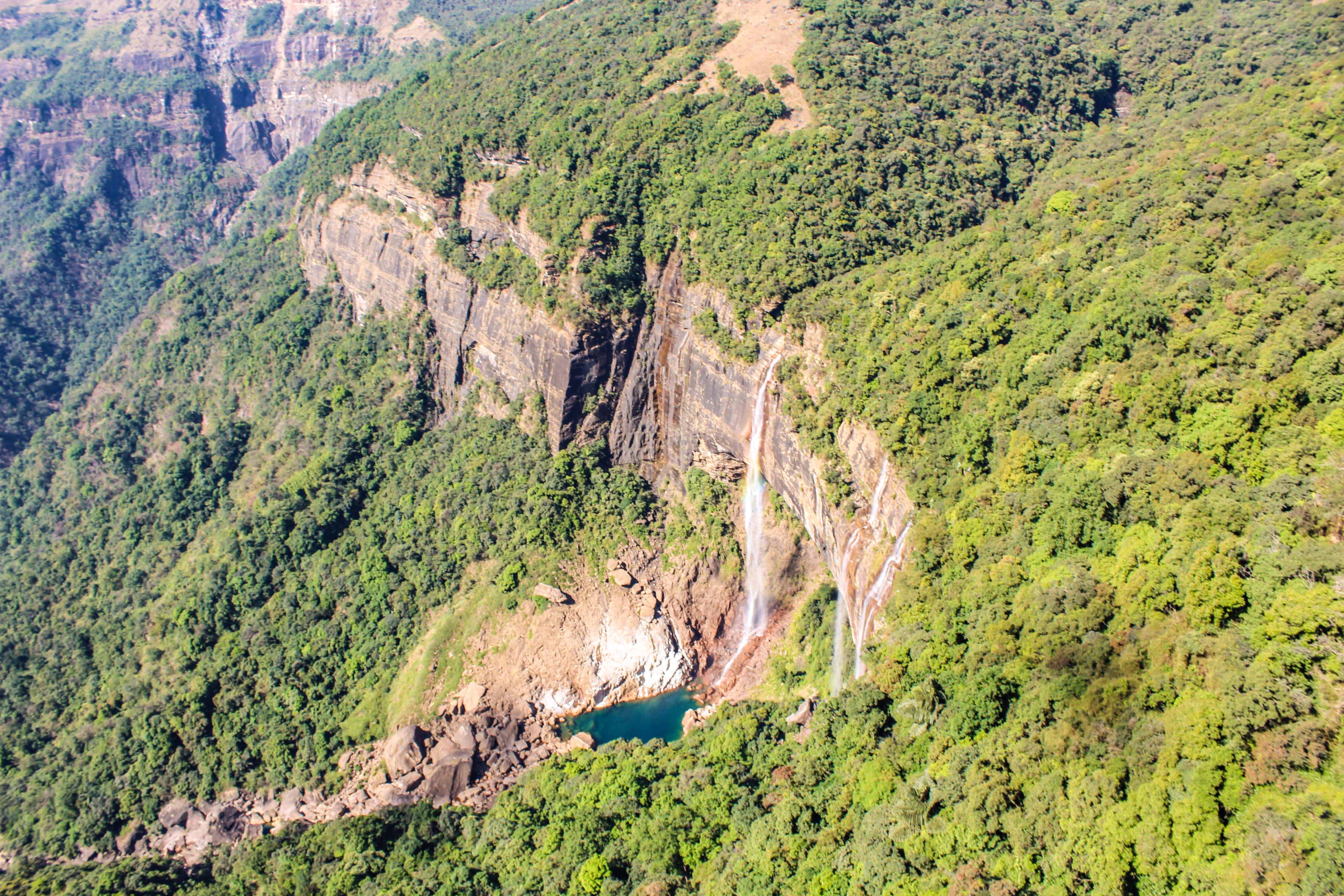 Meghalaya is blessed with an abundance of mysterious cave systems. Mawsmai Caves are by far one of the most popular ones. Its fascinating stalactites and stalagmites make it a must-visit place.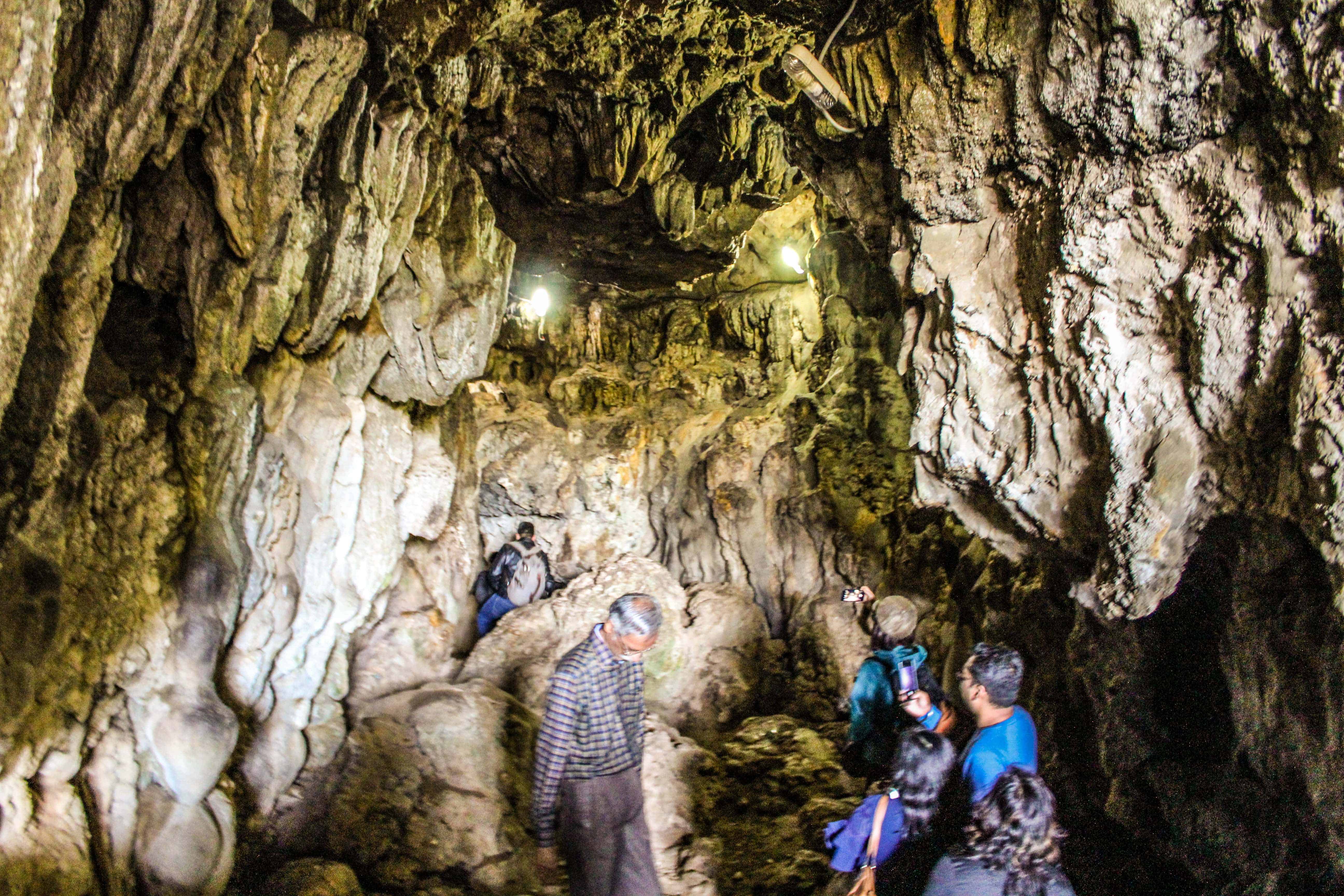 Few other notable places:
A weekly market in Upper Sohra. Dympep viewpoint en-route Cherrapunjee. Rama Krishna Mission Ashram for its Tribal Khasi Museum, Seven Sister Falls,
Double Decker Root Bridge of Nongriat
Trek to this jungle village filled with sapphire pools and living root bridges is one of the most fascinating things to do around Cherrapunji.
How to reach
Shared taxi from Cherrapunji to Tryna. From Tyrna village take the 3000 steps down to Nongriat.
You could also take a shared taxi from Anjali Cinema Taxi Stand in Shillong till Tyrna Village.
There's another route which is a more difficult path. It starts at the top of Nohkalikai falls. This can be done only during the dry season.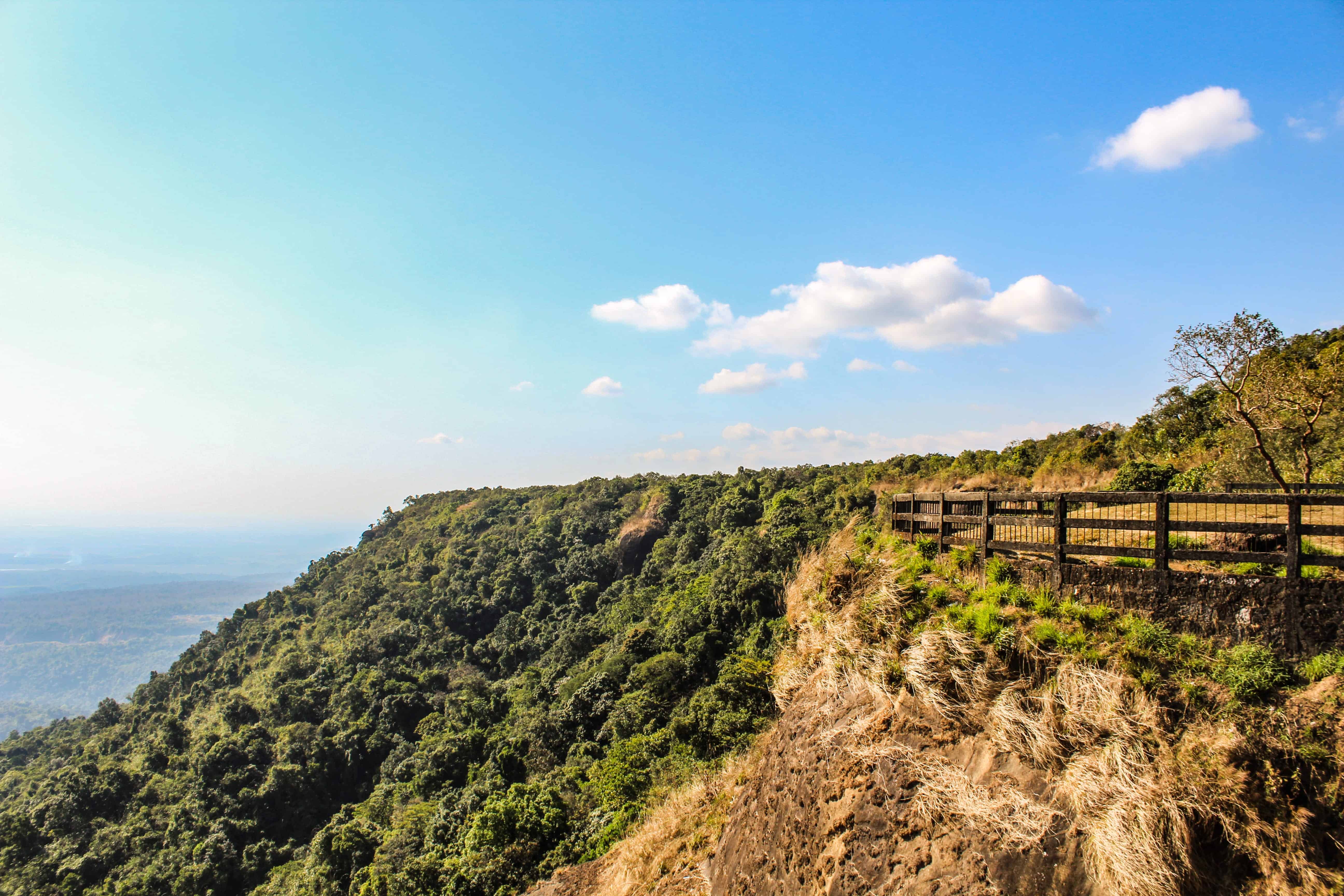 Where to stay
There are limited stay options here with few local homestays. Popular one being the Serene Homestay. But owing to the kind nature of the locals here, one can ensure to find some form of accommodation even during peak time.
It is advised to at least spend a day here to rest ones knees and also to enjoy the bounties of nature.
It'd take around 3 hours to walk back to Tyrna village from Nongriat. After reaching the top of the steps, you could either hitch a ride with one of the vehicles from Tyrna that is headed to Cherrapunjee or arrange for a transport from the homestay.
Things to do here
Just relax and spend time exploring the jungle. Visit the Double Decker Root Bridge. Visit the Rainbow Falls and if you happen to be lucky, you could witness a rainbow over the white sheet of water.
If you add an extra day, you could also visit the village of Mynteng to see another, quieter bridge.
Note: You could choose between moving to your next destination that is either Mawsynram or Dawki. But to visit both these places it's required to go halfway along to Shillong and then take a detour.
So it'd be better to go to Shillong and rest for the day.
Mawphlang Sacred Forests
Mawphlang is considered sacred because it is believed to be protected by a local deity- Labasa. Legends say that taking anything out of this forest, even a tree branch can prove to be fatal.
'Maw' in Khasi language means 'stone'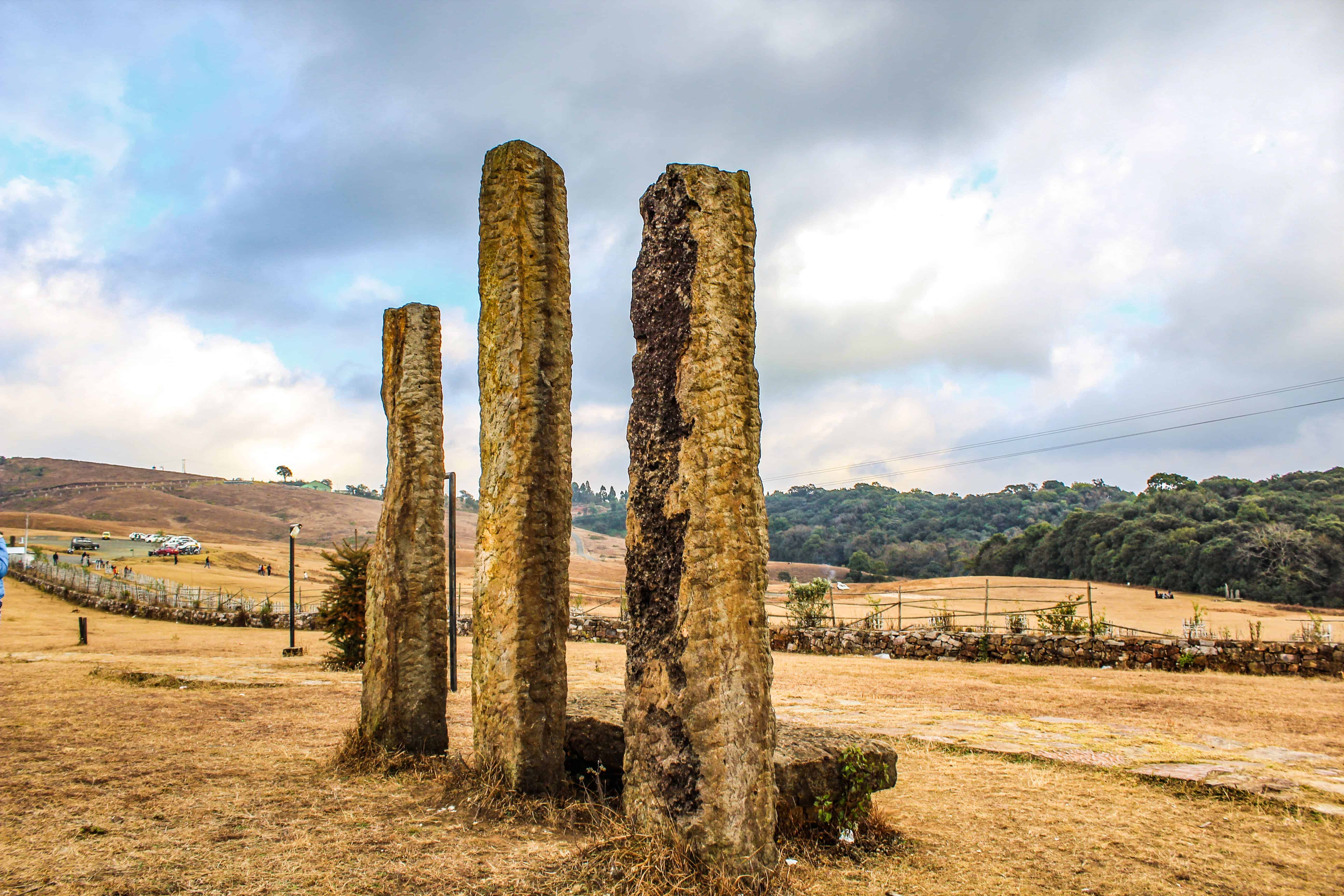 How to reach Mawphlang
Located around 25 kilometers from Shillong, it takes about an hour to drive to Mawphlang. A private taxi from Shillong will charge about 1,500 INR for the return trip.
In case you're traveling on a limited budget, hop on any shared taxi starting from Shillong or government buses going towards Cherrapunji and Mawsynram. It will pass through Mawphlang. You'll have to then walk a bit to reach the entry point of the forest.
Where to Stay
It can be covered as a day trip from Shillong. But if you're interested in staying in the area and exploring it, Maple Pine Farm bed and breakfast is recommended.
Things to do here
Khasi Hills Autonomous District Council has set up a Khasi Heritage Village opposite the Mawphlang Sacred Forest. One can choose to spend leisure time here soaking in the views of the valley below. It has various types of traditional mock tribal huts constructed authentically. Local food and toilets are available too. Another beautiful but lesser-known spot is the Mawphlang dam viewpoint. The sight of the blue-green water of the Umiew river from the top is breathtaking. We were lucky to stumble upon this because of a chance conversation we had with a local guide. You could ask them for it and they'll take you over to this place for a minimal guide fee.
You could also consider doing David Scott's trail hike. This would require a minimum of 6 hours up and down.
Entry to the sacred forest is open from 9 a.m. until 4.30 p.m. daily.
There's a minimal entrance fee which enables local youths to be employed as caretakers. It's compulsory to hire a guide here to enter the forests.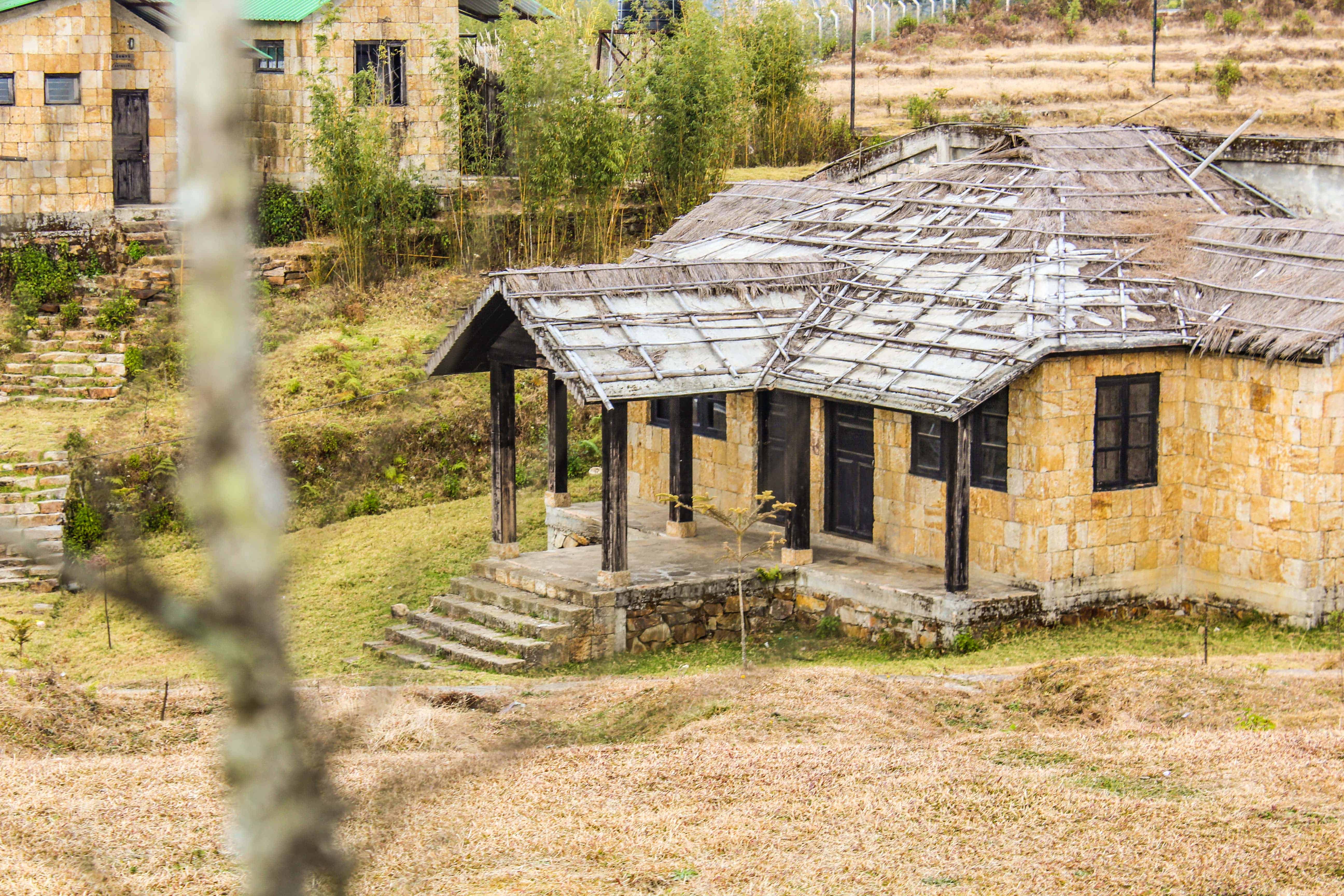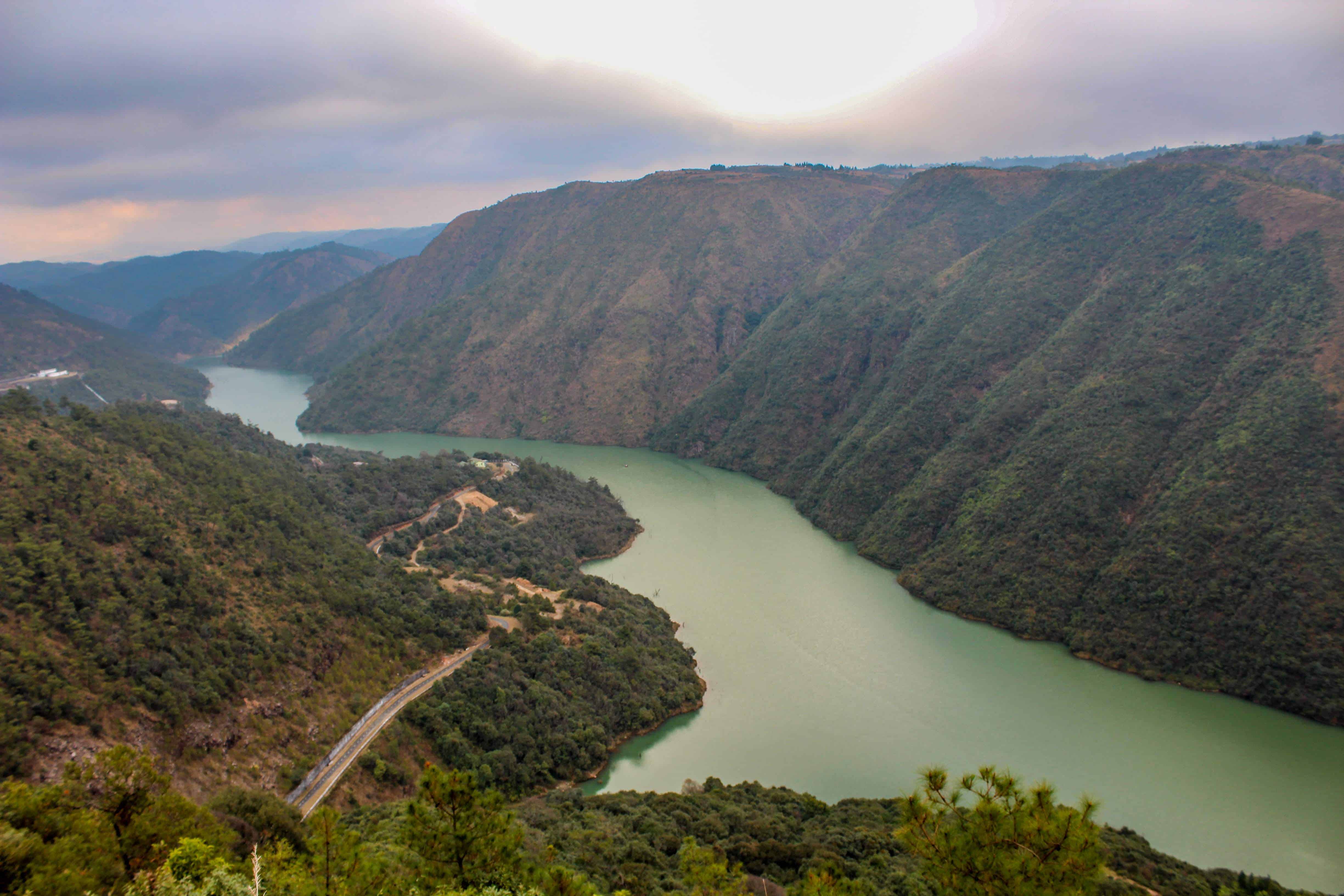 Dawki and Shnongpdeng
Chances are that you'd have seen pictures of rustic boats floating on crystal clear waters of the Umgnot river and thought that it definitely couldn't be that beautiful in real. Well, it is. I'd go as far as to say it's even more beautiful in real.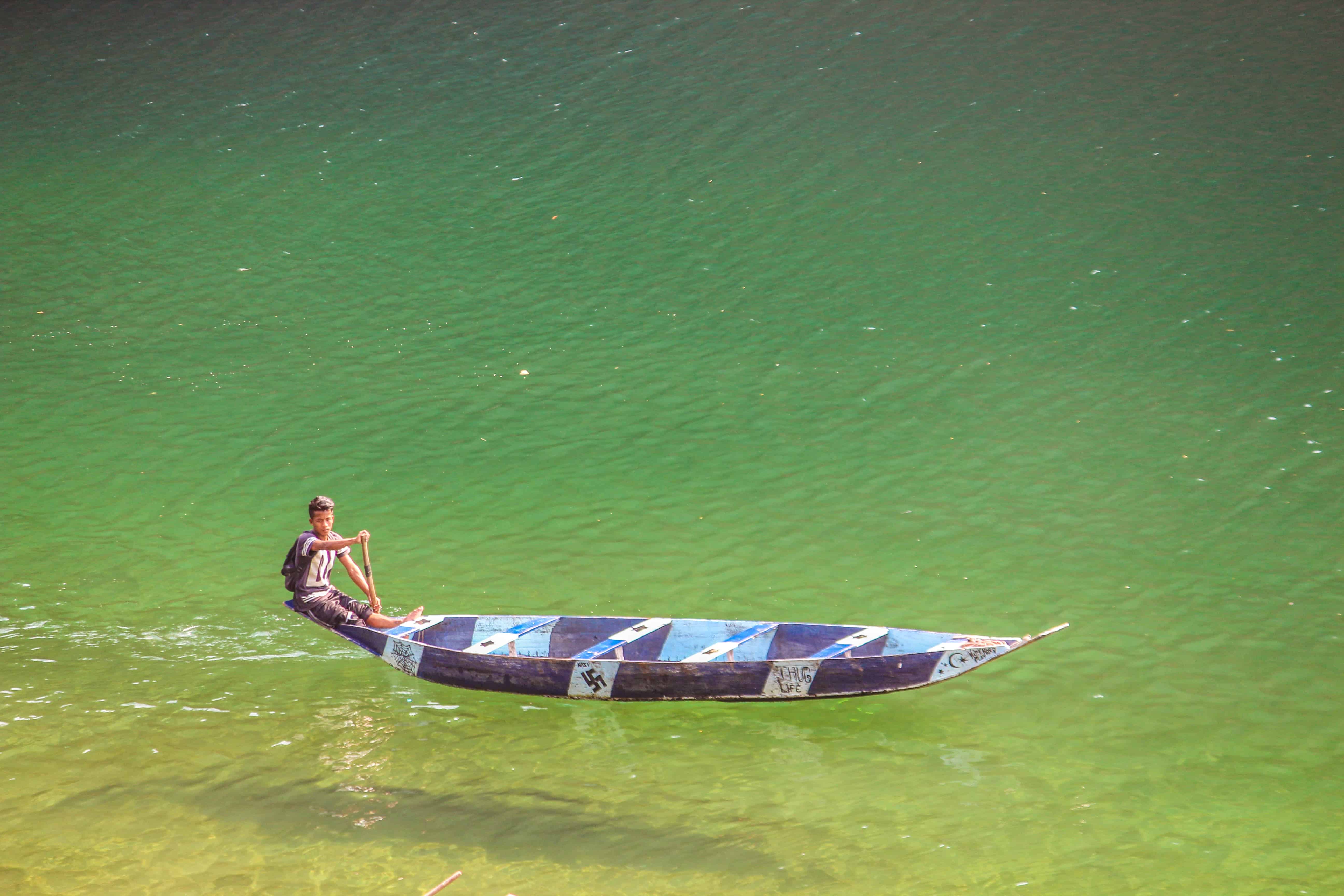 Dawki is the last village on the Indian side of the Bangladesh border of Tamabil. At the other end of the river, there are fishermen from both sides and it doesn't look like a border at all.
Also read- Shnongpdeng, Dawki and the beautiful Umngot river in Meghalaya
How to reach
Regular buses and shared taxis ply from Bada Bazar in Shillong and Anjali Cinema Taxi Stand to Dawki.
The distance between Dawki and Shnongpdeng is just 8km and you could catch a shared taxi to this place in Dawki.
Where to stay
There are hotels and homestays in Dawki but it's usually crowded. You could camp at Shnongpdeng. Another small hamlet which has many bamboo cottages and camping options too.
Things to do here
A boat ride on this crystal clear river is mesmerizing and is unlike any other experience. You could choose to do this either in Dawki or Shnongpdeng.
Early morning or afternoon is the best time to capture some stunning shots of this river. Aerial shots can be taken from the suspension bridge in Shnongpdeng.
Activities like cliff jumping, fishing, snorkeling, rafting, zip-lining can be experienced depending on the season.
Mawlynnong
Mawlynnong was declared as the cleanest village in Asia by Discover India in 2003. The presence of bamboo dustbins every 100 meters, is almost like a visual proof of why it was conferred with this title. The villagers here take pride in keeping their surroundings clean. Cleanliness here is an age-old tradition and a way of life.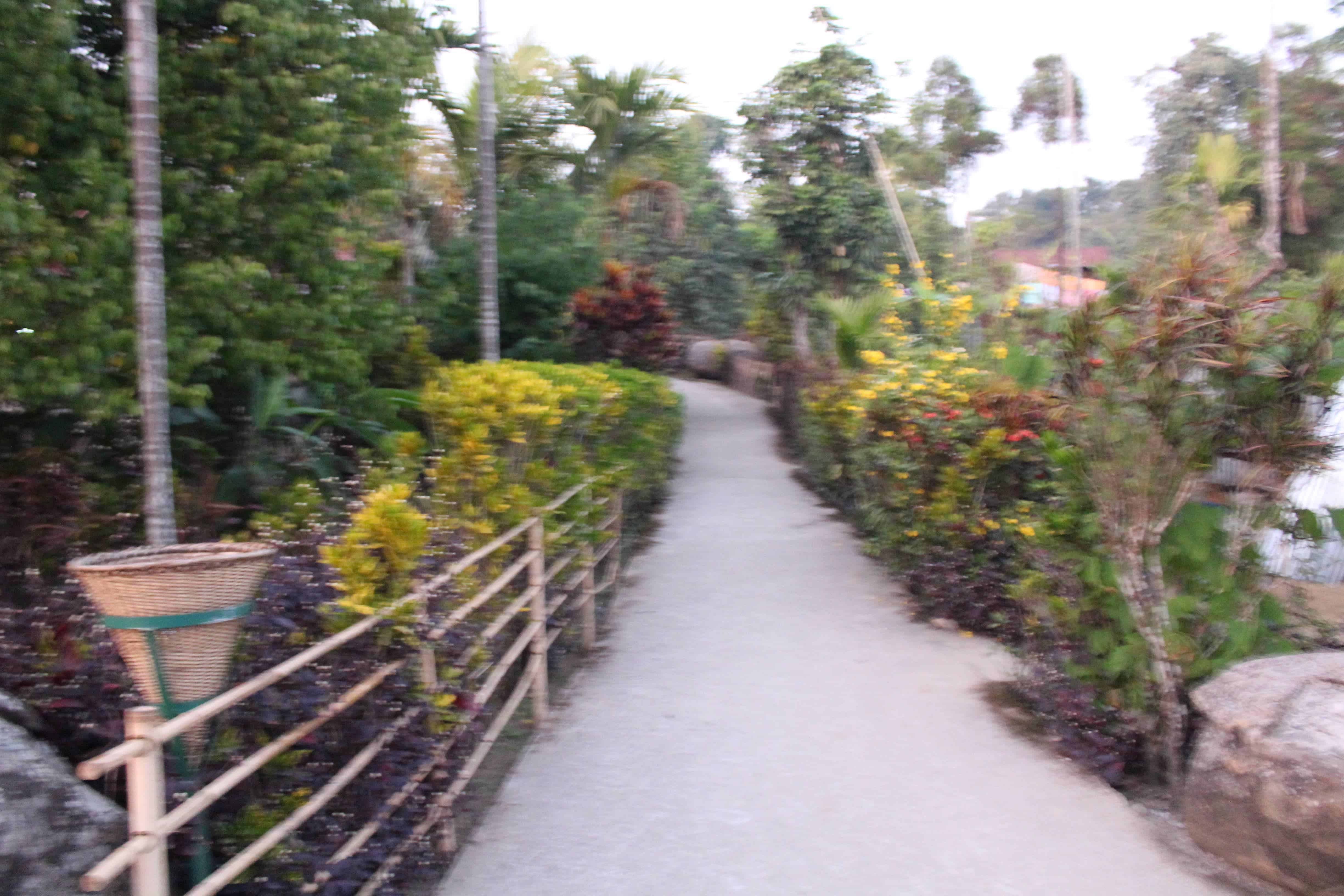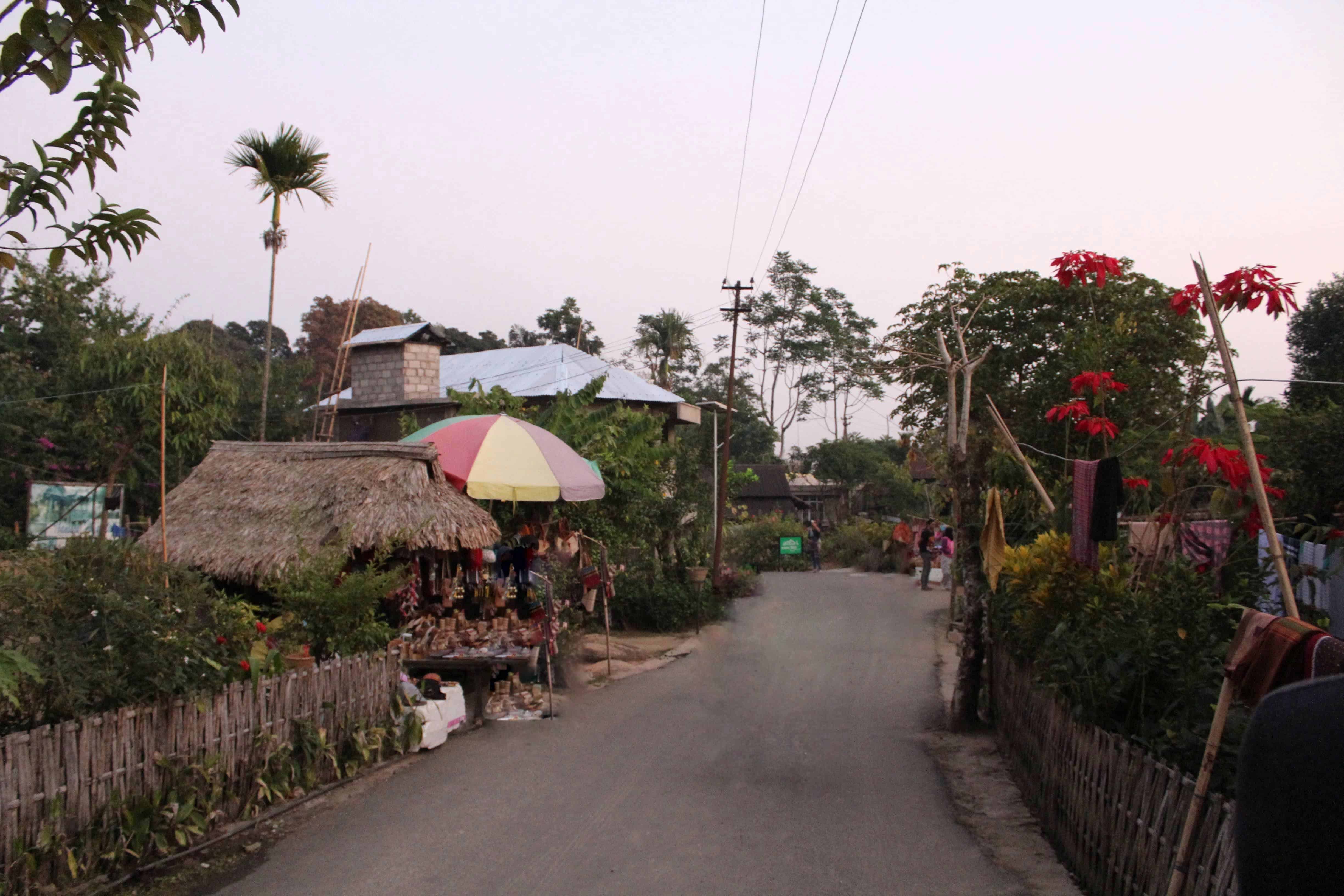 How to reach
It is located at a distance of 90 km from Shillong and 17 km from Dawki. You could take a taxi from either of the places.
Where to stay
There are few bamboo cottages and homestays here but they are relatively expensive. It's best to combine the visit to this place along with Dawki and Shnongpdeng.
Things to do here
Take a stroll around the village and experience the magic for yourself. Climb one of the countless treehouses catch a glimpse of Bangladesh on the other side.
Riwai village is closeby, around 2km, and can be given a visit. The Living-Root Bridge here is considered as an easier alternative to Nongriat.
There's also a skywalk created out of bamboo. It has a viewpoint where the landscape of Bangladesh plains can be seen.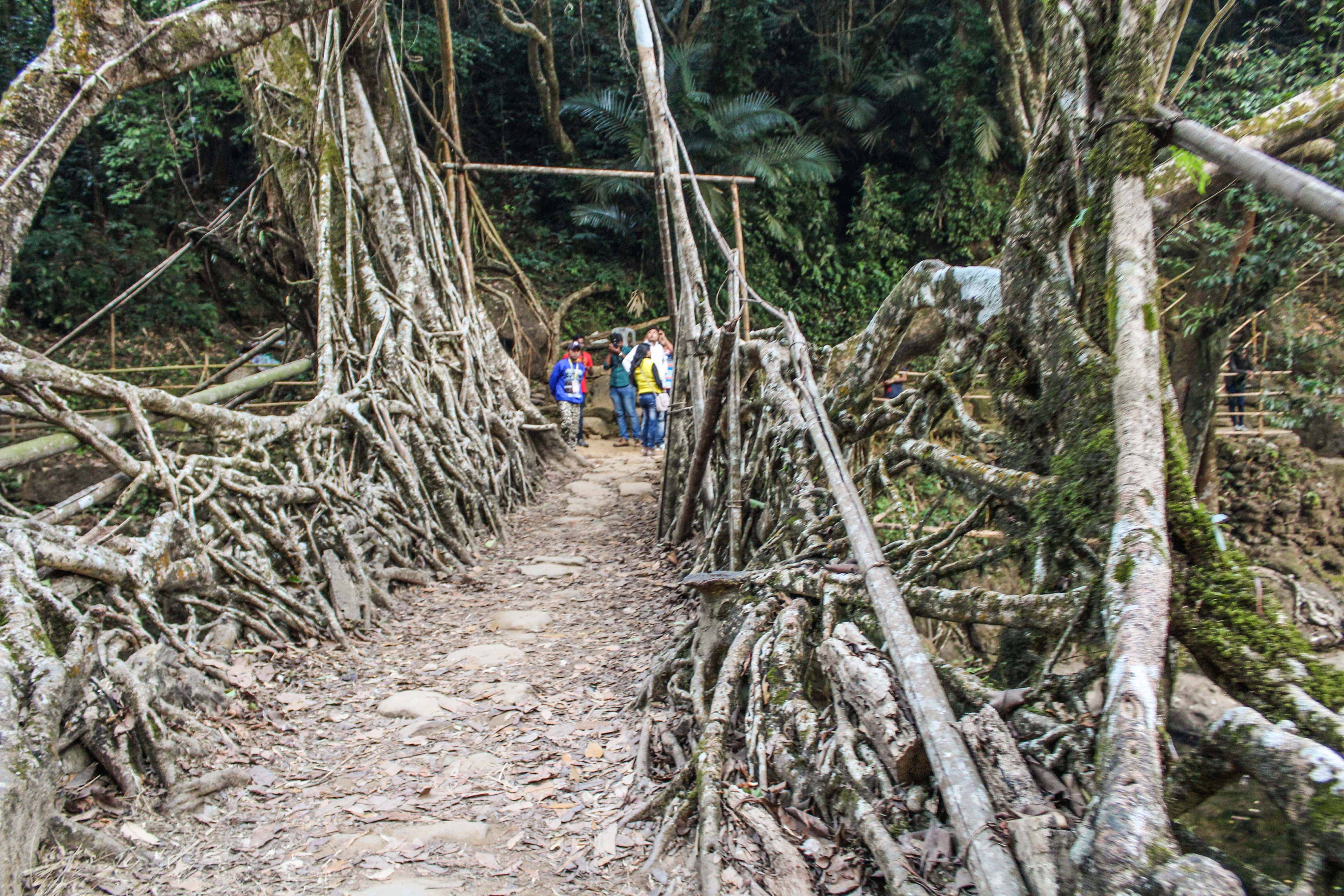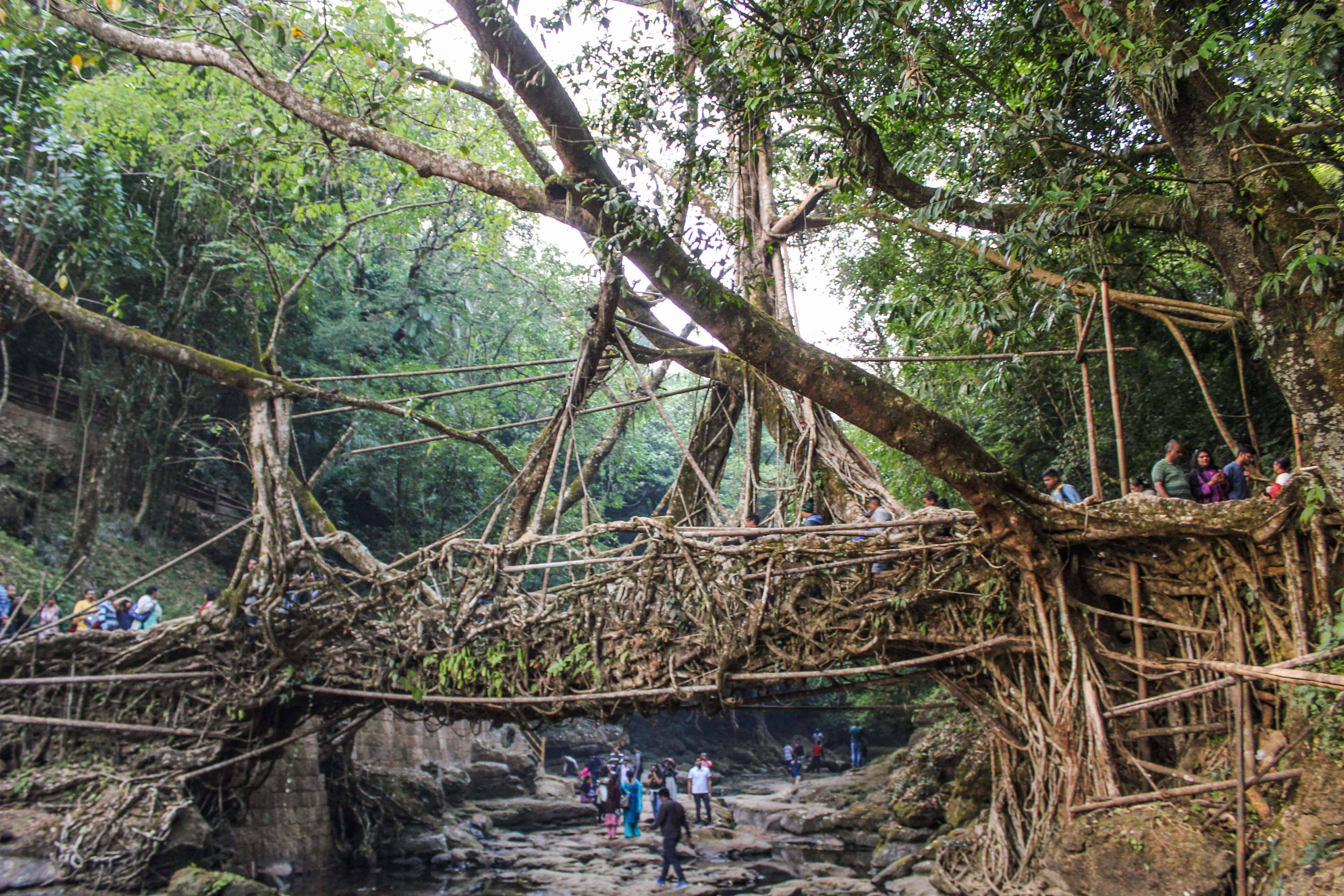 Other places to visit in Meghalaya
Nongkhnum River Island- This is said to be the second biggest river island in Asia (after Majuli in Assam). A remote island with unending grasslands, a lake, massive waterfalls, sandy river beach is a hidden gem. Definitely on my list the next time I visit Meghalaya.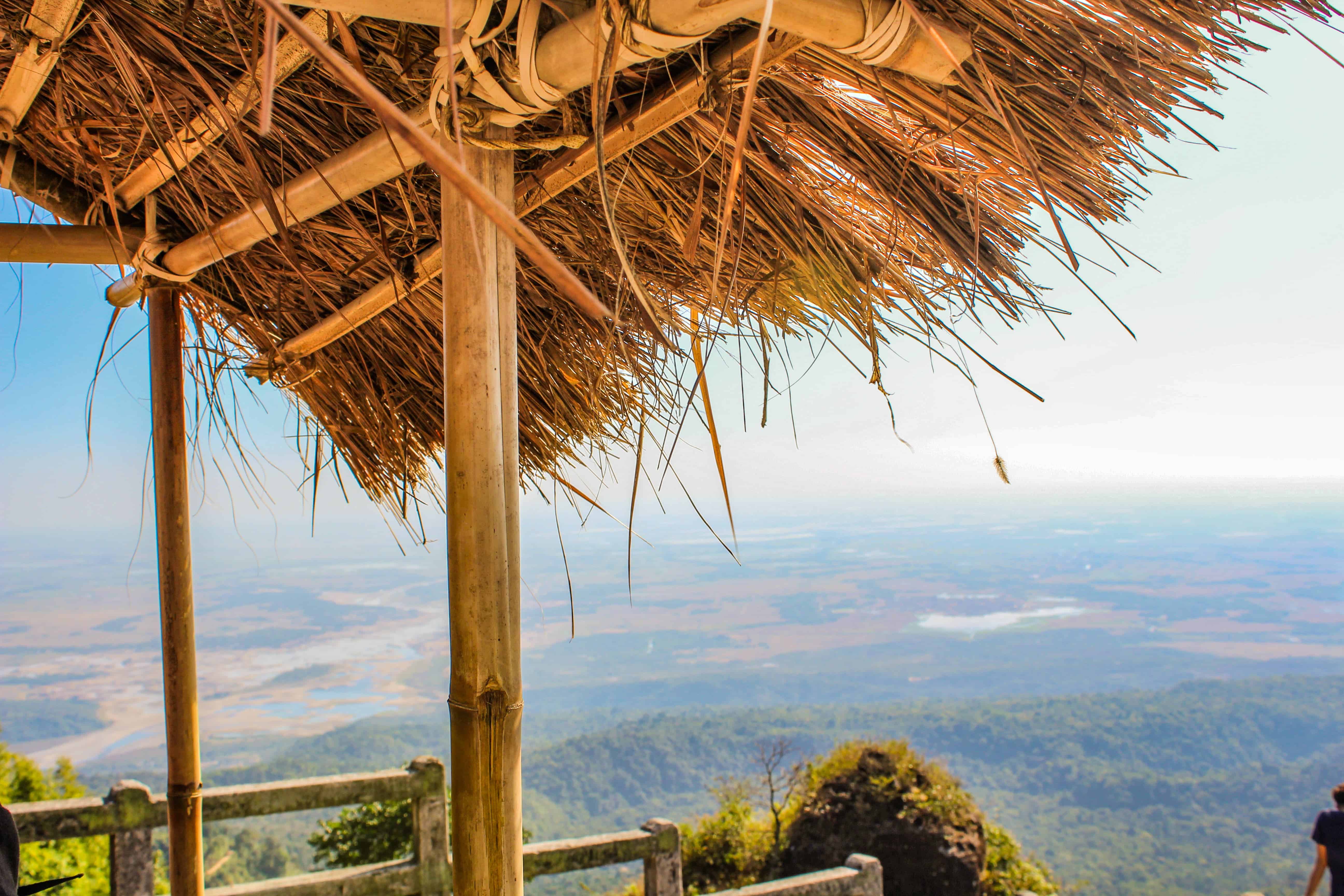 Mawlyngbna- This is a place to slow down and enjoy untouched nature. A quaint village sitting atop a hill with natural springs, forests, ancient fossils, stories, and plenty of other opportunities to enjoy nature.
Mawsynram- This has beaten Cherrapunji as the wettest place on earth. The drive to this place is a beautiful one. It is recommended to hire a private taxi to visit this place. With not many accommodation options available here, it's mostly visited as a day trip from Shillong.
Some other places to visit in Meghalaya are Dainthlen falls, Khasi Monoliths, and 1846 built First Presbyterian Church.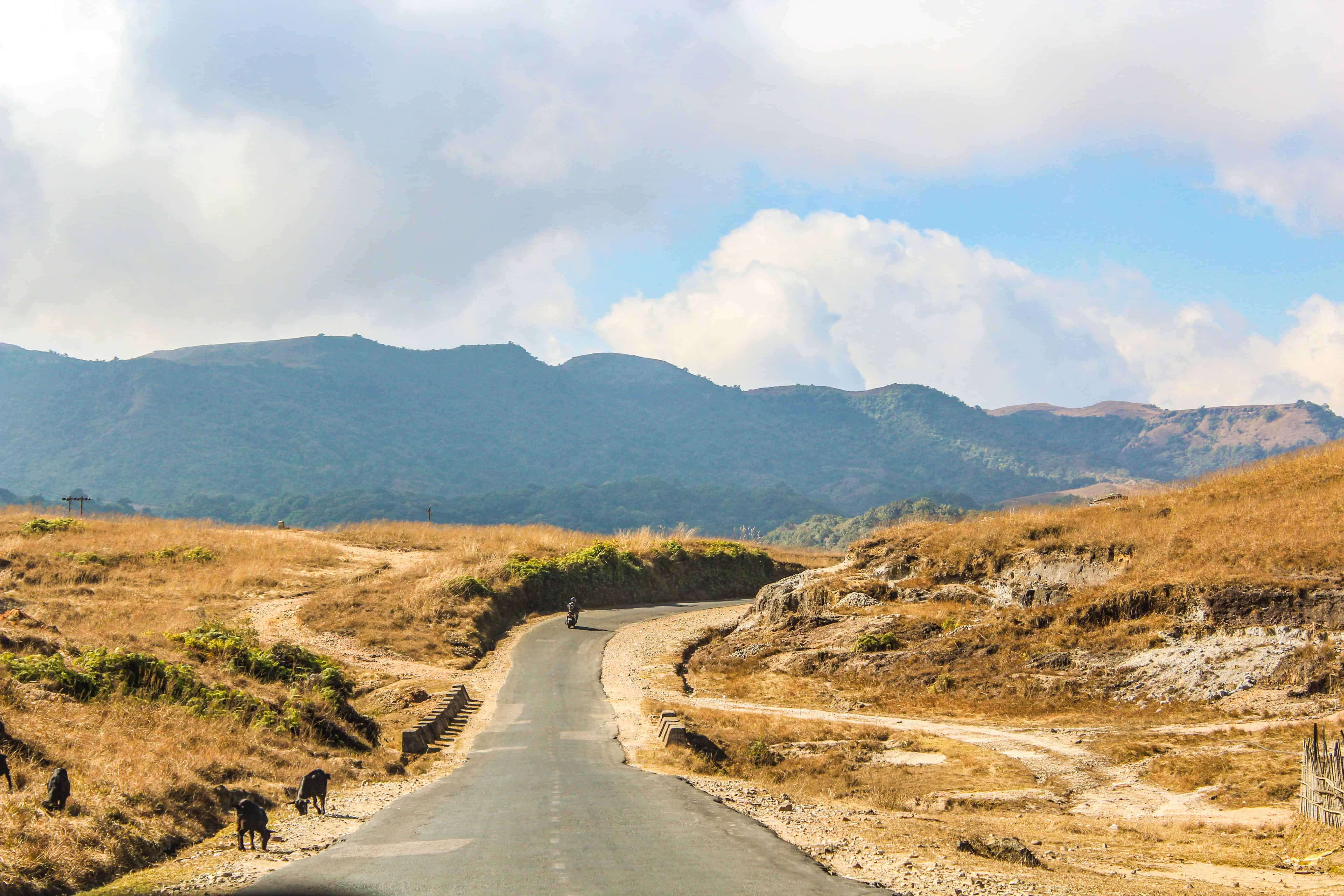 Best number of days to spend in Meghalaya
Contrary to popular opinions that claim Meghalaya can be "done" within 3-4 days, I believe even a month would fall short to completely explore every beautiful place this state has to offer.
But whether one decides on three days or three weeks, backpacking in Meghalaya and exploring this gem of a place will be an incredible experience.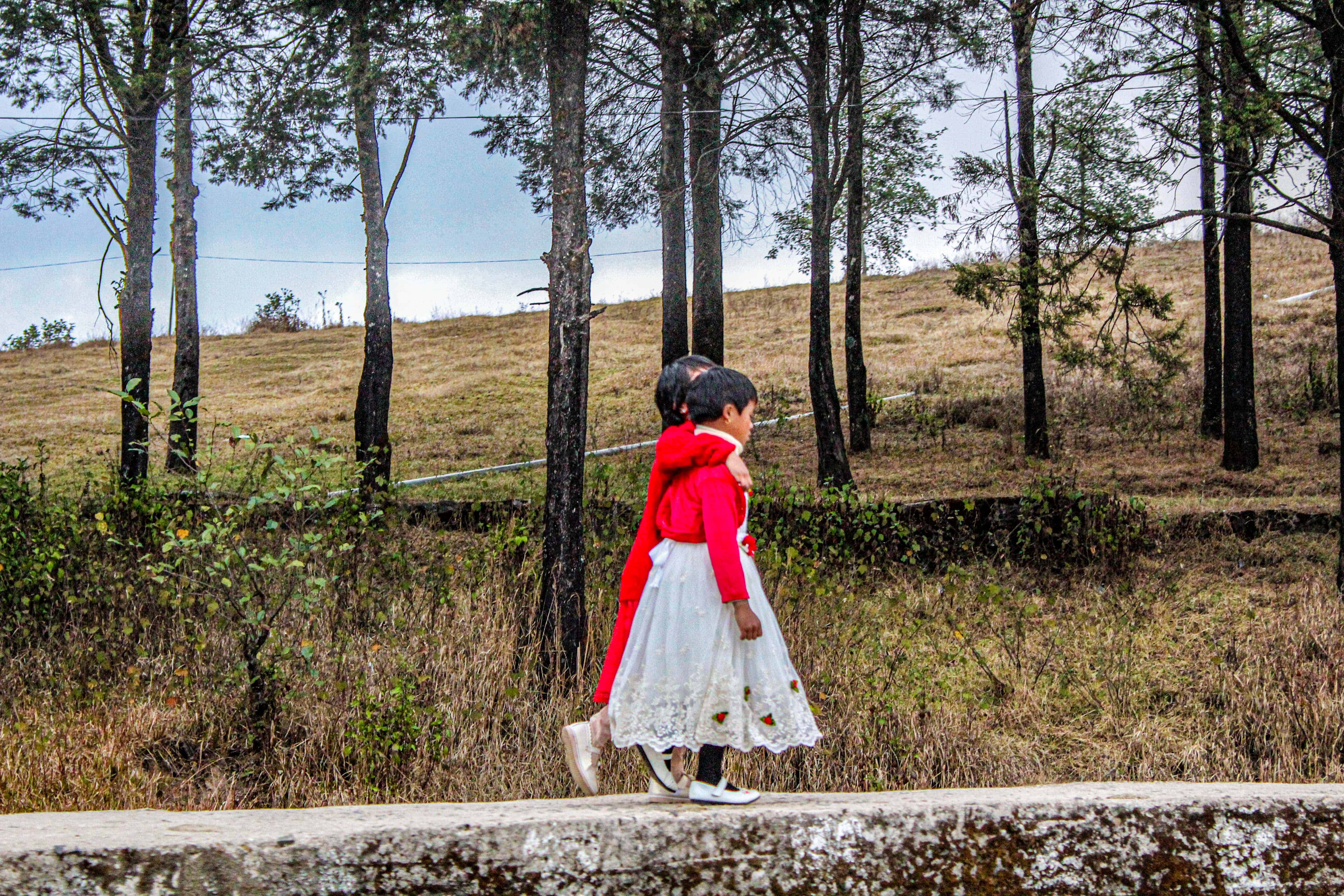 Best time to visit Meghalaya
Monsoon is hands-down the best season to visit Meghalaya when the whole state shines and glimmers in verdant shades of green. Monsoon adds a magical element to the jungles and waterfalls. But this also means constant rains and lots of it.
If being drenched isn't your thing, aim for the winter season to experience less crowd and the crystal clear waters of Dawki.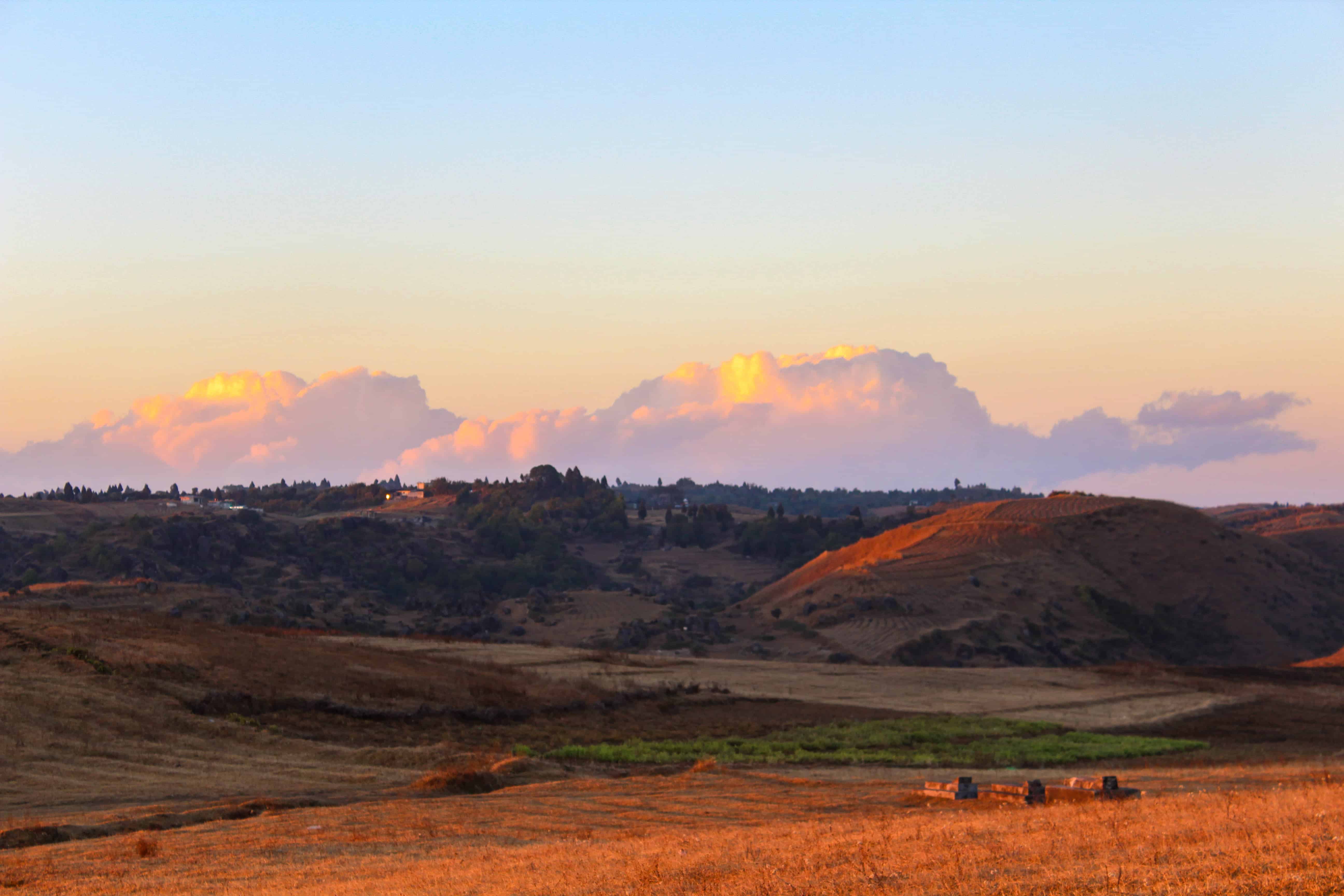 Modes of transportation within Meghalaya
Meghalaya Tourism Development Corporation organizes budget-friendly day trips within Meghalaya every day. This can prove to be very easy on the pockets for a backpacker planning a budget trip to Meghalaya.
Shared taxis ply between various places within the state. They are more frequent in the morning and stop around the afternoon.
There are also public buses plying between some destinations.
Sometimes there's only one taxi operating between less popular destinations so ensure to check their timings with locals so as to not miss it.
Also, private taxis can be hired from Shillong to anywhere in Meghalaya. There are no dearth of taxis here.
Meghalaya Backpacking- Few other things to know
ATMs are not available in the interiors of Meghalaya. So it's advised to carry the required amount of cash from Shillong.
It's best not to travel from one place to another on Sundays since most of Meghalaya consider Sunday to be a rest day and so taxis wouldn't be frequently available.
Respect Meghalaya's unique tribal culture and don't intrude on locals and their lifestyle.
If you plan to visit Meghalaya during monsoon, ensure to carry all the necessary rain gears and apparels.
How safe is Meghalaya for solo travelers?
Meghalaya, like the whole of Northeast, consists of friendly and kind people who are always ready to help a traveler in need. Hence Meghalaya is easily one of the safest destinations to travel for solo travelers.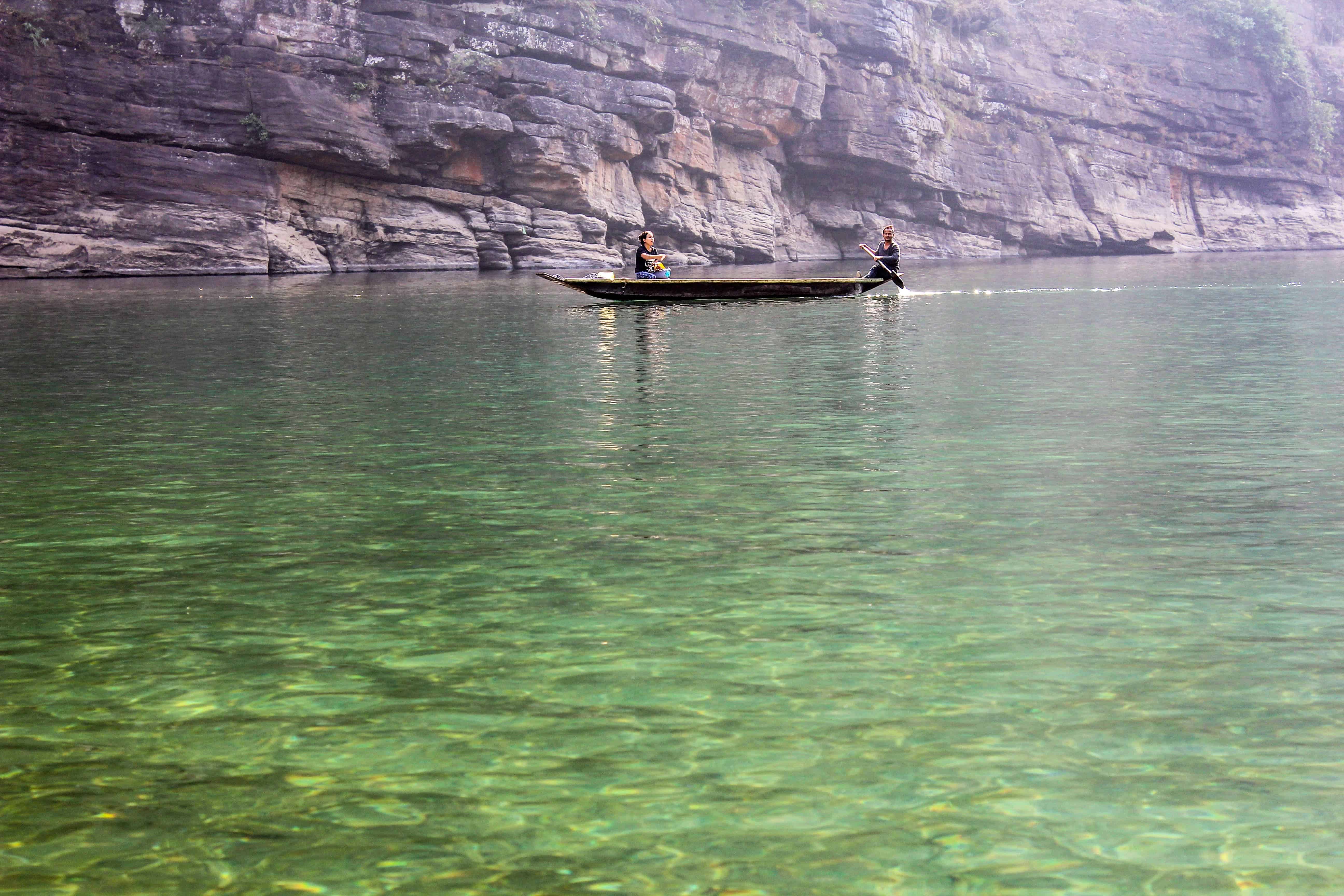 Like this post? You could consider subscribing 😉 And get more such content directly to your mail.