For years, Gokarna was revered as a pilgrim town and thousands of devotees flocked to this place to pay homage to Lord Shiva. There are a number of beautiful places to visit in Gokarna in 2 days. From pristine beige-coloured beaches lined with palm and coconut trees to quaint villages with their red-tiled roofs. A number of secluded cliffs and viewpoints offering gorgeous sweeping views of the turquoise water below. Gokarna is swamped in beauty and tranquility.
There's a strange kind of warmth and serenity blending perfectly with the hippie travel vibe. A beautiful sleepy village, once upon a time inhabited by families of fishermen and farmers, it has now slowly transformed into an ideal beach destination for backpackers and travellers. Like a glimpse of the Goa of a bygone era.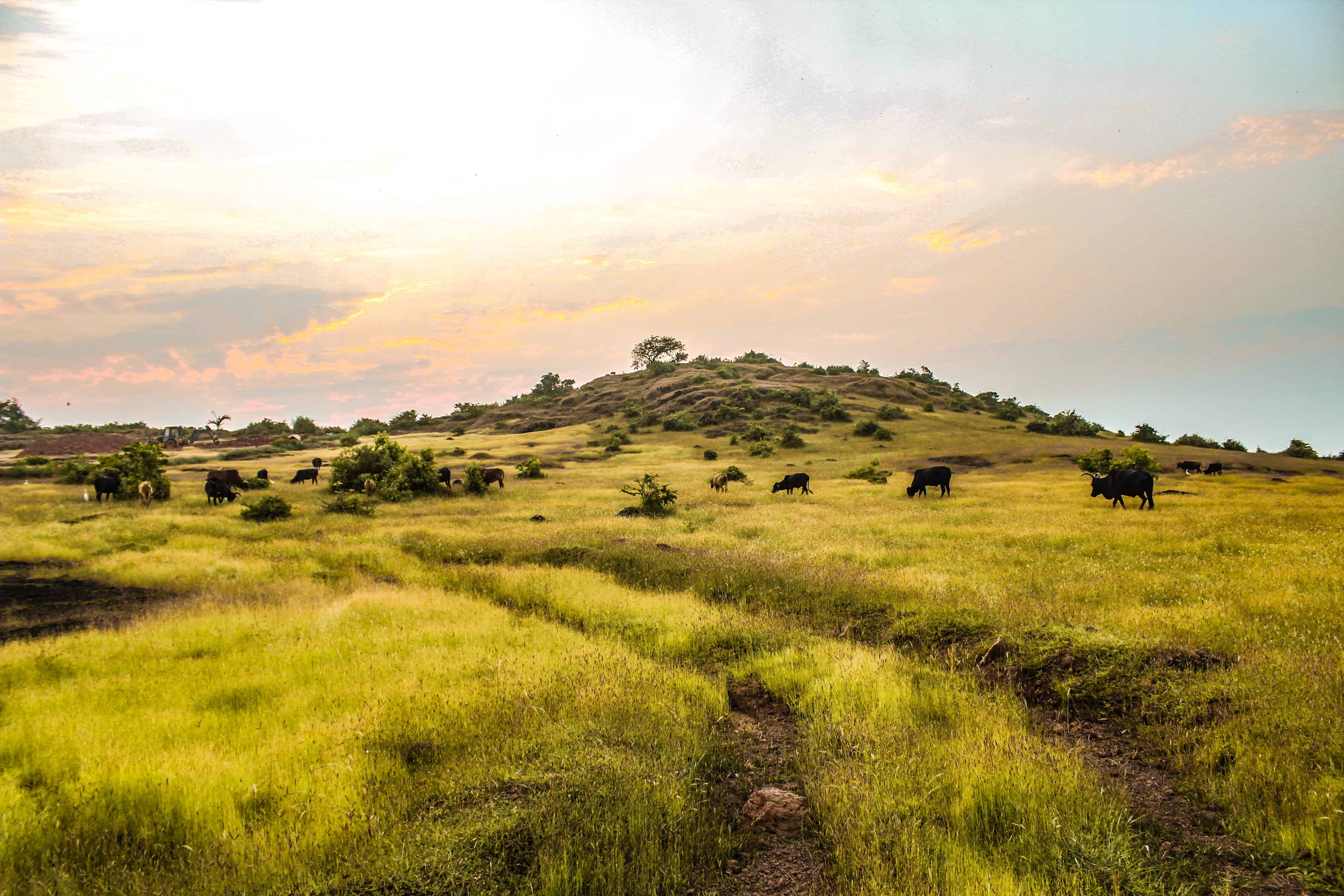 Doused in stories and anecdotes from the Mahabharata and the Ramayana, it's a place of religious and mythological importance. There are several wonderful things to do in this rustic town of Gokarna. You can go trekking amidst palm strewn cliffs, or just spend some peaceful time in retrospection in temples. Gokarna has something to offer for everyone.
This Gokarna travel blog contains information about some of the best places to visit in Gokarna for a 2-day itinerary along with some suggestions from my personal experiences which could help you in planning your own trip to this peaceful paradise.
Where is Gokarna?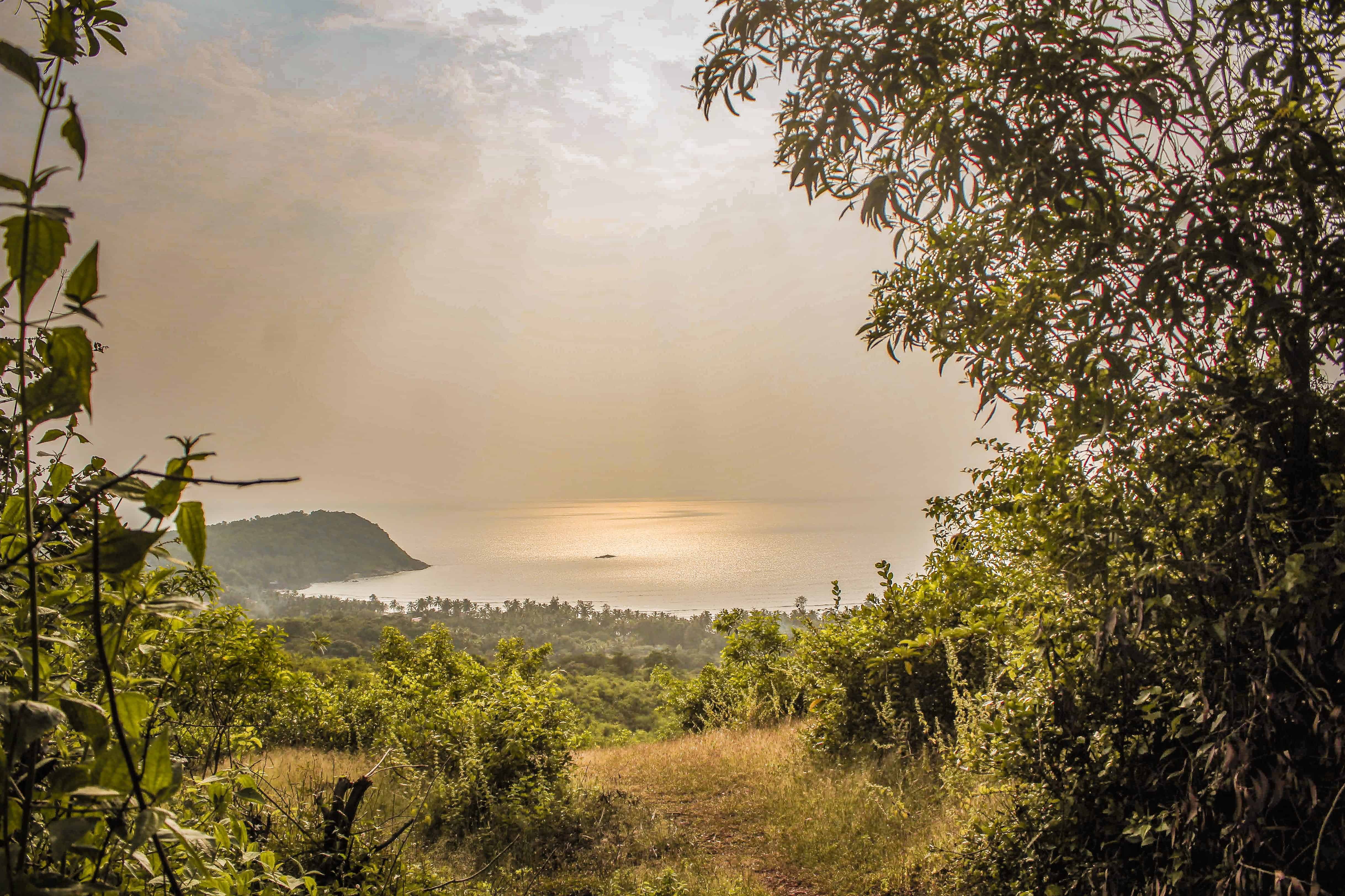 Gokarna is located in the southern state of Karnataka in the Kumta taluk of Uttara Kannada district. It's a coastal town along the Arabian Sea almost near Goa's border. There are several ways in which you could reach Gokarna.
Also Read: Udaipur- Complete Travel Guide
How to Visit Gokarna
By Train
Gokarna has a railway station a little away from the town. Unfortunately it does not have very good connectivity with most cities and towns in India.
From Bangalore, there are few Karwar bound trains that stop at Gokarna on the way. Karwar is around 60km from Gokarna. Time taken is approximately 15-16 hours.
There are two trains which ply between Mumbai and Gokarna and the journey takes around 12 hours. The boarding station in Mumbai is Lokamanya Tilak Terminus.
There are plenty of trains running between Goa and Gokarna and the journey takes about an hour and a half. The boarding station is Margao.
From the station, you can hire an auto to your hotel/hostel or city. Although it could be a pain to find one during the offseason, especially during early morning hours. But during the peak season, you'll almost never have any difficulties finding an auto. You can also find local buses running a little away from the station to the town.
There's another station in Ankola which is around 20 km away from Gokarna. And this is the preferred choice for most travelers when a direct train is not available. From Ankola you can either travel to Gokarna by a local bus or by hiring an auto or cab.
By Air
The nearest airport to Gokarna is Goa's Dabolim Airport. Another option is to fly to Mangalore Airport. From here you can come down to Gokarna by either a bus or train or by hiring a cab. Gokarna is 145 km from Dabolim Airport and it can take anywhere between 3 to 5 hours to reach depending on the mode of transport. From Mangalore, Gokarna is 250 km away and it takes around 4-5 hours to reach.
By Road
Gokarna has good road connectivity to the nearby cities. There are direct buses plying from Mangalore, Goa, and Bangalore at regular intervals. You could also hire a cab from Goa and Mangalore.
Bangalore is usually the most preferred option because it is well connected to Gokarna and buses can be easily booked from the KSRTC website.
Overall, the most convenient and budget-friendly option to travel to Gokarna is by road. If you choose to travel to Gokarna from Mangalore by road, you can also visit other places like Murudeshwar, Padubidri beach and Kasarkod beach (blue flag certified beaches) Apsarakonda, and Maravante on the way.
Getting Around in Gokarna

Although there are frequent local buses operating within the town, they mostly cater to the needs of the locals rather than of the travellers. It's best to hire a two-wheeler or self-drive to this place as you'll have the liberty of exploring
the place at your own pace. There are quite a few rental shops in the town (E.g. Aparajitha Bike Rent) or you can just enquire at your hotel or hostel. There are also many places where you can rent a bicycle.
Another option would be to hire autos. There are many auto-stands especially near Kudle beach, Om beach and in the town centre. For a budget traveller though it can turn out to be slightly expensive as autos don't operate by the meter. The rates are mostly fixed and decided by the union and it's of no use haggling. But the auto drivers are more than willing to give you their number along with a 'day package' to travel around. It's one of the best ways to explore Gokarna.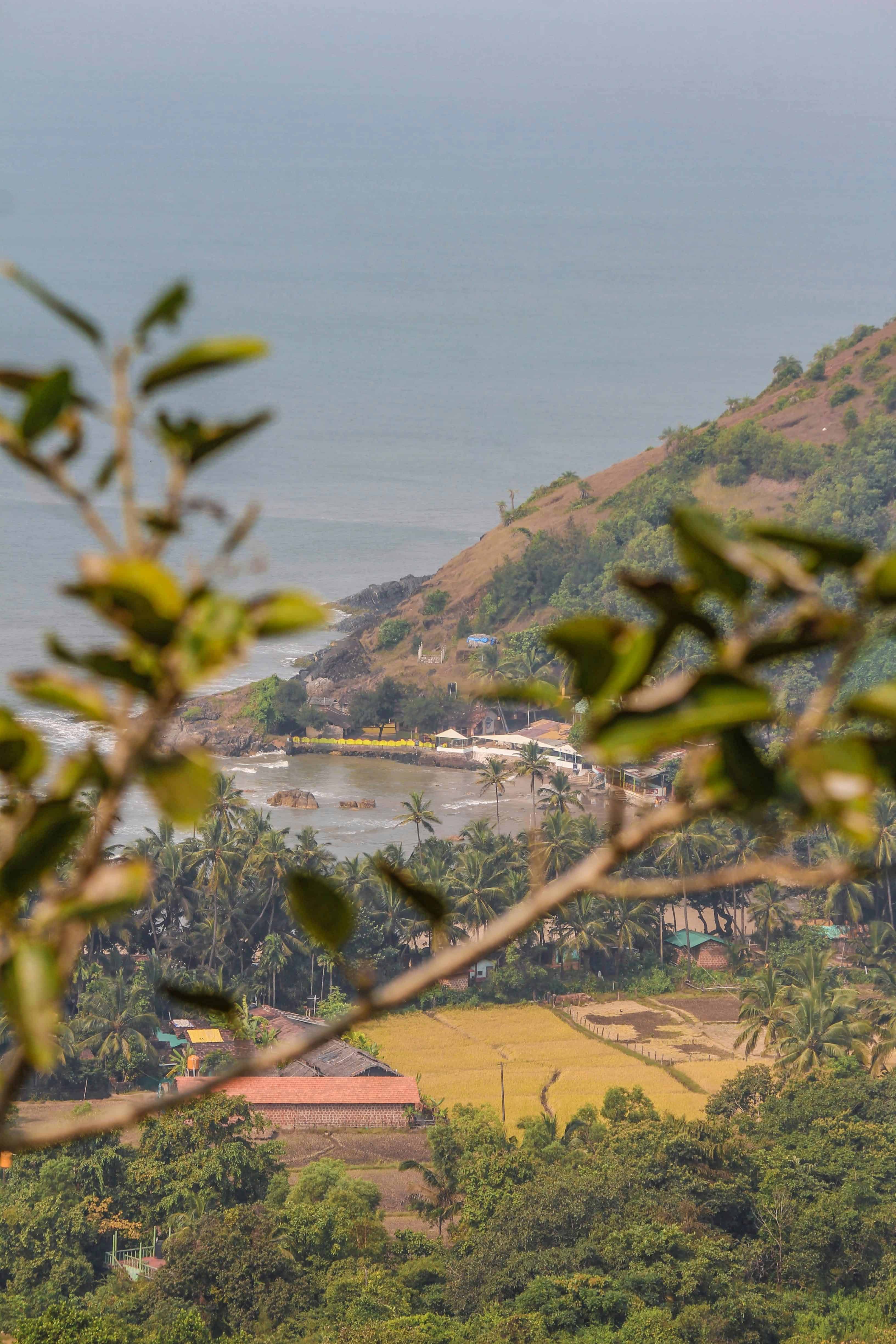 Best Time to Visit Gokarna
Gokarna is a year-long destination. Although peak monsoon season is considered to be the offseason. During monsoon season, the coast experiences relentless rains and it can be a hassle if you're not fond of rains. Whereas if you love the monsoons with its cloud-covered landscapes, petrichor ladened air, lush greenery and deserted beaches then it is the perfect time to visit.
On the other hand, the peak summer season, March to May, can get unbearably hot and humid preventing you from exploring the town. So the perfect time would be during the winter months of October to February. Mind you, don't expect the place to be too cold as it's definitely going to be humid. Just a tad bit less as compared to other months.
But if you wish to do a staycation as is the case with most people's post-pandemic travel plan, this can be a perfect place to unwind at a peaceful hotel, homestay, or resort. Better yet, find a place overlooking the sea and while your time away in complete silence and seclusion.
Ideal duration of stay in Gokarna
You can spend anywhere between two days to two weeks in this tranquil town. The ideal number of days to visit all the main places in the town would be 2-3 days. But if you wish to soak in the vibe, relax, unwind and also explore some of the pretty corners of this tranquil town, then I'd suggest adding one or two more days.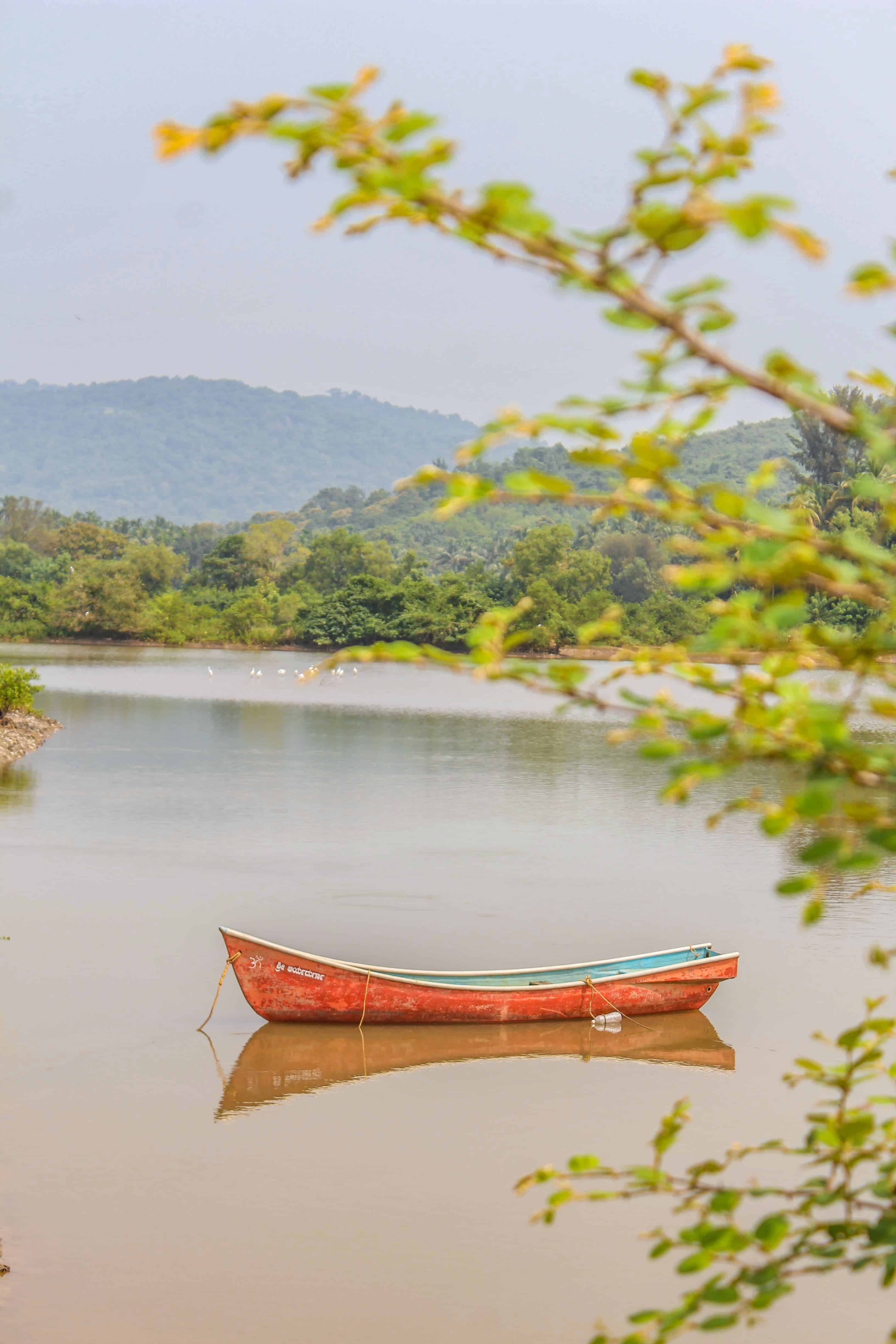 Best Places to Eat in Gokarna
There are multiple food joints available in the town and along the beach. Most of these places are affordable serving lip-smacking dishes.
Ganga Cafe & White Elephant Restaurant– Good food and beach view (best for Indian and Italian cuisine),
Kudle Beach View Resort– Great view and food (best for Indian and Chinese cuisine; try their chocolate pudding)
Mantra Cafe, Zostel– Great food and view
Prema Restaurant– Great Indian food
Namaste Cafe– Great beach view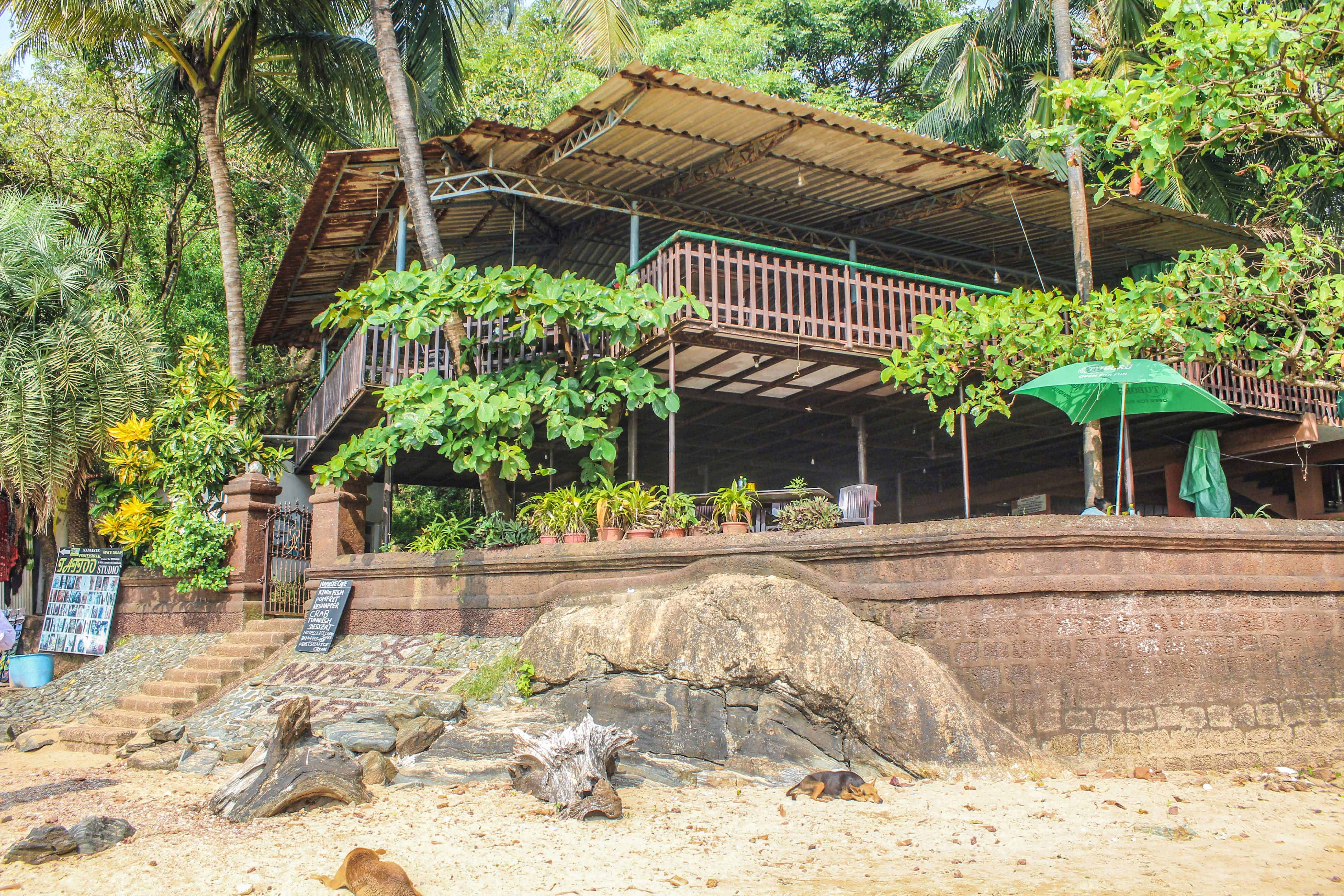 Top 10 Things to do in Gokarna
It's not always about ticking off bucket list things when you visit a place, is it? Sometimes it's worth doing things that are not very mainstream in order to completely get a feel of a place. Here's a list of things to do in Gokarna to have an immersive and memorable experience in this quaint town.
Cycling in Gokarna Countryside
Most people travel to Gokarna by train or public transport and hence follow a fixed path to reach their hotel and hostel. And immediately set out to check out all the noteworthy spots. While this is completely understandable if you're short on time, I'd suggest to keep aside a day for leisure and explore the countryside of Gokarna if possible.
Narrow lanes cutting through pastel green rice fields, smooth asphalt roads passing through colorful houses with their sloping red-tiled roofs. Hidden mangrove filled backwaters with peaceful temples quietly sitting on their banks. You'll come across all this and more when you go off the beaten track. Although any mode of transport will do, it's best to explore it on a two-wheeler.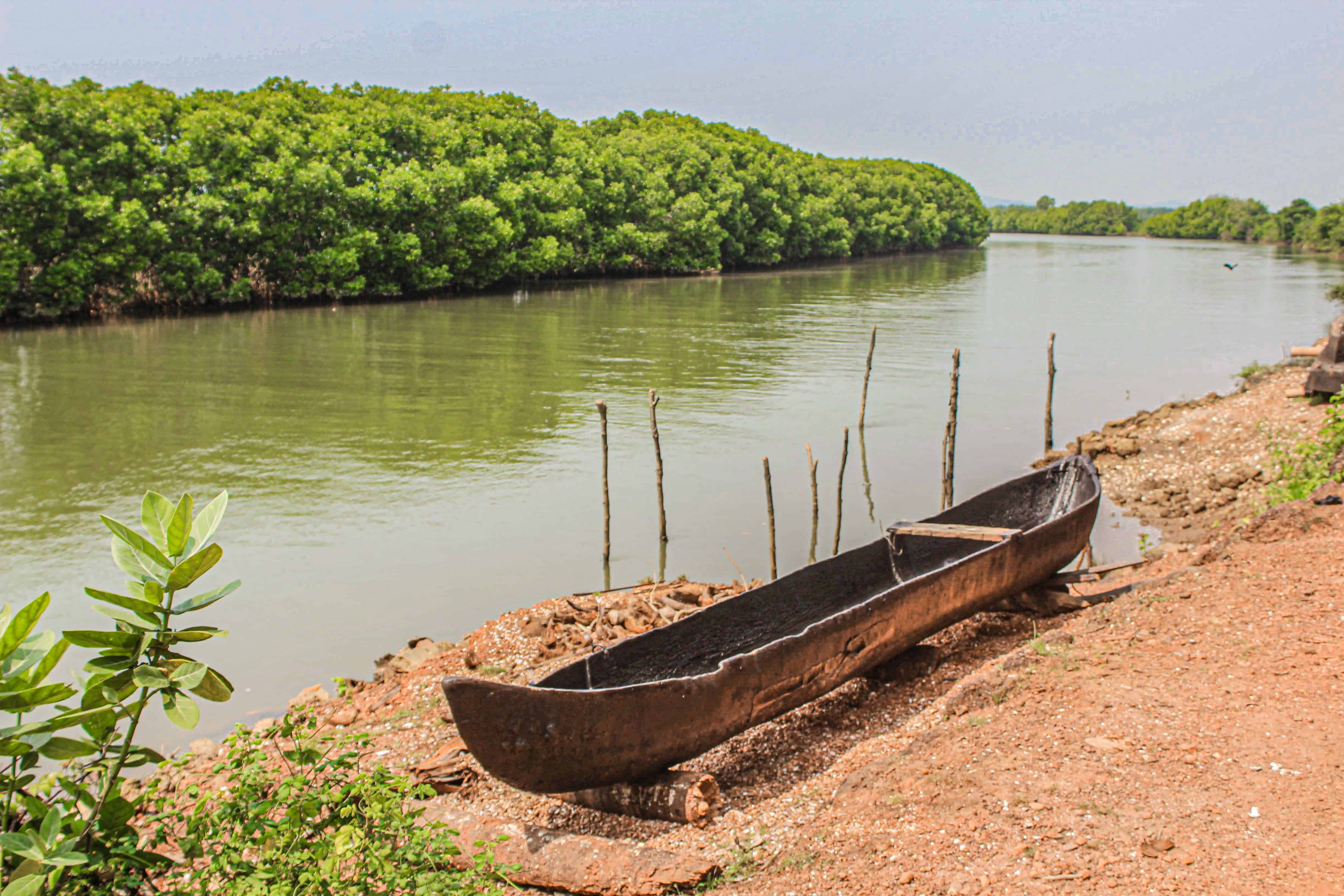 Flea Market Shopping
Even if you're someone who loves to shop in malls or popular stores and shops, there's a different charm in buying a beautiful frock or funky jewellery for dirt cheap prices. Especially in charming sleepy towns tucked away from the rest world.
The town of Gokarna has several flea markets selling traditional colourful outfits, tropical indie-style beach garments, wooden carts covered with bracelets, local crafts, spices, and earrings made out of delicate shells and beads. So go on and splurge! And in turn, you'll be contributing to the local economy! A win-win situation! 😉
Go for a Boat Ride
Picture this! The gentle hum of the boat's motor, the constant swish of the waves beneath the boat. And the sun slowly sinking at the horizon. The vast orange blue expanse of the sea on one side and the coconut covered stretch of land on the other slowly blending into the sea. Can you think of a more relaxing experience?
You can take a boat ride from Om Beach to Half-Moon Beach and Paradise Beach. My suggestion would be to reach Half-Moon Beach or Paradise Beach by foot and then take a boat ride back from there to Om Beach.
You might also get to spot some dolphins on the way if you're lucky!
Go Cafe Hopping
There is no dearth of cafes and eateries in Gokarna.You can find them lining the shores or high above the beach on a cliff overlooking the vast expanse of the sea. Simple, quirky shacks and huts adding to the experience. What better way to spend a peaceful evening than gorging on delicious food and watching the waves crashing on the horizon.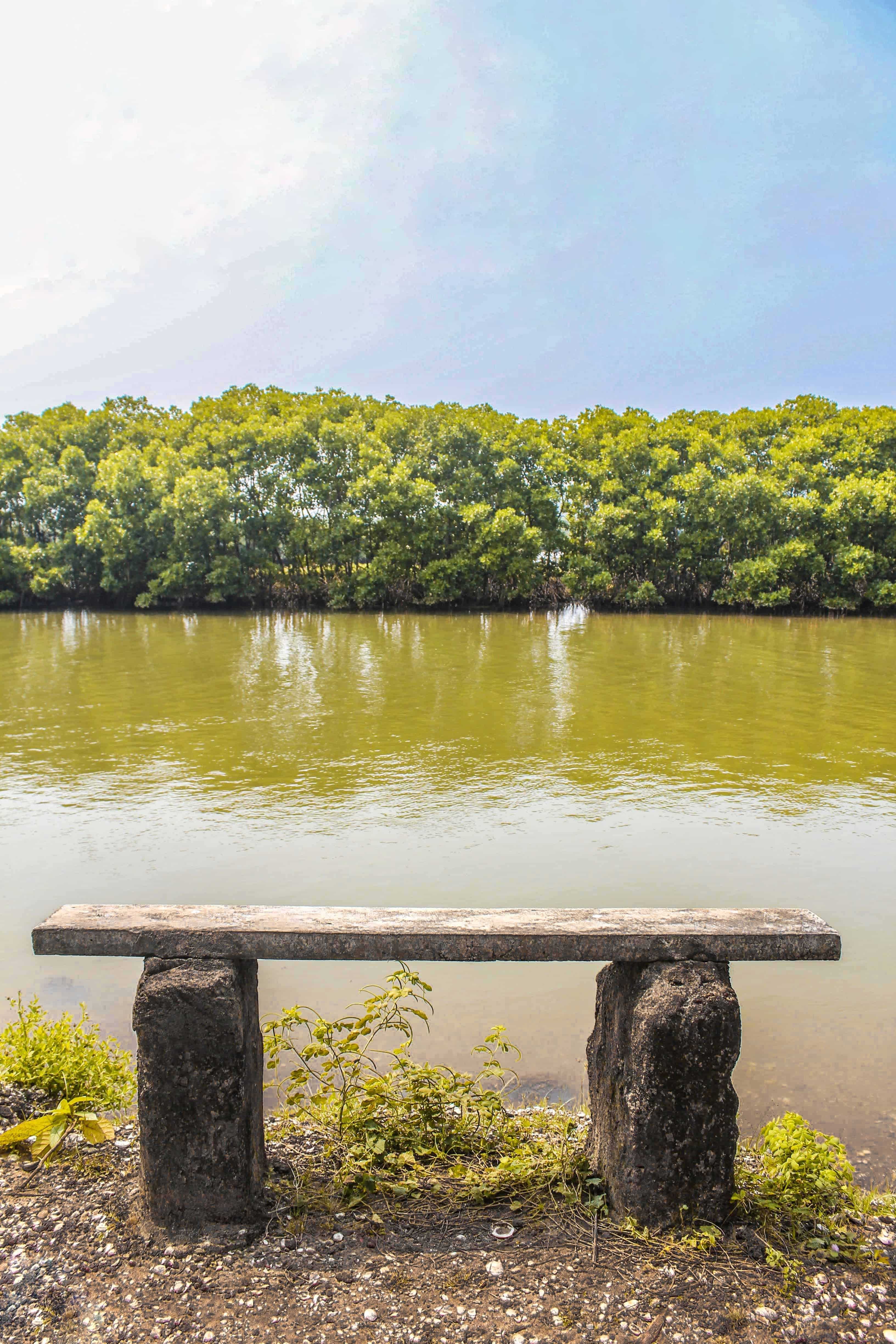 Watch Sunrise on the West Coast
Belekan Beach in Gokarna is one of those rare beaches on the west coast where you can watch the sunrise. The complete lack of commercialization of this beach makes it one of the best places to enjoy the early hour bliss. This is one of the best offbeat things to do in Gokarna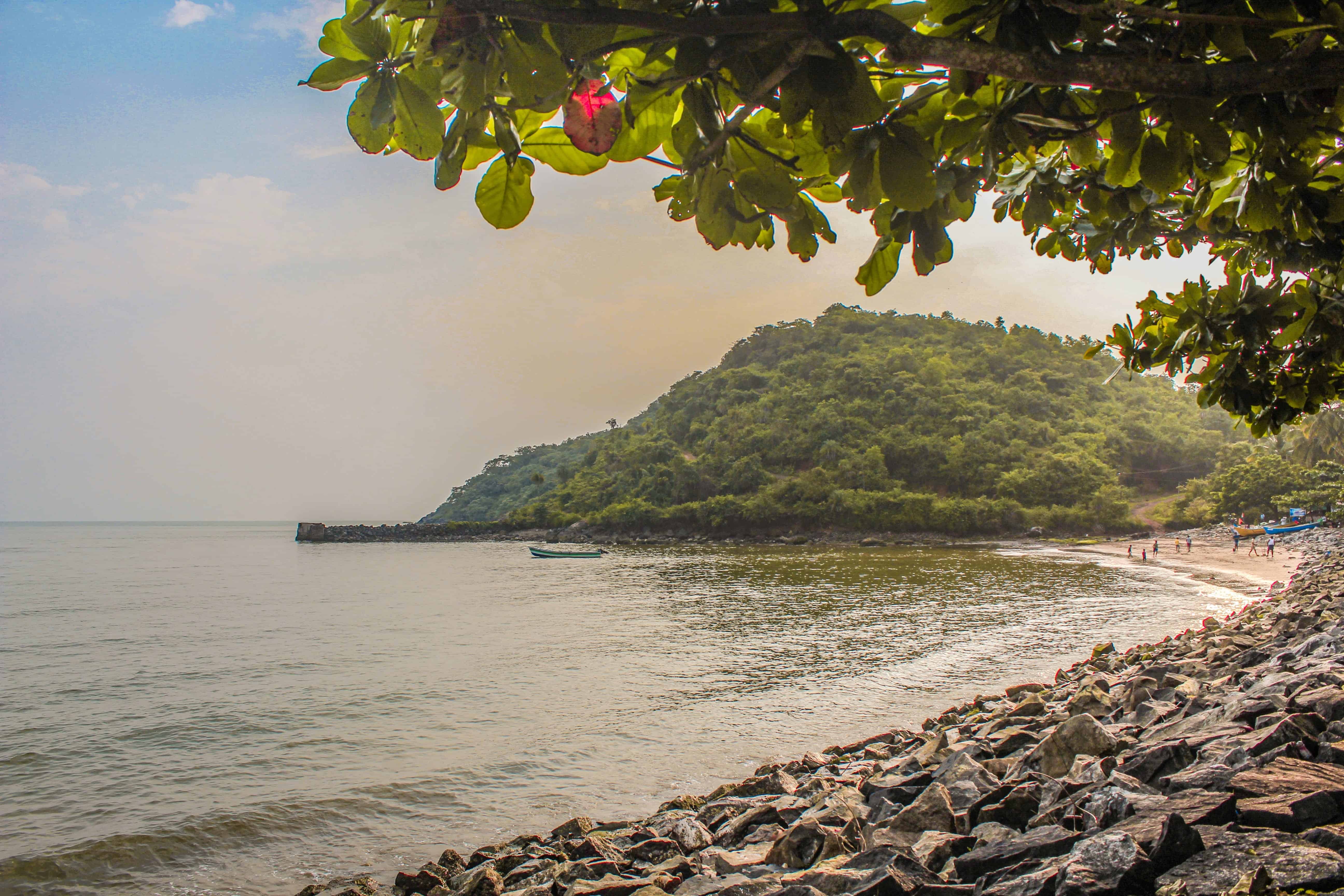 Climb up a Lighthouse
Usually, no visit to a coastal destination is complete without paying a visit to at least one lighthouse. Sadly the one in Gokarna is not very popular and the way to it is also not very straightforward. But if you don't mind a bit of an adventure. Gokarna Lighthouse is one of the best offbeat places to visit in Gokarna.
Tip: The starting point of the beach trek starts after crossing the stream. Walking straight ahead after crossing the stream takes you towards Paradise beach. Right before this point, there's a path which forks upwards to the left which leads to the Lighthouse.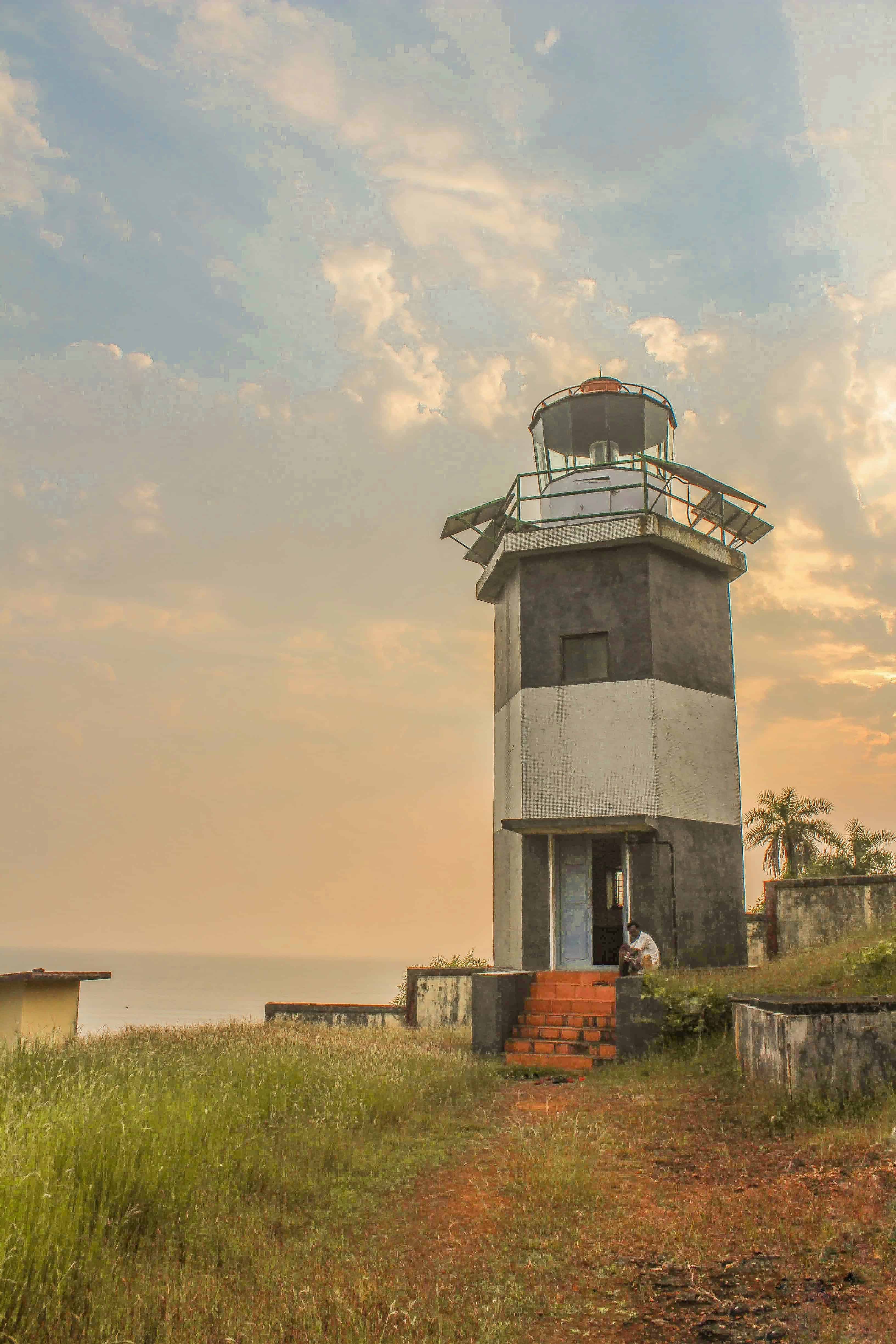 Practice Yoga by the Sea.
There's nothing more peaceful than practising yoga amidst nature. And what better place than by the sea? With your ears constantly filled with the melody of the chirping birds and the gentle crash of the waves, this is one of the best things to do in Gokarna. So just find your spot and zone in.
Watch Sunset on a Cliff
Gokarna and cliffs are synonymous with each other. If you can manage to drift away from the popular spots, you'll see that there are several untouched nooks still waiting to be discovered. Viewing sunset from a cliff in Gokarna is a breathtaking experience.
Watching the golden orb slowly dip into the horizon high above a cliff while the white frothy waves crash below is an experience like no other. This is one of the best gifts you could give to yourself and one of the beautiful things to do in Gokarna.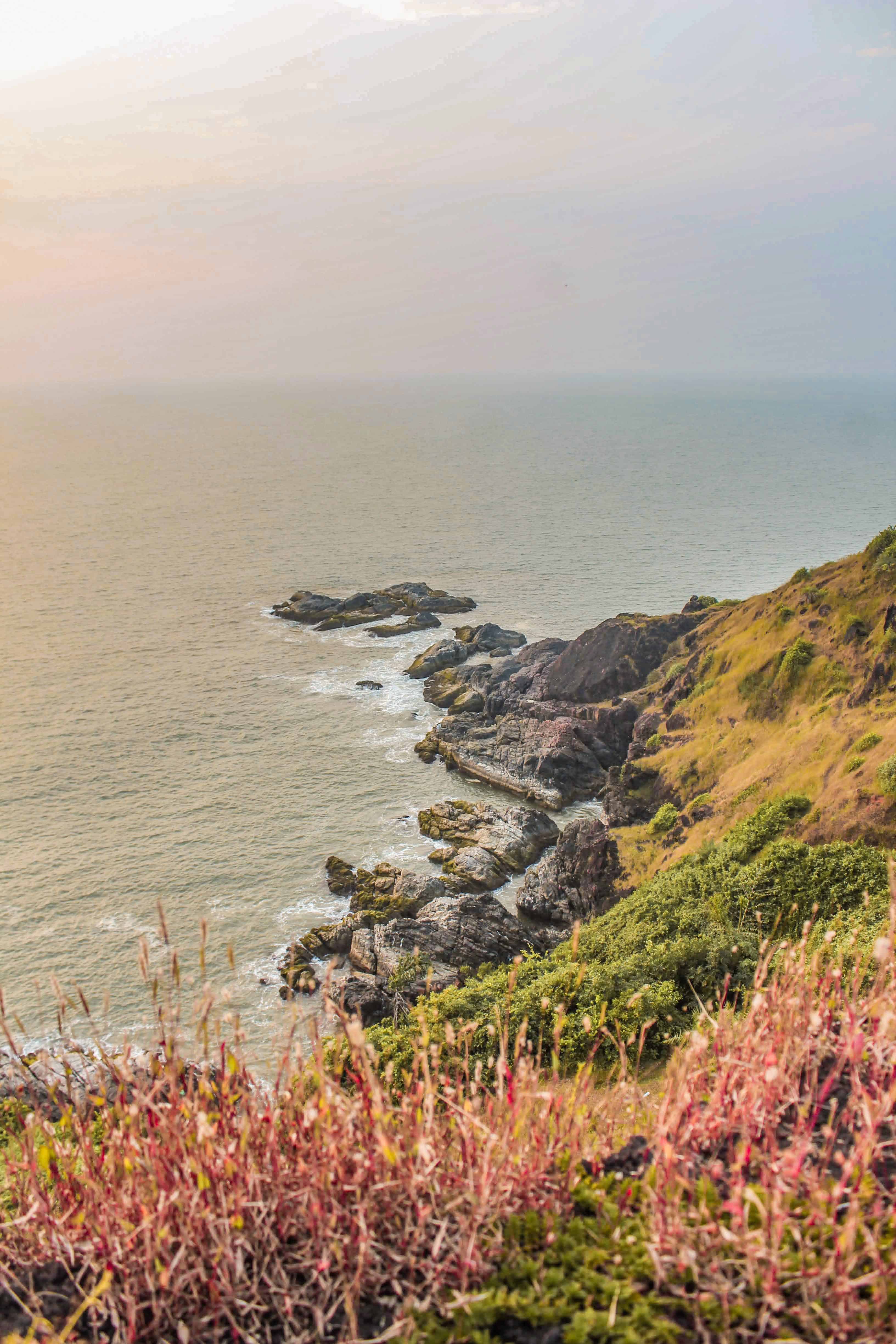 Camp by the Beach
If you've ever wished to camp by the beachside, Gokarna can be the best place to do it. While there are plenty of modest huts available for stay near the popular beaches of Gokarna, it's an entirely different experience to camp on a beach.
The best beach to do this would be the Half-Moon beach. Its pristine golden sand with delightful clear water is just too beautiful and will instantly fill you with a sense of joy and calm. There are no facilities available here but the kind locals are forever willing to provide packed food, water and other basic necessities to the campers.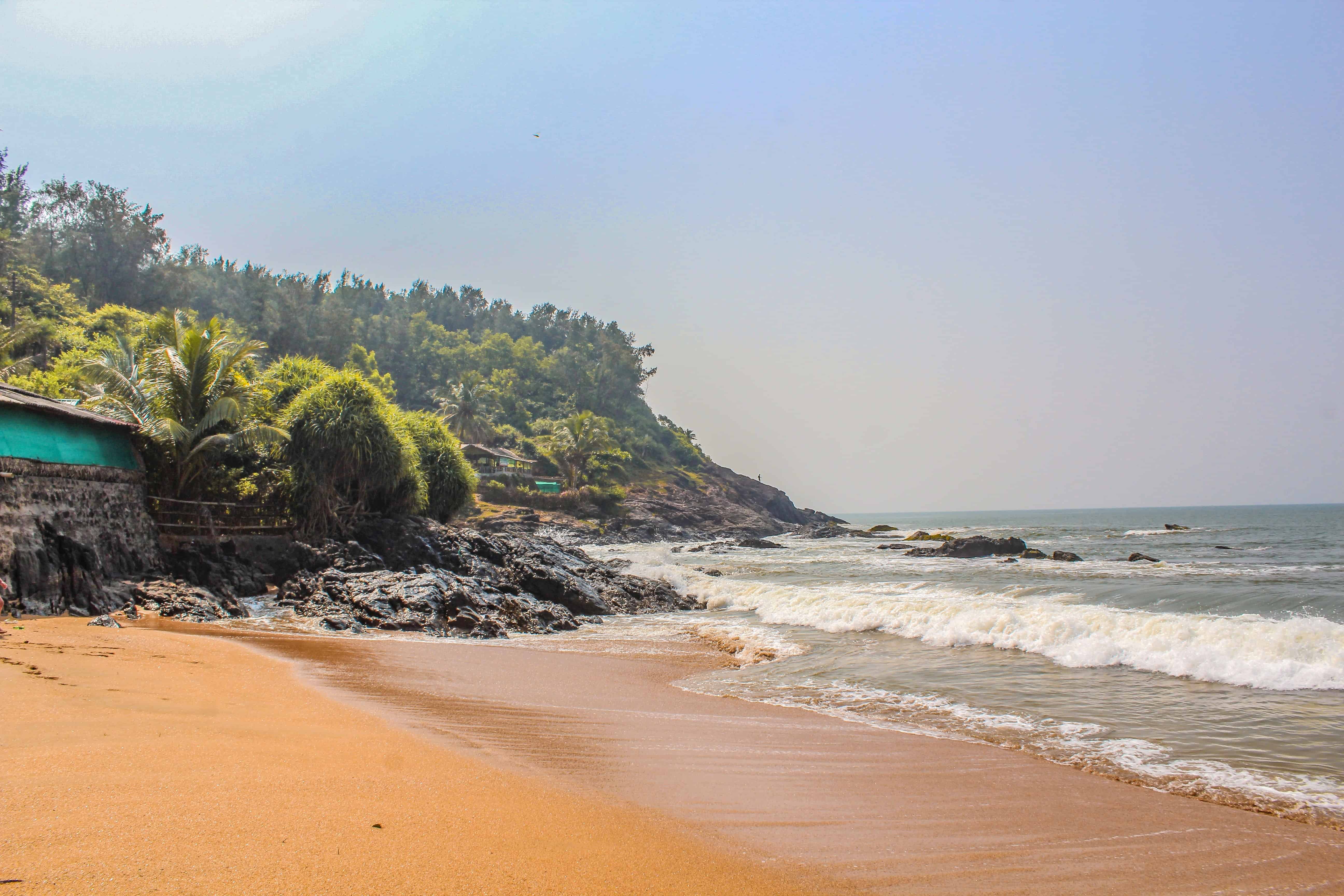 Do the Gokarna Beach Trek
This is hands down one of the best things to do in Gokarna. All the beaches in Gokarna are interlinked through short hikes. The joy of hiking along sloping cliffs covered with clusters of palm trees, discovering pretty nooks and crannies along a path through jungles and boulders is unparalleled.
The path is filled with the salt-scented fragrance of the sea, hidden viewpoints peeking out of clamps of bushes with gorgeous sweeping views of the thrashing sea below. It's probably one of the most gorgeous trekking routes in India. The Gokarna Beach Trek is definitely one of the top things to do in this beach town. You can start the trek in any one of the beaches apart from Half-Moon Beach and Paradise Beach since they are accessible only by foot.
This is the recommended trail: Kudle Beach – Om Beach – Half-Moon Beach – Paradise beach – Belekan beach (or vice versa)
Although the best time to do the Gokarna Beach Trek would be immediately after the monsoons when there'd be an abundance of greenery everywhere, you can do it any time of the year. Be prepared to bear with the sweltering heat though. It's advisable to go with a local guide or in a group as in few areas the trail is not properly marked and there's a possibility of getting lost. And at all cost do not venture on the trail alone after sunset.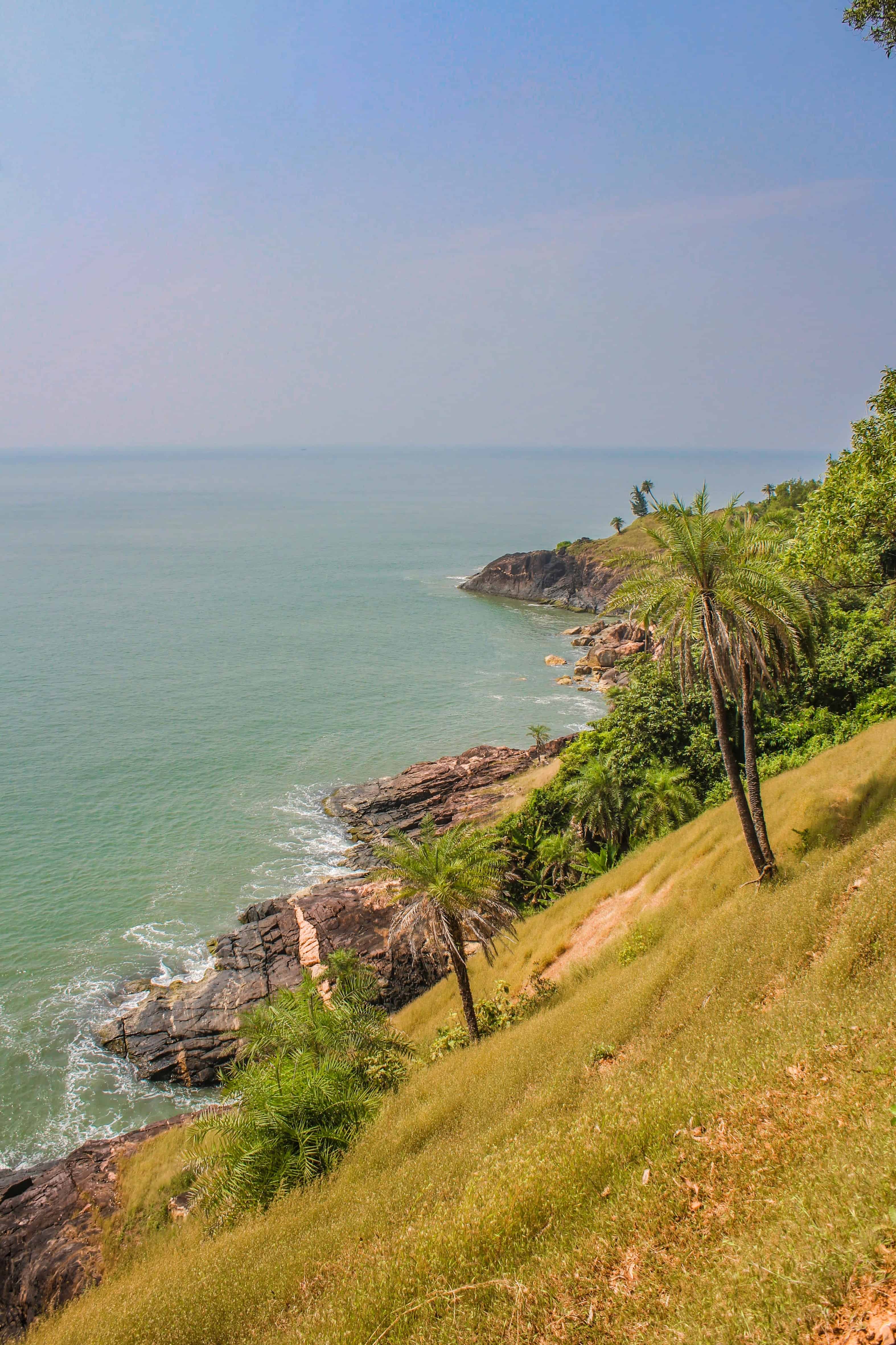 Note: If you're not interested in trekking you can do beach hopping in boats operated by local fishermen. This is mostly operational during the peak season and sometimes when good weather conditions prevail during the off-season.
Several water activities are also available during this time. There's a ferry line operating between Belekan and Kumta. You can use this ferry to visit a few of the other nearby beaches like Nirvana and Heaven.
Places to Stay in Gokarna
Whether you prefer to stay in the town centre with easy road accessibility or you want to reach out to your gypsy roots and spend a night under the stars, there's something for everyone in Gokarna.
Here's a list of some of the best stays
Zostel– The goto option for backpackers and budget travellers. And their recently introduced individual cottages make it a great choice even for other tourists. The affordable dorms, great views of the sea, and their in-house cafe serving delicious food have definitely made it a popular choice among everyone.
Viraz Valley– Sitting atop a cliff amidst a forest overlooking the sea, this is one of the most affordable and great stays in Gokarna. Easily accessible through a lane which forks off from the main road, it is located at a short distance from Om Beach and Kudle Beach. They have an in-house restaurant and a terrace with great views of the beach.
Kudle Beach View Resort– Located amidst a small jungle within walking distance to Kudle beach, this is a great place to unwind if you're looking for some peace and luxury. Their restaurant, located on the top floor overlooking Kudle Beach is an amazing place to watch the sunset from. The chefs whip up delicious food and this is one of the best places to visit in Gokarna to indulge in some lip-smacking food along with breathtaking views.
This is definitely not a complete list as there are several other stay options in the main town and many other newly emerged resorts and hotels interspersed throughout the town. While you can definitely expect to find a stay throughout the year, do look out for the seasonal crowd which throngs Gokarna during certain religious months. During this time if you happen to reach without prior booking, it might turn out to be slightly inconvenient.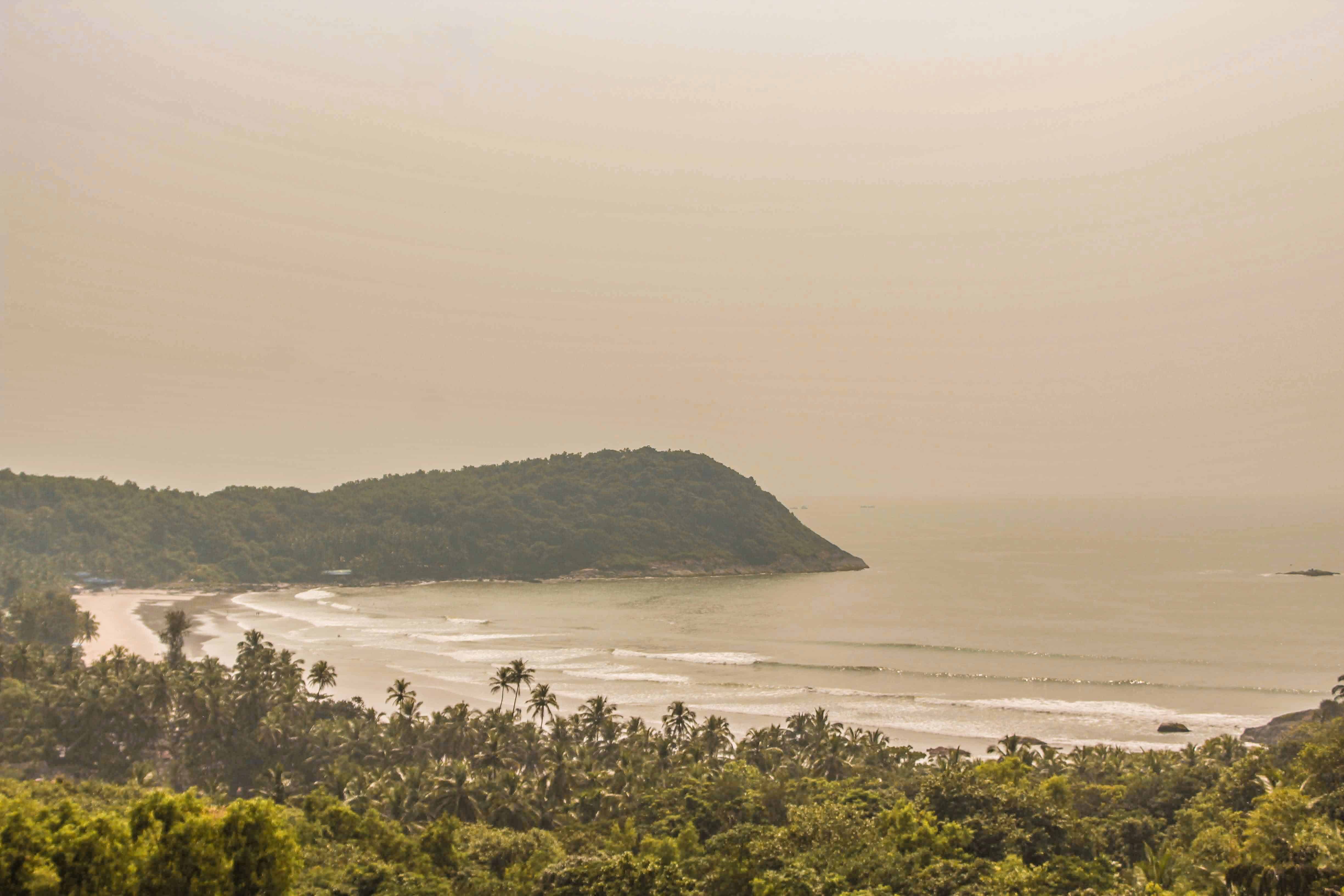 15 Best Places to visit in Gokarna
Gokarna is a heaven for beach lovers! While there are few popular beaches which are thronged by tourists and locals alike, rest assured, you'll be able to bag a quiet corner for yourself. And if you're someone in search of secluded and untouched beaches, there's something for you as well! Here's a list of the top 6 beaches in Gokarna both popular and offbeat.
Beaches to visit in Gokarna
Kudle beach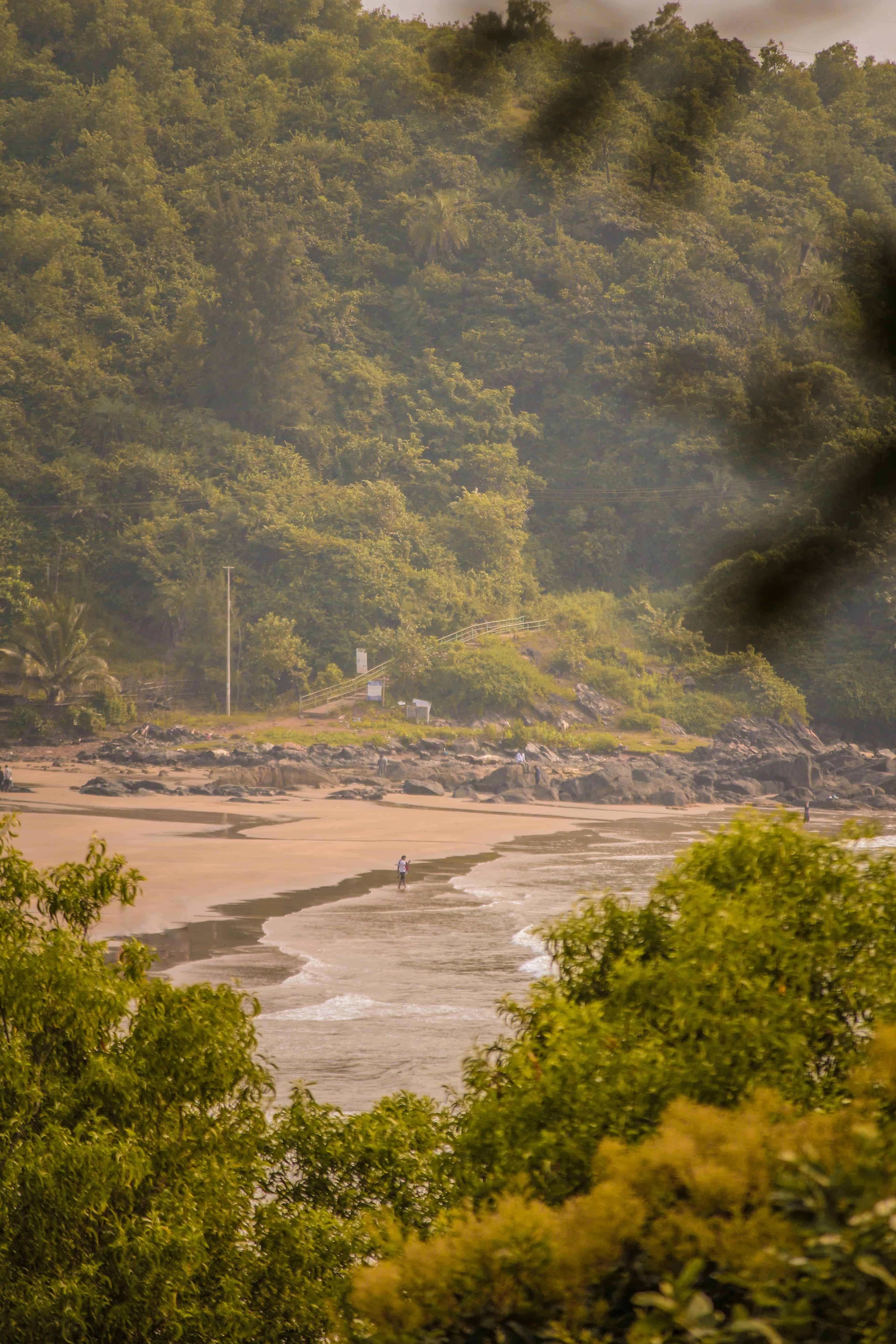 Kudle Beach faces west and hence it's the ideal place to watch the sunset from. It's around 6 km from Gokarna town. There are some water activities to indulge in as well. Many cafes and shacks are lined along its shore as well as on the cliff above. From Kudle Beach there is a well-paved path towards Om beach passing under a canopy of trees. However, if you opt to travel during the summers it can turn out to be very hot due to humidity. There are also motorboats ferrying between Kudle Beach and Om Beach. The beach is accessible after a 10-minute hike downhill from the parking area. Definitely one of the most beautiful places to visit in Gokarna and you should include this in the list of things to do in Gokarna
Om Beach
The most popular beach in Gokarna. It owes its name to its two crescent-shaped shores which form the shape of Om. Several shacks and cafes line its shore including the popular Namaste Cafe. There are many water activities like banana boat rides, surfing, and parasailing for you to indulge in as well.
It's south-facing hence sunset views are not that great from this beach. A long stretch of beige-coloured sand with several places to dine and unwind. Kudle beach and Om beach is pretty close to each other and you can definitely include this in your list of things to do in Gokarna In order to get a perfect view of its shape, you'll have to walk towards the rightmost corner up a small hill.
During the peak season, there are frequent boats operating to Paradise Beach. Although it's best to trek to Paradise Beach, those not wishing to trek can opt for this.
Half-Moon Beach
Shaped like a perfect half-moon this beach is tucked in between jungles and boulders and is accessible only by a short hike from Om Beach. At the far end of the beach, there are a couple of shacks here serving limited food but the beach is a pretty one. Especially peaceful if you happen to visit it during the offseason. A perfect place to perch on the pile of rocks by the beach, sip a drink and watch the sun go down.
You can even stay here for a few days by setting up your own tents. Many people have started opting for this and in order to have the beach all to yourself, it's better to choose a weekday rather than a weekend.
There's also a trail which starts somewhere along the main road which is mentioned in Google Maps. The trail between Om beach and Half moon beach is the most picturesque one passing through jagged cliffs overlooking the Arabian Sea.
Note: If you plan to go back by boat then be mindful of the boat timings And if you plan to trek back to Om beach ensure you carry a torch with you and do not trek alone as it can be risky to climb the cliff during late night. You can get your tents and spend the night here under the stars. But ensure to take all your belongings and trash back with you!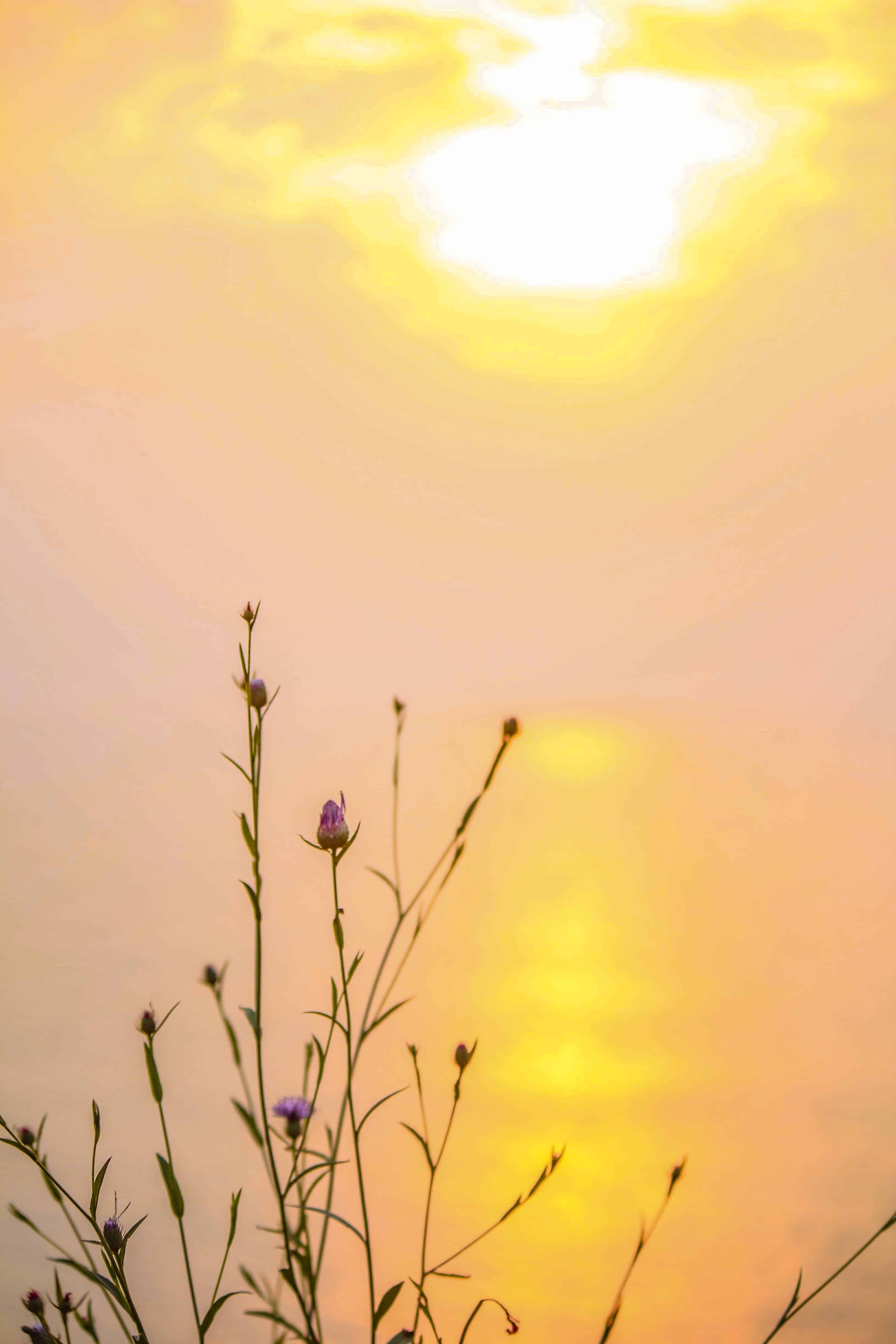 Paradise Beach
South facing scenic beach with no shacks or eateries. Peaceful and secluded, it's perfect for some soul time and relaxation and one of the secret beaches in Gokarna. You'll have to put in some effort to reach here though. And that's the reason it's still pristine and untouched. It's a rocky beach hence be careful if you wish to swim here.
You can reach Paradise beach in Gokarna by a small hike through life-sized shrubs and thickets from the Belekan Beach. This route is comparatively less popular as compared to the hike from Om Beach and Half-Moon Beach.
Practice yoga by a peaceful corner or simply perch on a pile of rocks and stare at the dipping sun when the sky catches fire.
Belekan Beach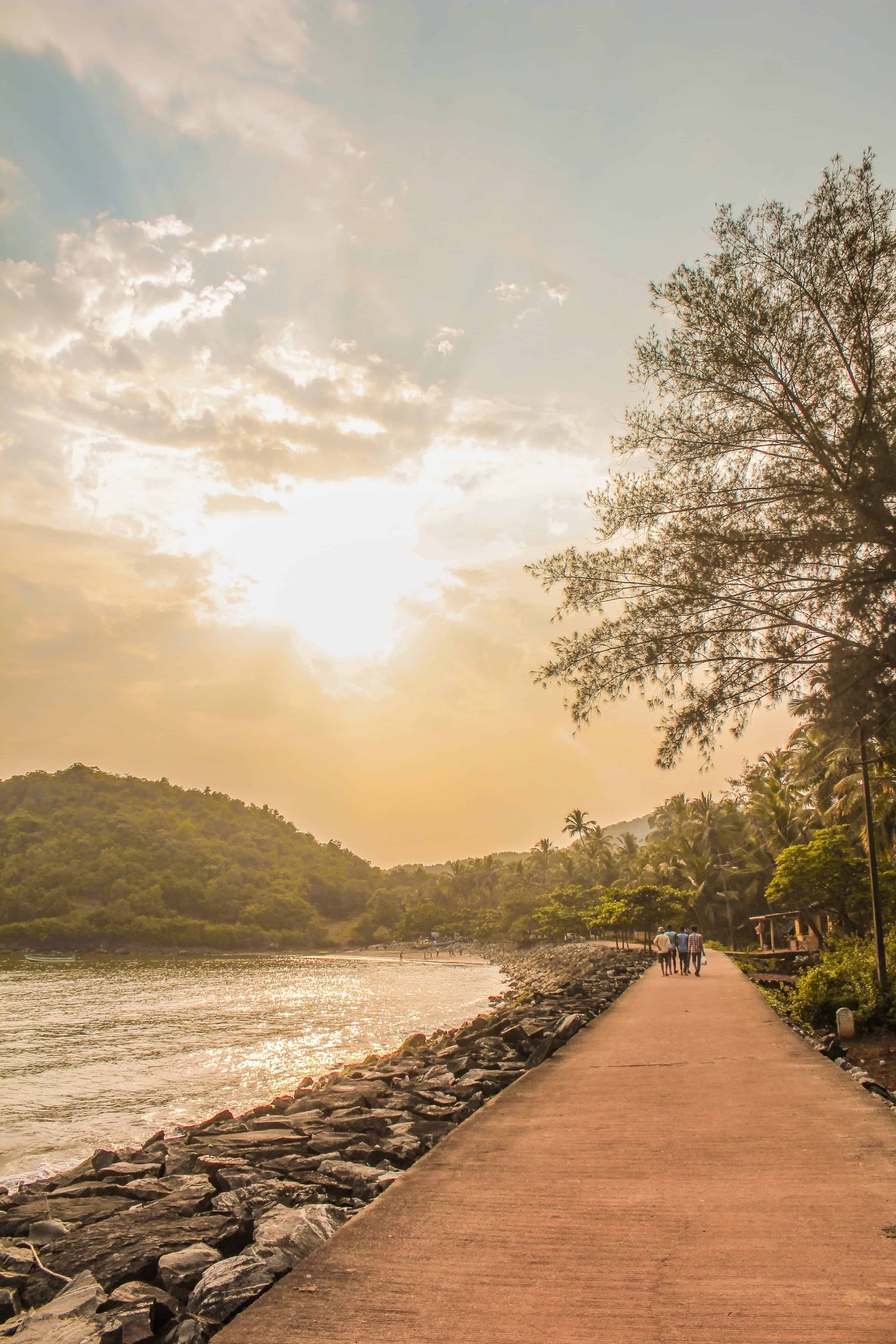 Located in Belekan village in Gokarna this place is nothing short of enchanting. It's not possible to watch the sunrise from the west coast of India but this is one of those very rare places where this phenomenon occurs. This should definitely be in your list of places to visit in Gokarna.
Gokarna Beach
The Gokarna Beach is a popular beach stretching for miles below a cliff mostly frequented by local tourists and pilgrims. It's usually extremely crowded and can be given a miss if you're in search of peace and calm. However, it's one of the best places to visit in Gokarna if you want a glimpse of the local culture. It's not an uncommon sight to spot a priest, a backpacker and a cow walking towards the beach on the same side of the road! You can reach Gokarna Beach by auto or you can also choose to hike to it from Kudle Beach.
Lesser Known Places to Visit in Gokarna
Mallikarjuna temple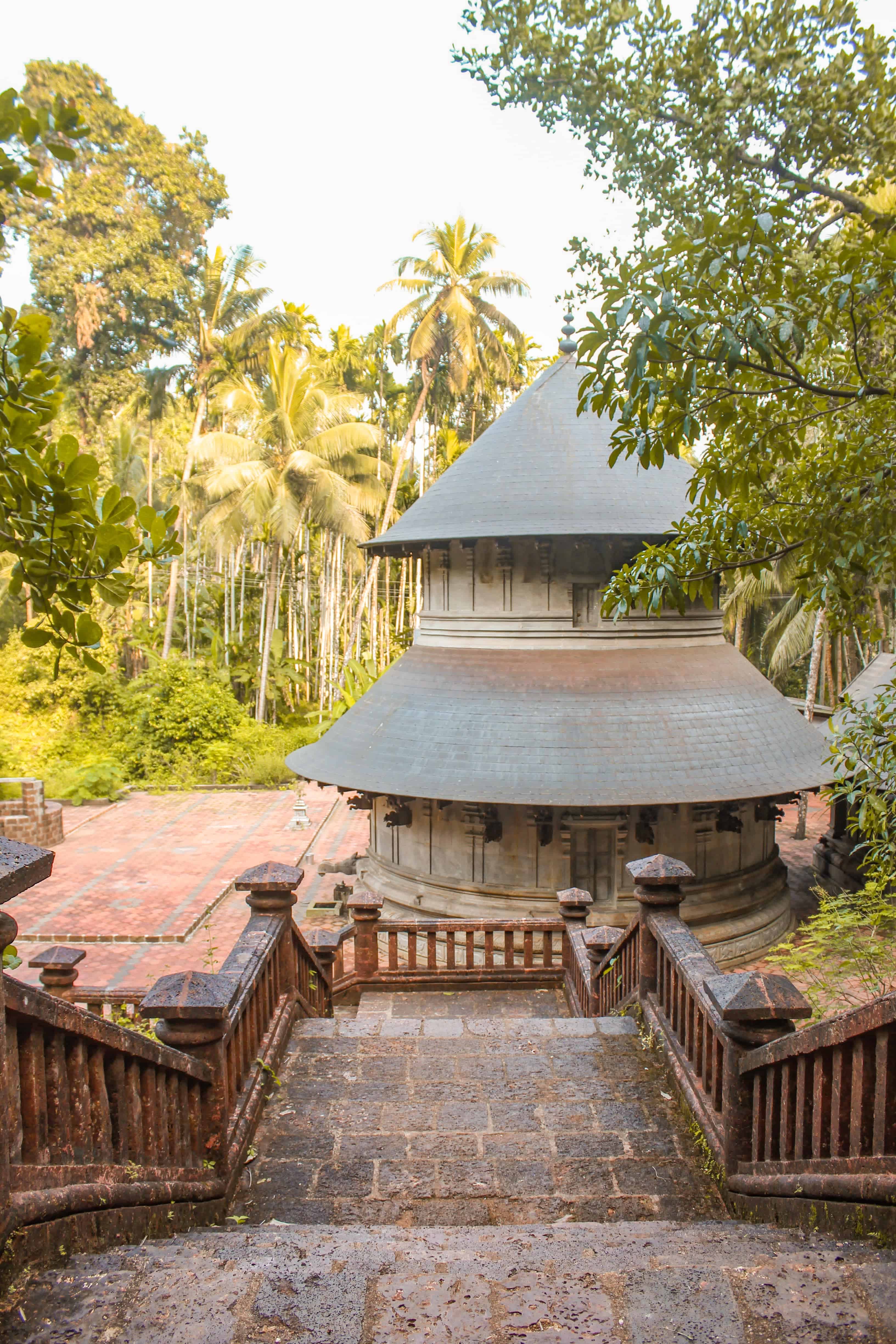 Situated along Ashokavana Road, this beautiful temple is a piece of architecture. Snuggly sitting in the middle of an areca nut plantation, this place oozes serenity. With the constant gurgling sound of a stream nearby, the chirping of birds and insects, this is one of the magical places to visit in Gokarna for some quiet and peaceful time.
The place is devoid of any people except for a few days of festivities when the place gets crowded with devotees. It can be slightly difficult to find this place. It has an entrance which is mostly gated in order to prevent cows from entering the premises. However, it is mentioned in Google Maps.
Shiva Cave Gokarna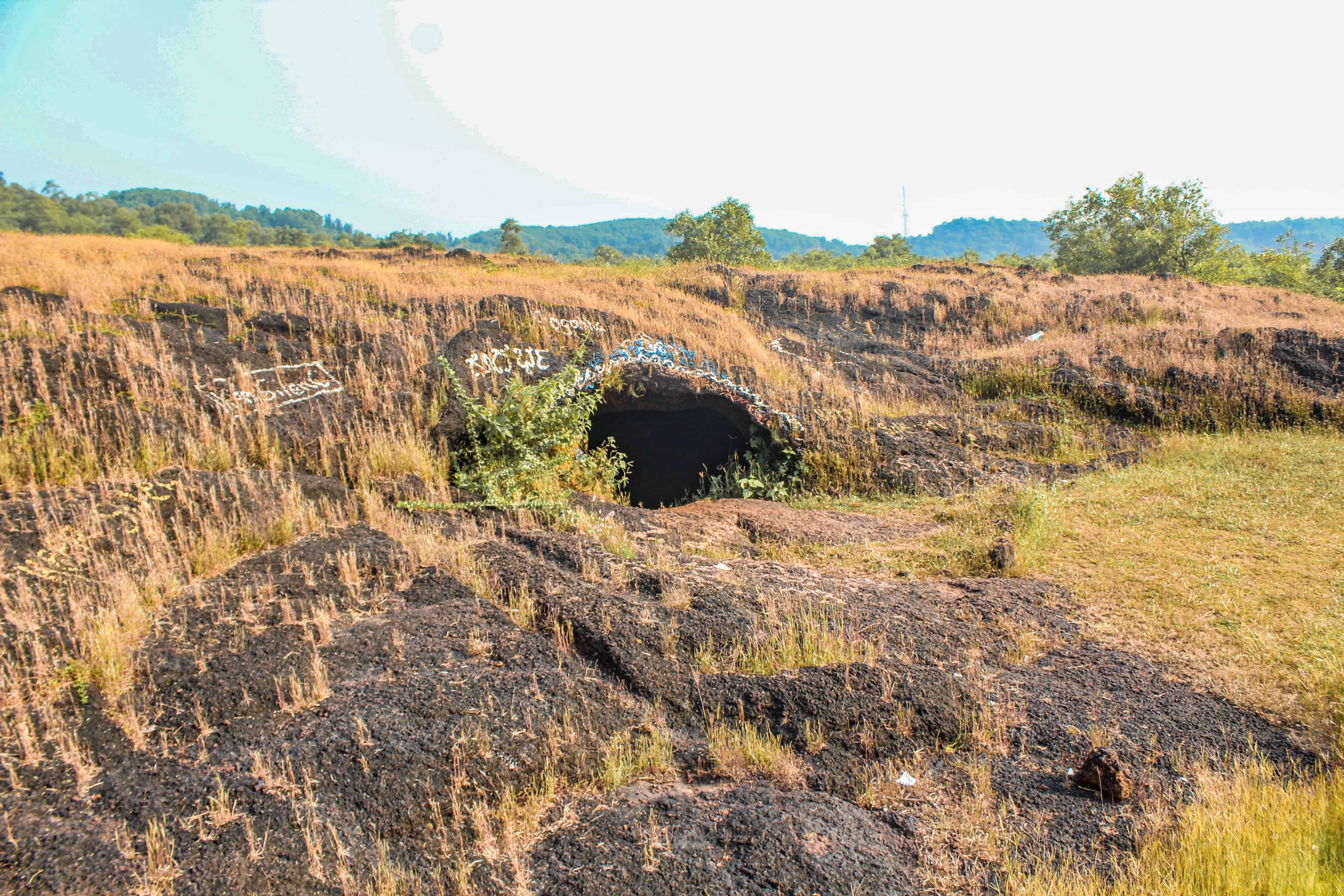 Sitting amidst a sea of boulders in a picturesque location, Shiva Cave is an interesting place to visit if you're into exploring offbeat hidden places. If your timing is right, you can listen to some exciting stories from some saints and devotees who often use this cave as a resting place. They'll regale you with their interesting tales about the history and significance of this cave.
The legend goes by the story that this cave was made by a cow captured by Ravana while escaping from his grasp. It is also believed that there's a secret tunnel in the cave which leads to Varanasi. Irrespective of whether you believe in Mahabharata or not, these stories certainly have a different charm while you listen to them standing there and try to visualize everything. The surrounding area has a peaceful vibe about it and you can spend some quiet time sitting among the boulders.
Travel Tip: Look for a 'Shiva Cave' board opposite Kudle Beach View Resort from where the path starts
Jatayu Tirtha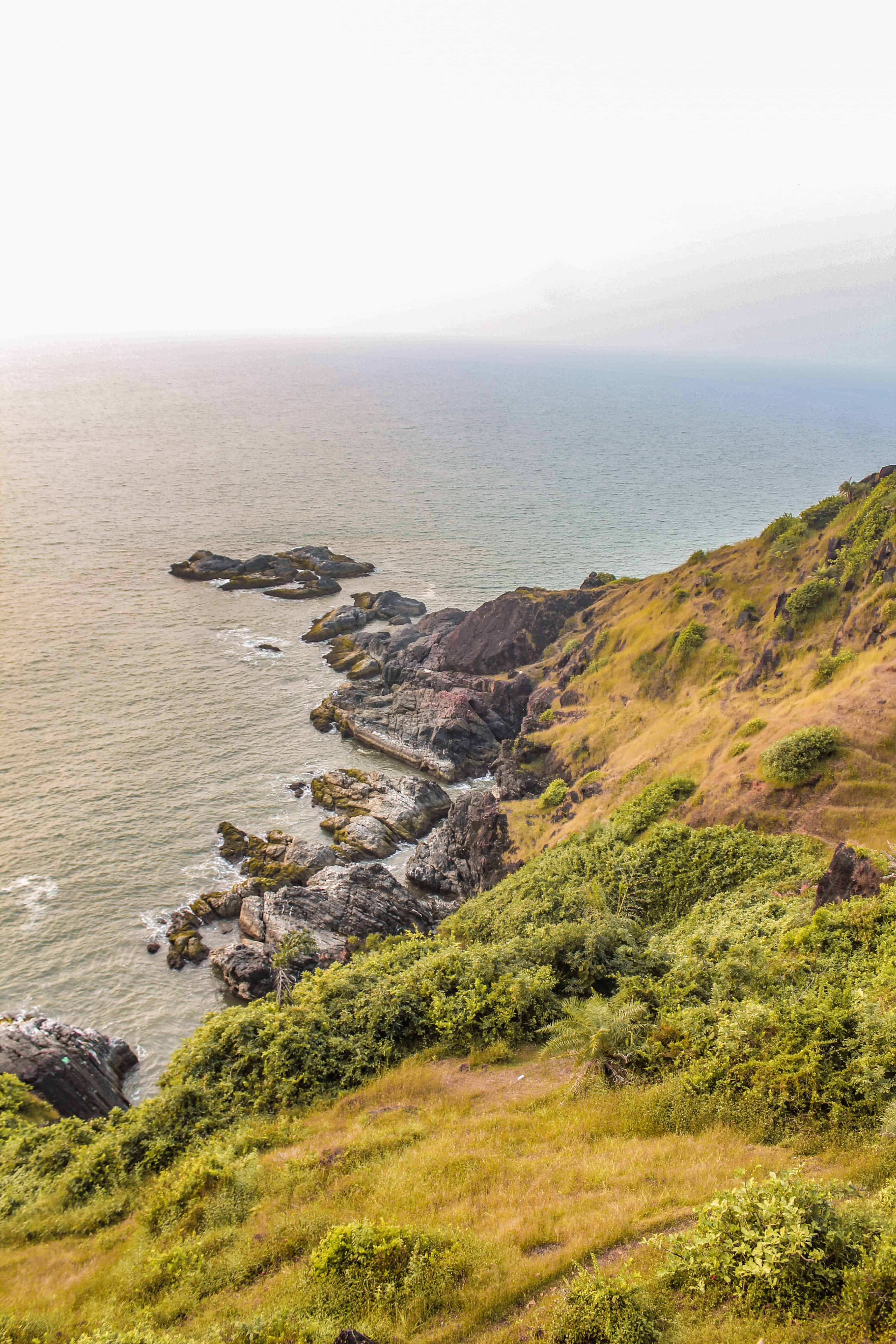 A cliff tucked in between Gokarna beach and Kudle beach this is a heavenly place for watching the sunset along with some breathtaking views of the sea and the rocks below. It's not very popular yet since it takes some effort to reach here and only a handful of people manage to stumble across it. You can reach this place either from Kudle beachside or from a path near Rama Tirtha temple.
You can also hike down to the rocky shore below where a small stream flows to the sea. This is considered to be the place where Jatayu from Ramayana was slain by Ravana.
A gradual slope leads down to the turquoise water sheathed in soft white foam. I stumbled upon this gem of a place by chance and was blown away by its beauty. White frothy waves crashed on the rocks below, with absolutely no one around. Just the sound of waves, breeze and the smell of sea and sunset.
Rama Tirtha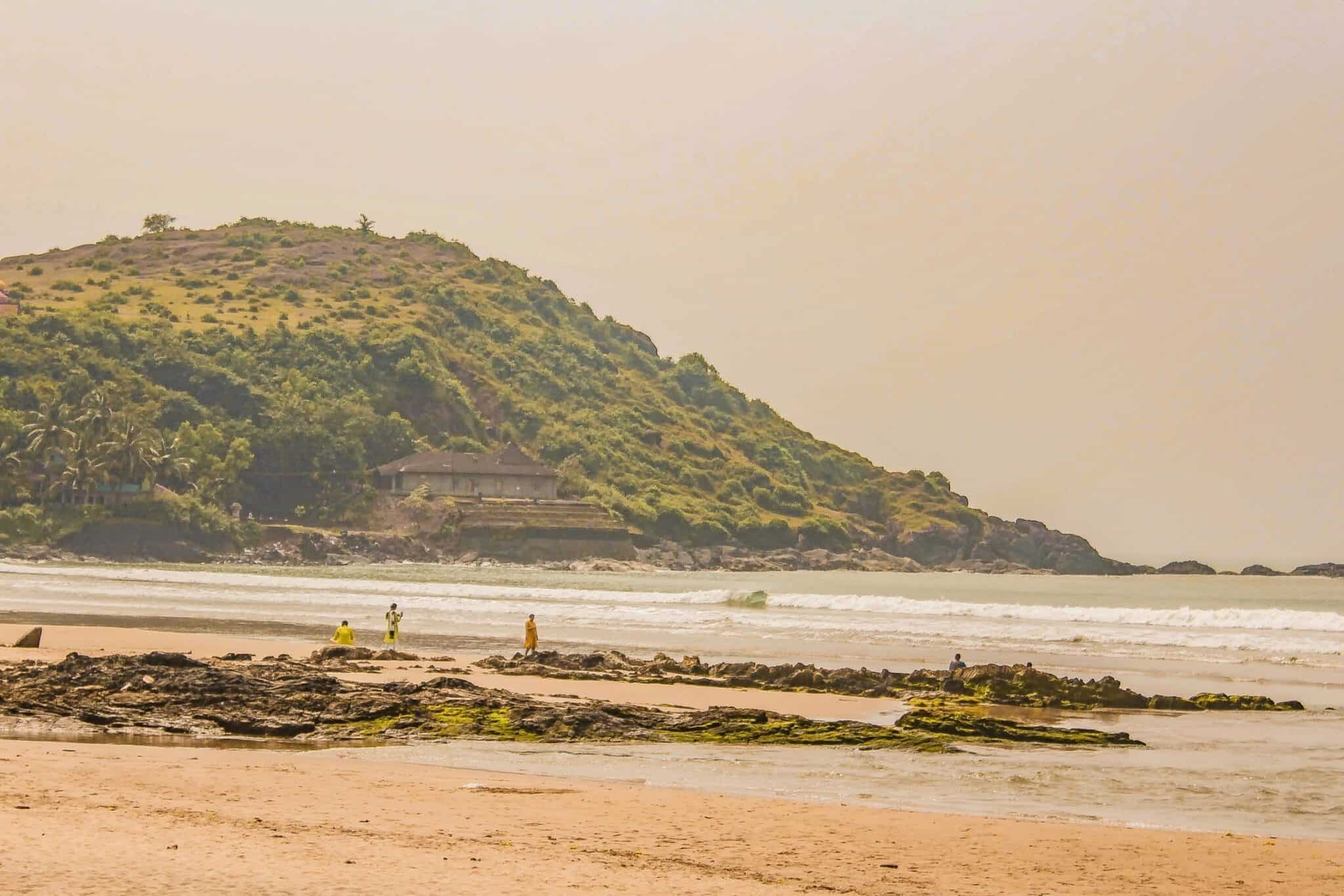 A peaceful temple located just off the shore near Gokarna Beach. There's a pond near the temple filled with mountain water. The water, flowing out of an opening (carved in the shape of Nandi's head) in the mountain is believed to have medicinal properties with a unique taste. And people from all over the world bring bottles to fill it with the sacred water.
An Obscure Carving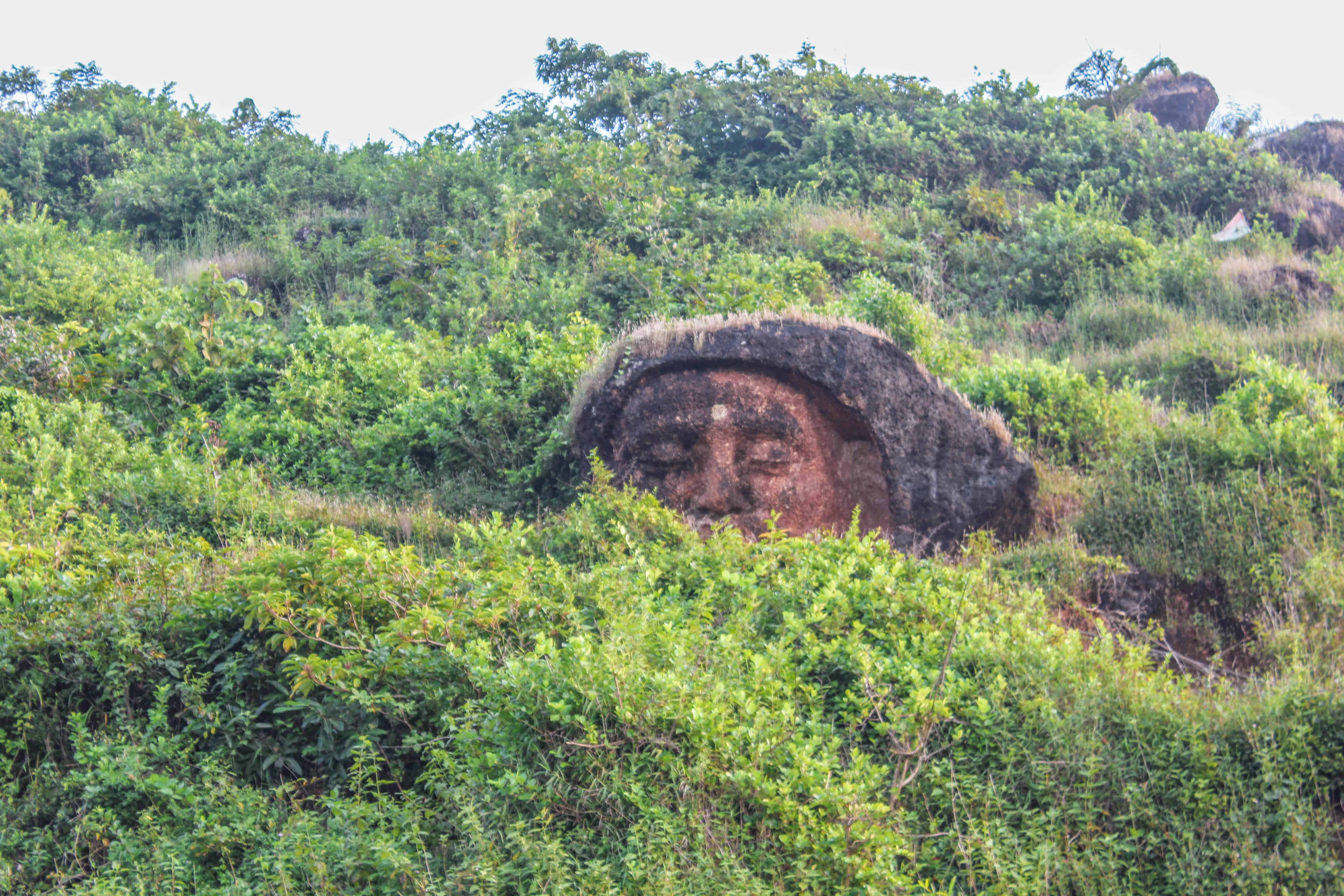 Just behind the Rama Tirtha temple, there's a small courtyard from where you can watch the sunset from. There's also a barely visible path hiding among the bushes which leads to a gorgeous viewpoint. There above you can spot this art carved out of the boulders. You can also hike up to it.
Gokarna Lighthouse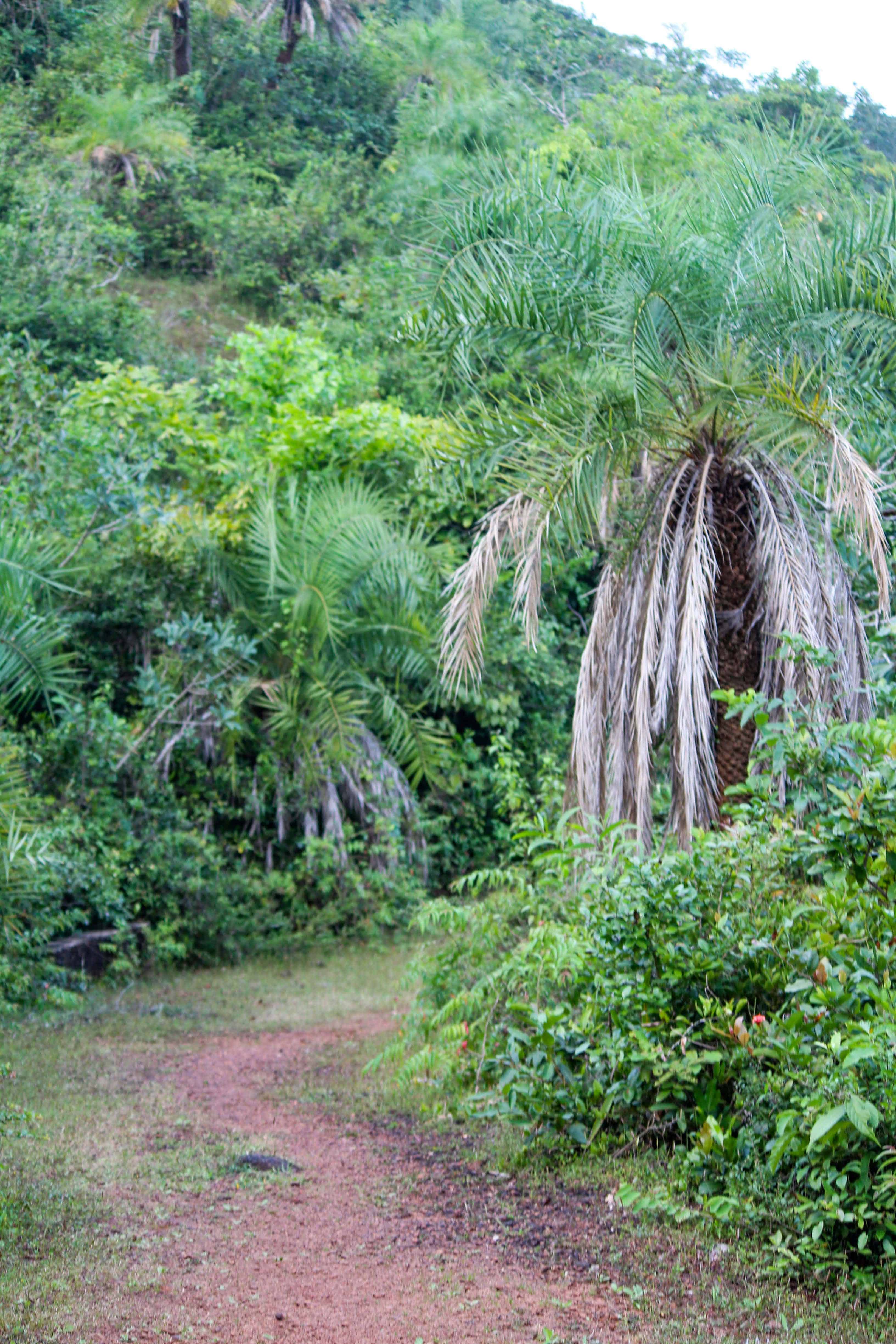 Not many people know this but right before the path that leads to Paradise beach, there is a path which forks upwards towards the left which leads to the lighthouse. The route is filled with wide variety of flora and founa and the constant sound of the waves along with the chirping of the birds can be very therauptic.
Holy places to visit in Gokarna

Gokarna Mahabaleshwar Temple
Gokarna Mahabaleshwar temple regarded as the 'Dakshin Kashi' is the most revered temple in Gokarna, situated at a distance of 1.6 km from Kudle Beach. This is the only Atma Linga in the world where the devotees get to touch it and this one of the main reasons why so many pilgrims pay a visit to this town.
Timing: 6 A.M to 2 P.M and then 4 P.M onwards
Mahaganapati Temple Gokarna
This is another ancient temple located next door to the Mahabaleshwar temple. This temple is dedicated to Bal Ganesha who is said to have saved Atma Linga from Ravana by tricking him. According to customs, it is advised to worship Lord Ganesha before the Atma Linga in the Mahabaleshwara temple. Head over here to experience and witness the daily worship.
Koti Tirtha
Koti Tirtha is a man-made pond where immersions of idols take place and where staunch devotees bathe before visiting the temples. It is considered to be extremely sacred. Koti Tirtha literally translates to a 'thousand springs'.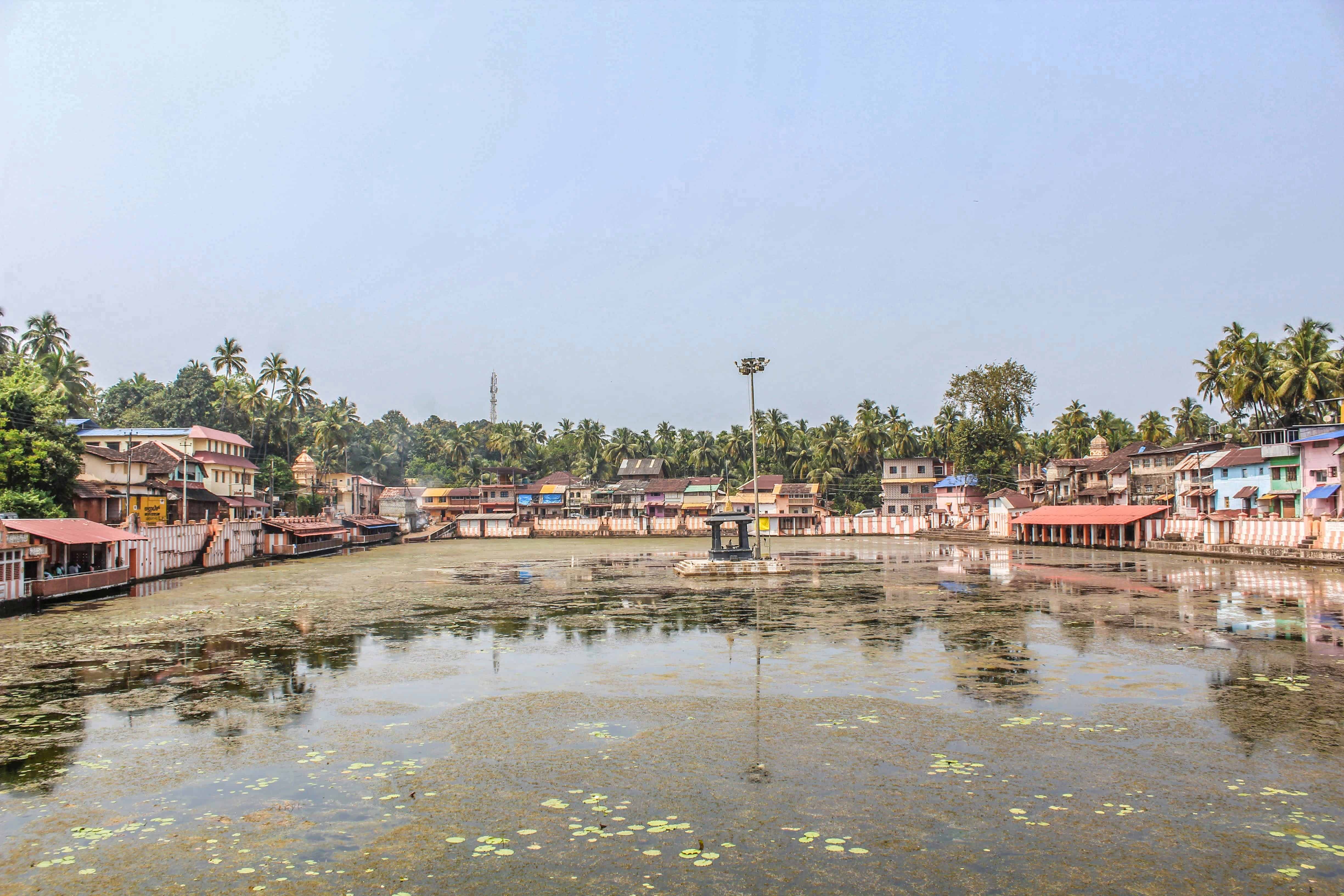 Places to visit outside of Gokarna
There are many places of interest around Gokarna that can be visited on a day trip. You can either a hire a cab or an auto or avail a public transportation to reach these places. Here are some places close to Gokarna that you absolutely cannot afford to overlook when in Gokarna.
Apsarakonda
This is a beautiful beach village hiding in plain sight near Honnavar. The beach sees almost no visitors apart from few locals and is one of the cleanest beaches I've come across. There's a lovely garden with a variety of flowers and a viewpoint from where you can get a panaromic view of the sparkling beach below.
There's also a waterfall here which is a pretty sight during the monsoon but not much of a beauty during the other seasons.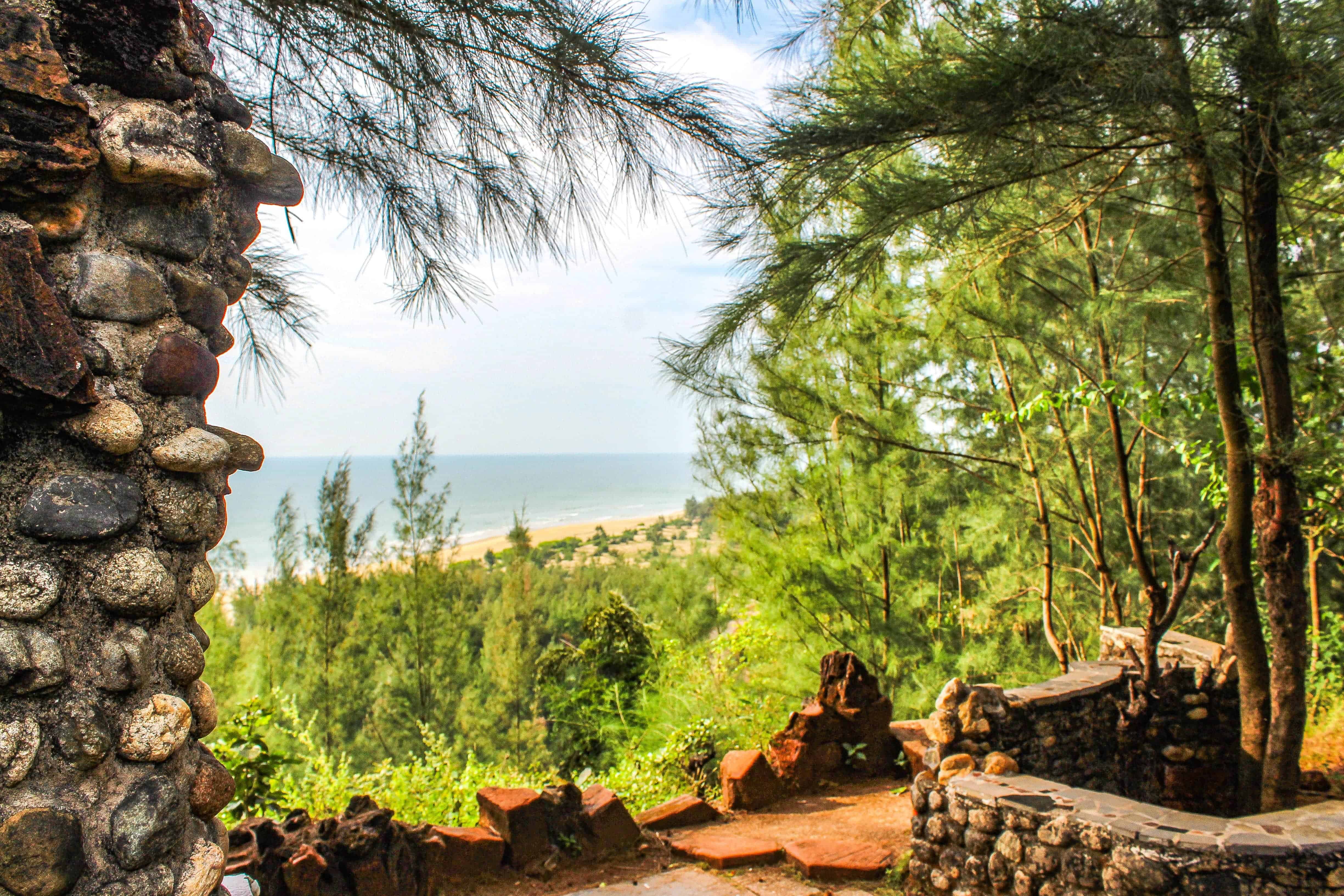 Mirjan Fort
Mirjan Fort is an architectural beauty located at a distance of about 12 km from Gokarna town. Situated on the banks of the river Aghanasini, Mirjan Fort built, by Queen Chennabharadevi of the Tuluva-Saluva Clan, in the 16th century glorifies the rich heritage and history of Karnataka.
One can reach this fort by hiring an auto from Gokarna. Alternatively, you can hop on to a local Kumta bound bus which will drop you on the main road from where it's a 500 mt walk to the fort. During the peak season you can also expect to find some autos parked near the mouth of the road leading to the fort.
Mirjan Fort is a treat to the eyes especially during the monsoon season when the place gets sheathed in a blanket of velvety moss. Include this fort in your list of things to do in Gokarna and experience the history and culture of Karnataka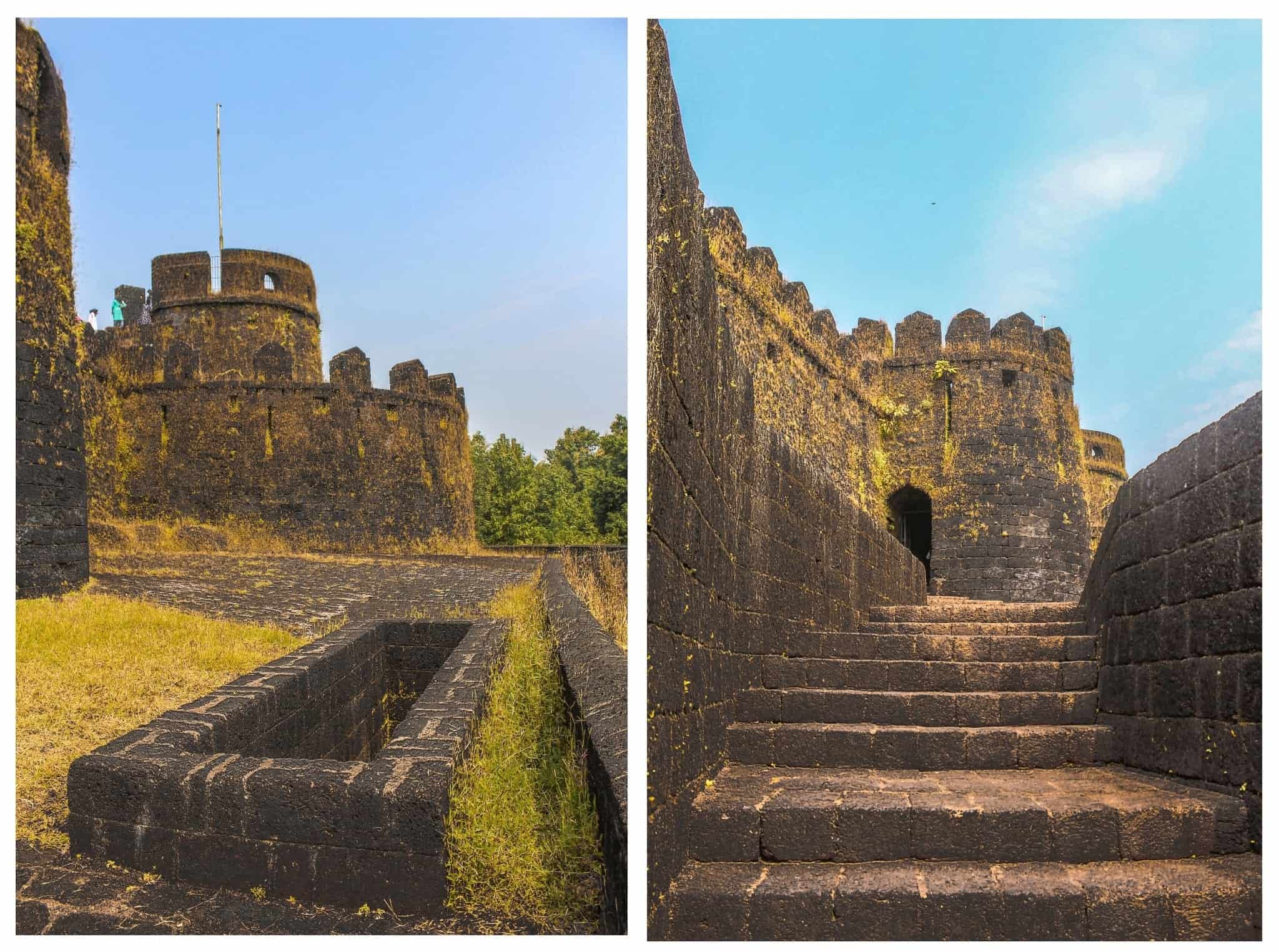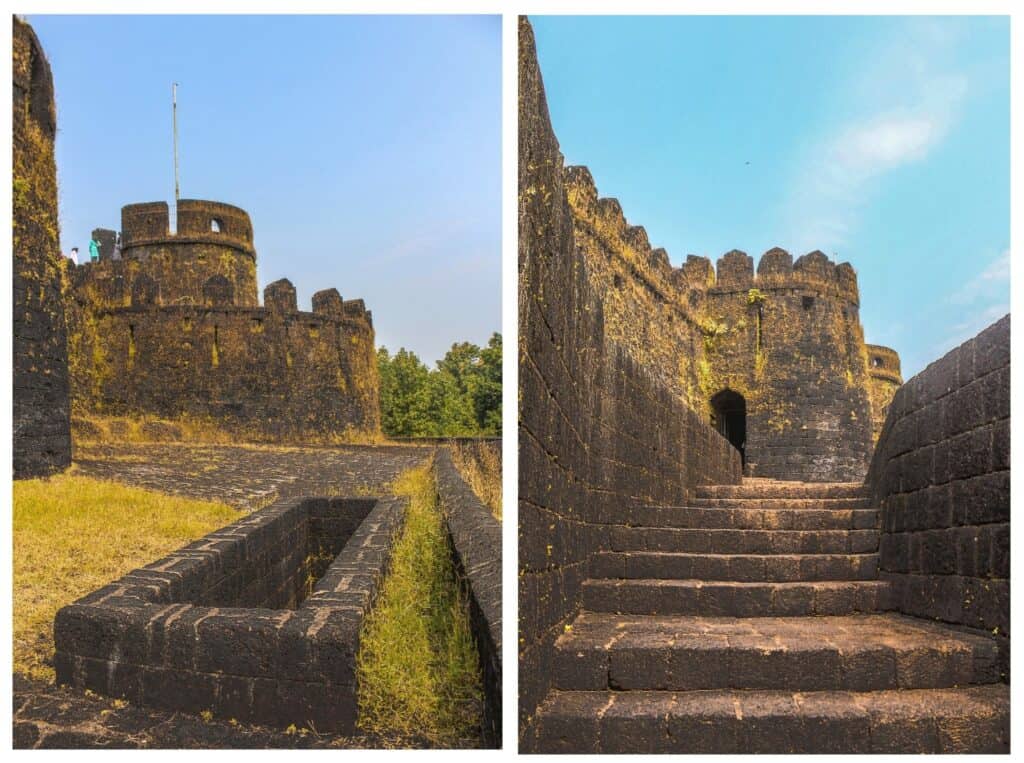 Murudeshwar
Murudeshwar is a temple town in coastal Karnataka. Flanking the shores of the Arabian Sea, nestled on a small hill by the name of Kundaka, lies the Murudeshwar Temple dedicated to Lord Shiva. The most glorious part of this temple is the humongous idol of Shiva which is the second-largest statue of Shiva in the world. There's a tall Gopuram towering over the statue from where you can get sweeping views of the beach and statue. The entire temple complex has beautiful intricate carvings depicting stories from the Mahabharata.
There are several places to visit in Murudeshwar along with activities like boating, swimming, beach surfing and other water sports in Murudeshwar Beach. You can also do snorkelling and scuba diving on Netrani island which is located at a small distance away from the temple. Located at a distance of about 75km from Gokarna, Murudeshwar is a dream destination for travellers and pilgrims alike.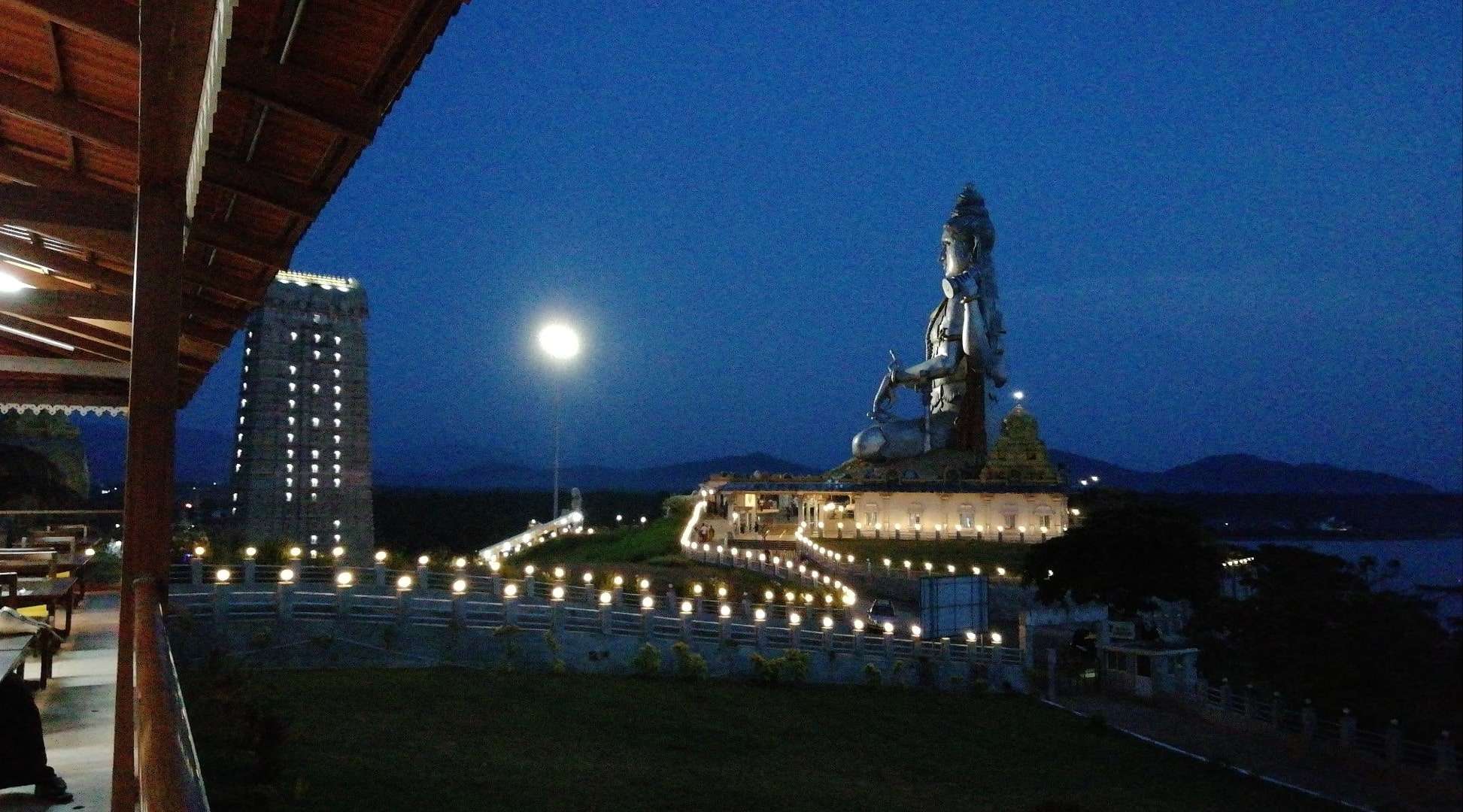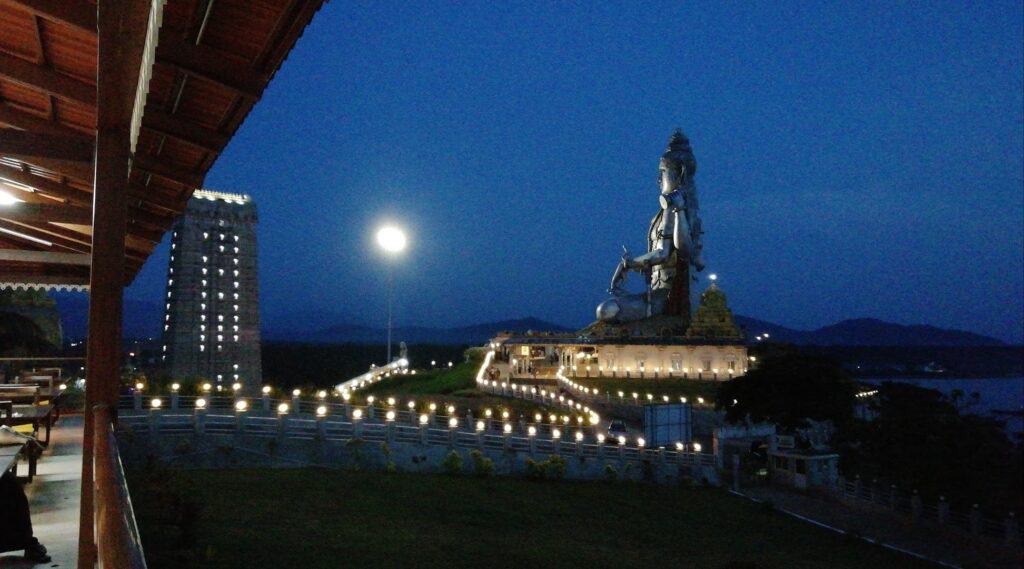 Yana Rocks and Caves
Located at a distance of 52 km from Gokarna, Yana Caves and Rocks are a system of gigantic rock formation standing tall and proud inside the tropic forest of the western ghats, is one of the unique places to visit in Gokarna. The black weather-beaten rocks with their eerie shapes are a sight to behold! There's also a temple dedicated to Lord Shiva here. A perfect place for trekkers, nature lovers and pilgrims alike.
Timings: 8:00 AM – 6:00 PM
Vibhuti Falls
Vibhuti Falls is a lesser known gem in the Western Ghats situated in Ankola at a distance of 30 km from Gokarna. It's a multi-step waterfall meandering through limestone rocks and The word 'Vibhuti' translates to limestone.
A short 1 km hike through the jungle will lead you to these falls. It's a beautiful place with very less tourist footfall. September to February would be the best time to visit as the falls would be at its peak during these months
Best time is between September and February as water will be at its peak after monsoon.
Travel Tip: A recommended one-day itinerary for a day drip around Gokarna would be this: Gokarna-Mirjan Fort-Yana Rocks-Vibhooti Falls.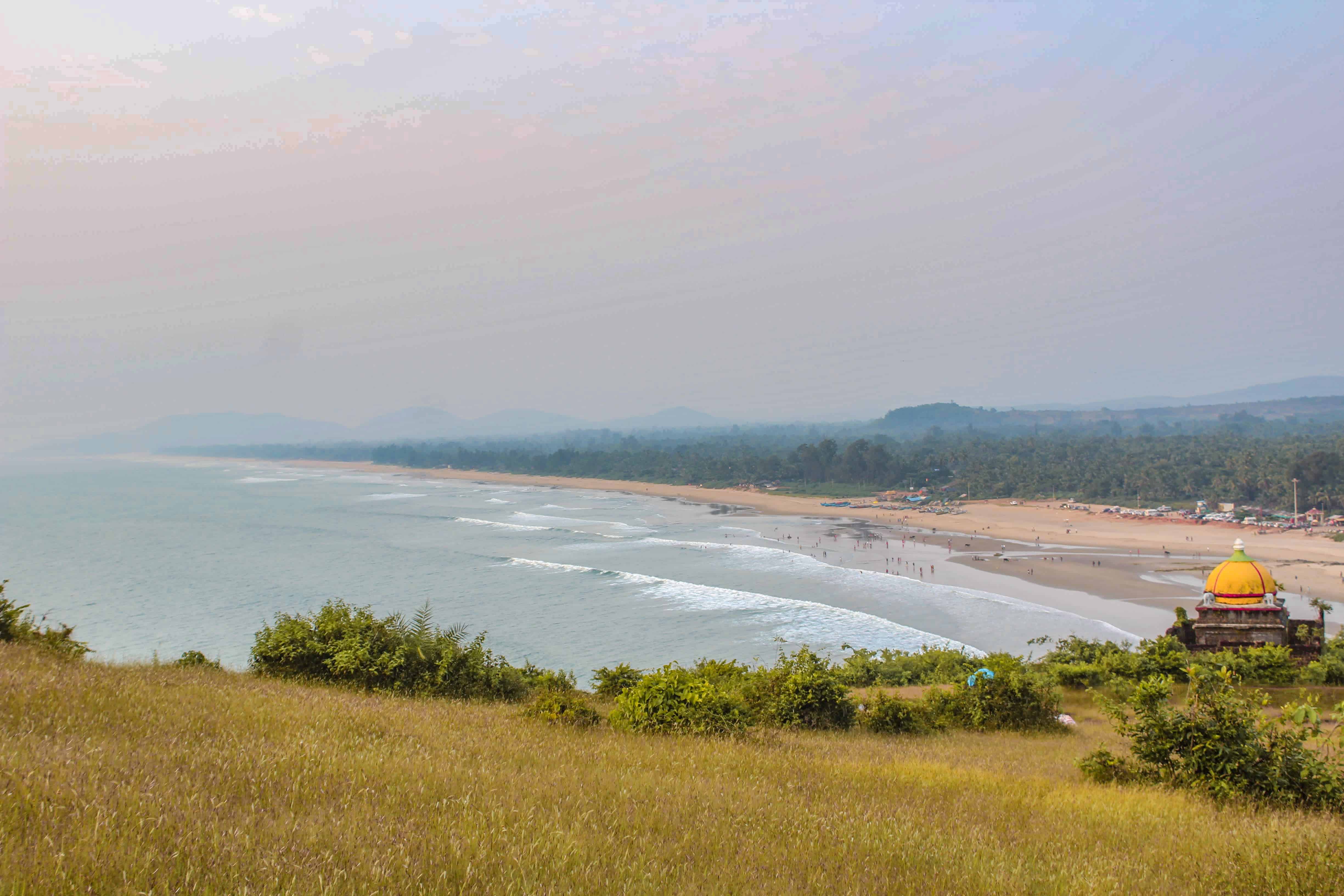 Summary
I hope you liked this post on the magical places to visit in Gokarna in 2 days. It's an enchanting place to unwind and see a different part of India. A place where ancient mythological stories and religious beliefs have blended beautifully with the modernity of current times.
Please try not to buy bottled water as even if you dispose it off responsibly it invariably ends up in the ocean. Get your own bottles and refill it in the cafes and shacks.
Do pay a visit to this village-town and let it charm you. And if you've already been here, how was your experience? Let me know in the comments below!