Sunrise in Gadisar Lake, Jaisalmer
The alarm rang and I woke up with a start. The dormitory was pitch dark, except for a faint glow filtering into our room from under the door. I looked around drowsily. The alarm had no effect on my fellow travelers though. Everyone was sound asleep. Ever since I fell in love with photography, capturing Gadisar Lake in Jaisalmer during sunrise, was in my bucket list. The last visit to Rajasthan had been with my parents, but we weren't able to make it to Jaisalmer due to time constraints. Hence there was no way I was going to pass on another opportunity. This time I visited Rajasthan with my friends. Although there were a lot of memorable moments from this trip the one that stands out for me is a stranger's kind gesture. It gave me one of my favorite memories.
My friends and I had decided to wake up early to capture the sunrise. Or to be precise, I had decided to wake up early. We had spent the previous day by exploring the many narrow lanes and by-lanes of the Golden Fort. Wandering along the labyrinth of the fortified fort of Jaisalmer is a joy in itself. It was painfully fatiguing though. Which I realized only now when it was such a task to even open my eyes. Yet I badly wanted to do this. For I knew, this 5 minutes of laziness would end up causing me to forever brood and complain about this missed opportunity forever.
I knew it was only the matter of taking that first step of pulling the cozy blanket off myself and sitting up straight. Once I'd done that, things would automatically start looking brighter. I got off my bed and tried waking up my friends. But predictably or rather understandably, they had changed their mind and refused to wake up. So I had no choice but to go off alone. I anyway love exploring a place by myself and so this didn't really seem like a task.
I splashed some cold water on my face, brushed my teeth, and put on a jacket. Finally, I was wide awake. Tiptoeing to the front door of the hostel, I slowly opened it and peeked outside. It was silent and still pretty dark save for the street lights. I always try not to venture out alone in the dark if I can help it and so I sat on the stairs and decided to wait till I saw some activities on the street outside.
There are close-set houses on both sides of the street. Zostel Jaisalmer is located in one of the many alleys and its steps immediately lead to the lanes below. Its location is one of the reasons why this is a popular choice among travelers here.
It was winter and was pretty cold and I hugged my jacket close. After some time I saw the lanes slowly come to life as people went about their day.
Gadisar Lake in Jaisalmer is located in the southern part of the city. According to Google, there was still half an hour left for the sunrise. There was no possibility of catching an auto during this hour of the day. So I decided to walk. My GPS showed that it'd take me 15 minutes to reach the lake on foot. I almost ended up running all the way to the lake.
By this time there were a few people outside, but it was a totally different world as compared to the bustling busy hours of the day. Dawn gives a calm and tranquil feel to any place and it was no different here. That experience itself was surreal and peaceful. The street vendors slowly setting up their stalls, the smoky fragrance of incense wafting from some of the houses, kids brushing their teeth and parents running behind toddlers to get them to take a bath, dogs barking at this new stranger and curious passersby wondering as to what this girl was doing running down the streets at this time of the day.
I stopped a few times to catch my breath and also to confirm with few people if I was heading the right way. Couldn't afford to even waste a minute and miss the sunrise.
I reached the lake almost in time for the sunrise. Since it wasn't a weekend, apart from me, there were only a handful of people, foreigners. There were numerous shrines and temples on the embankment of the lake and I entered its premises through a side lane.
A beautiful domed pavilion at the center of the lake made a perfect subject for photography.
Also read- An Unexpected surprise in Dzukou Valley, gem of Nagaland
I went around the lake savoring the silence and the joy of having this beautiful lake almost all to myself. I crouched and bent to capture its beauty as I seemed to find a great frame, every two steps. It was a beautiful feeling to watch the golden orb slowly rise up from the horizon. It cast a beautiful orange pink glow to the sky.
I reached a spot near the artistically carved, yellow sandstone archway; a gateway-like structure. In front of it, there was a tiny dock where boats of every color were moored together. The boating activity began at around 8 am. There were two boatmen already there, to open for the day. I smiled at them and they started a casual conversation asking where I was from. Their names were Ravi and Shankar.
A beautiful surprise
After some time, right before the sun completely came up, Ravi disengaged a yellow-colored boat, and started rowing till the center of the lake. Where the dome-shaped structure was located.
There were numerous birds perched on top of it. I was waiting for a perfect moment when the orange globe of the sun would fit in at exactly the correct frame inside the dome. When Ravi had almost reached that dome, Shankar who was standing a little way away from me, asked me to steady my camera and focus on the dome. I was puzzled. Nevertheless, I focused my camera, as I was anyway waiting for that perfect frame. Shankar once again asked me to be ready and although I still didn't understand what was going on, I kept it focused.
Suddenly Ravi lifted his oar. And the birds, which were perched on top of the dome, soared high into the sky. I started laughing in delight! It was a gloriously surreal sight! Almost like a gorgeous scene out of a movie or a fairy tale. I took some time to gather my senses and click those photographs.
Although in hindsight I would have framed my shot better had I known what was going to happen. But I'm happy I didn't know. The element of surprise doubled my joy. It was such a sweet and kind gesture. I remember feeling so ecstatic when I witnessed it. It's still so raw and clear in my memory.
They were not at all obligated to do all that. I didn't even request them to do so. They went out of their way to spread some happiness. They must have taken pity on me when they saw me crouching, bending, kneeling, and doing all sorts of antics to click those pictures. I thanked them and chatted with them for some time. I desperately wanted to do something in return.
Although I was aware that they didn't have any ulterior motive behind their actions, I tentatively requested them to accept some money. Just as a token of appreciation since I felt very touched by their gesture. I told them so too. Of course, they blatantly refused and said that it was just their way of showing 'Atithi Devo Bhava', meaning treating guests as gods. It was such a sweet act of kindness. So I requested them for a selfie at least, and they happily obliged.
Isn't it so wonderful? How a simple smile can spread so much warmth and positivity and manage to build a rapport among people within such a short span of time?
This is just one of the many many instances of goodness I've witnessed in strangers while traveling. This is primarily the reason why I still strongly believe in humanity and kindness. This world, despite all its flaws, is still filled with beautiful people. It's just a matter of looking at the glass as half full or half empty.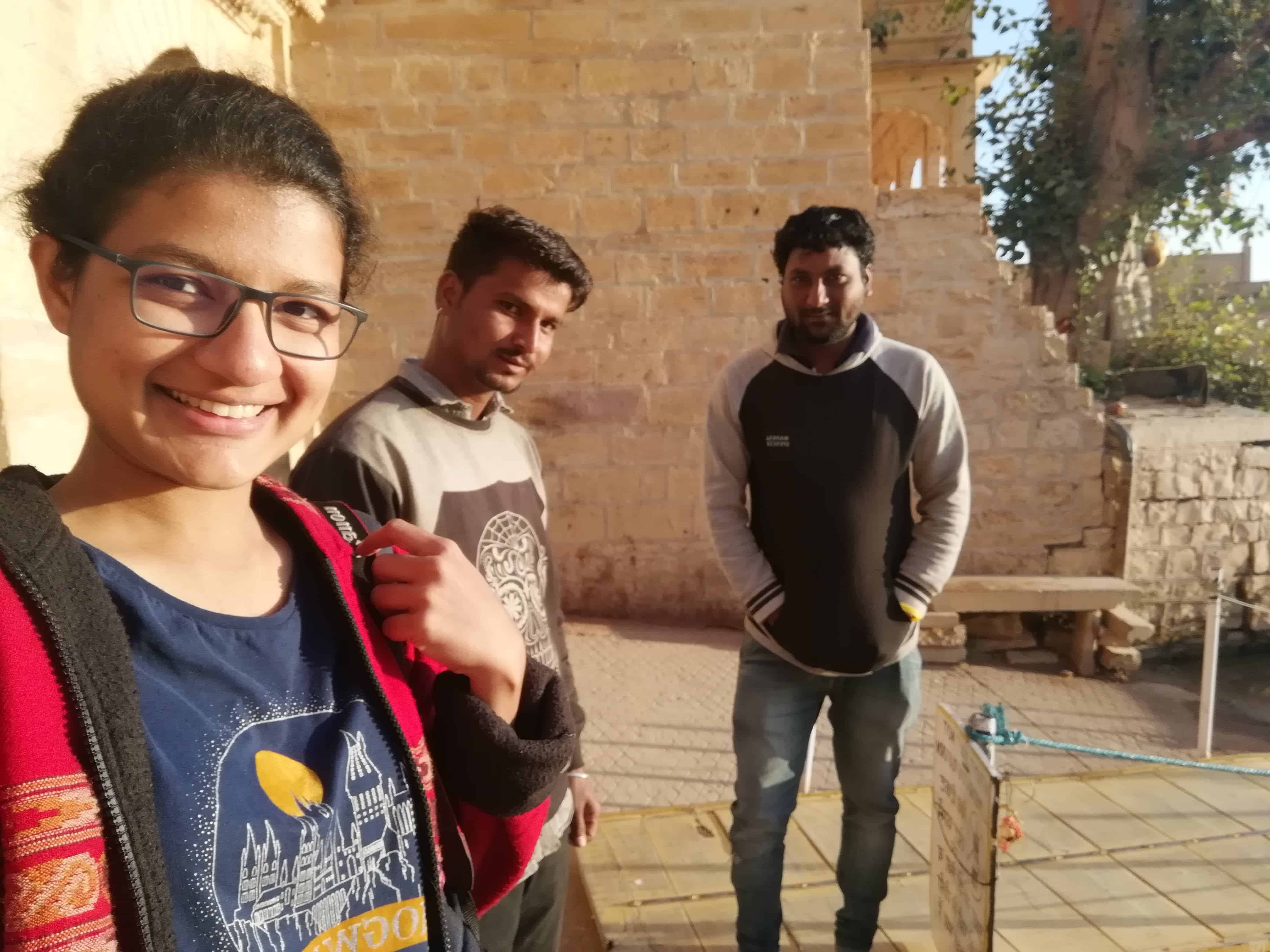 How to reach Gadisar Lake:
Gadisar Lake is at a walking distance from Jaisalmer Fort. Around 2km away from the railway station and is easily accessible. Also, autos can be hired from any part of the city.
Best Time to Visit Gadisar Lake: Sunset and Sunrise
Best Month to Visit Gadisar Lake: October to March
About Gadisar Lake:
Gadisar Lake in Jaisalmer was built under the rule of Raja Rawal Jaiswal. This rainwater lake was used to provide water to the entire city. Although now it is mostly used for boating. An interesting fact about the lake is that it never dries as it gets continuous water supply from the Indira Gandhi Canal. Gadisar Lake looks breathtaking during sunrise and sunset. October to March is the best time to visit, so as to escape the scorching heat of the other months. The Bharatpur Sanctuary is located close to the lake. Hence during the winter season, different birds migrate to this lake.
Liked this post? You could consider subscribing 😉 And get new content directly to your mail!