A small pool of blue match-box houses in the midst of a barren brown landscape. The Blue City, as it's fondly called, Jodhpur is a city of rich taste and culture. There are several places of interest in Jodhpur.
The sky blue houses, bustling bazaars, the magnificent Mehrangarh Fort, splendid palaces, and pretty sunset spots make this one of the most aesthetically pleasing Indian cities.
Located close to the Thar Desert, this colourful city is laden with culture and historical significance. The meandering lanes filled with powder blue houses instantly transports you to a land bygone.
Places of interest in Jodhpur- A Complete Jodhpur Travel Guide
Also read: Complete Jaipur Itinerary
What is Famous in Jodhpur?
Jodhpur is famous for its azure blue houses and buildings. One among the handful of blue cities across the world, Jodhpur is a city of delight. There seem to be several reasons for painting the houses blue here.
One of them dates back to the ancient past when it was a custom restricted to the upper-class Brahmin family. With time, this got eradicated and due to the social currency associated with the colour blue, most houses are now painted this colour.
Another reason points to the geographical region. The blue paint acts as a soothing buffer to the scorching temperatures of Jodhpur. Jodhpur is also known as the Sun City due to the extreme dose of perennial sunlight it receives. These blue tones are visible from afar aptly giving it the name The Blue City.
Here's a list of 12 places of interest in Jodhpur for a wholesome travel experience.
12 Places of interest in Jodhpur
The Blue Lanes and By-lanes
Walking the streets of Jodhpur is akin to painting your vision with strokes of blue shades. And at the same time, it's a test of your cognitive abilities! Because you'll constantly need to navigate a cow, a racing scooter or a busy cart man hurtling down the street.
Go for a stroll early in the morning, to savour the smell of instance sticks tickling your nose. These pockets of blue all over the city, are a few of the top places of interest in Jodhpur. And walking down these lanes is a sensory treat to the eyes, nose, and mouth.
Local Tea Stalls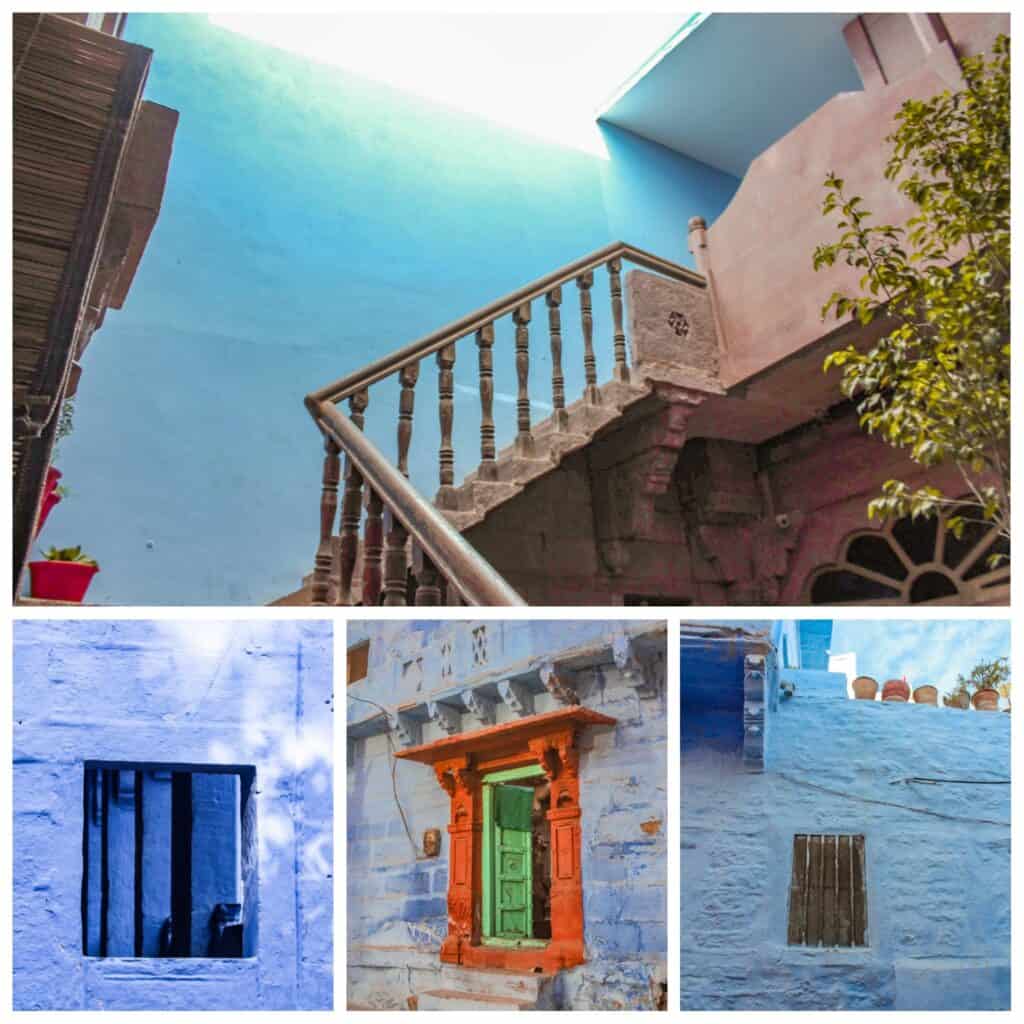 A morning in Jodhpur is incomplete without a steaming cup of masala tea. Although the odds of finding a bad cup of tea in Jodhpur are low, the locals are partial towards the flavoursome concoction, that's found in Bhati Tea Stall. This tiny tea stall is always brimming with a crowd at all times of the day.
The streets are full of the warm fragrance of cardamom, tea leaves, and jaggery. As the tea maker juggles the creamy brown liquid forming a sheet of brown, it forms a visual treat to the eyes as much as it does to the nose and taste buds.
Tea is an intrinsic part of life in India and in Jodhpur's blue lanes, you'll come across a cosy tea stall in every few metres.
Mehrangargh Fort
Can a list of places of interest in Jodhpur ever be complete without this magnificent citadel? The fort, even from afar, exudes elegance and grandeur. Standing atop a hill guarding the city, this is one of the largest forts in India and one of the best places to visit in Jodhpur.
Exploring its interiors is a swell experience. The walls echo the sweet music of Rajasthani folk songs performed by talented local artists.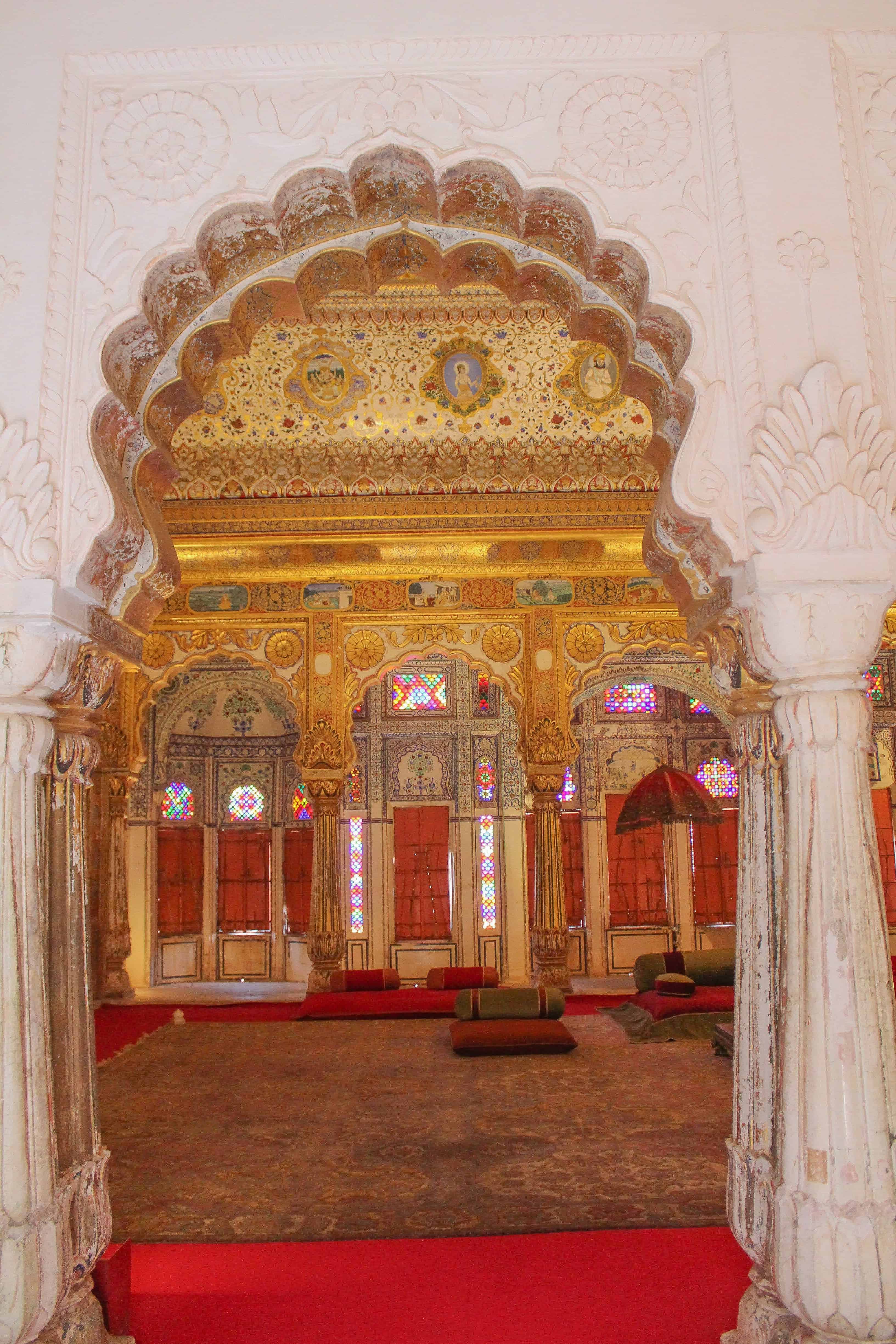 A day can fall short to fully explore this fort. With several museums and shops housed inside, the palace of the mirror or Sheesh Mahal is the most popular attraction.
For a bird's eye view of the sweeping Blue City Jodhpur head to the top.
You can either take an elevator or walk-up. It's a long walk upward. But I can guarantee that you'll be so engrossed in drinking in the view below, and inspecting the elaborate doors and hallways that the inclination will go unnoticed.
The fort has museums with an impressive collection of royal souvenirs. From pastel-coloured fragile cups to iron-clad armours and swords.
Timing: 9 AM to 5 PM
Jaswant Thada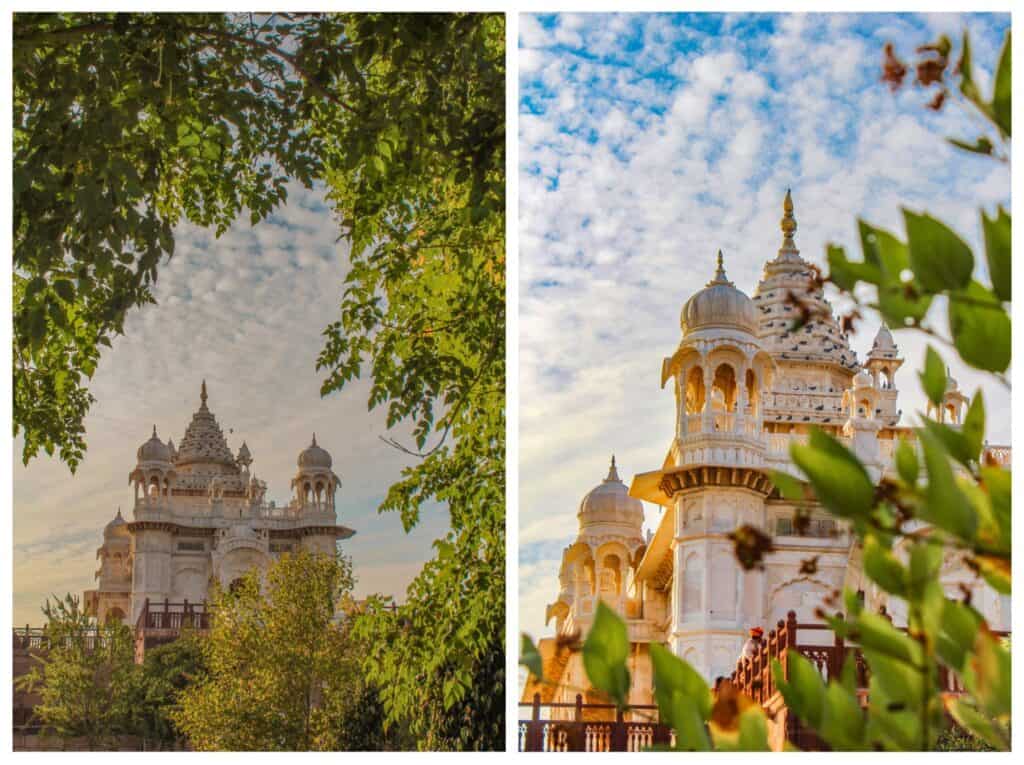 An ivory-coloured marble structure located just a stone's throw away from Mehrangarh Fort, Jaswant Thada is one of the top places of interest in Jodhpur. This is Maharaja Jaswant Singh's Memorial. A vision in white, it is one of the often-overlooked places to visit in Jodhpur, deserving of at least an hour's worth of time.
The front yard offers perfect views of the Mehrangarh Fort and the garden behind has sprawling views of the surrounding Rao Jodha Park. Situated away from the bustling town with gorgeous views of the city below, it's a calm and tranquil place to spend some time in.
Timing: 8 AM to 5 PM
Statue of Rao Jodha
The grand statue of Rao Jodha is deserving of a visit, especially for photographers. It stands tall and proud against the backdrop of the magnificent Mehrangarh Fort and makes for a great subject of photography during the sunset.
Rao Jodha National Park
A rugged hilly terrain close to Jaswant Thada, Rao Jodha Desert Park is a unique spot with several walking trails ideal for short hikes. Reproducing the desert environment, the aim of the park is to preserve the local plant species. This is relatively one of the lesser-known places of interest in Jodhpur and if you're lucky, you might spot unique species of birds too.
Timings: 8 AM to 6 PM (winters), 7 AM to 7PM (summers)
Umaid Bhavan Palace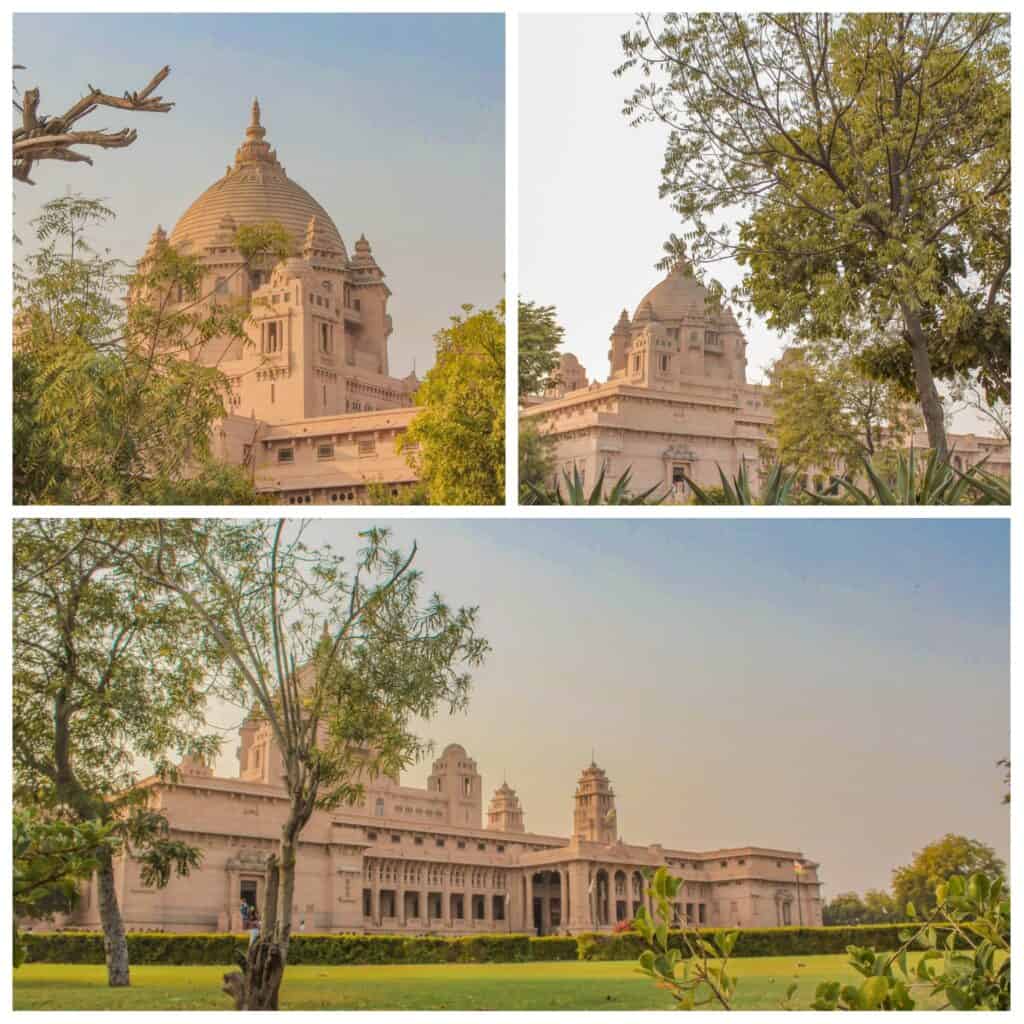 The resident palace of Maharaj Gaj Singh and his family, Umaid Bhavan Palace is a top place to visit in Jodhpur. A section of the palace is open to tourists which houses a museum with a great collection of art and royal portraits.
There's also a collection of quirky and colourful vintage cars ranging from Rolls Royce to a Morris Minor out in the front yard. This is definitely one of the top places of interest in Jodhpur.
Timings: 10 AM to 4.30 PM
Mandore Gardens
Situated a little distance away from the city, this was the old capital of Mewar. It's now home to beautiful cenotaphs of deep red sandstones; resting places of previous rulers.
The Chhatri of Maharaja Dhiraj Ajit Singh is a perfect mixture of Buddhist and Jain architecture. It has several ruins of temples and is a paradise for photographers.
Timings: 4 AM to 10 PM
Ghanta Ghar
Standing in the middle of the busy Sardar Market, this tall and imposing structure is best viewed at night when it gets covered in several neon colours.
Built by Maharaja Sardar Singh, it overlooks the Jodhpur city. It's one of the important places of interest in Jodhpur, with the surrounding markets filled with colourful shops selling garments of block prints, handmade pottery, shoes, and spices.
Old City's Shops and Rustic Cafes
The old city of Jodhpur is like a beautiful old woman holding with her stories of the past, looking at us with eyes full of love and hopes of the future.
It seems as if her hopes have materialized as most of these architectural marvels have been preserved and converted into rustic and artistic cafes and shops.
You can spot tourists in bright coloured apparel in perfect contrast to this Indigo walls roaming around the city, taking in the stories hidden in the lanes.
Toorji ka Jhalra
A beautiful and intricate stepwell, as old as time itself. It's a great place to visit on a calm morning.
Almost a thousand or so steps lead down to the blue water below. Surrounded by antique shops and art galleries, it's one of the top places to visit in Jodhpur.
Kalyan Lake
Among the most frequented lakes in Rajasthan, Kalyan Lake is a perfect place for bird watching, especially during winters and is a stunning sunset spot. It was a royals' hunting ground and the surrounding area was home to wildlife like Wild Boar and other animals. Today, it's a popular picnic spot where you can take a stroll on the green lawns or indulge in boating activities.
Timings: Sunrise to sunset
How Many Days do you Need in Jodhpur?
Ideally, two days are more than enough to cover all the places in and around Jodhpur. If you're into street photography, you could perhaps add a day more to just explore the lanes of the old city. Chandpole suburb is a great area to find lots of blue coloured houses.
How to Reach Jodhpur?
Rajasthan has well-connected roadways making it easy to travel from one city to another. There are trains and buses from major cities like Delhi, Mumbai, Ahmedabad etc. It's also very well connected with the cities within Rajasthan with frequent buses from Pushkar, Jaisalmer, Udaipur and Jaipur.
Where to Stay in Jodhpur?
I stayed at Zostel Jodhpur and it turned out to be a great choice. The part I loved most about the hostel was its close proximity to Toojri ka Jhlara and other shops and cafes. The in house restaurant has great food and overlooks the Mehrangarh Fort.
There are several other budget homestays and hostels in the vicinity and you can browse for them here.
Where to Eat in Jodhpur?
You'll never run of choices to eat in Jodhpur. From cafés to local eateries serving delectable Rajasthani cuisines, Jodhpur has a variety of choices to serve your taste buds.
Known for its rooftop cafes overlooking the Mehrangarh Fort, Jodhpur's culinary trail is one for the bucket list. The cafes are especially beautiful during the night. These interesting cafes hiding in the pleats of the fort's walls are a few of the top places of interest in Jodhpur.
Few best cafes of Jodhpur
Sams Art Cafe
This is an art gallery cum coffee shop. An ancient room full of lyrics of the past. The smell of freshly brewed coffee mixing perfectly with the Aroma of history. A place that's laden with memories and stories of the past stored in its metal figurines and paintings.
Shankar Choti Haveli
This is an old building that has come to life right in the middle of the market. With a gorgeous soothing ambience, it is filled with Indian ethnic design. It has both indoor and outdoor seating and offers a wide variety of cuisines.
Open House Café
Located near the stepwell, this rooftop café offers great views of the Mehrangarh Fort. The white and blue interiors of the café add a soothing feel to the ambience.
Few other places are Stepwell Café, a delight among both travellers and locals, Bhawani for Rajasthani cuisine, and the various stalls around the clock tower.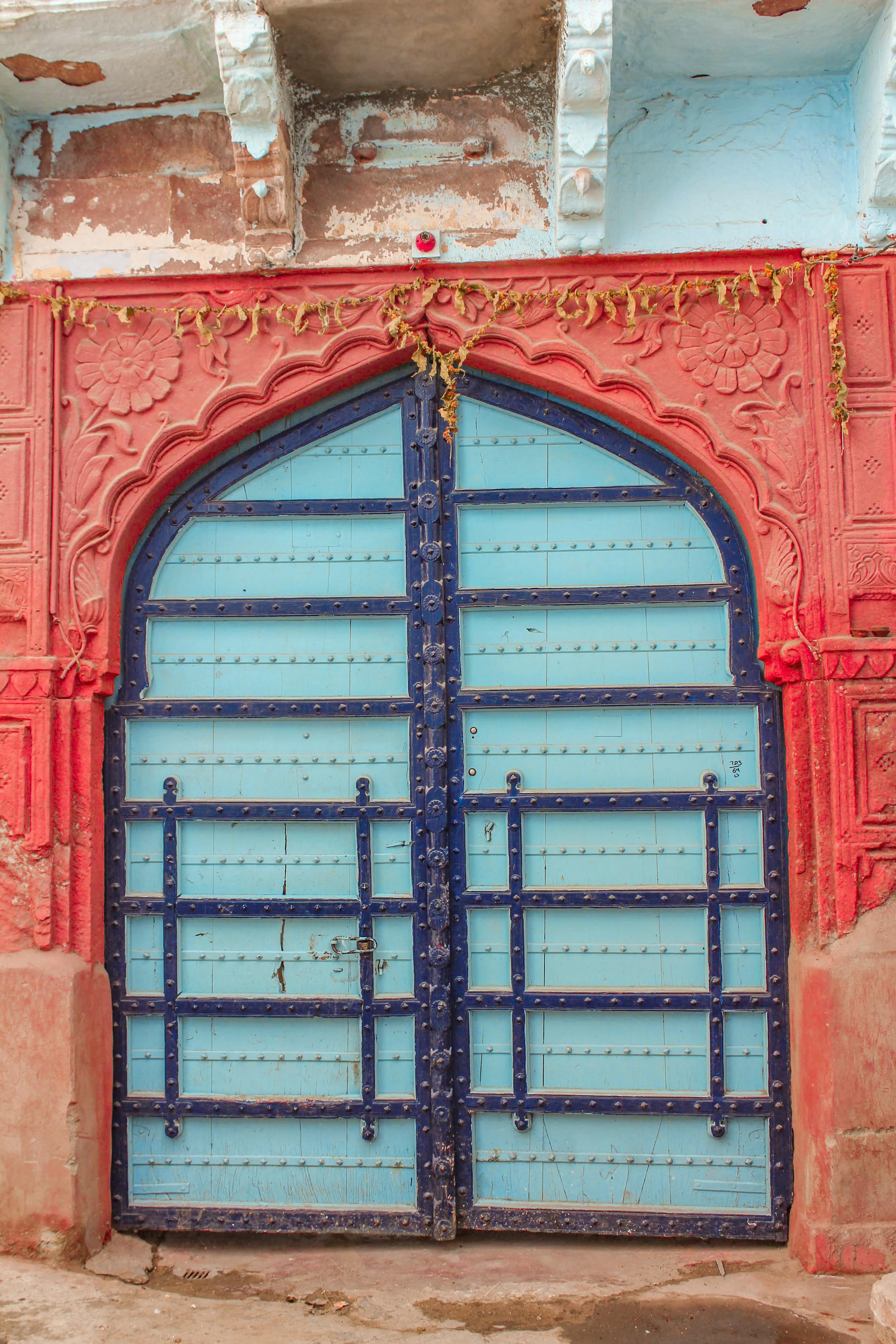 That's about it on the places of interest in Jodhpur. Have you been to this blue city? Let me know about your experience below!