This travel guide contains information about some of the best places to visit in Udaipur. Travel is of course all about discovering new and exciting places for yourself. But the aim of this article is just to provide some suggestions from my personal experiences which could help you in planning your own trip to Udaipur.
Udaipur is as dreamy and enchanting as it's often portrayed in movies and photographs. The old-world exuberance harmoniously exists with a tinge of modern European essence of rooftop cafes and lakeside retreats. There are many best places to visit in Udaipur, with several popular 'Instagram-worthy' spots. But its true authentic beauty lies in its numerous colorful alleys and hidden corners.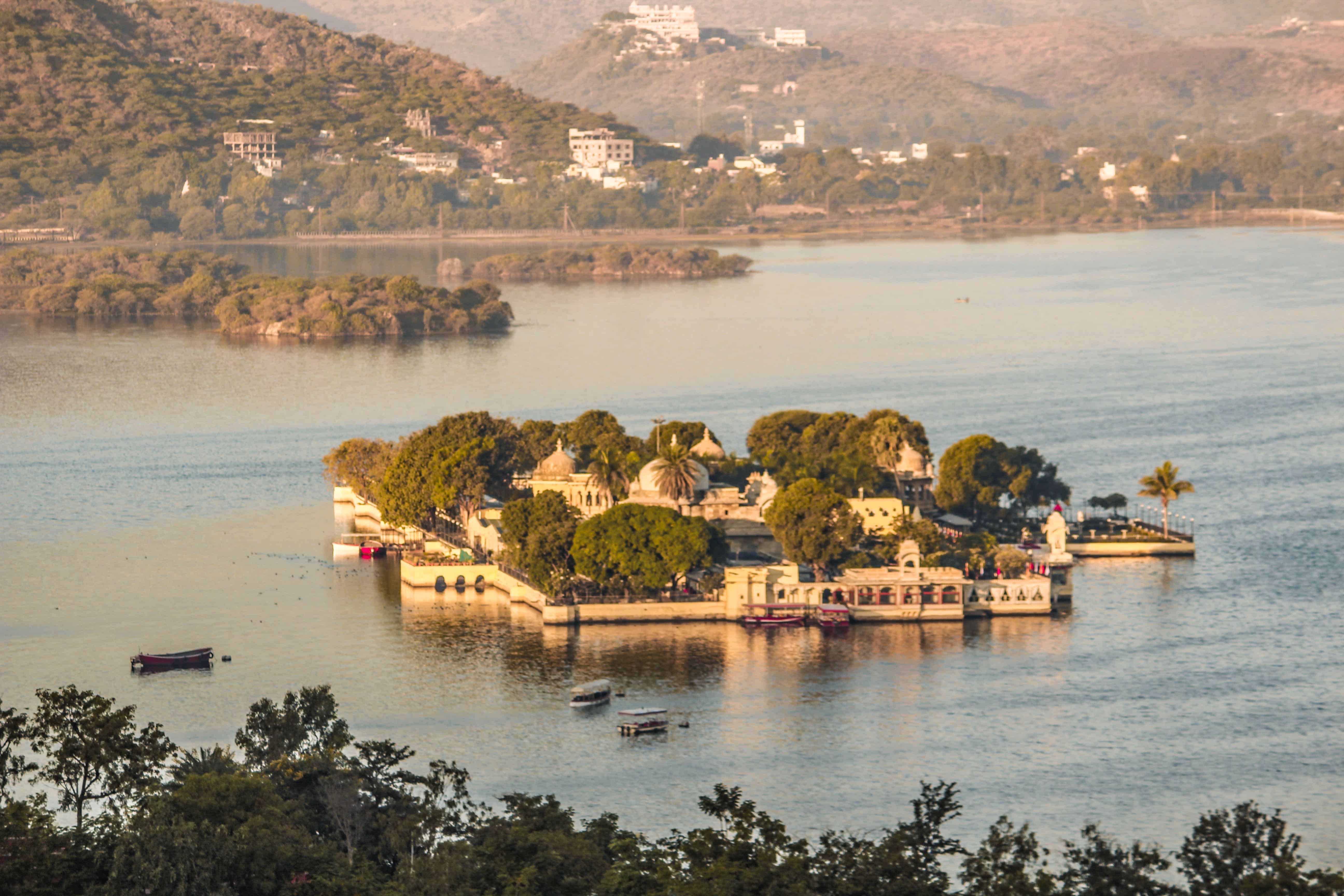 Best Places to Visit in Udaipur- Ultimate Travel Guide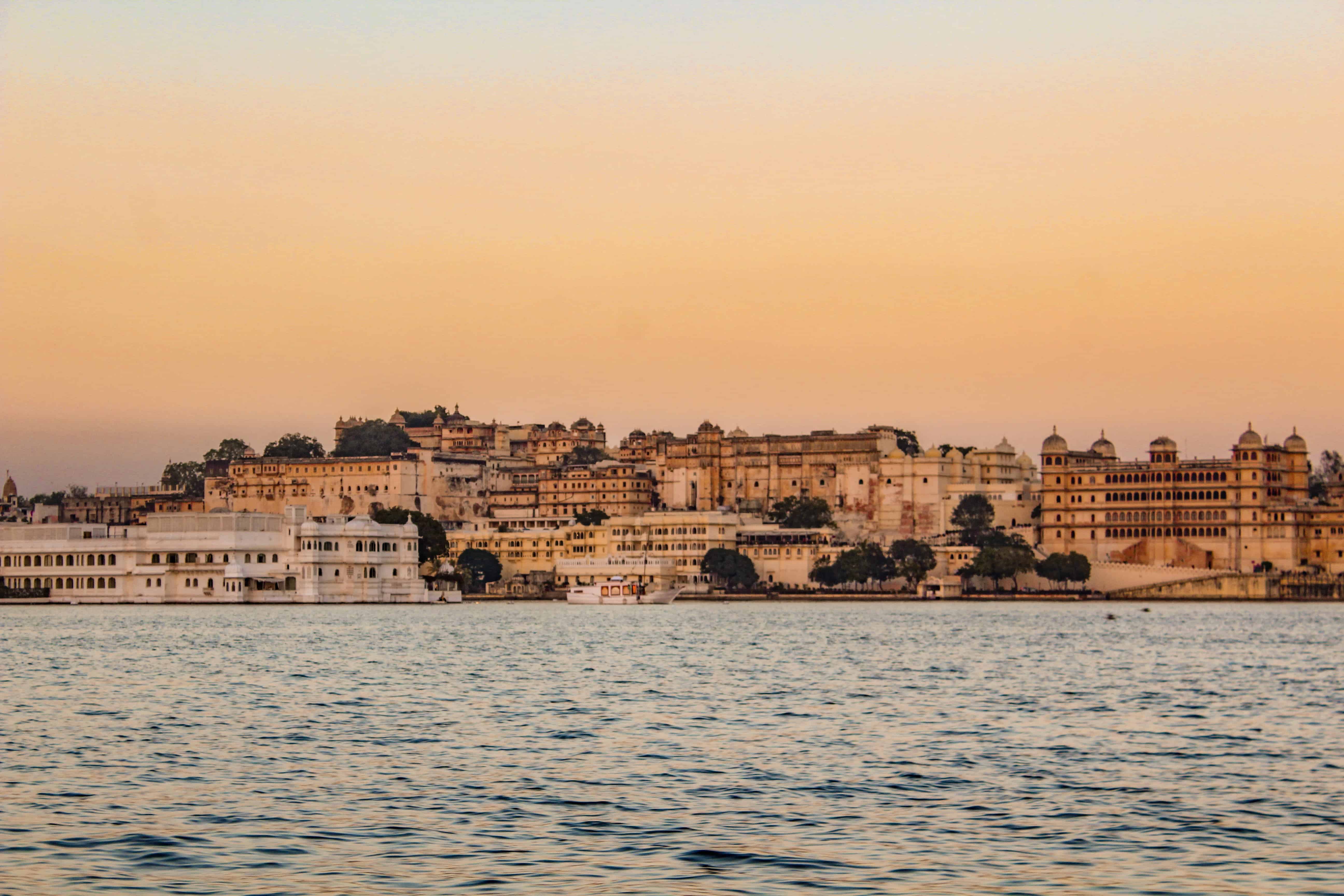 Udaipur is one of the most underrated and picturesque cities in Rajasthan, which often gets overruled by its more popular cousins like Jaipur and Jodhpur. It's always said that a place that has water bodies, emanates an unusual kind of charm. And Udaipur with its numerous lakes is no different.
There is water everywhere! Almost around every bend. So much so that you begin to wonder if the city is just a collection of huge island masses floating on the water!
Also read: 18 Incredible Places to visit in Jaipur-Complete itinerary
How to Reach Udaipur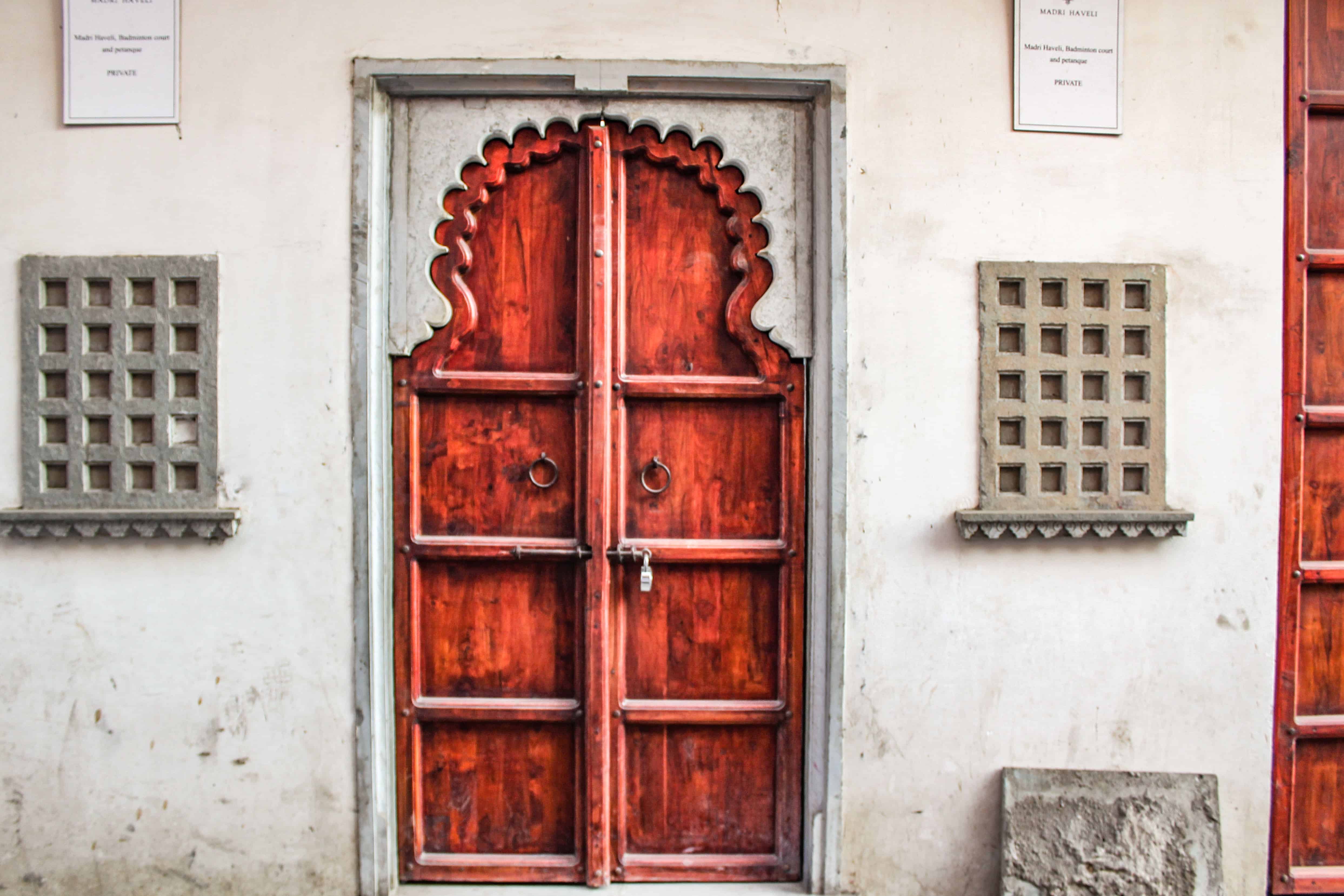 Air
Udaipur's Maharana Pratap Airport is 22km from the city center and it has connectivity to major cities in India like Delhi, Jaipur, Ahmedabad, etc. You can easily find taxis and autos to reach Udaipur city.
Train
You can reach Udaipur by train from most of the Indian cities like Delhi, Ahmedabad, Mumbai, Jaipur, Ajmer, etc and this is the mode of transportation adopted by most travelers.
Several passenger trains run on a daily basis, connecting Udaipur to other cities in Rajasthan. From the railway station, you can hire cabs or autos to reach your hostel/hotel. Udaipur city is around 3-4km from the station.
Road
There are regular buses available to Udaipur city from major cities like Delhi, Jaipur, Mumbai. Udaipur is just an overnight-journey away from most of these cities, which makes it a perfect weekend destination.
You'll also get to choose from a variety of options, from local buses to luxury ones, depending on your budget. The Rajasthan State Road Transport Corporation has established connectivity to most of the cities within India.
Best Things to do in Udaipur for a Memorable Experience
Udaipur is an enthralling destination and there are endless things to do in this beautiful city! Before diving into the list of best places to visit in Udaipur, here's a list of things I'd personally recommend doing. For an unforgettable and joyful experience in this city of lakes.
It's a no-brainer that one of the top things to do in the city of lakes is to visit the lakes of course! Take a stroll around Lake Pichola or Fateh Sagar Lake during the night or late evening. And absorb the peaceful vibes of this enchanting White City.
Watch as many sunsets as possible in this city of lakes. Watching Udaipur's surreal lakes turn liquid gold during the golden hour of sunset is one of the best ways to enjoy the beauty of this city.
Gorge on the famous Udaipur kachoris and other assortments of sweets, snacks, and street food while you drink in the vibe of this enchanting city. It's an experience like no other.
If you're an art freak or have an eye for art, you'll find Udaipur to be nothing short of heaven! Watch out for the numerous quirky art shops lurking in the hidden lanes and by-lanes of Udaipur.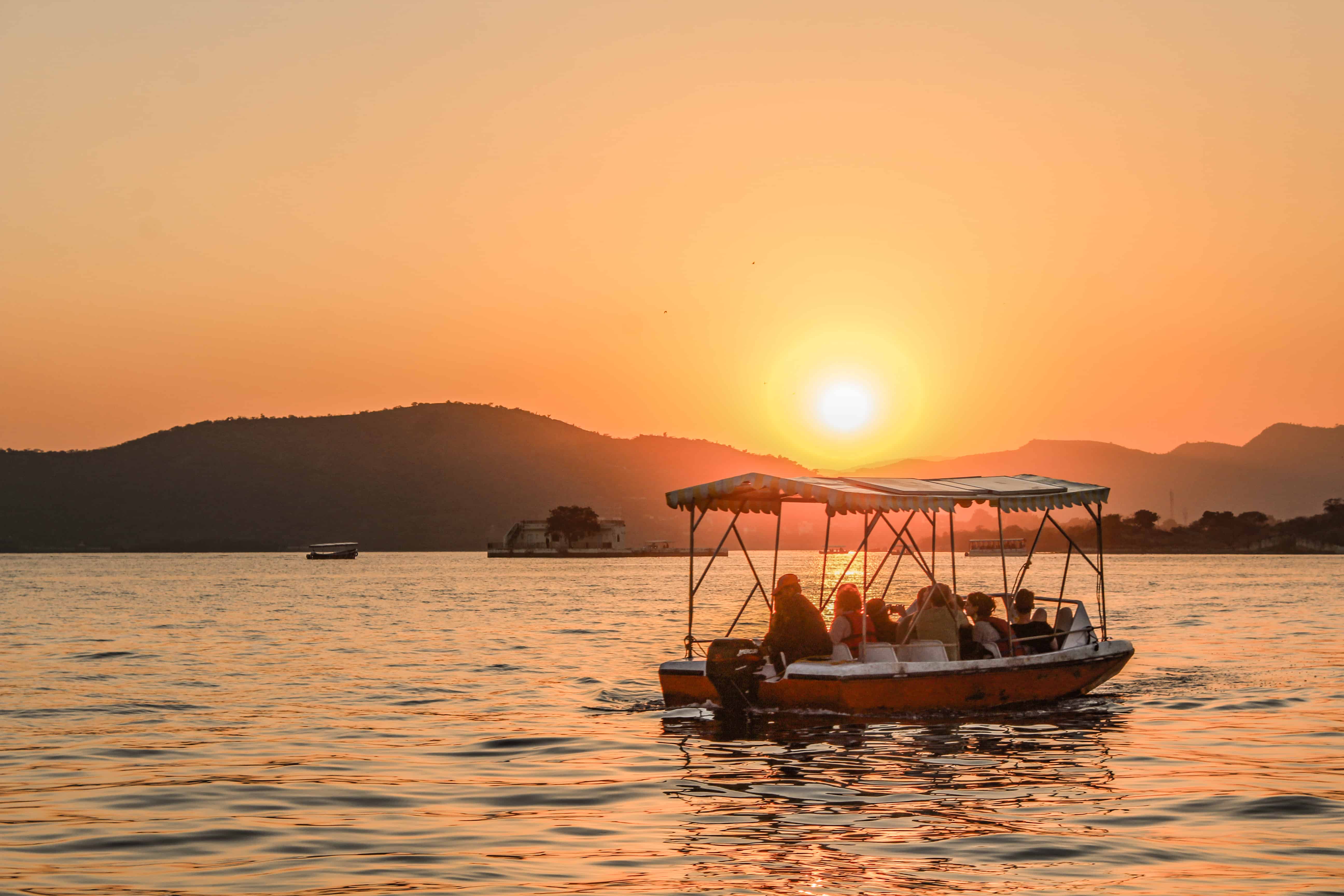 Lakes, cafes and delicious food
Go café hopping or art-shop-hopping from one colorful lane to another. Though the two activities are not really mutually exclusive! Since Udaipur's exhaustive collection of quirky cafes are ladled with funky artsy souvenirs and artifacts.
Walk along the marble lanes of the old town, adjoining the Lake Pichola. It's littered with shops full of rainbow-colored garments fluttering in the breeze, glittering funky jewels, and traditional turbans. Even if you're not into shopping, just the sight of all the different colors will lift your heart!
Go for a boat ride in one of the numerous lakes. You can't visit Udaipur and not go for a boat ride! It's among the most clichéd things to do in Udaipur, but it's clichéd for a reason! The activity is best experienced either during sunrise or sunset when the water catches fire!
Grab a spot in one of the rooftop cafes overlooking the lakes. Gorging on delicious food while watching the city lights shimmering on the lake is an experience that is nothing short of spectacular!
Hunt for a secluded Ghat and spend some time in silence observing the water, the city, and its people. Especially visit Ambrai Ghat at night!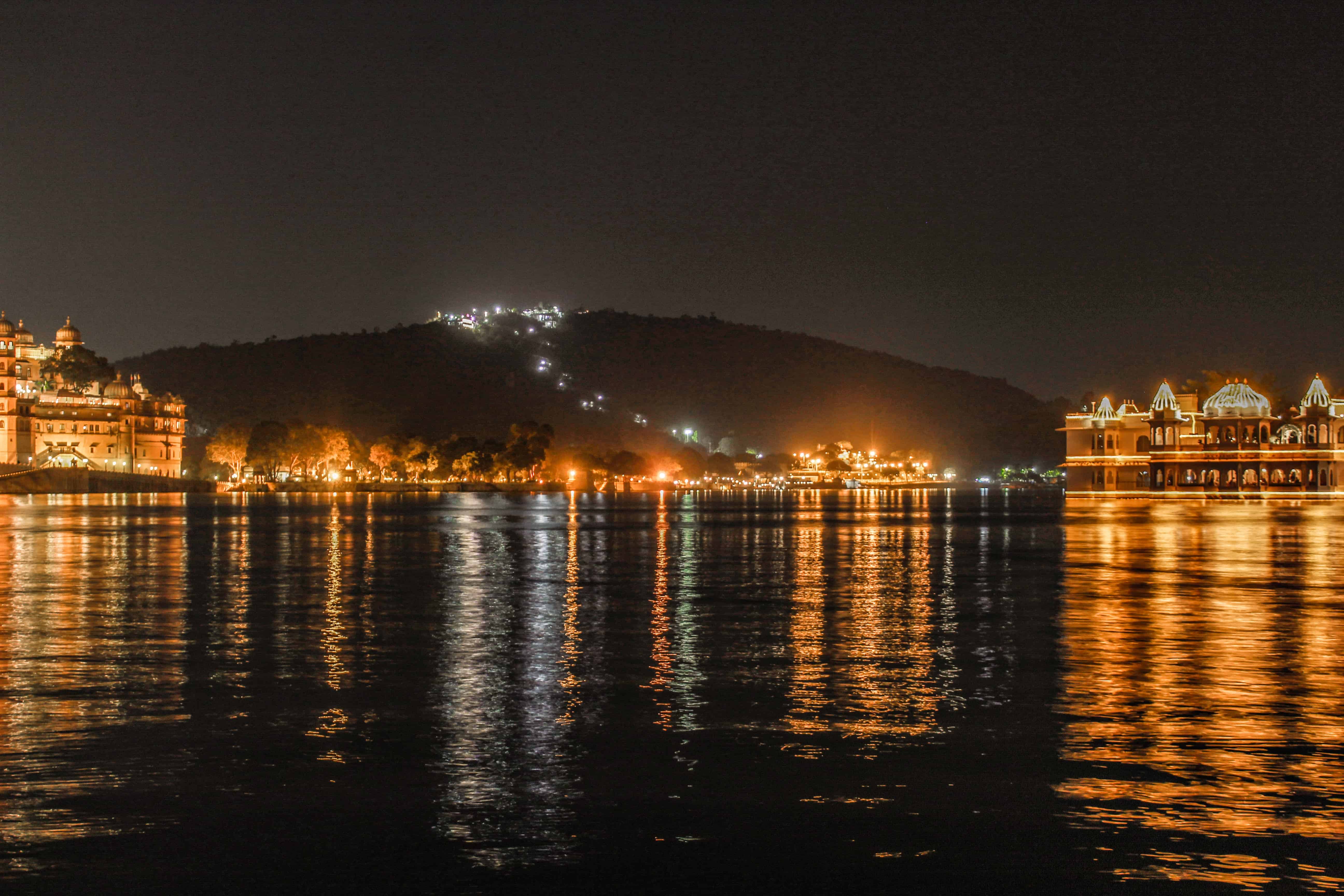 Getting Around in Udaipur
Most of the popular places are within walking distance from the old city center. You can also hire cabs and taxis which are aplenty throughout the city. Autos are one of the cheapest and affordable modes of transport. There are reliable Uber and Ola services throughout the city and this is the best way to explore Udaipur haggle-free.
Fun fact: I mostly explored the city through Ola Bike. It's a taxi service, but on a bike and it's insanely cheap and reliable. Sometimes as less as 25INR for places as far as 5km.
There are also several places where you can rent four or two wheelers for a self-drive trip.
How Many Days are Enough in Udaipur?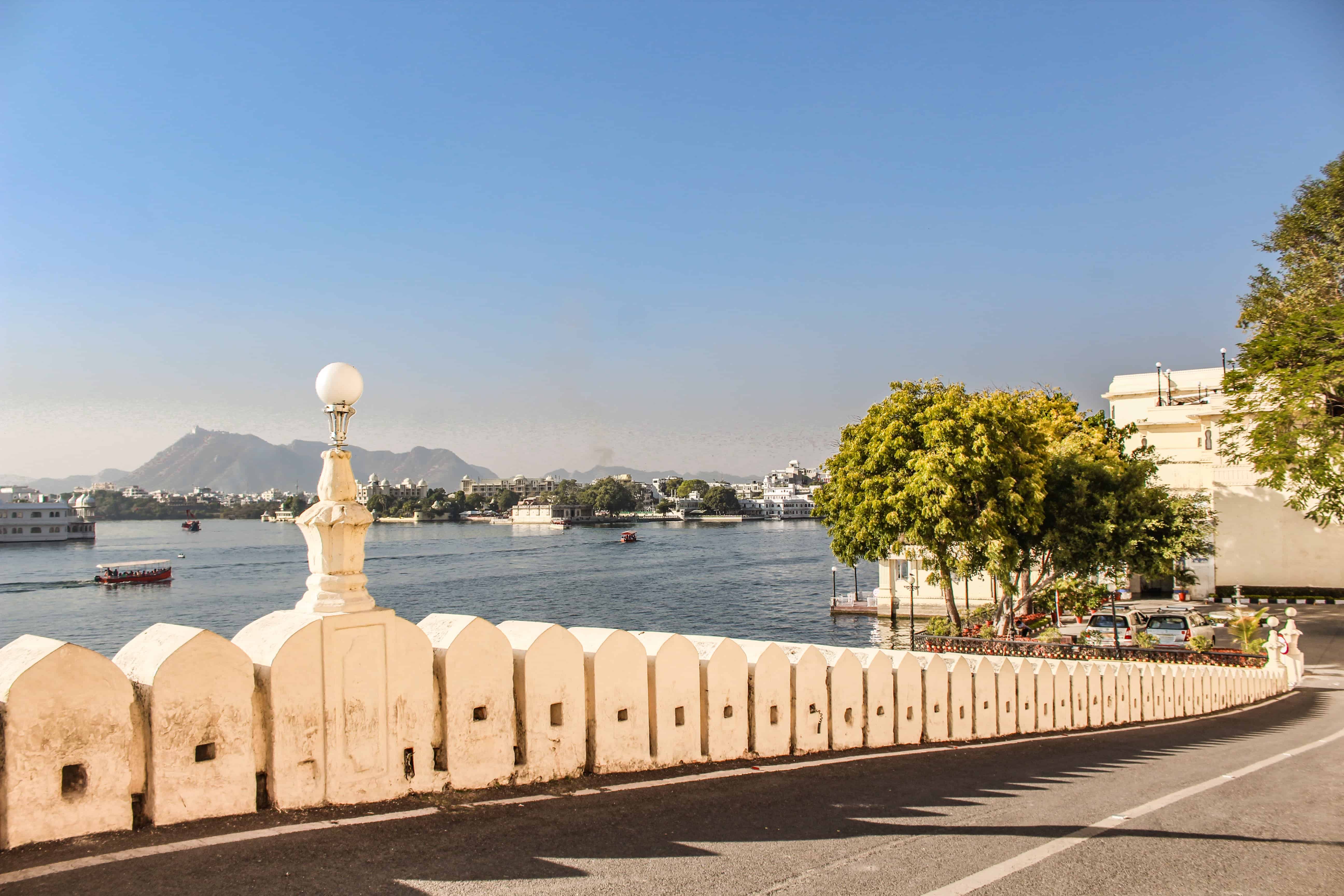 Most of the best places to visit in Udaipur are nearby. Making it easy to explore and a perfect destination for a quick getaway. If you're short on time, 2 days are sufficient to explore the city's main attractions.
And few of the beautiful locations are situated outside the city. It doesn't matter if you're someone who likes to take things slow. Or a traveler who likes to quickly tick off bucket list destinations. Udaipur has something to offer for every kind of traveler.
Here's a list of some of the best places to visit in Udaipur. Along with some little tips, to make the most of your visit irrespective of the duration of stay.
Places to Stay in Udaipur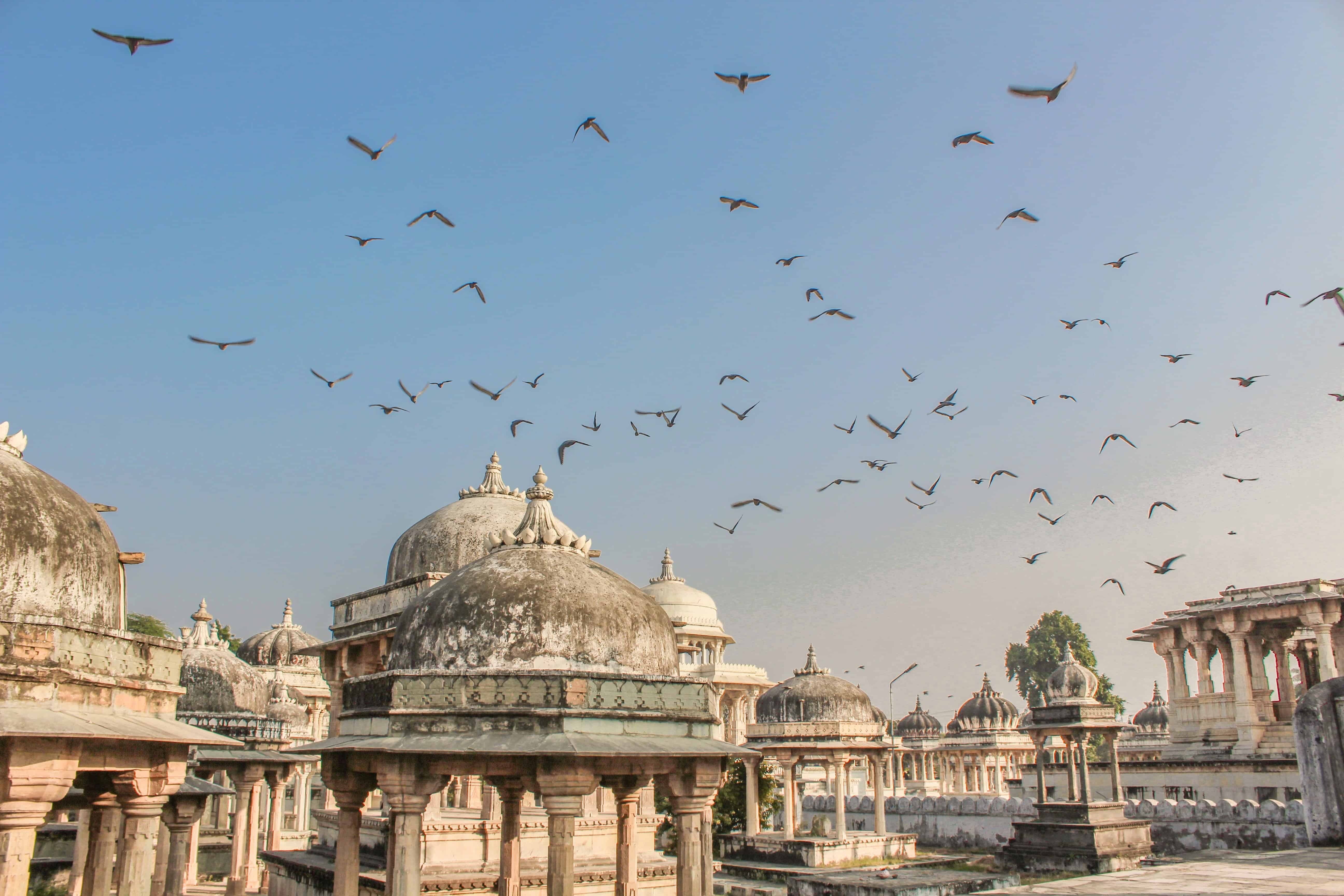 There's certainly no dearth of accommodation in Udaipur. From rustic, cheap yet quality hostels to royal resorts, Udaipur has accommodation catering to every kind of traveler.
By choosing a central location, you'll be able to experience the true essence of the local culture. The vibrant life and the calm amidst the chaos. And where the nonexistent traffic signals are often replaced by cows standing in all of their calm authority.
However, for the best experience, it's recommended to find a place overlooking Lake Pichola and also located centrally.
I'd recommend Hostel Mantra. Located in one of the colorful by lanes and just a few meters away from Lal Ghat, this hostel has amazing vibes and wonderful hosts. The dorm rooms are affordable, beautiful, and vibrant. The fact that it's a palace converted into a hostel, should be enough to give you an idea of its beauty.
Udaipur can be a low budget destination or a luxury destination, and it all depends on your preference. If you're a budget traveler, it's possible to find reasonable and affordable accommodation for as low as $4 or INR 300 per night. Or sometimes even less if you happen to visit during the offseason.
Zostel Udaipur, Moustache, GoStops are some of the other hostels in Udaipur.
Best Time to Visit Udaipur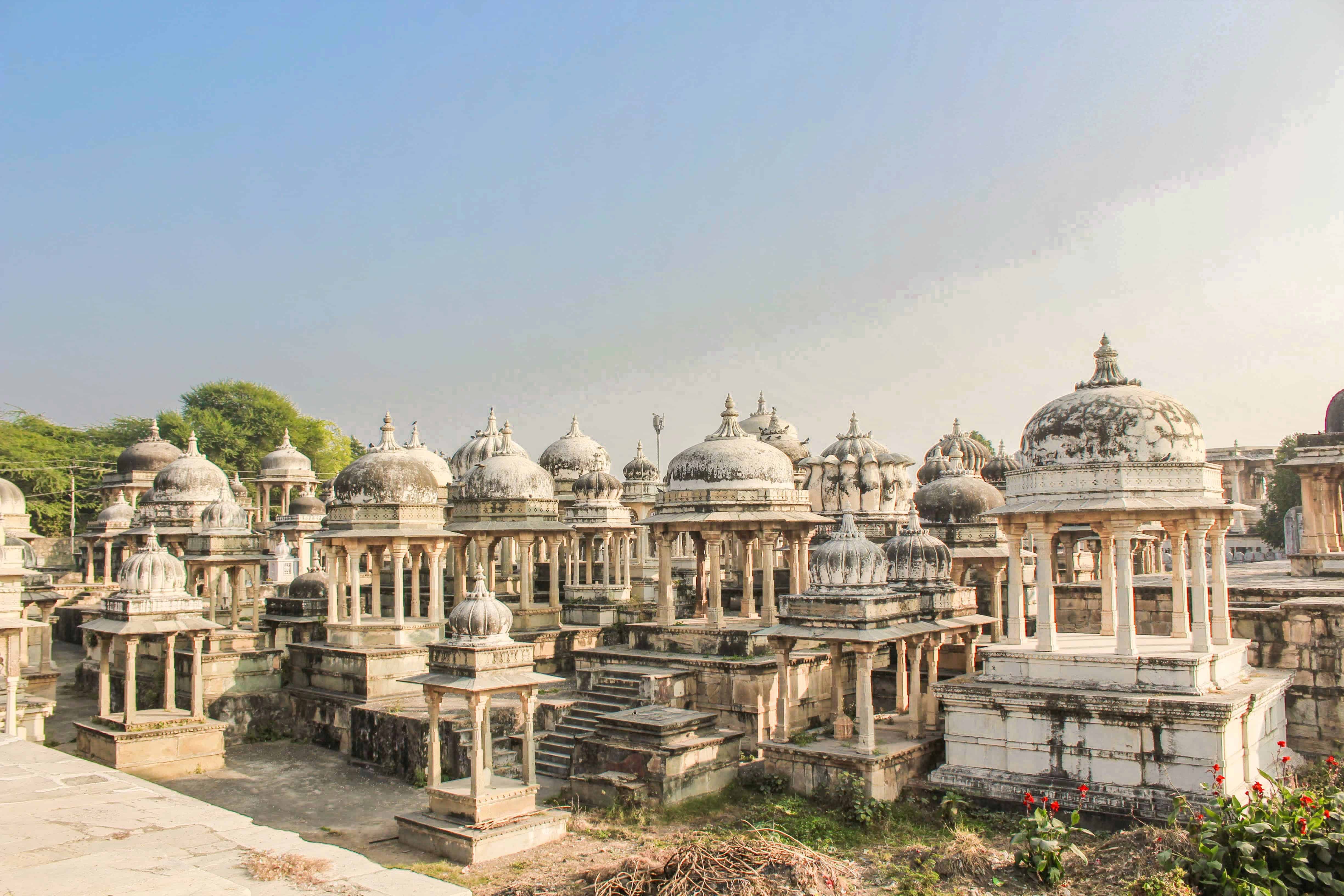 Udaipur sparkles differently in different seasons. Monsoon months from July to September are considered to be the offseason in Udaipur although it receives little rainfall. But the city radiates a different charm during this time with the lakes filled to the brim and air nipped with monsoon freshness!
If you're looking for a cool and pleasant climate to explore, winter would be a perfect time. November to February are the winter months in Udaipur.
Summer comes with its share of inconveniences like the scorching sun and unbearable heat, but this is the perfect time for photographers as you'd be able to capture great shots of sunsets and sunrises from every corner of this beautiful city. April to June is the summer season in Udaipur.
17 Best Places to visit in Udaipur
The best way to enjoy this city is to stroll along its colorful lanes soaking in the glorious architecture of the white marble structures, shimmering golden lakes, and gorgeous Ghats. Udaipur is a city brimming with an abundance of elegance and charm. No wonder it is popularly known as the Venice of the East.
Here's a list of 17 best places to visit in Udaipur
1) Lake Pichola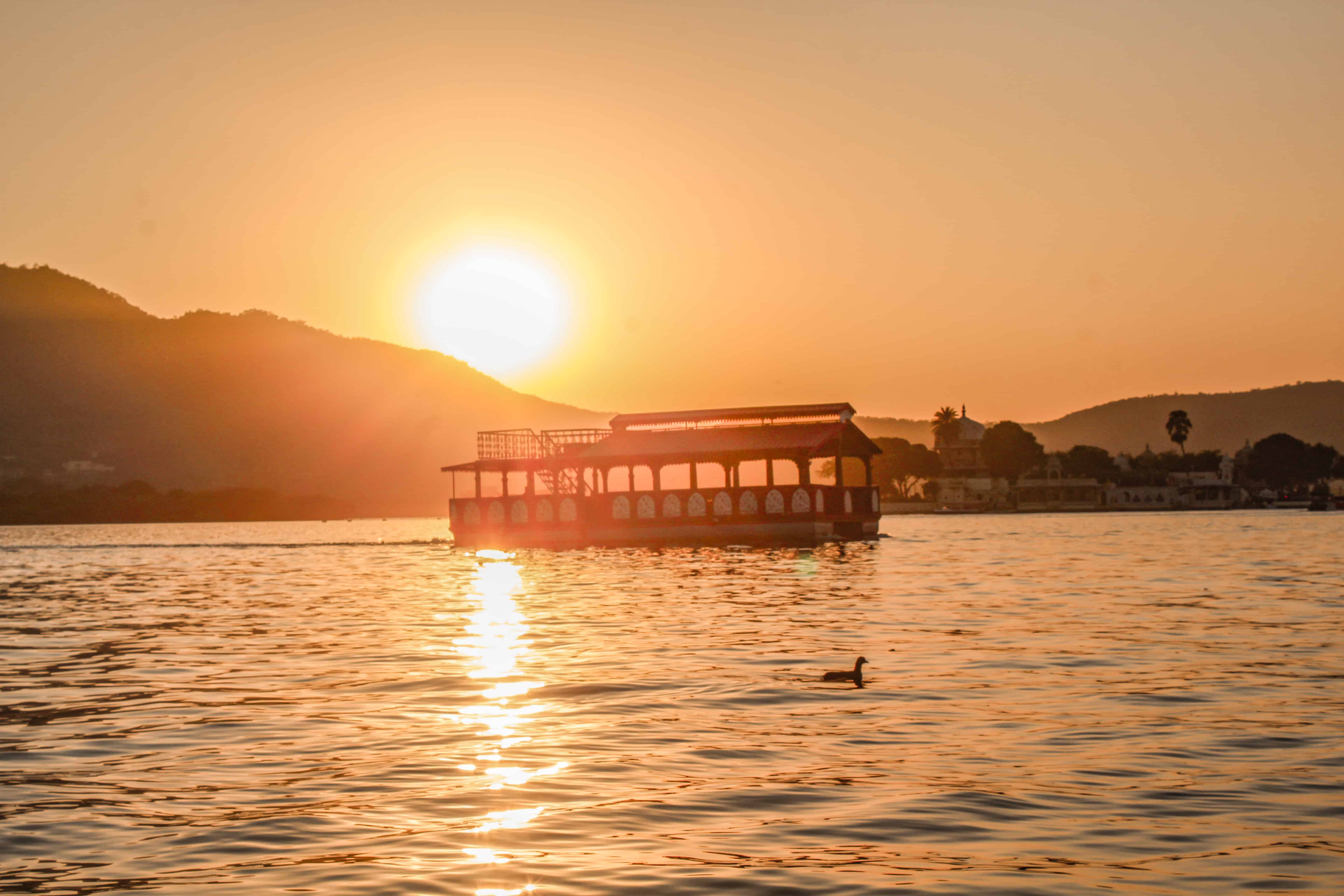 Undoubtedly one of the best places to visit in Udaipur, Lake Pichola is a haven for sunset and water lovers and is one of the most popular attractions of Udaipur, and for good reason.
Take a stroll along its banks, watch a sunset, go for a boat ride, or just spend some quality time on one of the ghats set along the lakeside.
2) Bagore Ki Haveli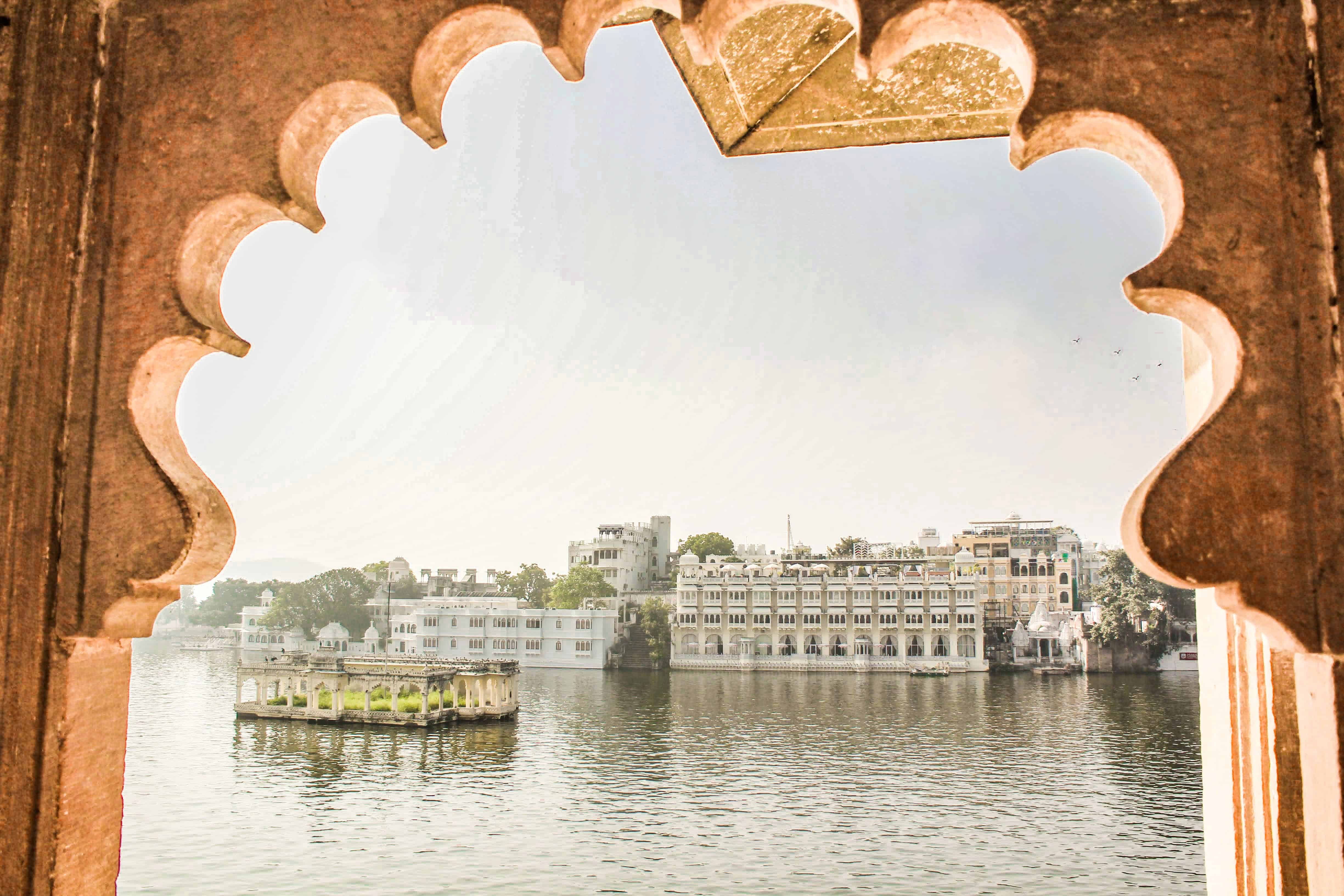 Havelis are an integral part of Rajasthani culture and a trip to Udaipur is incomplete without paying a visit to at least one of these beautiful Havelis. Bagore Ki Haveli, with its numerous balconies and terraces, offers great views of Lake Pichola and Gangour Ghat
This traditional mansion houses a museum and its cultural show, with traditional folk dance which is held every evening, is the highlight of the place. The Haveli lights up and glitters during the night shedding its glow around its vicinity.
3) Gangaur Ghat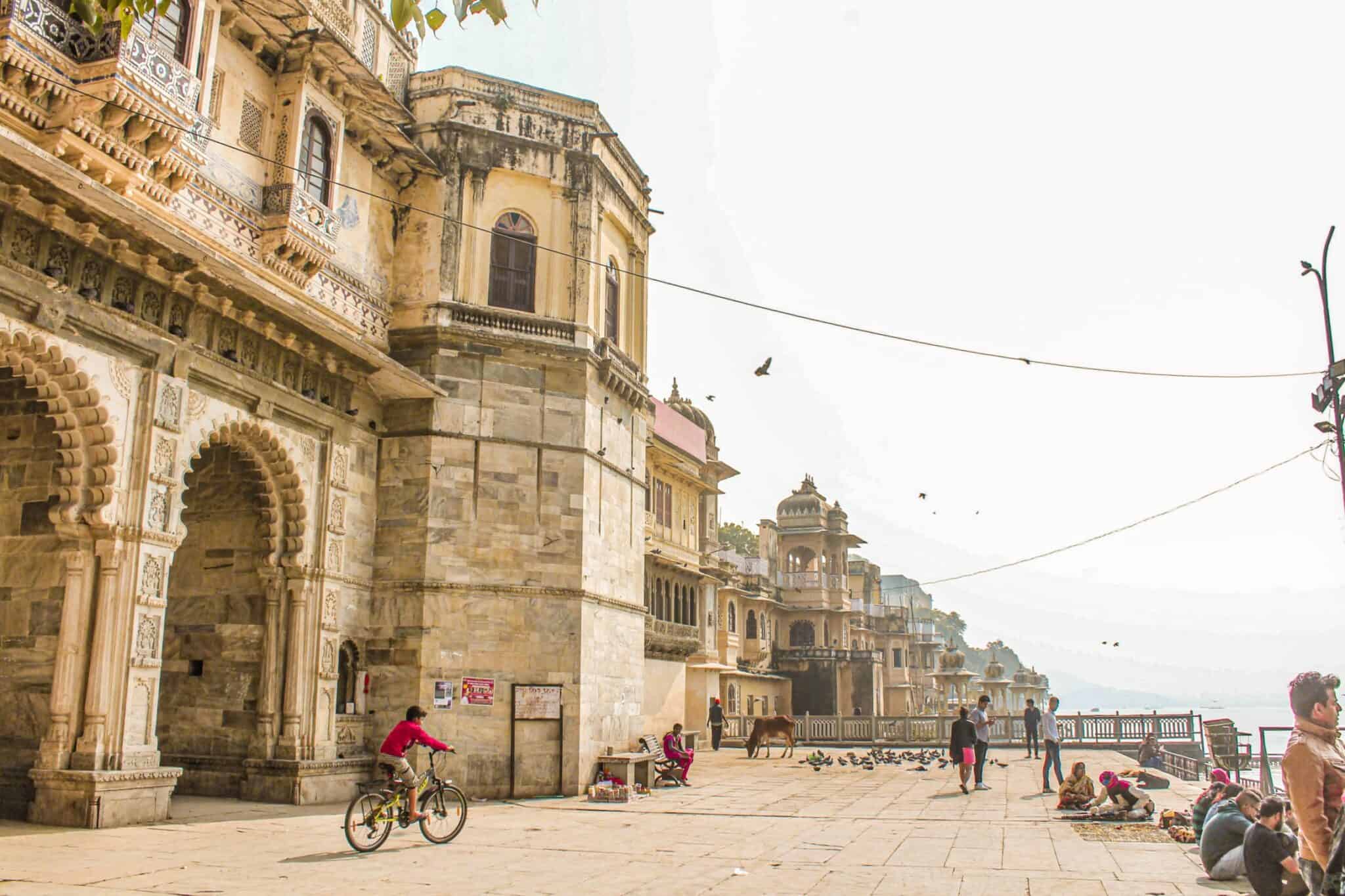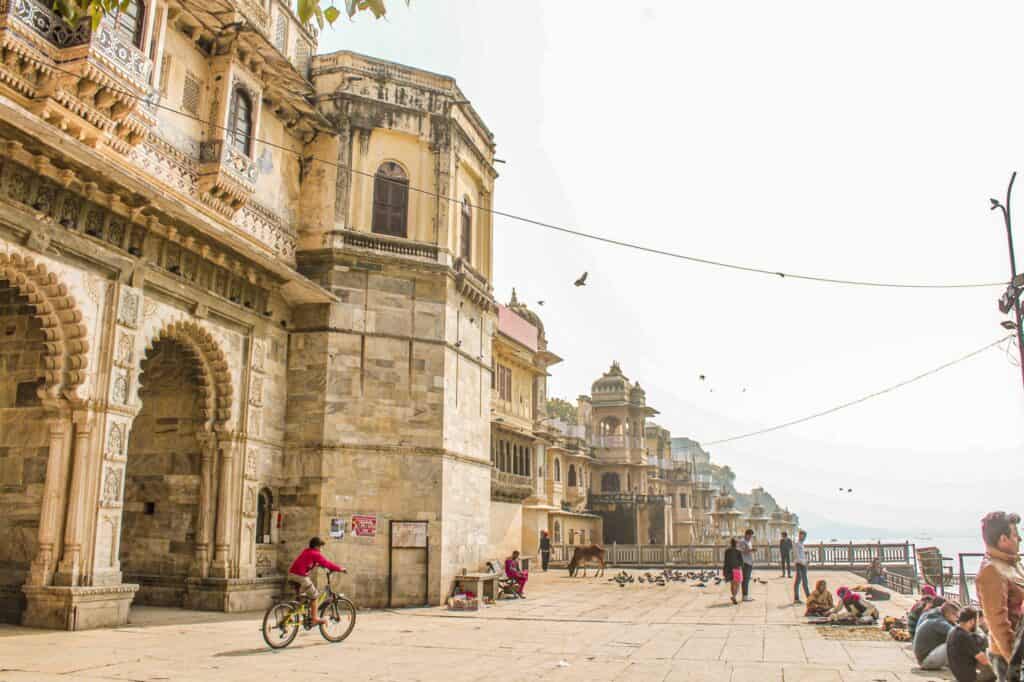 This is the main ghat situated alongside Lake Pichola near Jagdish Temple area and is a picturesque place to watch the golden sunset from.
Marble steps lead down to the lake. Come dawn, and you can find the place abuzz with locals doing their chores, yet there's the peace that comes with the early morning hours and the sunrise. This is one of the best places to visit in Udaipur in the early morning.
4) Ahar Cenotaphs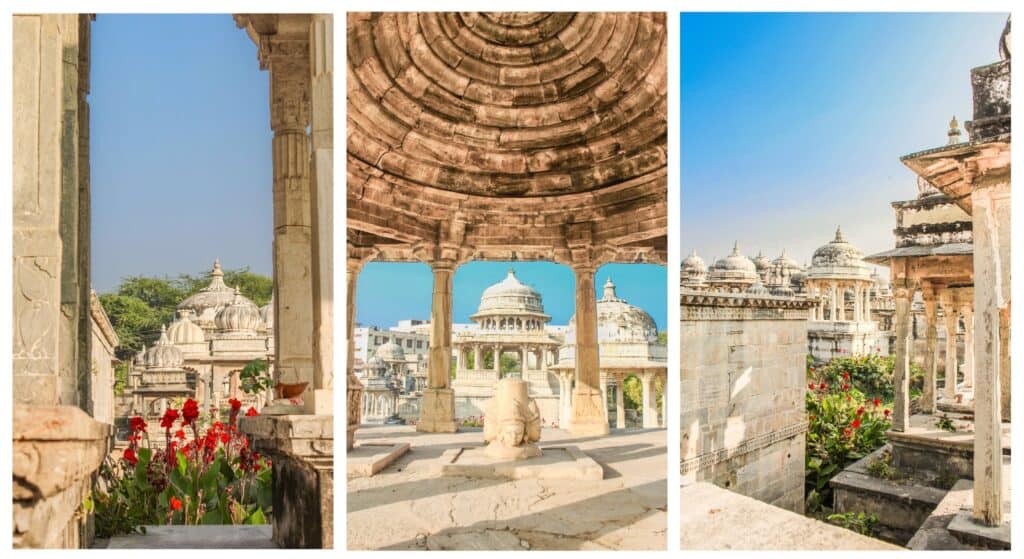 There are high chances that most people who've visited Udaipur, wouldn't even have heard the name of this place. In fact, some of the locals themselves weren't aware of it. The story behind how I managed to enter this place would probably make for a separate blog post, hence I shall save it for later.
One of my most favorite and certainly one of the best places to visit in Udaipur, these Royal Cenotaphs are in a state of dilapidation due to an absolute lack of awareness. However, the lack of tourists certainly makes them even more memorable and appealing. Make sure to drop by!
5) Maharana Pratap Smarak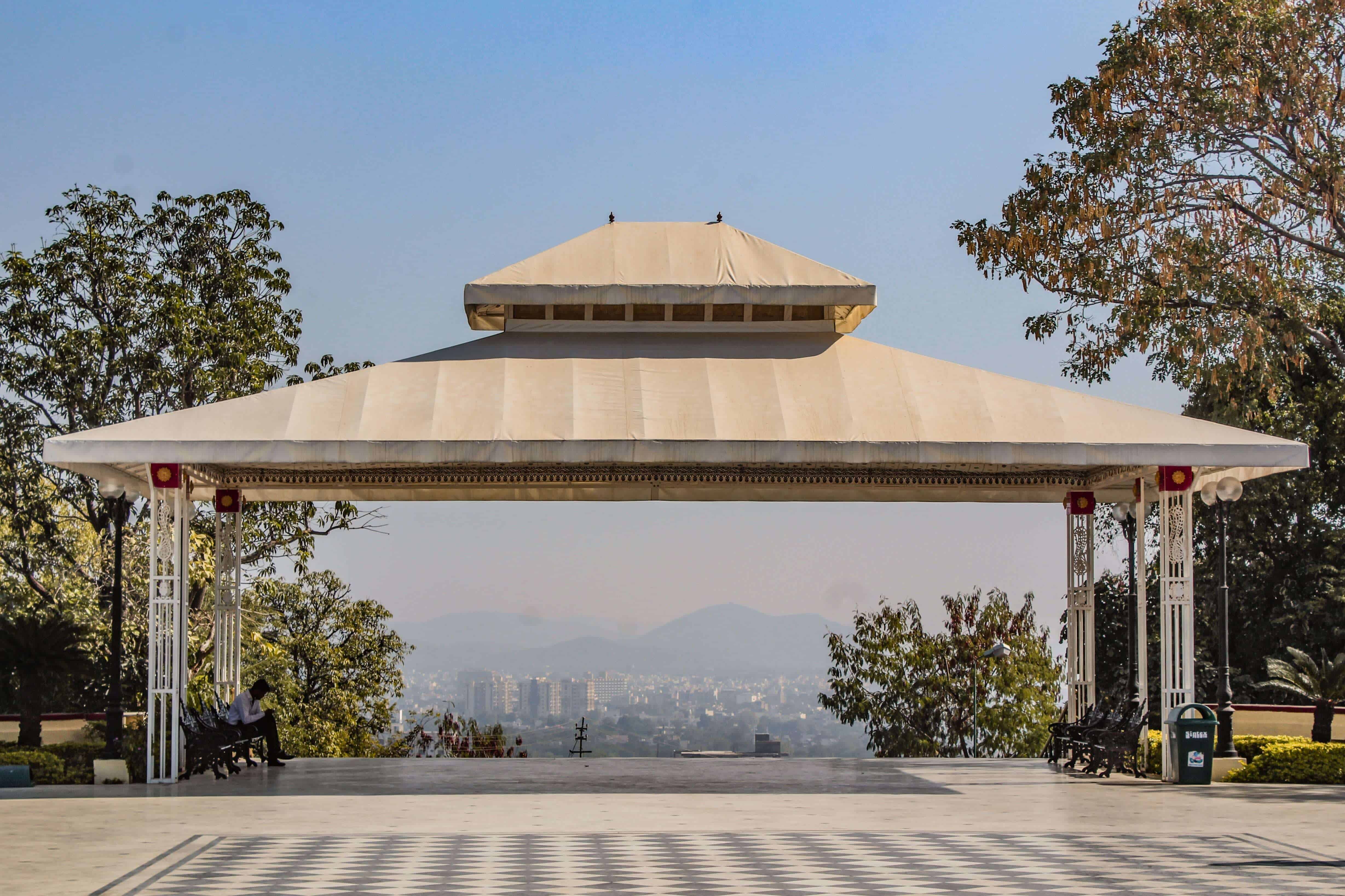 This is one of the underrated places to visit in Udaipur. The memorial built in honor of Maharana Pratap's courage and valor is an essential site of historical significance.
Located on top of Moti Margi or Pearl Hill, overlooking the Fateh Sagar Lake, it provides stunning panoramic views of the city. There's a life-sized bronze statue of Maharana Pratap as well as a museum built on the premises with paintings and ancient artifacts. Stunning and delicate glassworks form the interior of the museum.
6) The Taj Lake Palace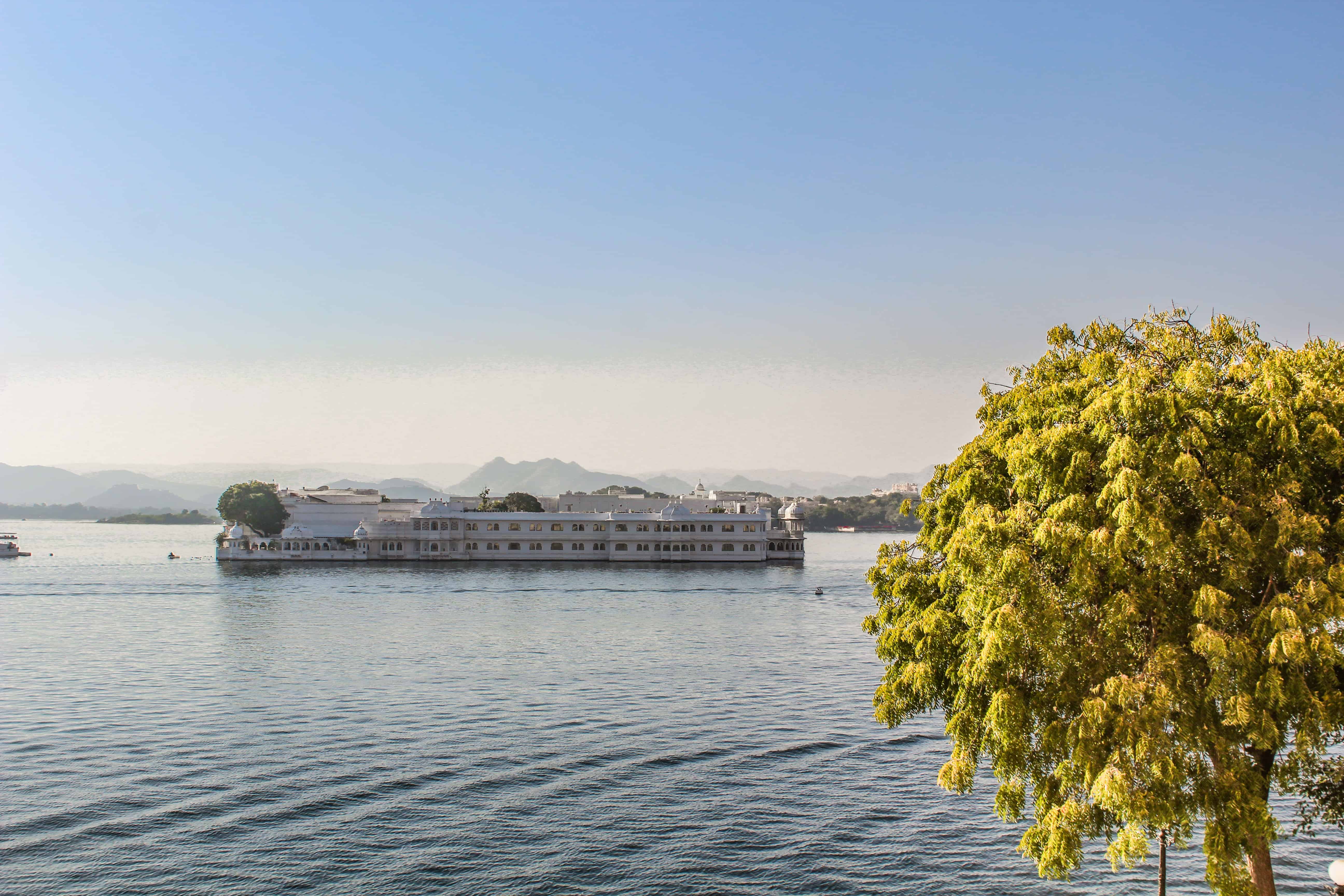 Previously known as the Jag Niwas, this palace sits right in the middle of the lake on the Jag Mandir Island and has become an important part of Udaipur's heritage and monuments.
It has now been taken over by the Taj group and is a popular luxury resort. You can take a boat ride to this place to enjoy the views and architecture.
7) Swaroop Sagar Bridge
One of the best times to enjoy the magical vibes of Udaipur is during the night when the city gets decorated with several colorful lights. With the lakes reflecting these orange and yellow glows everywhere, it transforms into a spectacular sight!
Udaipur is adorned with a number of ornamental arch bridges at various locations with makes for perfect vantage points to enjoy the city during the night.
8) Ambrai Ghat
My most favorite spot in the whole of Udaipur. The first time I accidentally stumbled upon this a few years back while on a family trip, I was blown away by its beauty! It was yet to be discovered by the masses and was known only to the locals. Now though it has transformed into a popular tourist spot and for the right reasons.
A place from where you can either watch the sunset or sunrise. But its true incredible beauty can only be experienced at night when the locals and tourists gather here for some peaceful time. You can also get a perfect view of Taj Lake Palace and City Palace from here and it's especially beautiful at night.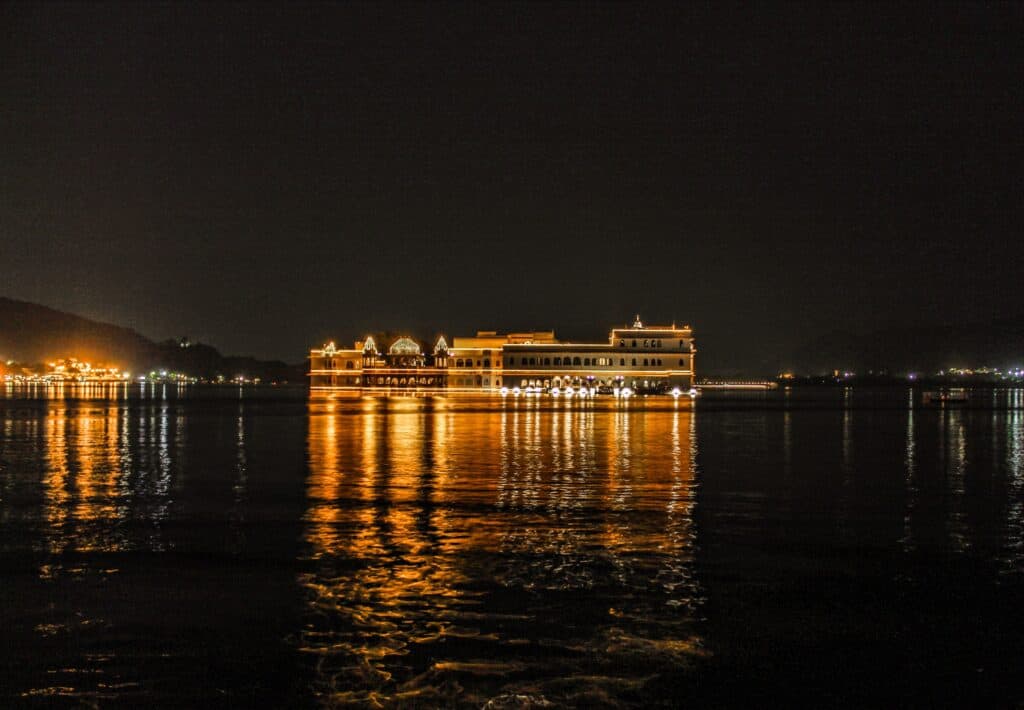 9) Monsoon palace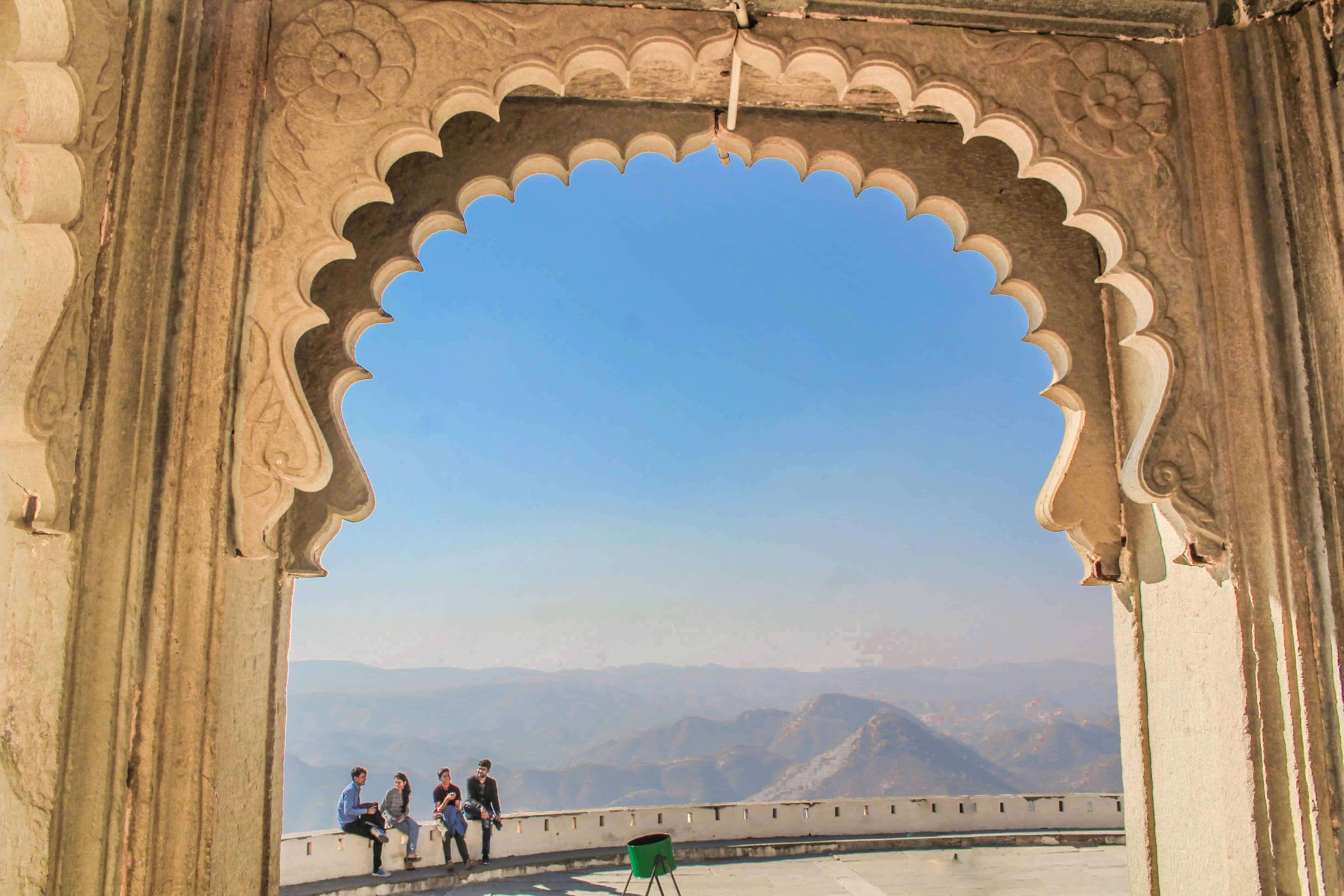 Monsoon Palace or the Sajjangarh Palace is located on the outskirts of Udaipur City. And it offers great panoramic views of the Lake Pichola and Aravalli Ranges. It's also an amazing spot to watch the sunset from and one of the best places to visit in Udaipur for great 360 degree views and photographs. You can reach this place by hiring a cab or an auto.
Something to be aware of: It's not very easy to get Uber/Ola once you reach the top, especially after sunset. Hence plan accordingly.
10) Badi Lake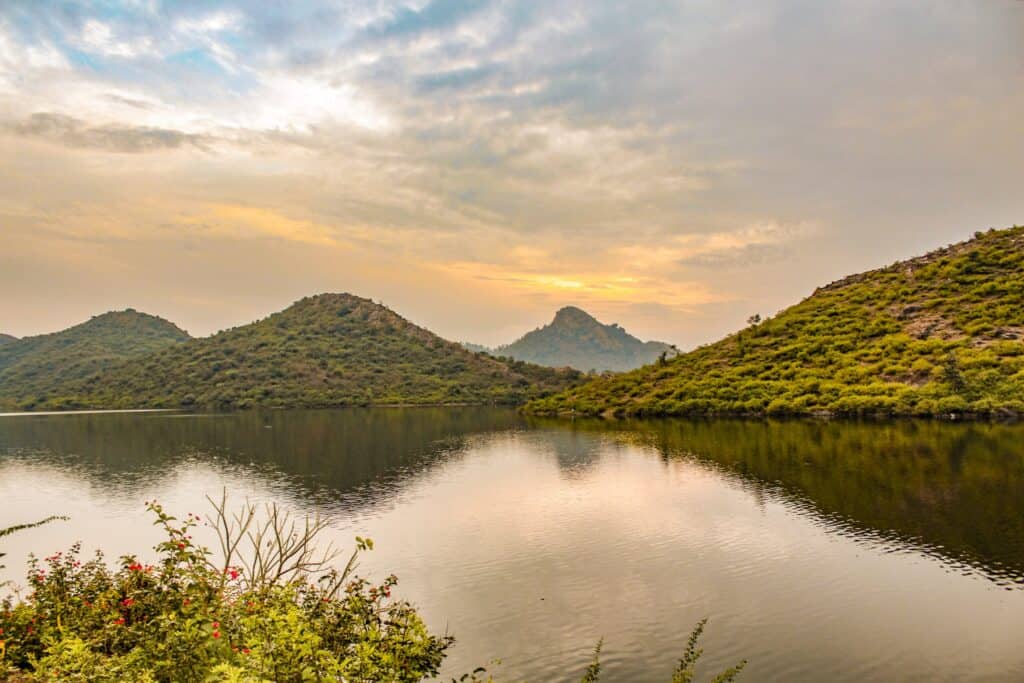 This tranquil lake is a little away from the city and not very popular yet, which makes it one of the offbeat, yet best places to visit in Udaipur. Probably the reason why it's so beautiful. A serene place surrounded by the Aravalli hills and plenty of greenery, this is one of the lesser-known yet best places to visit in Udaipur.
11) Bahubali Hills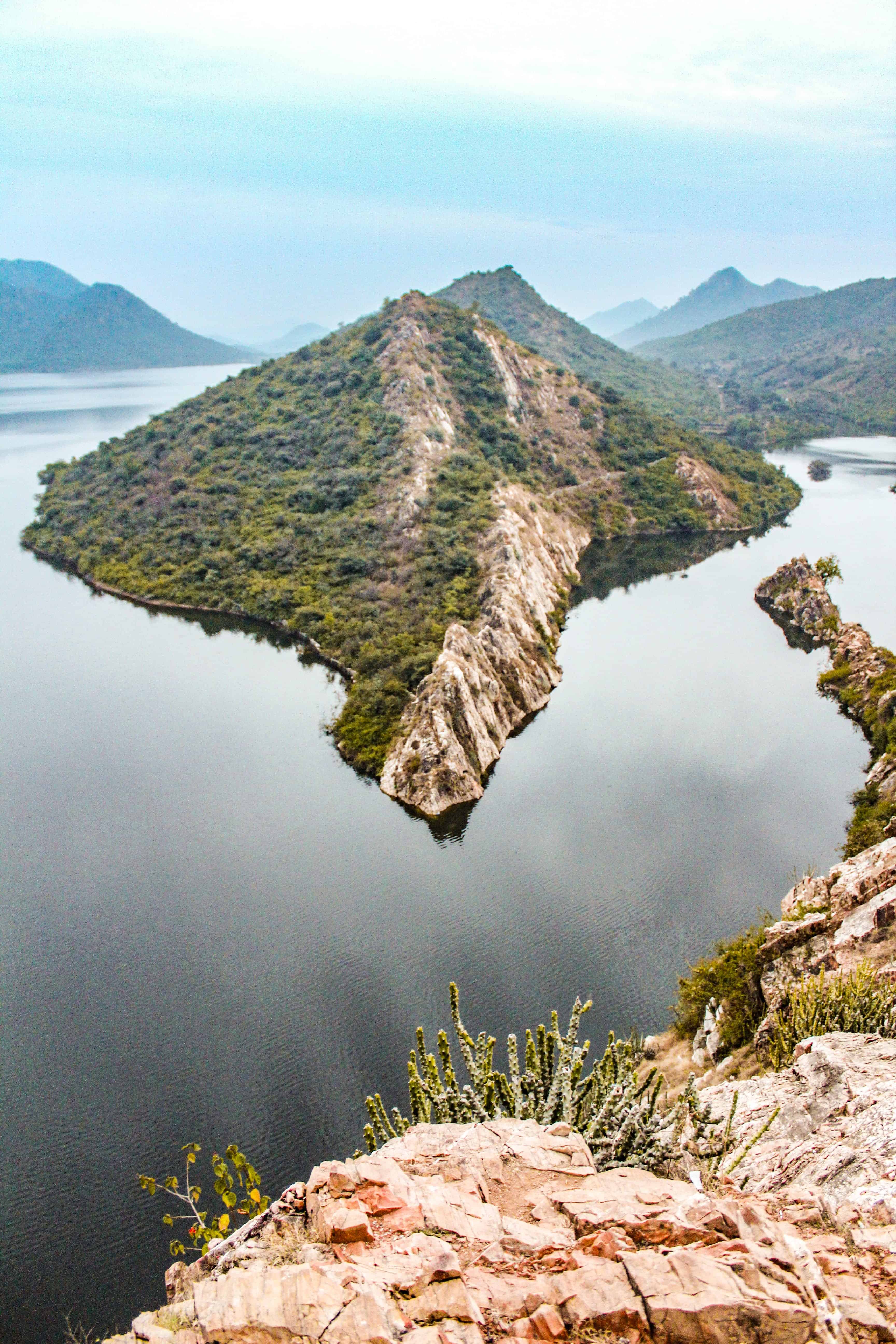 Situated a little away from Badi Lake, this beautiful and hidden spot is accessible through a narrow and obscure path winding through thickets and villages.
Although slightly difficult to reach, this is definitely one of the top best places to visit in Udaipur. It's slowly gaining popularity among the tourists and is a beautiful spot to watch the sunset and sunrise from. Hire an auto or self-drive to this place on your next visit to Udaipur. Also, ensure to preserve its pristine beauty while you do so. This is one of the best places to visit in Udaipur during monsoons as the surrounding area would be filled with lush greenery!
12) City Palace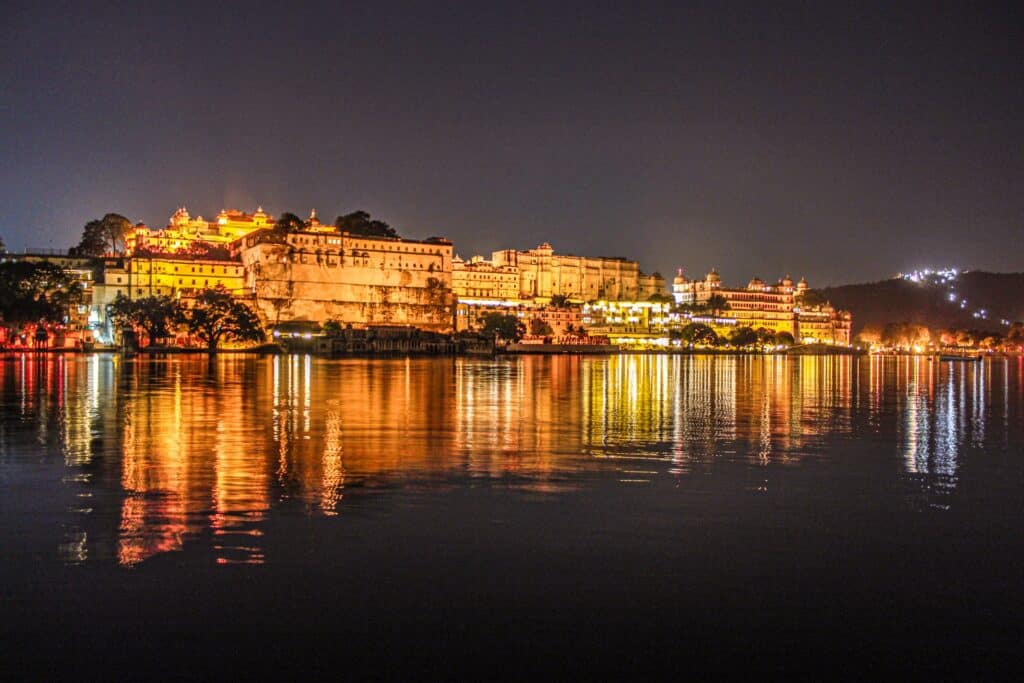 Situated on the banks of Lake Pichola in a beautiful combination of European, Chinese, and Medieval architecture, the City Palace is the most important and popular attraction in Udaipur.
With eleven palace complexes, built by different rulers at different times, it has several courtyards, bright elegant rooms, verandas, and hanging gardens to explore. The rooms are designed in bright colors with intricate details, mosaic patterns, and colorful glass tainted windows.
It also offers great panoramic views of Udaipur City, Lake Pichola, and Lake Palace. There are many shops, cafes as well as bathrooms located within the premises of the palace.
Although it's certainly worth all the hype surrounding it, the extreme crowd which almost perpetually throngs the place can sometimes make the visit a tad bit less appealing. Hence if you plan on exploring the interiors of this gorgeous architecture, ensure to reach early.
But watching this gorgeous marvel in the night, when it gets sheathed with a golden clock is a delightful experience though.
13) Fateh Sagar Lake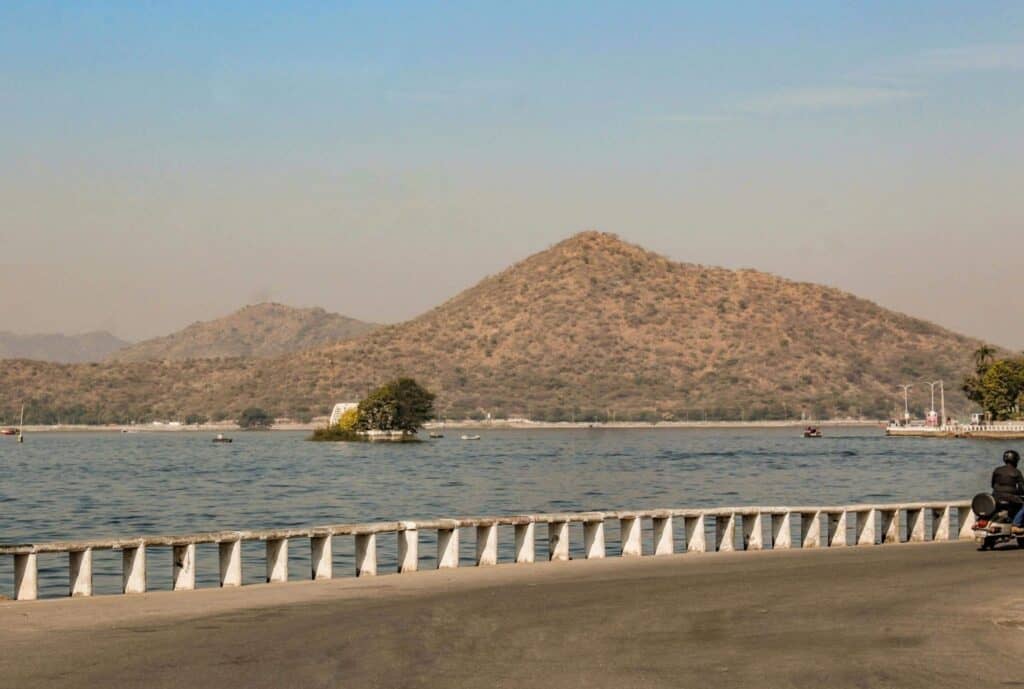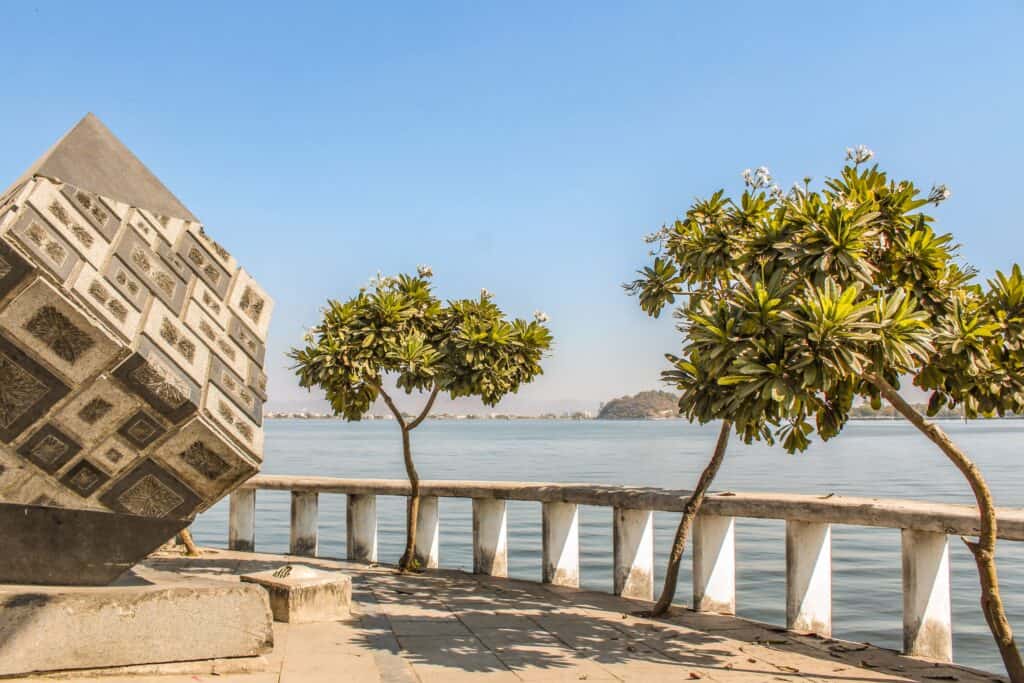 The unending blue horizon of this lake is a pleasure to watch. Go for a drive around the lake or spend a peaceful evening here, strolling along its bank.
There are several cafes and restaurants surrounding this beautiful lake in Udaipur. If you have some spare time, you could also take a boat ride to Udaipur Nehru park situated at the center of the lake and spend some time under the shades of the trees.
14) Karni Mata Ropeway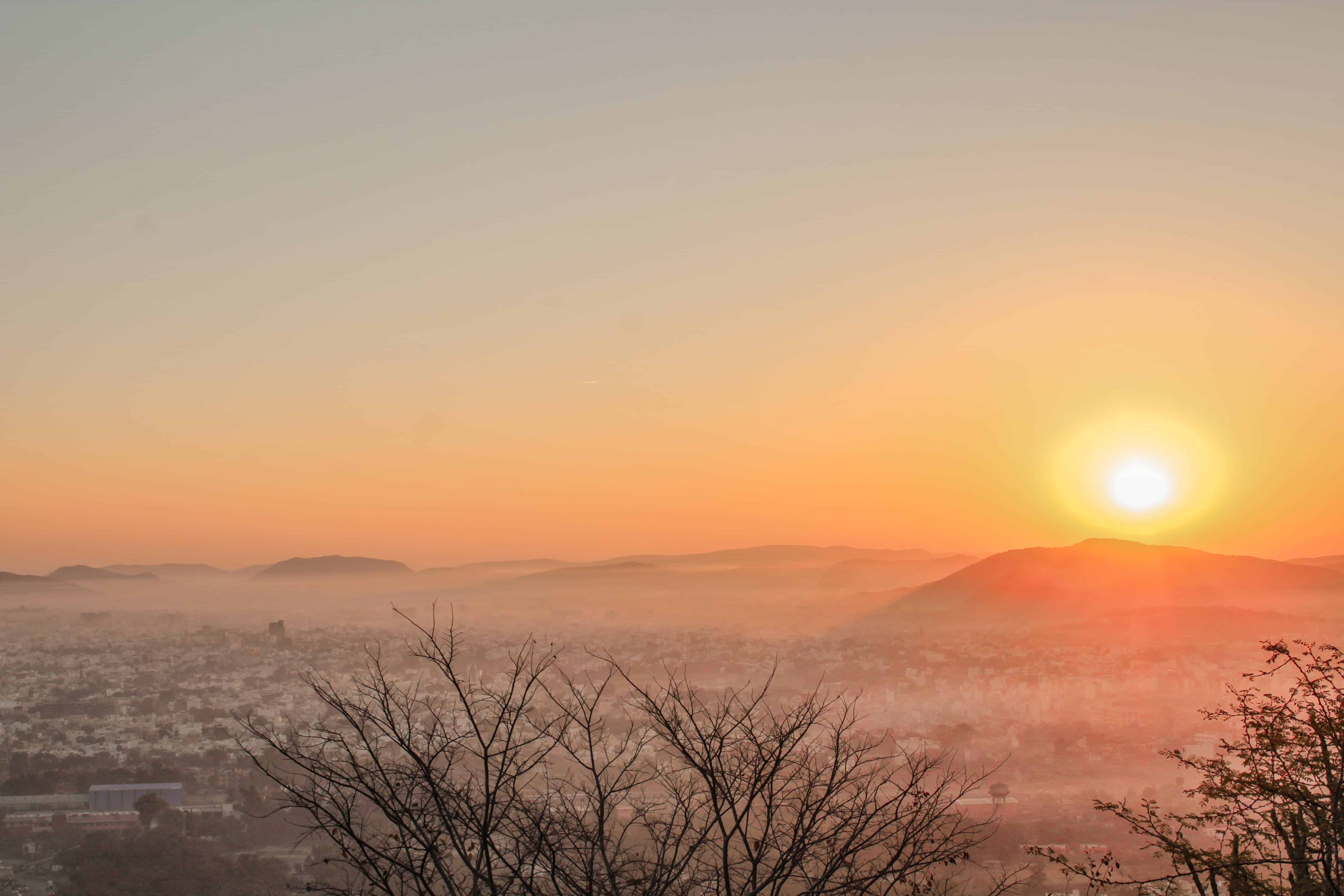 Karni Mata is a temple on top of a hill that is accessible either by a short hike through stairs or through a cable ropeway. It's a great spot to watch the sunrise from and it offers great views of Lake Pichola and the whole of Udaipur City.
15) Doodh Talai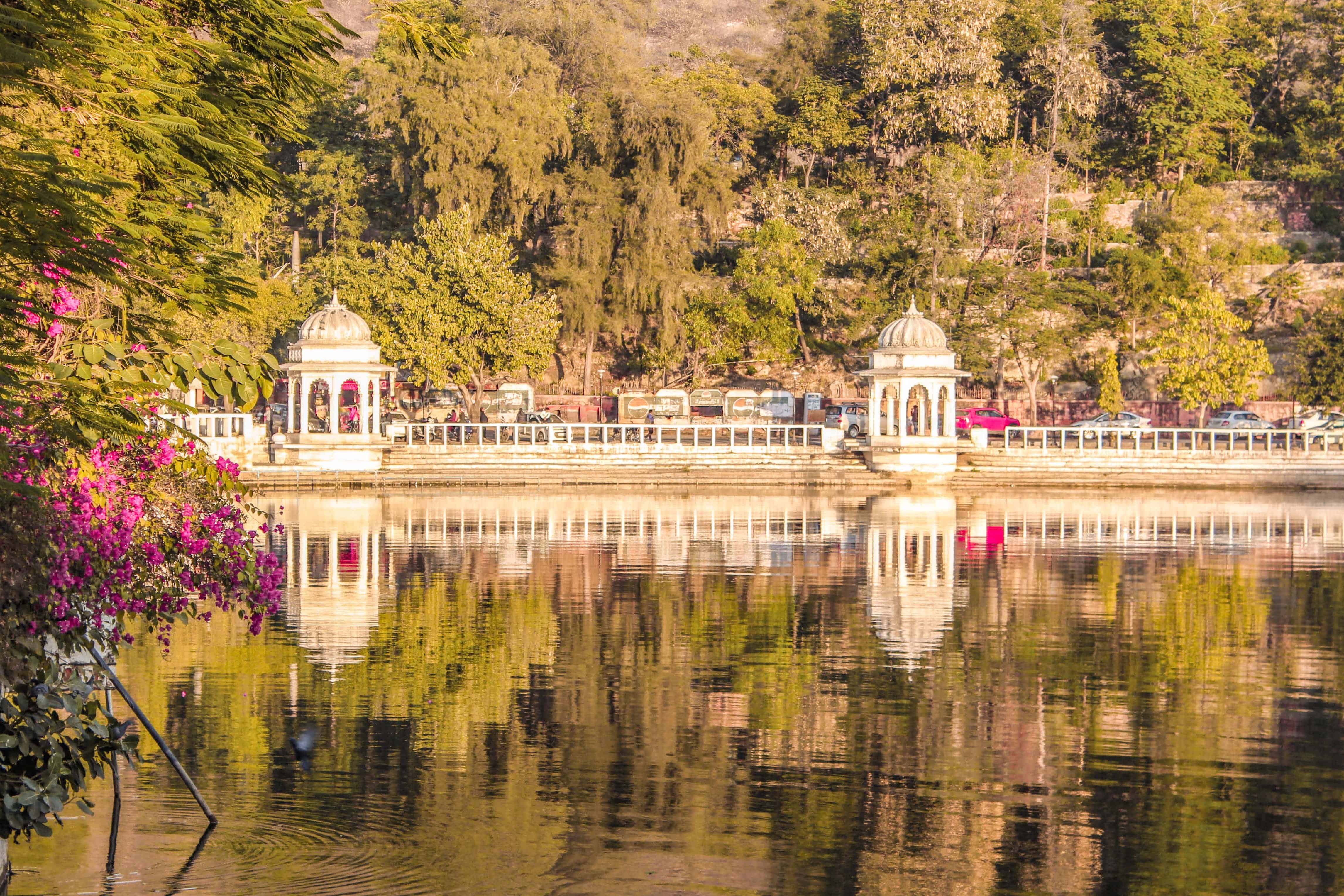 The iconic Lake Pichola is undoubtedly one of the most beautiful attractions in Udaipur. But it often ends up grabbing the limelight from the other small pretty lakes and one such lake is Doodh Talai.
16) Shilpgram
This is one of the best places to visit in Udaipur if you love shopping. Famous for fairs that sell textiles, handicrafts, and other craft items, this village is a haven if you wish to indulge in some authentic Rajasthani shopping. You can find an assortment of options like marble articles, mirror works, colorful souvenirs, etc. Some other best places to visit in Udaipur for shopping are Bada Bazaar, Sadhana Emporium, Hathi Pol, Rajasthali, etc.
17) Saheliyon ki Badi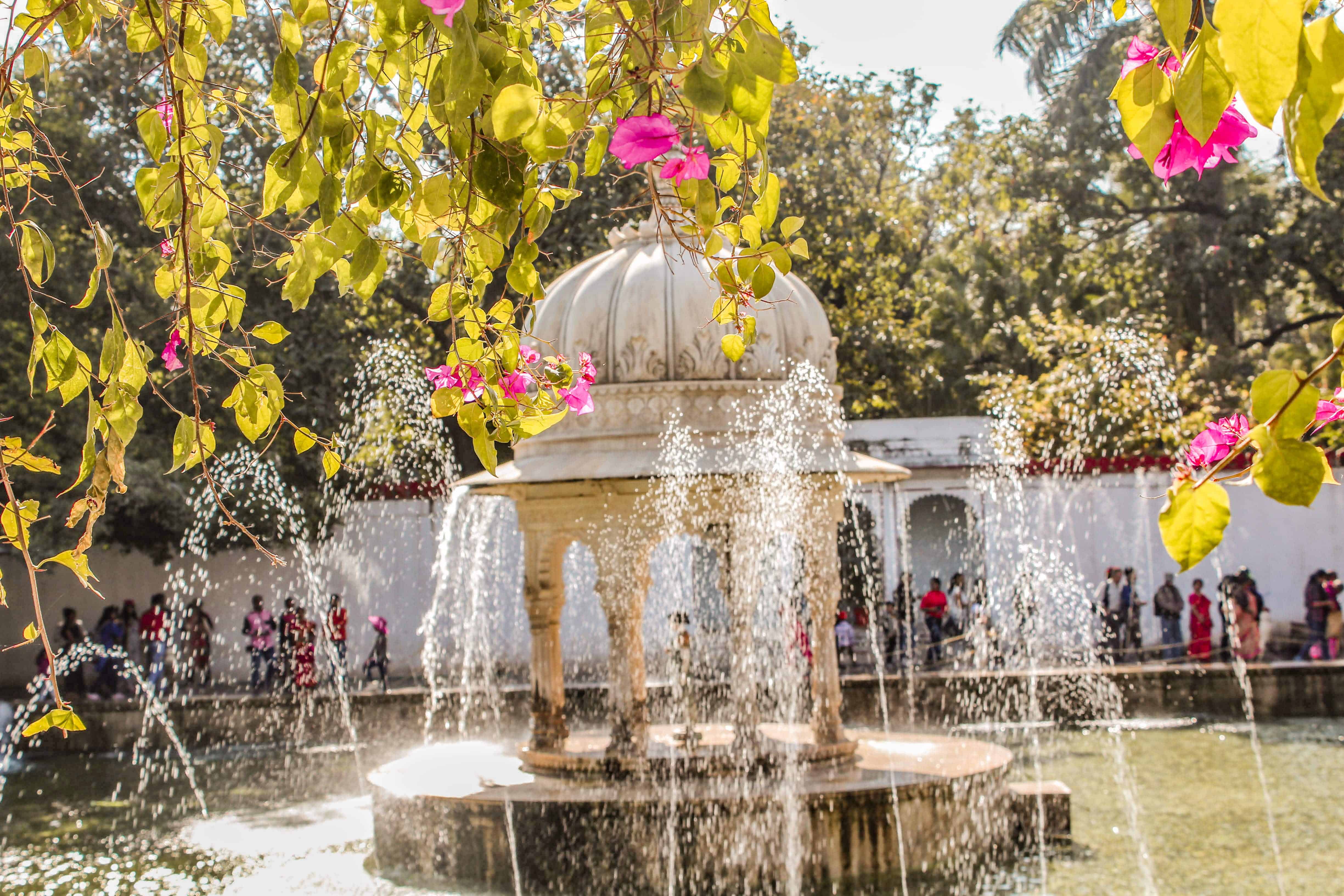 This is a pretty garden a little away from the city center. With Victorian statues and lotus pools, it's one of the best places to visit in Udaipur for an early morning stroll and to enjoy the fragrance of the myriad of flowers.
Best Places to Eat in Udaipur
A trip to Udaipur is incomplete without at least one dinner at a restaurant offering stunning views of Lake Pichola. And there's certainly no dearth of such beautiful restaurants in Udaipur. There are exorbitant as well as cheap places to indulge in some lip-smacking culinary experience and discover for yourself, why Udaipur is popularly called the 'Venice of the East'. These numerous pretty cafes and restaurants are reason enough to pay a visit to this city and are a few of the best places to visit in Udaipur.
Some of my tried and tested favorite cafes and restaurants are: Harigargh Restaurant and Rainbow Restaurant for a dinner beside Lake Pichola, Rainbow Café, and Café Jheel for breakfasts, Café Grasswood for evening snacks and coffee.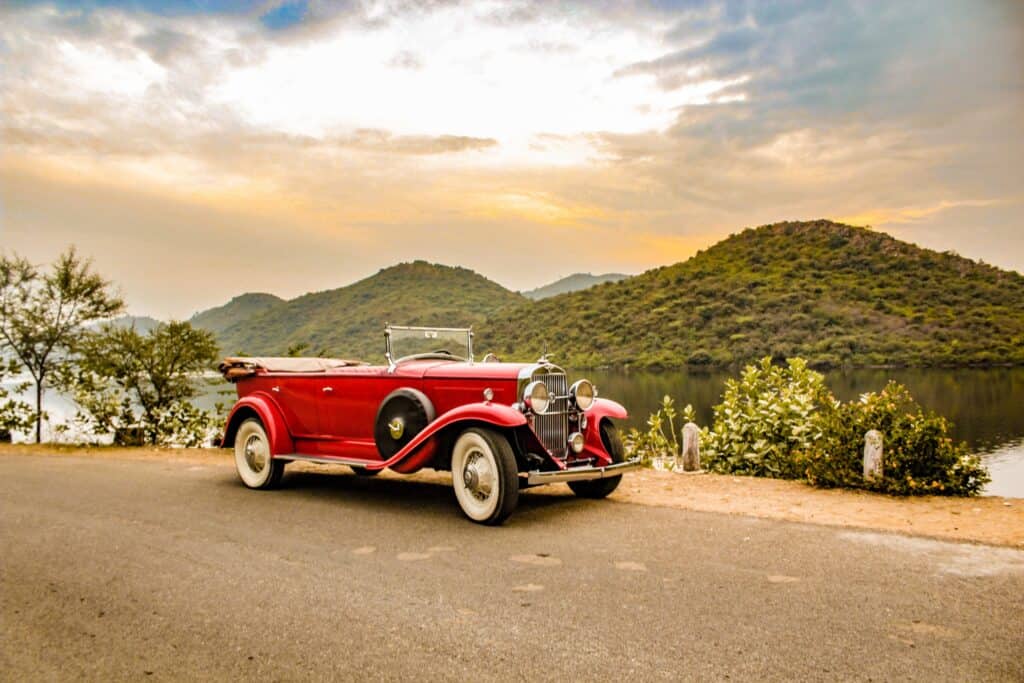 Best Day-Trips to Take from Udaipur
Not only is the Udaipur city filled with a plethora of attractions, but there are also several places at a short distance from the main city which you can take day trips to.
Kumbalgargh fort:
Burrowed in the foothills of the Aravalli Mountain Range, Kumbhalgarh near Udaipur is at a distance of 90km from the city and would take around 2 hours to reach. It is a majestic fortress and a major tourist attraction.
A UNESCO World Heritage site, The Kumbhalgarh fort wall is India's very own Great Wall, and the second-longest wall in the world covering a length of 36 km around the periphery of the fort.
Chittorgargh Fort:
Another UNESCO World Heritage Site, Chittorgargh or Chittor Fort is the largest fort in India. A sprawling citadel, more than 1,000 years old, with lavish palaces, temples & gateways. It is situated at a distance of 112km from Udaipur and can be covered in about 2.5 hours.
Ranakpur Jain Temple
Situated at a distance of 91km from Udaipur, this ancient Jain temple with intricate stone sculptures and carvings is definitely worth a visit. The place itself is remote and is accessible through winding roads amidst paddy fields and mountains.
Constructed entirely in white and amber marble adorned with elaborate carvings on its walls and pillars, this temple is an architectural marvel!
Summary
Aptly touted as the 'City of Lakes', Udaipur has a laid back slow vibe. It latches onto you the moment you catch sight of one of its beautiful tranquil lakes and you can easily spend over a week here absorbing its charm.
Udaipur city has managed to evade the ever pervading cloak of modernization and has preserved its whimsical charm. To date, I've been to Udaipur thrice. And given an opportunity, I definitely wouldn't mind a couple more trips to this place!
Have you been to Udaipur? If you have, do tell me about your experience in the comments! And let me know if there's any place I've missed coz I'm certainly going back again some day! 😉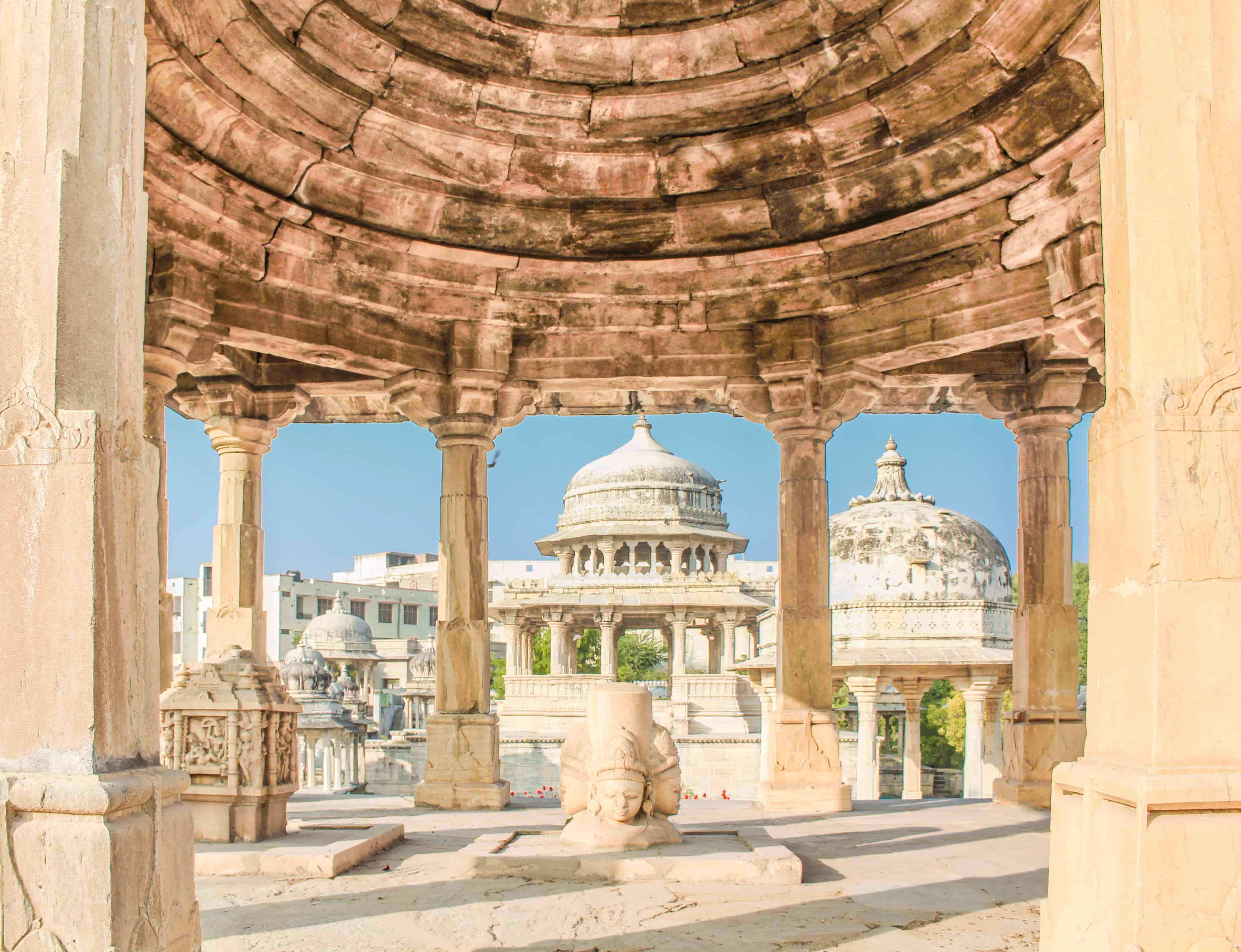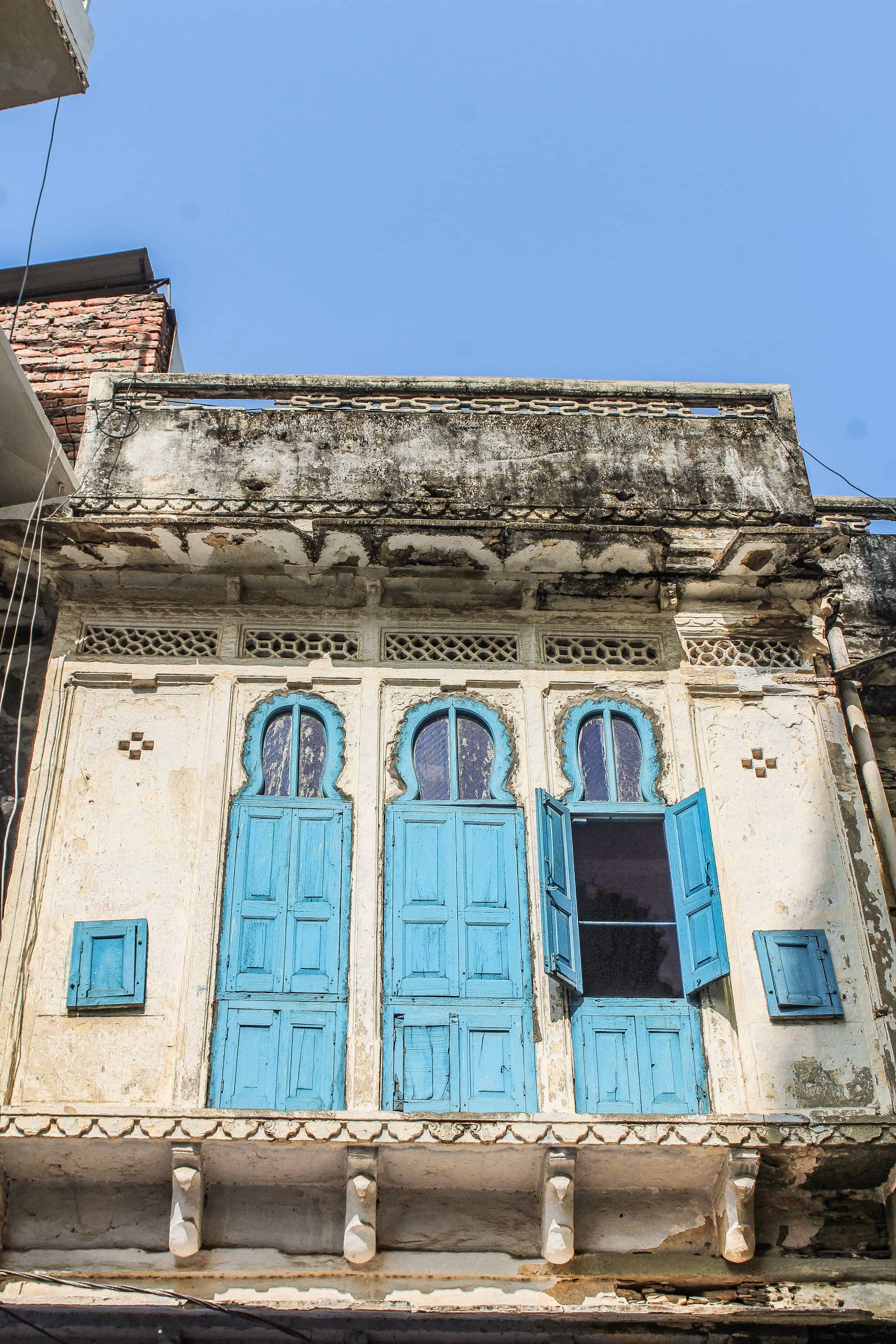 Liked this post? You could consider subscribing! 😉 And get new content directly to you mail!
Related read: 12 Incredible Places to Visit in Jodhpur